I'm freezing my nuts off. I can't feel the tips of my fingers (I won't be able to for hours either), and I've just been overtaken by Dario Franchitti and Clive Wheldon, as well as God only knows who else. But I'm having a ball. The most fun I've had all year.
I'm at the Dan Wheldon Memorial Kart race at Milton Keynes that Johnny Mowlem has organised. Everywhere you look old faces from the paddock, many of whom haven't seen one another in years, are smiling. It's like a school reunion. A school for particularly naughty boys... Dan would have loved it.
As I climb out of my kart, James Thompson walks past shaking his head: "We must be bloody nuts," he giggles. The pro-drivers have all paid to race, and they are having some serious fun. People are running here and there with handfuls of cash, bribing the organisers to dock people laps, award people others. All the money is going to Dan's precious Alzheimer's Society cause.
Add to that the biting conditions and it's not an environment conducive to the faint of heart...
It had been a strange year up to that point. I'd stood in Monaco's tunnel and sucked in the immense rush of Formula 1 cars literally blasting my body with sound; I'd watched the sun go down over Monza on a beautiful Thursday evening as I walked the track; I'd witnessed with enormous relief Allan McNish survive a massive accident at Le Mans, only for another driver I'm fond of to climb out of an even bigger wreck 12 hours later.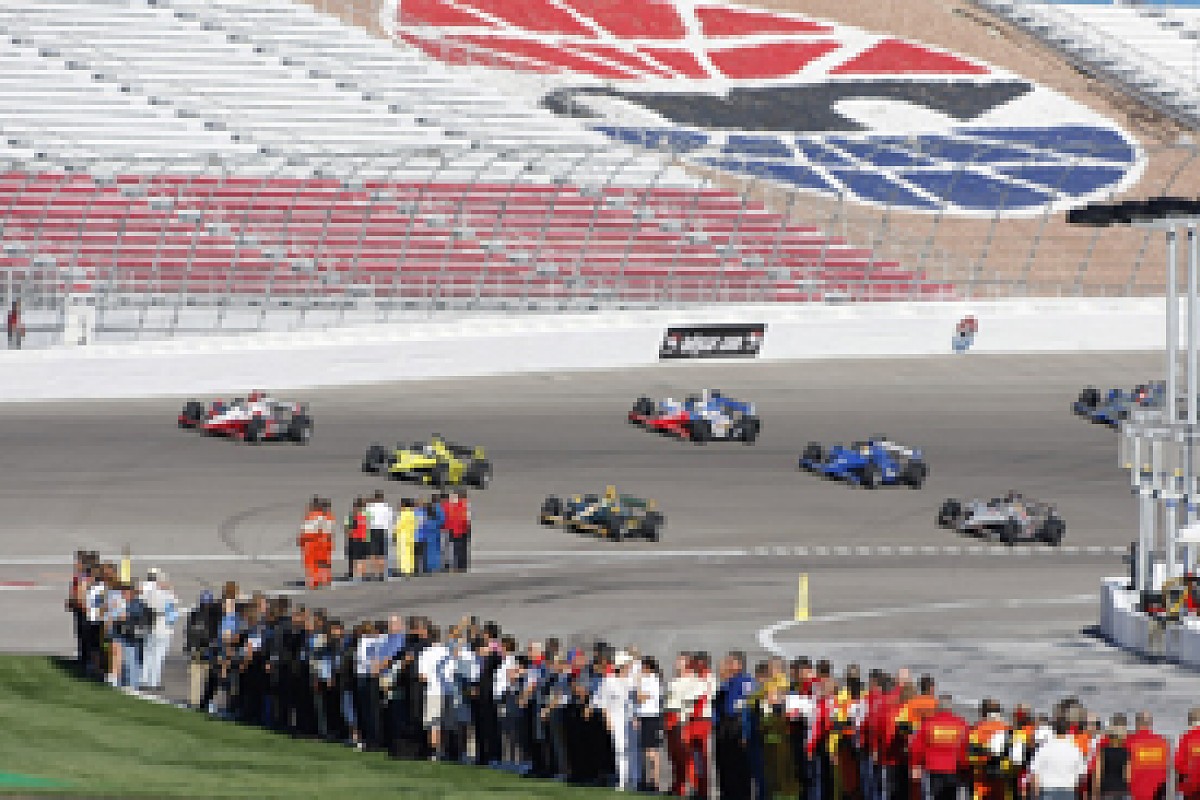 The IndyCar field pays tribute to Wheldon at Las Vegas © LAT
But when I think back on 2011 in motorsport terms, it will always be to Sunday October 16, just as 1994 will always, for me, be associated with May 1 and 1982 with May 8.
I'll never forget the conversation with AUTOSPORT's magazine editor Charles Bradley, who was covering the IndyCar Series finale in Las Vegas, in the immediate aftermath of the 15-car accident that claimed Wheldon. I had the night shift on the website in the UK and was awaiting news to come in from the US.
Charles calls. "You watching this?" he asks.
Me: "Yeah. Who's still in the cars? It's not clear here. Looks a mess though."
Charles: "I think it's Pippa Mann, but it's okay she's moving around. I think we're okay, unbelievably..." There is a pause, and then a sigh. "No hang on mate, I think it's Dan..."
Two hours later and we knew for sure what we'd both, and millions of television viewers - among them no doubt thousands who'd known Wheldon through his life - had dreaded.
During that time my mind drifted back to various conversations I'd had with Dan over the years. From a ferocious first encounter, when a precocious 17-year-old had marched up and proceeded to warn me about accurate reporting during the year. He never did find a cause to complain.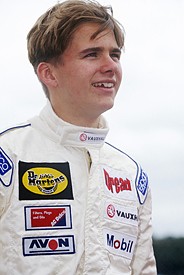 Strang and Wheldon's paths first crossed in Formula Vauxhall Junior in 1996 © LAT
But there were so many funny moments... Like the time he tried to convince me and Charles he'd been talking to Ferrari, (while still racing in Formula Vauxhall Junior) or the occasion when I introduced him to my future wife on a chance meeting on the escalators of the Bluewater shopping centre in the UK.
It was Christmas time in 2004 and Dan had just got back from a visit to the Andretti Green workshop ahead of what would be his breakthrough year. We caused a queue at the top of the stairs as he enthused for 15 minutes about how 'mega' the next season was going to be. When I saw him at the Awards the following winter, he just smiled at me and said: "Told you bud. Told you."
The last time we met, the ever-present smile had got bigger and not just for cosmetic reasons.
It was Indianapolis 2010. I'd tried to catch up with him all weekend. His schedule was hectic and I'd had just two days to cover off all that happened in the last month. The longest conversation we had was after the race. He'd finished a brilliant second for Panther and was convinced he could have beaten winner Dario Franchitti by saving fuel if the race hadn't ended under caution.
Sometime later I took a wander round to the drivers' motorhome enclosure to see who was about. Dan was just driving out with his family, leaving the track in a big black beast of a car with chrome wheels. He saw me, stopped, reversed and jumped out.
"Strangy, Strangy," he said. "I'm just leaving, but before I go, you must meet my son Sebastian." He opened the back door and presented me with his baby boy. He smiled that brilliant white smile and said: "It's the best thing I've ever done man, you can't believe how amazing it is."
Since then he'd had another boy, Oliver, who I've not met. But I'm sure when he grows up there will be lots of people queuing up ready to tell him and his brother how amazing his Dad was. I know I will be one of them.