Round 1 - Sao Paulo
An epic opener on the gloriously imperfect new Sao Paulo street track came down to a three-way tussle between Andretti Autosport's Ryan Hunter-Reay and Penske duo Will Power and Ryan Briscoe on a circuit drying after a typical Brazilian downpour that had caused a 45-minute stoppage.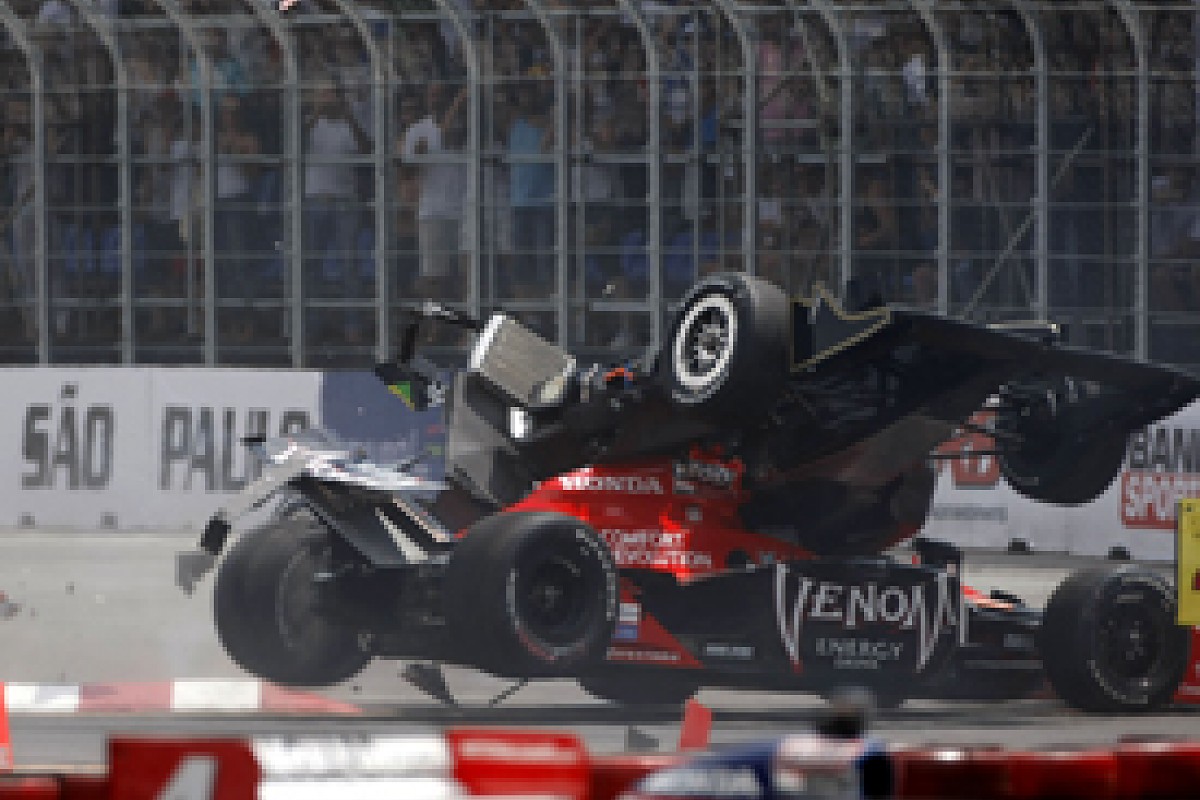 Moraes and Andretti get the year off to a messy start © LAT
Hunter-Reay had earlier passed poleman Dario Franchitti (Ganassi) during the initial dry portion of the race, and then took slicks at just the right moment in part two. The American found himself being hunted down by Power and Briscoe in the closing stages, swapping places with Briscoe twice before the Australian crashed out of the lead. Power then pounced on Hunter-Reay after the restart to claim victory on his comeback after injury.
Top home driver Vitor Meira took a heroic podium for AJ Foyt, while Franchitti stayed on wets too long and finished back in seventh.
The race will also be remembered for the chaotic first corner that saw Takuma Sato's IndyCar debut end immediately when he clattered into Scott Dixon, and his team-mate Mario Moraes perch his KV car on Marco Andretti's head, plus for Alex Tagliani qualifying second on his FAZZT team's debut before being taken out in an early tangle with Dan Wheldon and Tony Kanaan.
Points:
1 Power 50
2 Hunter-Reay 40
3 Meira 35
4 Matos 32
Round 2 - St Petersburg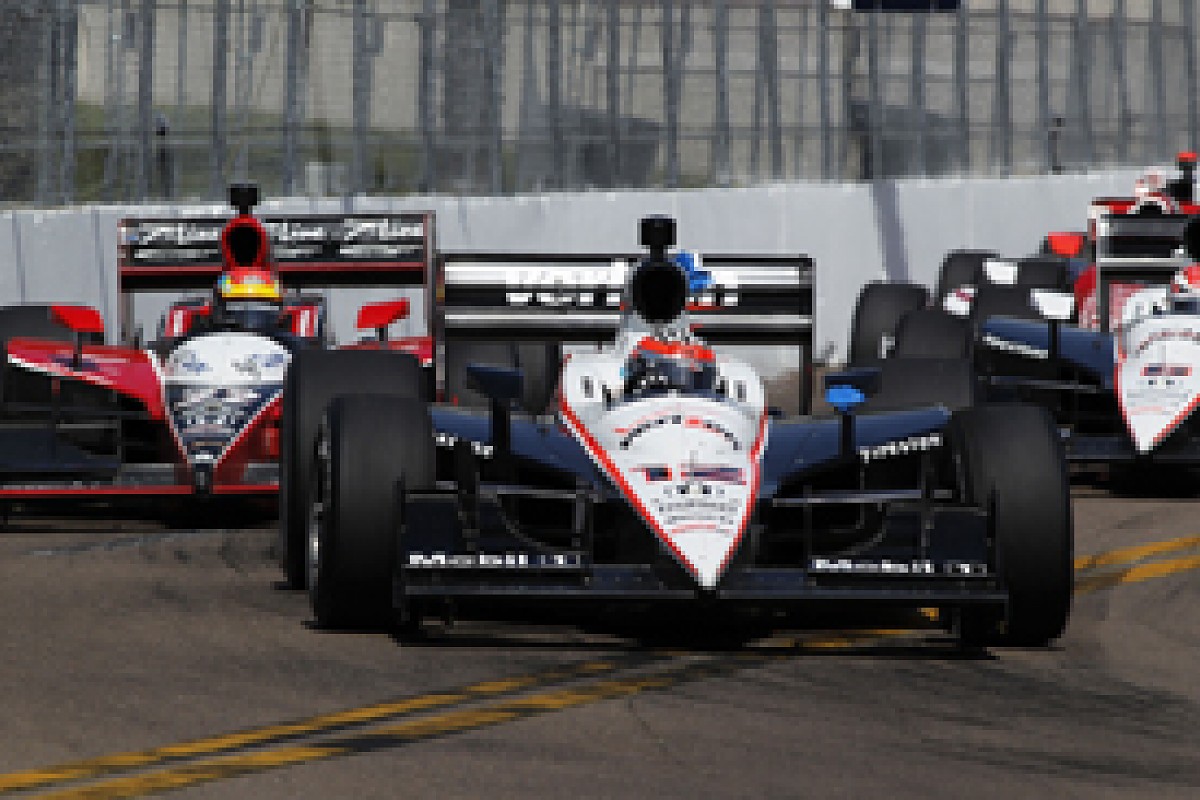 Power leads Wilson in St Petersburg © LAT
Another downpour meant round two was postponed to Monday morning. A flurry of early overtaking on a still slightly damp track saw polesitter Power tumble to fourth while Andretti boldly charged into the lead, but as the race settled down it became a duel between Power and Dreyer & Reinbold's Justin Wilson - who couldn't quite get close enough to deny the Penske man another win. He still interrupted a potential Penske podium sweep, with Briscoe and Helio Castroneves next up. Franchitti recovered to a hard-fought fifth after a lap-one spin and a later puncture.
Andretti's great opening stint was wasted when he damaged his car in a midfield tangle after a pitstop on a day of wildly divergent strategies. One particularly wise pit call looked to have given KV's EJ Viso a great shot at victory, only for a gearbox failure to intervene.
Points:
1 Power 103
2 Wilson 59
= Hunter-Reay 59
4 Franchitti 59
Round 3 - Barber Motorsports Park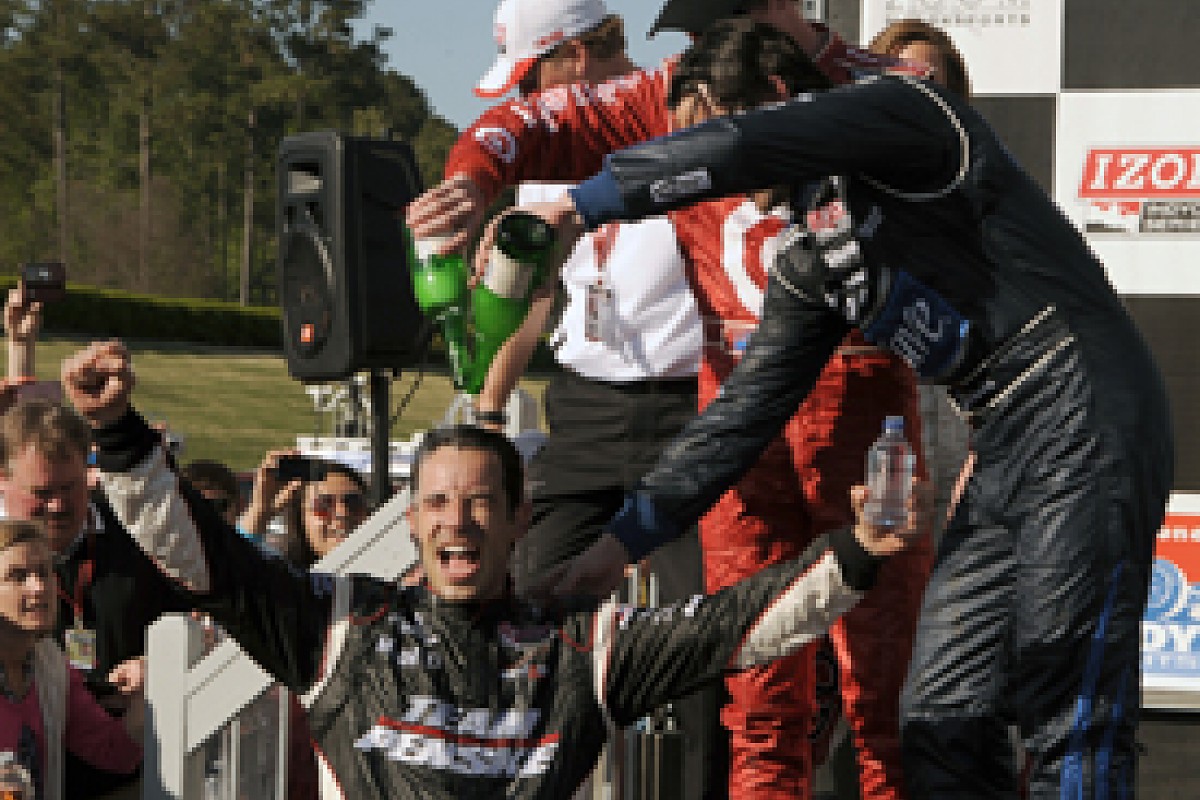 Castroneves celebrates in Alabama © LAT
A lack of passing places was the IndyCar field's only criticism of Barber as the series raced there for the first time, and that meant pit strategy decided the result - with Castroneves, Dixon and Franchitti stretching it to the flag on two stops and filling the podium.
Power's winning run ended as he tried three stops and had to settle for fourth, while Andretti hoped he could make it on two, couldn't quite, had to stop from the lead late on, and found himself back in fifth.
Points:
1 Power 136
2 Castroneves 104
3 Franchitti 94
4 Wilson 85
Round 4 - Long Beach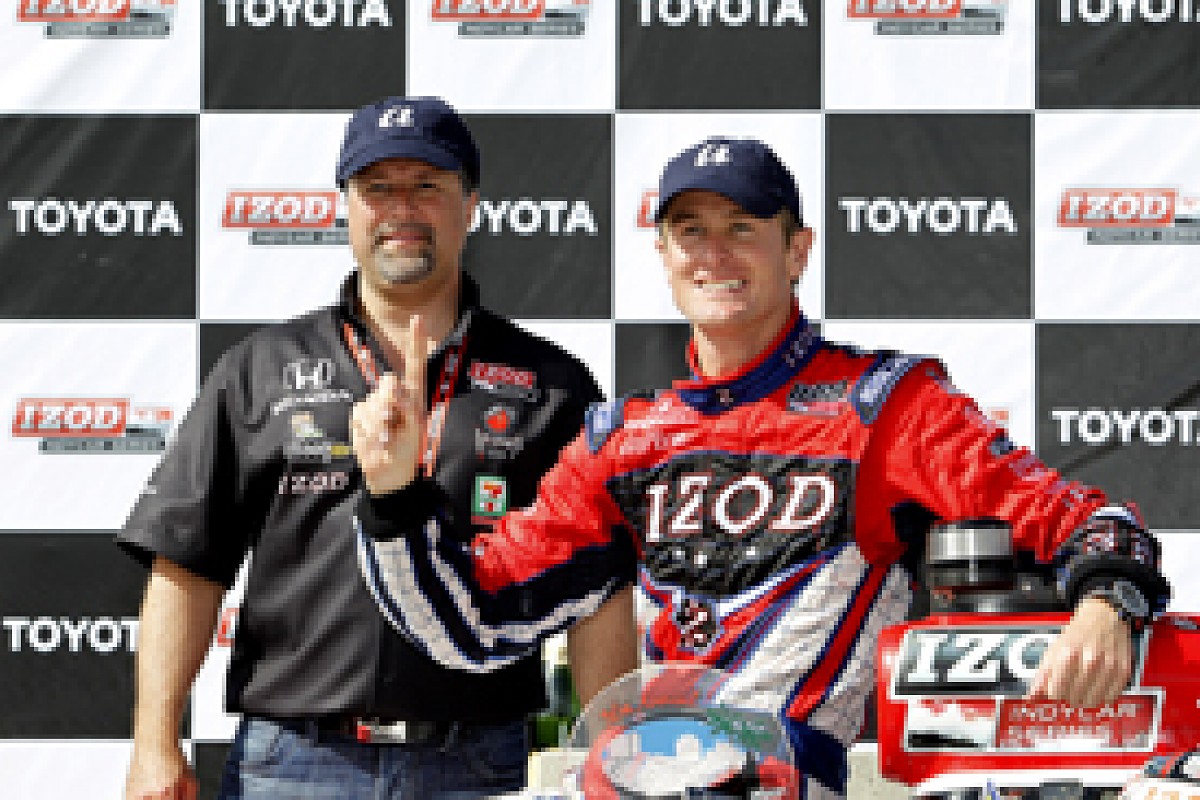 Hunter-Reay brought Michael Andretti back to Victory Lane © LAT
Long Beach saw one of Michael Andretti's cars win a race for the first time in nearly two years, as Hunter-Reay ended Andretti Autosport's victory drought with his first triumph for the squad.
Power had looked in control at first, until his car briefly got stuck in first gear, letting Hunter-Reay and Wilson through. After that, Hunter-Reay was unstoppable, while Wilson recovered from losing part of his front wing in a brush with the lapped Alex Lloyd to reclaim second from Power with a late pass.
Franchitti never featured all weekend and finished only 12th.
Points:
1 Power 172
2 Castroneves 130
3 Hunter-Reay 129
4 Wilson 125
Round 5 - Kansas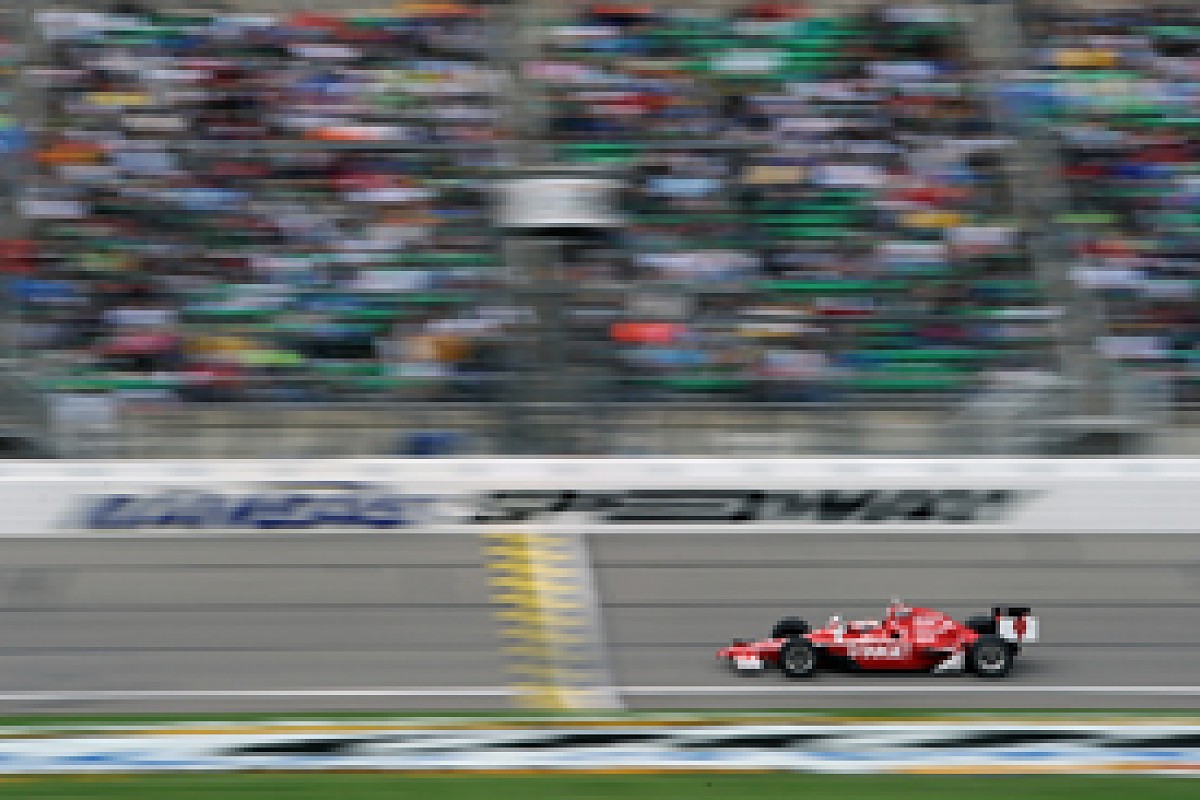 Dixon heads for victory in 2010's first oval round © LAT
Ganassi opened its 2010 account at Kansas, with Dixon coming out on top of a close race-long battle with Franchitti, who fended off Kanaan and Castroneves for second.
Polesitter Briscoe's chance of victory disappeared when he shed a wheel during a yellow, though he recovered to sixth. But the year's first oval round was not a happy experience for Power - only 12th after a pitstop miscue.
Points:
1 Power 190
2 Dixon 164
3 Castroneves 162
4 Hunter-Reay 159
Round 6 - Indianapolis 500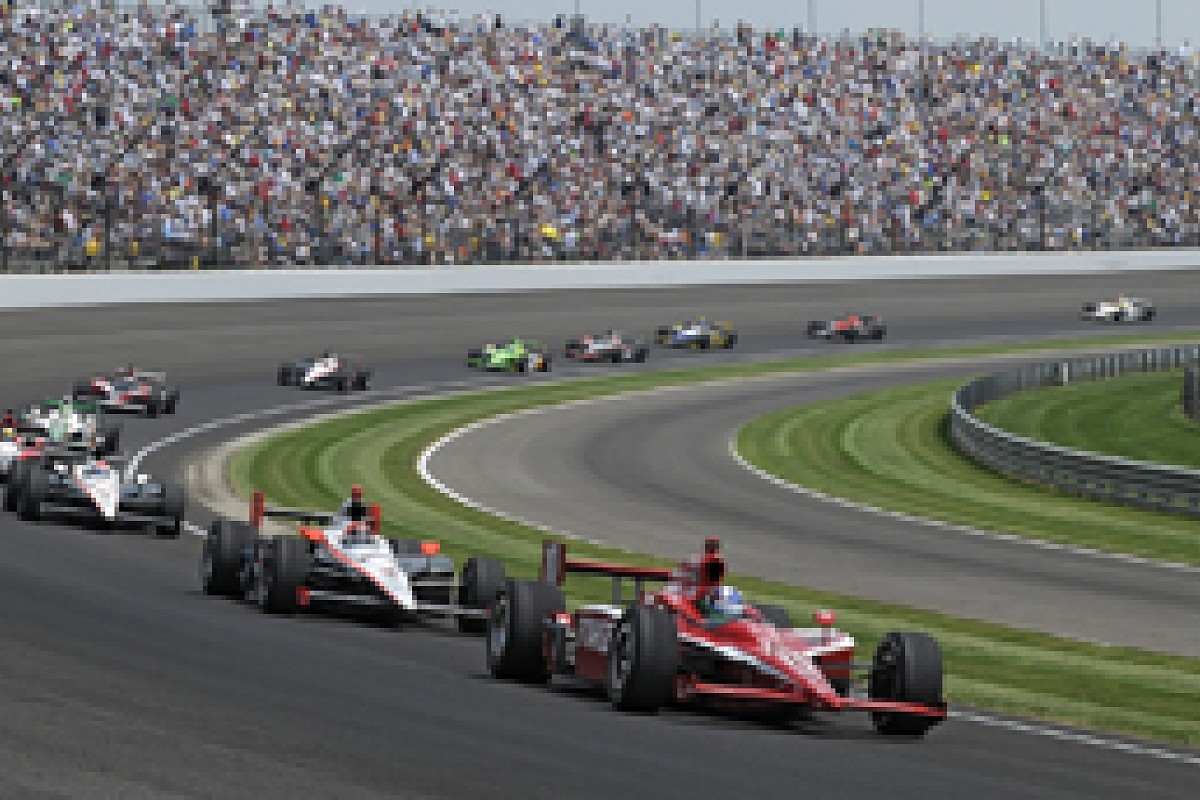 Franchitti led most of the way at Indy © LAT
Franchitti won his second Indy 500 with a commanding performance. The race was turned inside-out in the closing moments as some drivers succeeded and others failed in fuel gambles necessitated by awkward yellow timing, but Franchitti never faltered and led a British one-two ahead of Wheldon.
It was initially an all-British podium, for Lloyd had flown through to third for Dale Coyne Racing with an astounding late charge, but he was adjudged to have passed Andretti under yellow, so the American was given third place back.
Another Briton's promising race ended in horrible fashion, as Mike Conway suffered leg and back injuries when he struck Hunter-Reay's slowing car on the last lap and flew into the fencing.
Penske had a frustrating day, pitstop problems limiting Power and Castroneves to eighth and ninth, and Briscoe crashing out. Dixon also had a pit issue - losing a wheel - and was fifth, while after a fraught qualifying fortnight left him last on the grid, Kanaan drove an incredible race to second before a splash-and-go pit dash dropped him to 11th.
Points:
1 Power 227
2 Franchitti 216
3 Dixon 203
4 Castroneves 199
Round 7 - Texas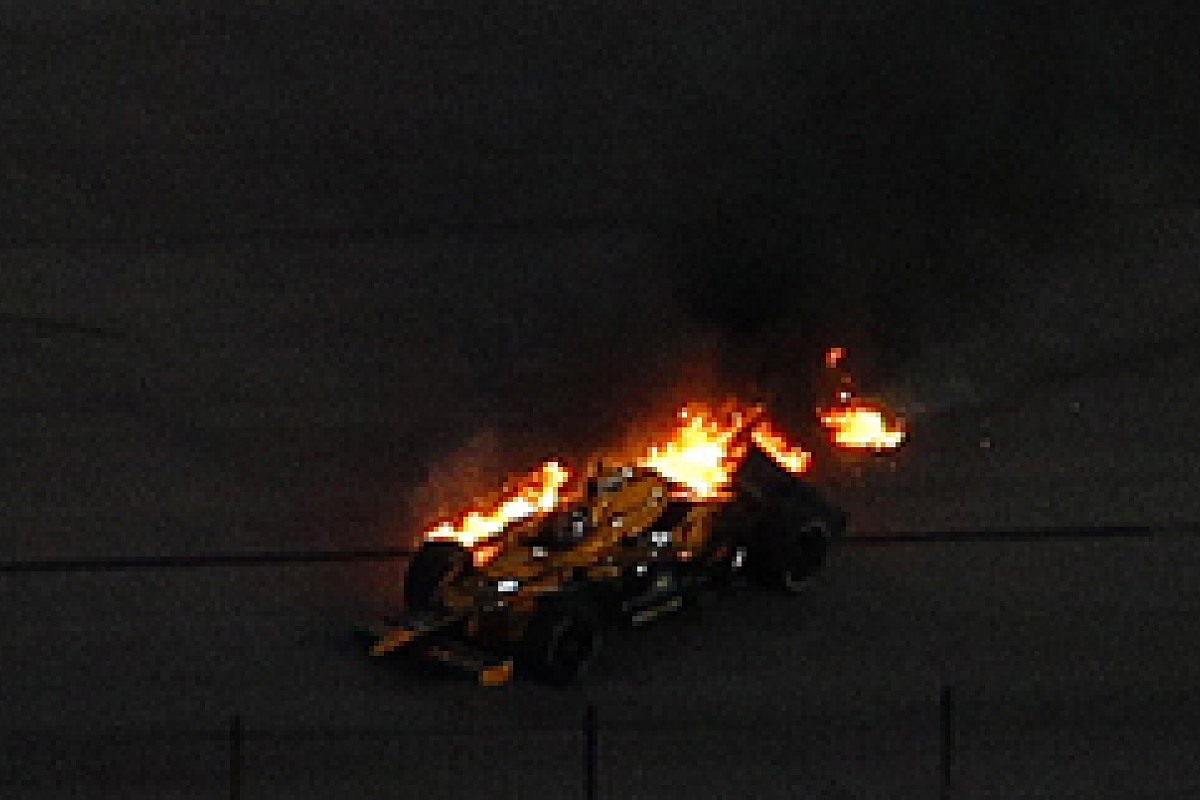 De Silvestro's car goes up in flames © LAT
Briscoe steadied his season by winning under the lights at Texas, though he had to fend off a determined challenge from Danica Patrick to do so.
With Power only 14th having collected debris from Simona de Silvestro's terrifying fiery crash, Franchitti's fifth place gave him the points lead. He had looked set for a podium at first, but as the Scot's pace faded, Andretti came through to beat Dixon to third.
Points:
1 Franchitti 246
2 Power 243
3 Dixon 235
4 Castroneves 211
Round 8 - Iowa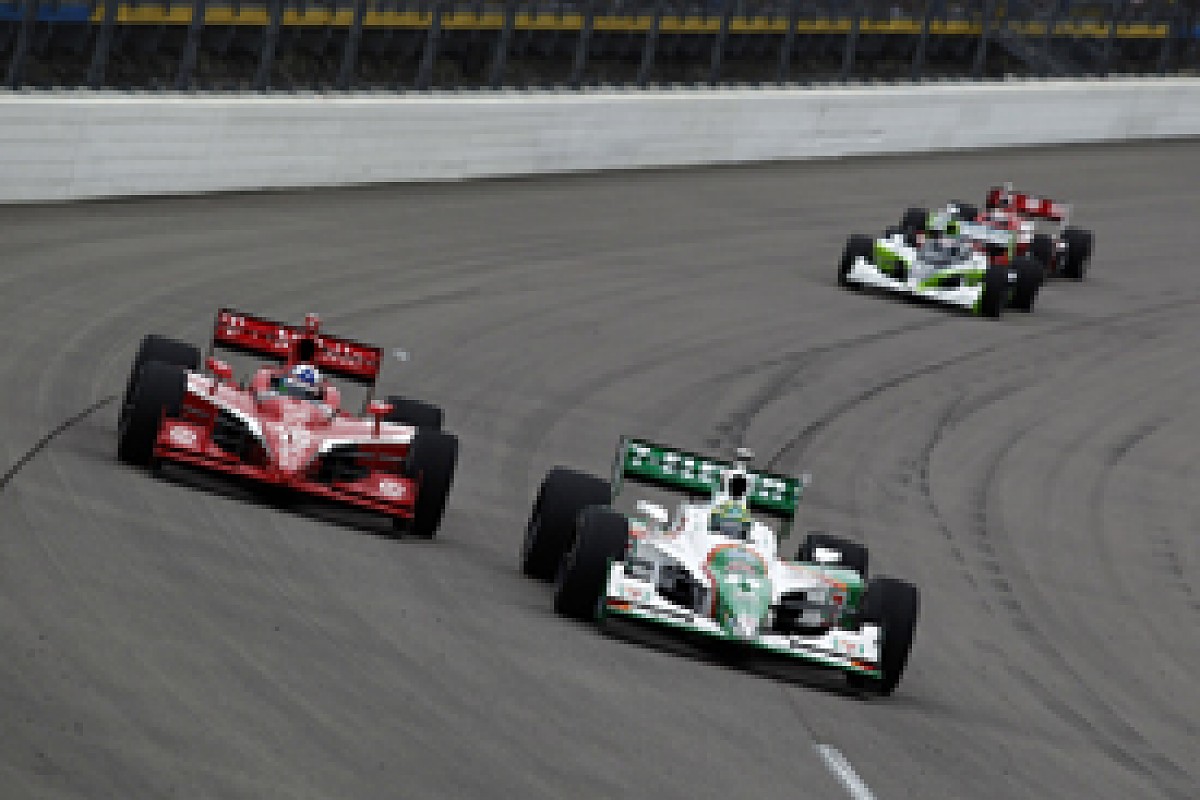 Kanaan and Franchitti battle at Iowa © LAT
Kanaan shrugged off an eighth-row grid spot and some pitlane wheel-banging to win for the first time in two years at Iowa, following a tough dice with Castroneves and Franchitti.
While the former came home second, Franchitti dropped out with a gearbox failure, which meant Viso got on the podium for KV in third - but only after his team-mate Sato crashed out of the same spot.
Power, Dixon and Andretti all fought for victory at times before their cars' handling went awry, dropping them back to fifth, sixth and 15th respectively.
Points:
1 Power 274
2 Dixon 263
3 Franchitti 260
4 Castroneves 251
Round 9 - Watkins Glen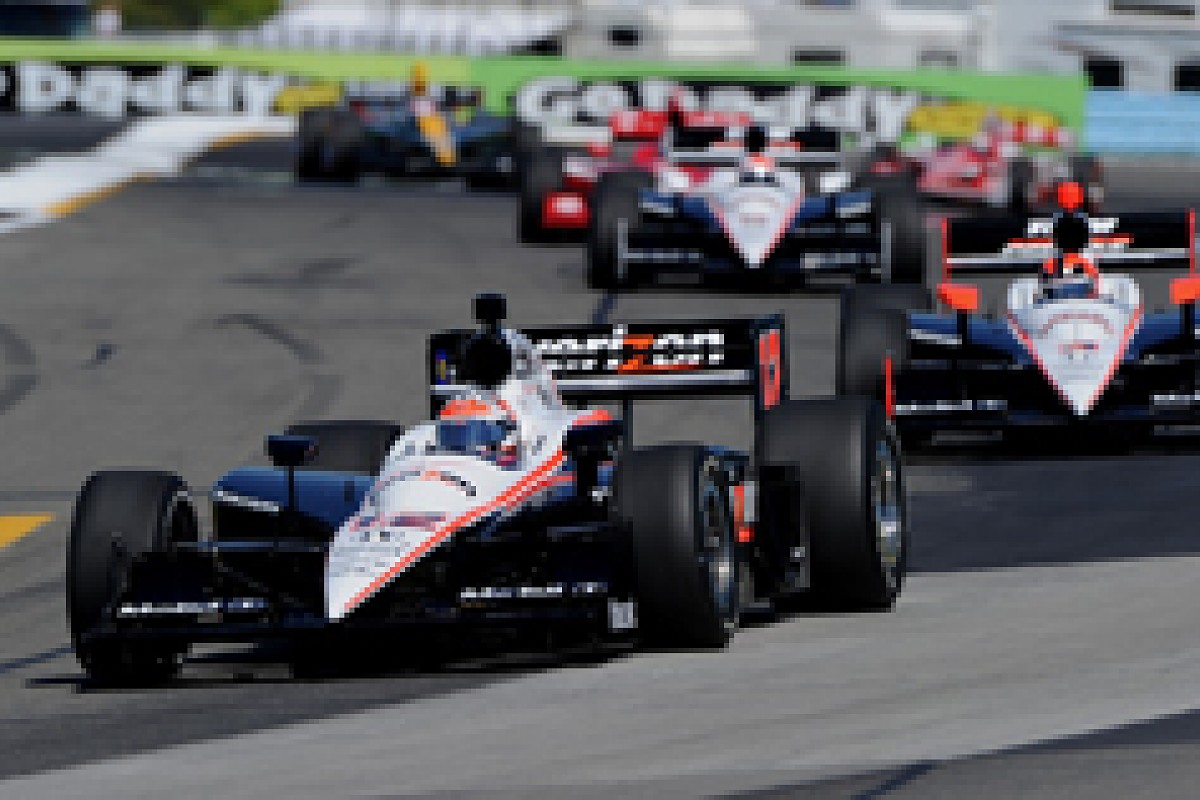 Power leads his team-mates at the Glen © LAT
The return to road courses brought a return to the top for Power, who kept a cushion over the rest of the close Penske/Ganassi battle and won from pole.
A last-lap pass on Franchitti secured second place for Briscoe, while early contact left their team-mates Dixon and Castroneves to fight back to eighth and ninth. Raphael Matos drove an excellent race for 'best of the rest' laurels in fourth.
Points:
1 Power 327
2 Franchitti 295
3 Dixon 287
4 Briscoe 280
Round 10 - Toronto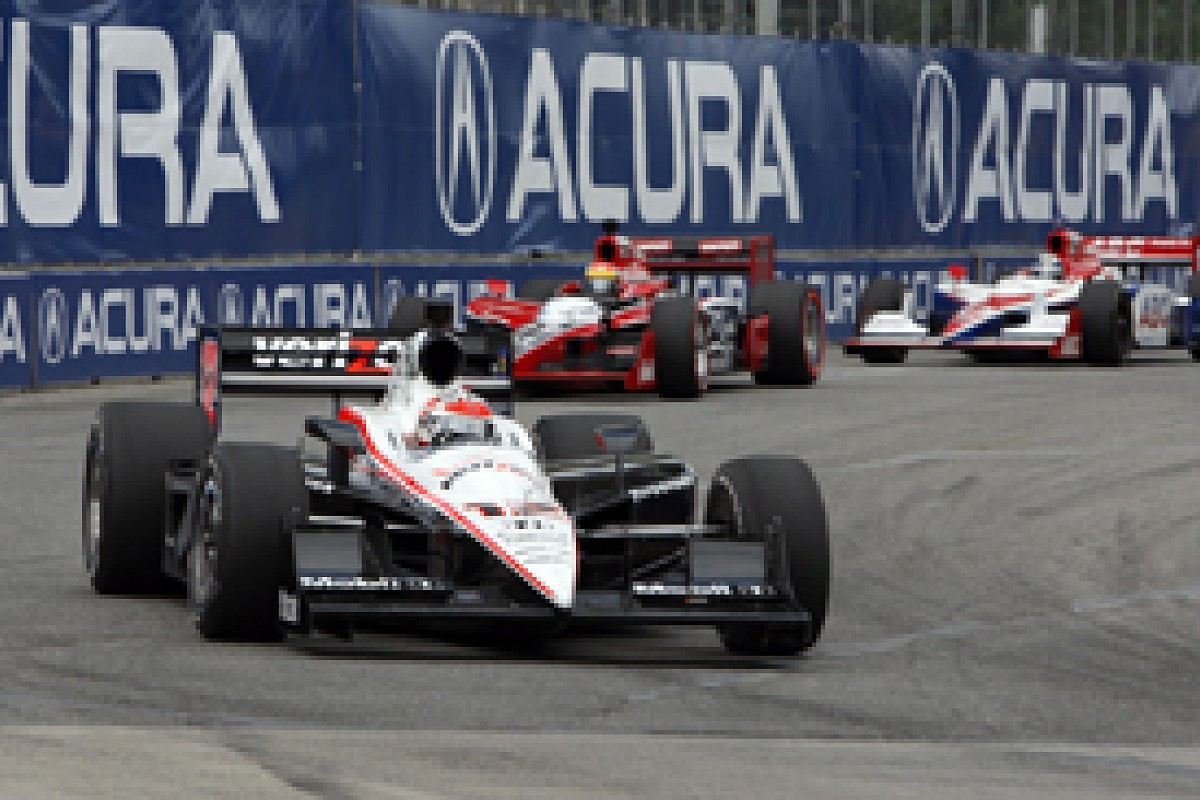 Power edges away from Wilson in Canada © LAT
Amid the usual absolute carnage in Toronto, Power kept his nose clean and came through from an early sixth place to win.
The key to his victory was a late pass on long-time leader Wilson, who then spun down the order and had to tiger back to seventh. Franchitti was Power's other main rival and finished a close second.
Few others stayed out of trouble completely. Hunter-Reay clashed with Dixon on the way to third, ahead of Kanaan, Castroneves hit an out-of-sequence Meira and crashed while fighting for victory, while Graham Rahal took a strong fifth on his return to Newman/Haas but then got embroiled in a Twitter row with Briscoe over whether he had pushed the Australian into the wall or Briscoe had put himself there by blocking.
Points:
1 Power 377
2 Franchitti 335
3 Dixon 299
4 Briscoe 292
Round 11 - Edmonton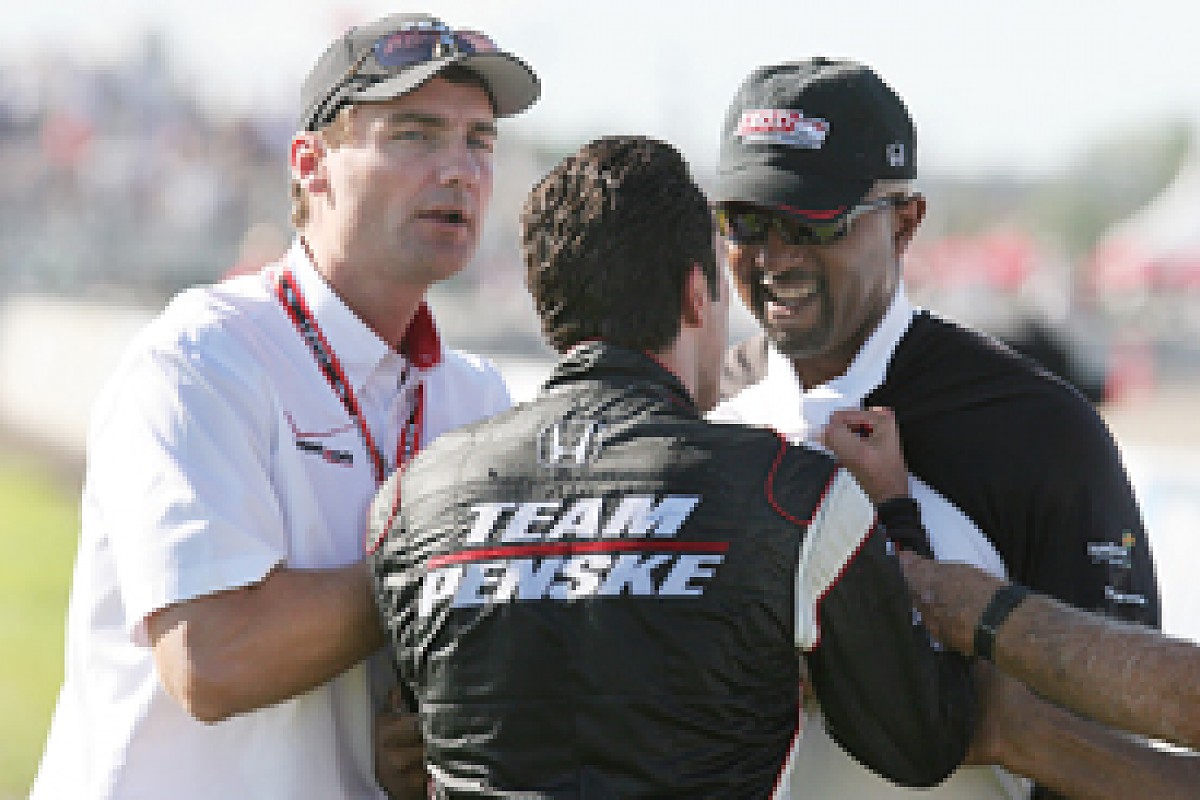 Castroneves was not happy at Edmonton... © LAT
The most controversial race of the year saw an enraged Castroneves stripped of victory for contravening the series' unusually stringent blocking rules as he defended against Power - who he had passed for the lead not long before - in the closing stages.
With Power losing momentum in that tussle, he was only second even after Castroneves' penalty, as Dixon picked up an unexpected win.
Franchitti and Briscoe were third and fourth, while Paul Tracy had the best run of his partial 2010 campaign as he chased Hunter-Reay home in sixth.
Points:
1 Power 420
2 Franchitti 370
3 Dixon 349
4 Briscoe 324
Round 12 - Lexington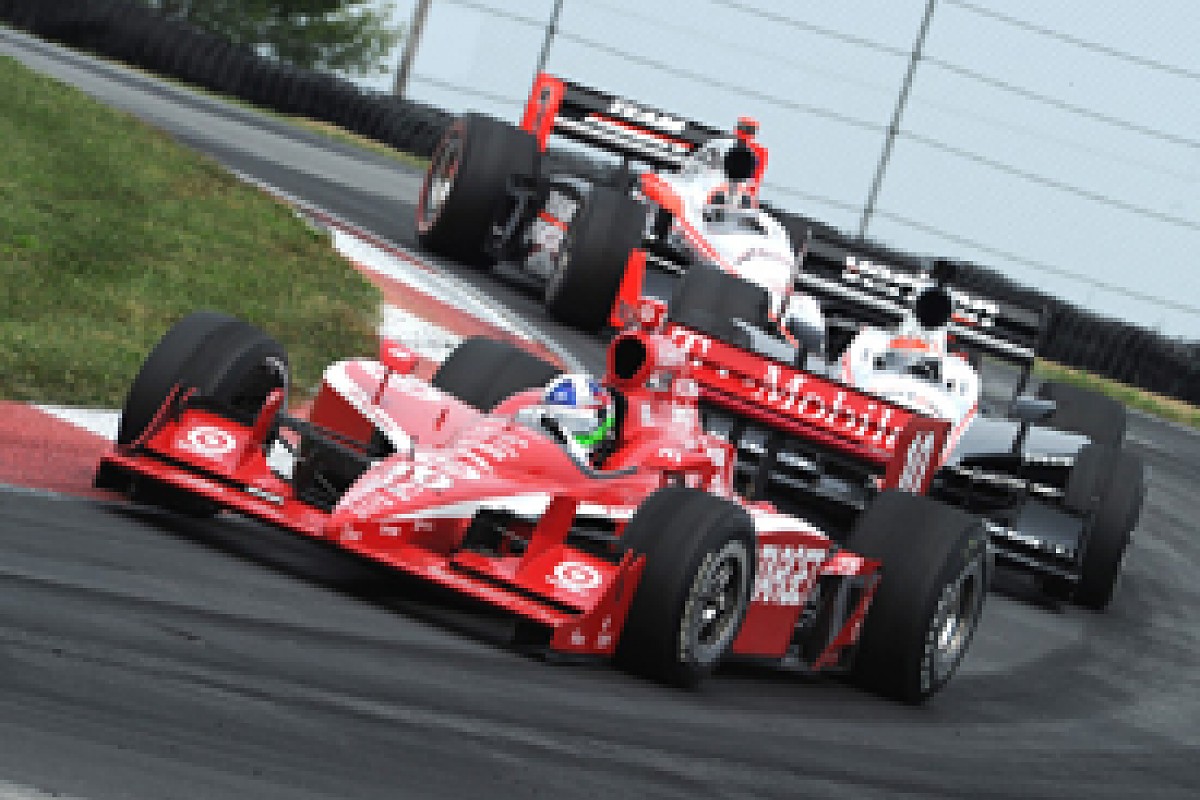 Franchitti fends off the Penske challenge © LAT
Franchitti resisted enormous pressure from Power to win at Lexington, having jumped in his championship rival in the pits.
But for much of the afternoon, it looked like Tagliani might snatch a sensational victory for rookie team FAZZT, having vaulted to the front with a well-timed first stop. Needing to pit slightly earlier than most meant he fell to fourth though in the final pit sequence though, behind Castroneves, who escaped a pitlane clash with Briscoe and Hunter-Reay.
Sato ran between Power and Franchitti in second in the opening stint, only to drop back with a slow pitstop and later crash out.
Points:
1 Power 461
2 Franchitti 420
3 Dixon 379
4 Briscoe 352
Round 13 - Sears Point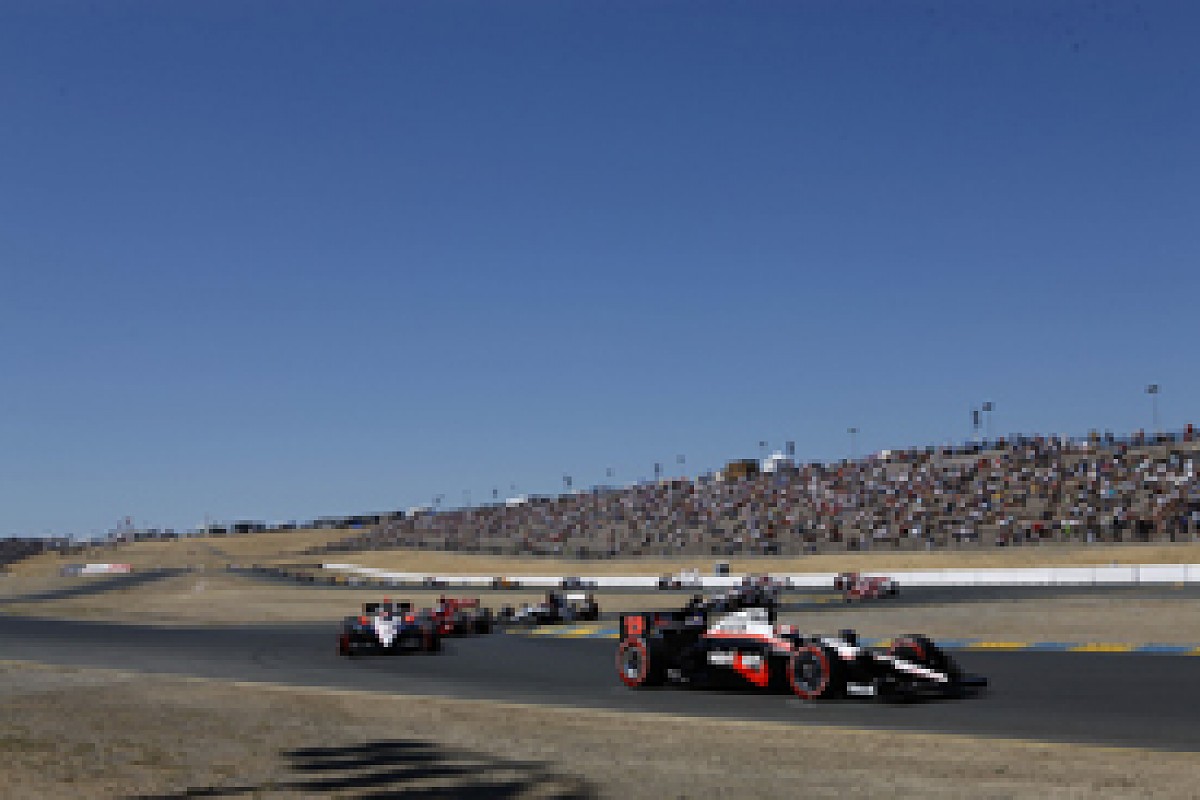 Power put the demons of Sears Point 2009 behind him © LAT
On his return to the scene of his 2009 back injury, Power took a poignant win, having dominated the first half of the race then fended off a faster Dixon in the closing laps, cementing his status as the year's road course champion.
Dixon's late charge took him past Franchitti for second, leaving the Scot to fend off Briscoe for the final podium spot.
The race saw plenty of incident down the field, some of it even before the green flag, as a clash of wheels on the final pace lap left Wheldon upside down.
Points:
1 Power 514
2 Franchitti 455
3 Dixon 419
4 Briscoe 384
Round 14 - Chicagoland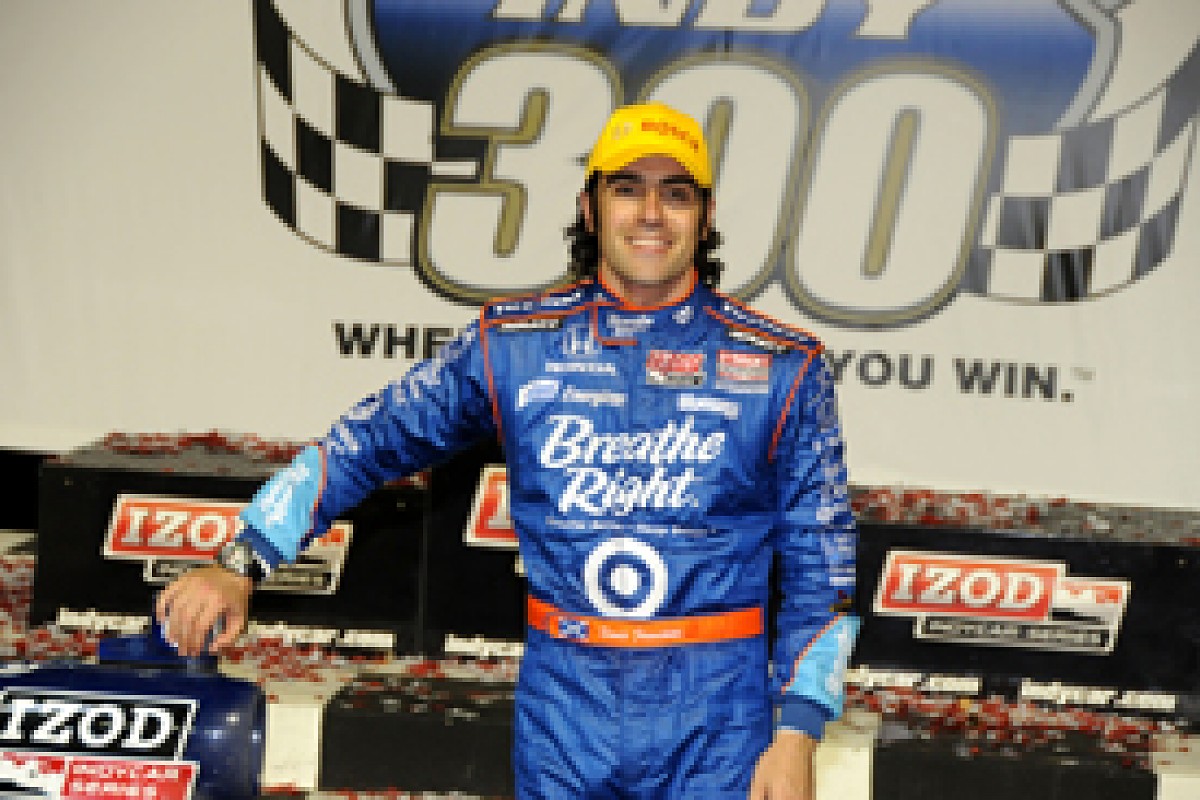 Franchitti closed in by winning at Chicagoland © LAT
This epic confrontation under the night sky in Chicago - which saw the top 14 finishers within 1.5s - went the way of Franchitti, after a canny decision not to change tyres at his final pitstop vaulted him into the lead.
The Ganassi man was in the thick of the action early on, jostling furiously with a huge pack of cars behind the pole-winning Briscoe, as the Australian looked set to dominate the event after qualifying but several high-line moments left the Penske man a disappointed 11th at the chequered flag.
A blinding stop by his Panther crew meant Wheldon was Franchitti's toughest rival at the end. Wheldon's recovery drive from an earlier sticking wheel nut at his first stop couldn't quite overhaul Franchitti, but the Briton did hold off Andretti for the second step on the podium.
Power left Chicagoland disappointed, however. He briefly sneaked into the lead before a fuel issue dropped him to 16th.
Points:
1 Power 528
2 Franchitti 505
3 Dixon 443
4 Briscoe 406
Round 15 - Kentucky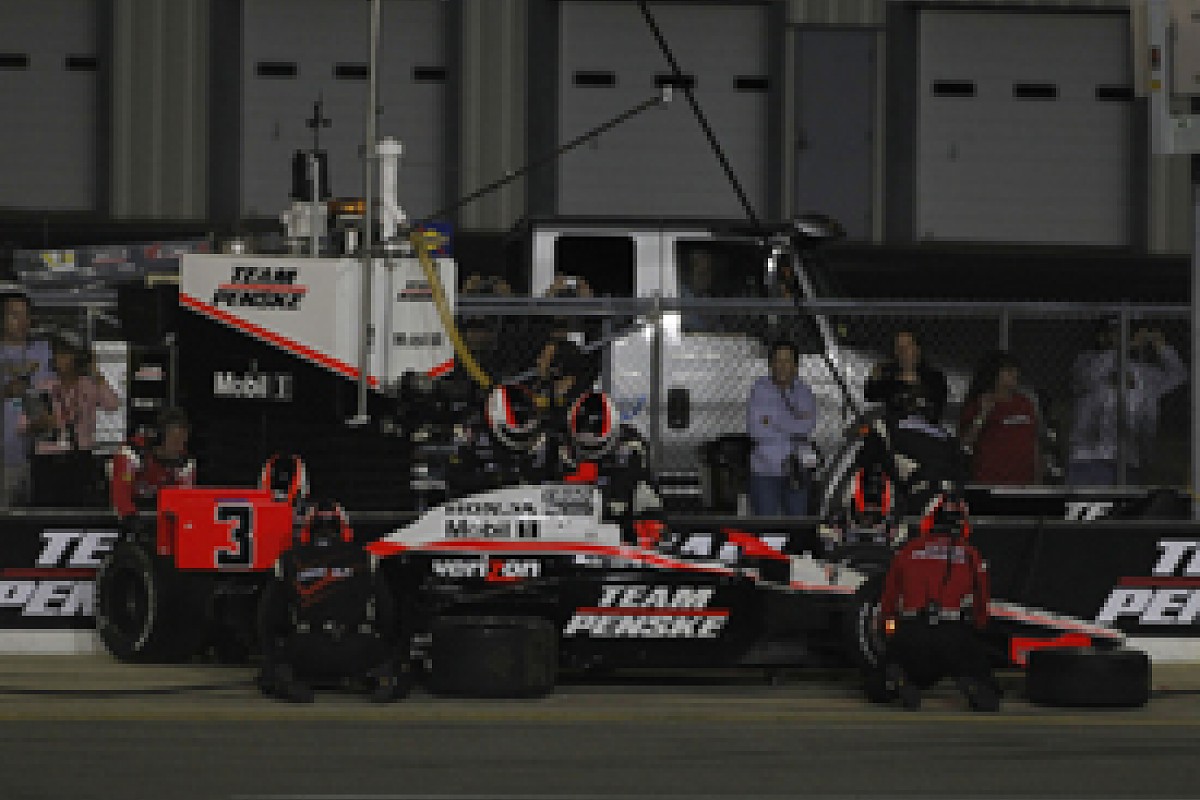 Pit work was key to Castroneves' win © LAT
Fuel consumption was the key to victory at Kentucky. Power battled early on with Panther's rejuvenated Wheldon, and they were later joined by Franchitti - when Power lost time in the pits - and shock polesitter Ed Carpenter, who would second in only his third race of the year. But a late race 'splash and dash' fuel stop for each allowed Penske's Castroneves to sneak through to win, thanks to an extra fuel stop made under yellow flags earlier on.
Wheldon just pipped Kanaan to third, despite the Andretti Autosport man starting on the back row. Power salvaged eighth after his delay, but it was Franchitti's low-profile drive to fifth that closed the gap in the championship to just 17 points.
Briscoe's title aspirations were all but ended when he was sent into the wall by de Silvestro's HVM car as it spun following a tangle with Meira.
Points:
1 Power 552
2 Franchitti 535
3 Dixon 469
4 Castroneves 448
Round 16 - Motegi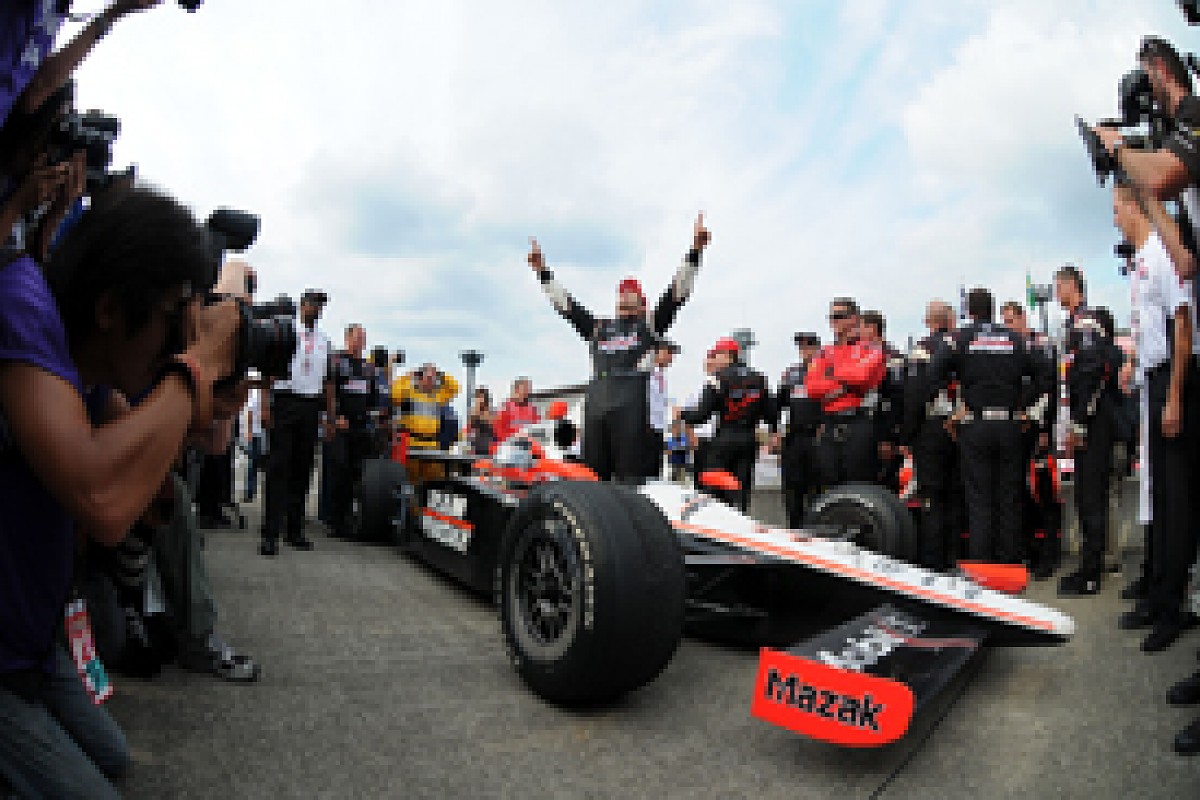 Castroneves celebrates his second win of September © LAT
There would be no thrilling battle for victory in Japan as polesitter Castroneves dominated proceedings. The Penske driver was led - briefly - during a late caution period by local boy Hideki Mutoh, whose Newman/Haas Dallara's fuel tank was being stretched to the limit. Some entertainment came from Briscoe and Franchitti's battle for second, the Ganassi driver spoiling Penske's clean sweep by eventually coming out on top.
Power, after a stellar final pitstop, jumped team-mate Briscoe for his first ever oval podium. But it was overall championship rival Franchitti who was crowned IndyCar's inaugural oval champion, and just 12 points separated the pair going into the final race.
Home hero Sato was satisfied with 12th given a heavy accident in practice, while his KV team-mate Moraes was flown to hospital after a violent crash early on but eventually released without serious injury.
Points:
1 Power 587
2 Franchitti 575
3 Castroneves 501
4 Dixon 497
Round 17 - Homestead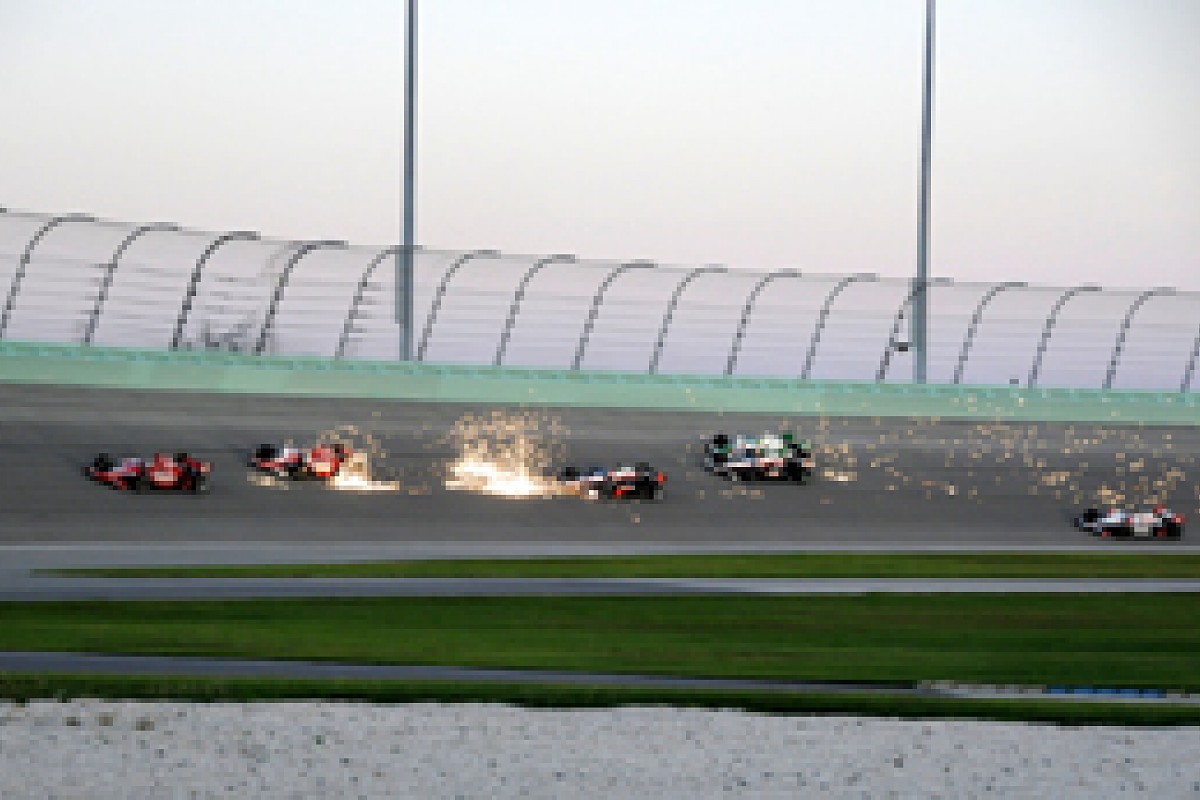 Franchitti set the early pace as dusk fell over the decider © LAT
Franchitti took a crucial pole for the finale, with Dixon as wingman alongside him and Briscoe in the same role for Power just behind.
But while Ganassi controlled the race at first - Dixon protecting Franchitti from all challengers - Power struggled to stay in contention. He eventually clawed his way through to fourth, before understeering into the Turn 4 wall and retiring.
Franchitti could be cautious thereafter, with Briscoe, Kanaan and Andretti enjoying spells in the lead before Dixon finally reigned at Homestead. An early-stopping Patrick denied team-mate Kanaan second place on the last lap after a fraught battle, as Franchitti came home eighth and secured his third IndyCar title in just four years.
Points:
1 Franchitti 602
2 Power 597
3 Dixon 547
4 Castroneves 531
2010 IndyCar season summary
2010 IndyCar final points standings
*For the full analysis of the IndyCar season, including interviews with Franchitti and Power, buy this week's AUTOSPORT magazine - or get the online version, here.