Whether it's due to a well-crafted points system, very even competition, sheer luck or all of the above, the IndyCar Series has an incredible knack of building up to thrilling final round shoot-outs, the latest of which will happen at Homestead on Saturday night.
Ahead of the showdown between Penske's new hero Will Power and 21st century IndyCar legend Dario Franchitti, we look back at some of the finest last race deciders in American single-seater racing's modern history.
2002 - Hornish's underdog triumph
Penske pre-empted the exodus from Champ Car to the then-Indy Racing League and jumped ship a year earlier than most, at the start of the 2002 season. Fresh from back-to-back Champ Car titles with Gil de Ferran, it was expected - by outsiders at least - to blitz the IRL minnows that had been so casually swept aside by the Champ Car giants at the Indianapolis 500 for the previous two years.
But reigning IRL champion Sam Hornish Jr and his Panther Racing silenced anyone who underestimated the league by beating Penske in the Homestead opener and then taking the title fight to de Ferran and Castroneves.
By the Texas finale it was down to just Hornish and Castroneves, concussion from a massive Chicagoland crash having sidelined de Ferran. Hornish had a 12-point lead and seemed assured of victory as he pulled away from the field, until a quirk of yellow and pitstop timing allowed Castroneves to jump to the front and dropped Hornish back to eighth - with 12 lapped cars in the way too.
Undeterred, the American hacked through the traffic and attacked Castroneves in a grandstand finale that saw the title combatants swap the race lead six times in the final 24 laps before Hornish beat his rival across the line by just 0.0096 seconds to clinch the race win and the championship.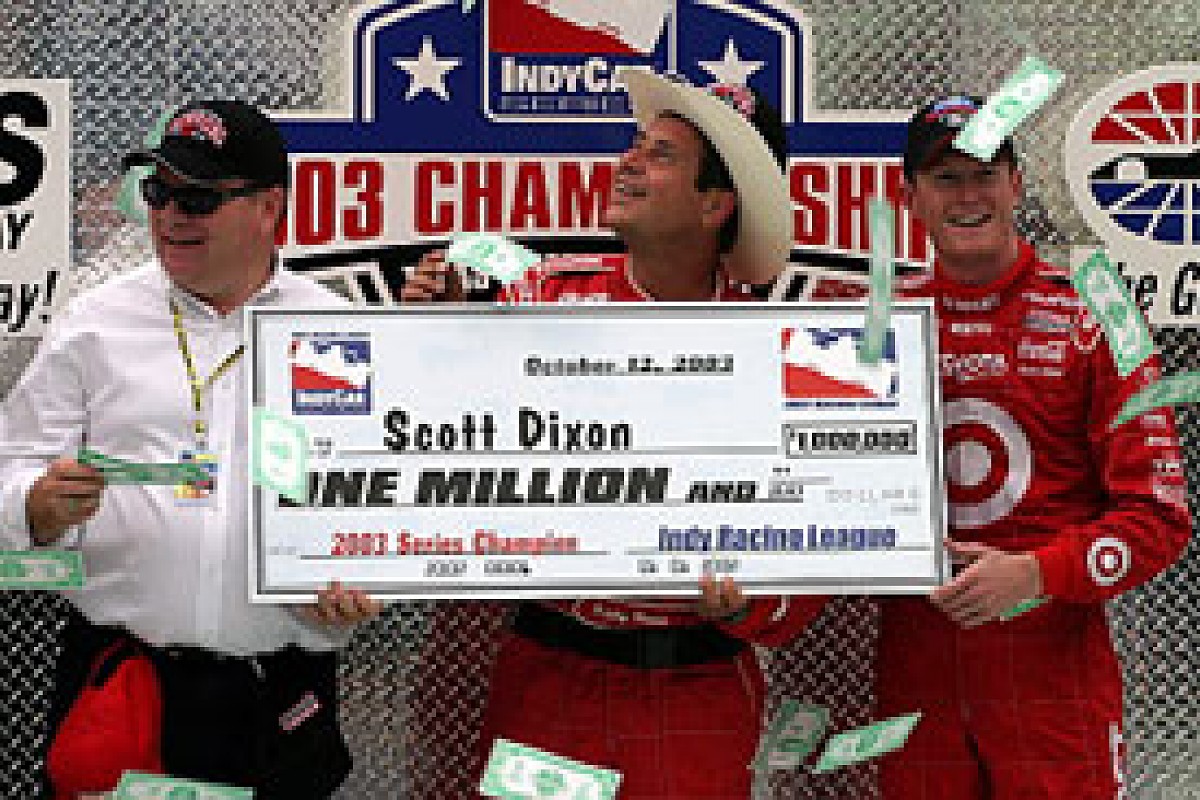 © LAT
2003 - Dixon wins under a cloud
By 2003 Ganassi and Andretti had joined Penske in what was now rechristened the IndyCar Series. It was a fiercely competitive year as they settled into the ferocious oval pack racing, with nine drivers winning races, and a bruising one too - Scott Dixon, Tony Kanaan and de Ferran all picking up injuries during the title chase.
Five drivers were in with a shout heading to the Texas decider. Dixon and Castroneves shared the points lead, seven ahead of Kanaan. Hornish had a poor start to the year but surged into contention with three wins once Chevrolet was controversially allowed to switch to a new engine. He sat 19 points behind the leaders, and 11 ahead of de Ferran, whose Penske seat he was set to take in 2004 after the Brazilian announced his retirement.
All five men led, and all five appeared to have one hand on the title as the frenetic race unfolded. De Ferran looked like the first one out of contention, forced to pit for checks after a wild ride over the grass avoiding the spinning Felipe Giaffone. But he stayed on the lead lap and worked his way back to the front, leading again by the final stops.
By then, Hornish's hopes of a title hat-trick had wilted with his engine, and Castroneves and Kanaan lost their chance when they banged wheels on lap 180. That put Dixon in the prime spot, and he hung on in second behind De Ferran, knowing that would be sufficient.
Sadly the celebrations for Dixon's first title and de Ferran's farewell race win were overshadowed when Kenny Brack sustained serious injuries, which would all but end his top-line career, in a horrifying late accident, bringing this epic contest to a muted end under yellow.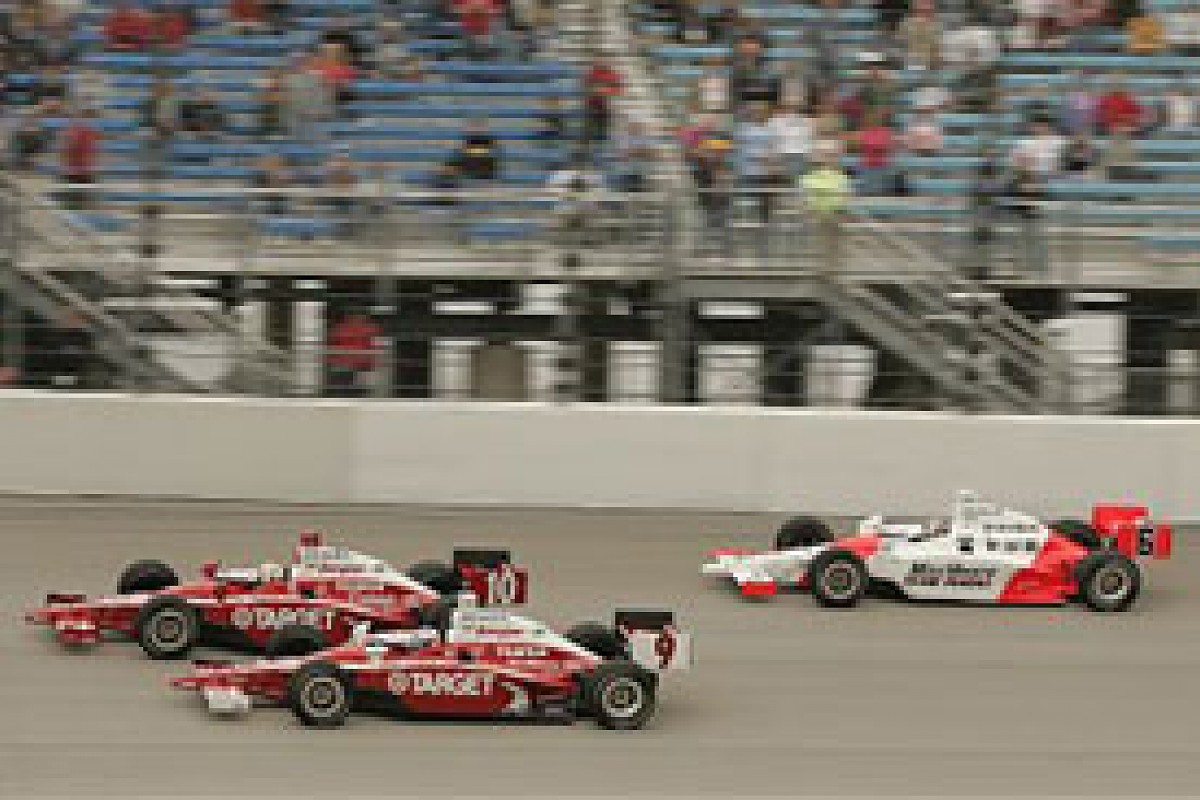 © LAT
2006 - Four to the finish
The first year of the all-Honda engine formula saw Penske and Ganassi totally dominate, winning 12 of the 14 rounds between them.
With one round to go, Penske had the edge, Castroneves leading team-mate Hornish by a single point. Ganassi's Dan Wheldon and Dixon were a further 18 and 20 adrift respectively as the four contenders pitched up at Chicagoland.
The good news for Penske was that the top four were a class apart again in the race, denying Ganassi an opportunity to get cars between its drivers and their rivals. Then things swung Hornish's way when Castroneves was given a pit speeding penalty, leaving the Brazilian furious and dropping him to 15th.
Hornish could therefore afford to tuck in behind the Ganassi pair and watch them race the wheels off each other through the final stint, as Dixon and Wheldon incessantly swapped the lead and even made light contact with four laps to go. All the time Hornish was in third, he was safe, and the recovering Castroneves - now enraged with old friend Kanaan who he felt had unfairly impeded him - couldn't get close enough to rejoin the fight.
Wheldon took the win by 0.1897s over Dixon and 0.2323s over Hornish, leaving the Briton and the American level on points, and meaning Hornish claimed his third title on countback via his tally of four wins to Wheldon's two.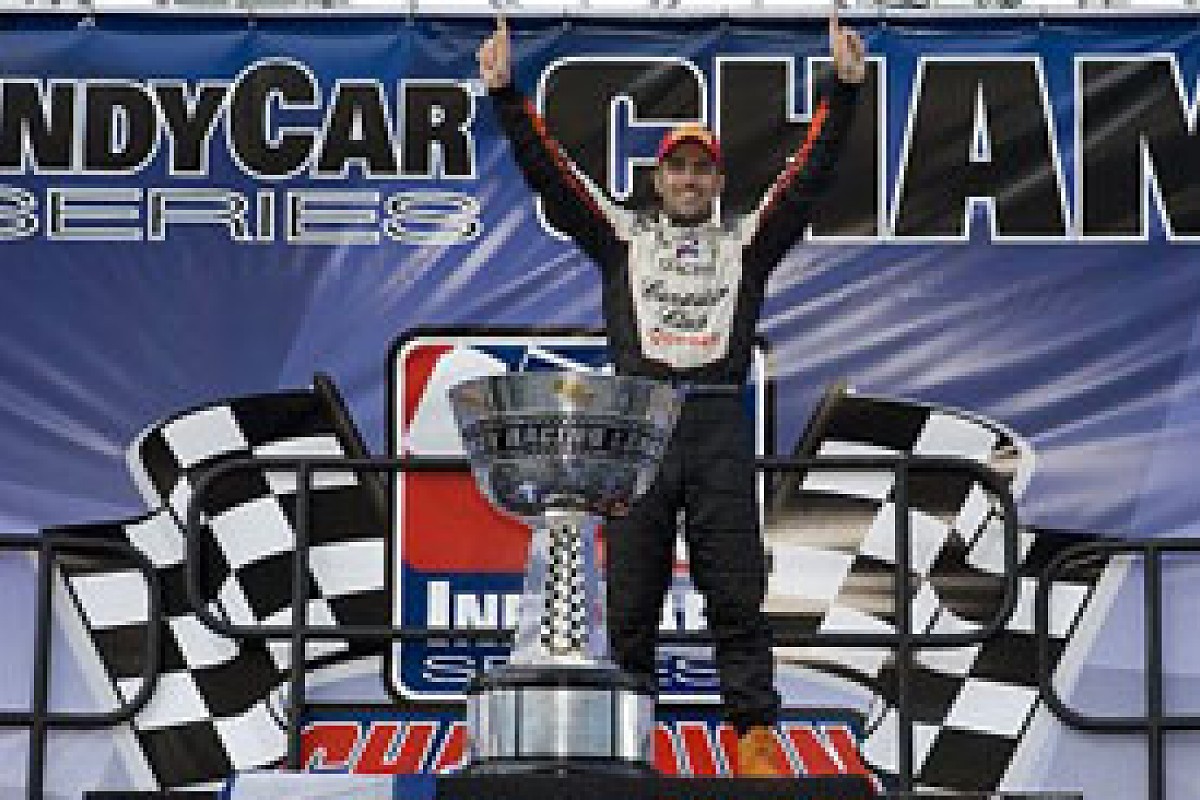 © LAT
2007 - Franchitti has the last laugh
Dario Franchitti wasn't having a great summer. It had all looked so rosy when he won the Indy 500 for the first time and then stretched out a 65-point championship lead.
Then a few defeats to Dixon chipped some of that cushion away. Which was not too worrying... until two massive aerial crashes in consecutive oval races in mid-August cost him further ground, and raised questions about his composure as the second one happened when he ploughed into Kosuke Matsuura's car after the chequered flag at Kentucky.
Worse still, just as he was about to steady his title challenge by winning at Sears Point, he lost the victory and the points lead to Dixon after a tangle with his team-mate Marco Andretti - who Franchitti felt shouldn't have been closing the door on him with a title at stake. When team boss - and father of Marco - Michael Andretti backed his son over the clash, Franchitti's mood darkened further.
More controversy followed in Detroit, where Dixon - on course to stretch his lead - clashed with Buddy Rice on the penultimate lap and spun, then slid back into Franchitti and pinned his title rival against the wall. Michael Andretti accused Dixon of deliberately allowing his car to back into Franchitti's, but it was the latter who managed to get going again and sneak back into a three-point lead, making Chicagoland a winner-takes-all showdown.
The timing of yellows meant it came down to a tense fuel-saving finale. Dixon let team-mate Wheldon into the lead and sat in his slipstream trying to conserve his ethanol, with Franchitti right behind them both. Then Wheldon's tank ran dry and Dixon and Franchitti were left to fight it out. A late yellow seemed to alleviate their worries, and set up a two-lap dash to the flag, which Dixon led until Turn 3 on the final lap, when his car spluttered, its fuel all used up. Franchitti swept past, won the race, became champion... and then announced he was leaving for NASCAR - with Ganassi...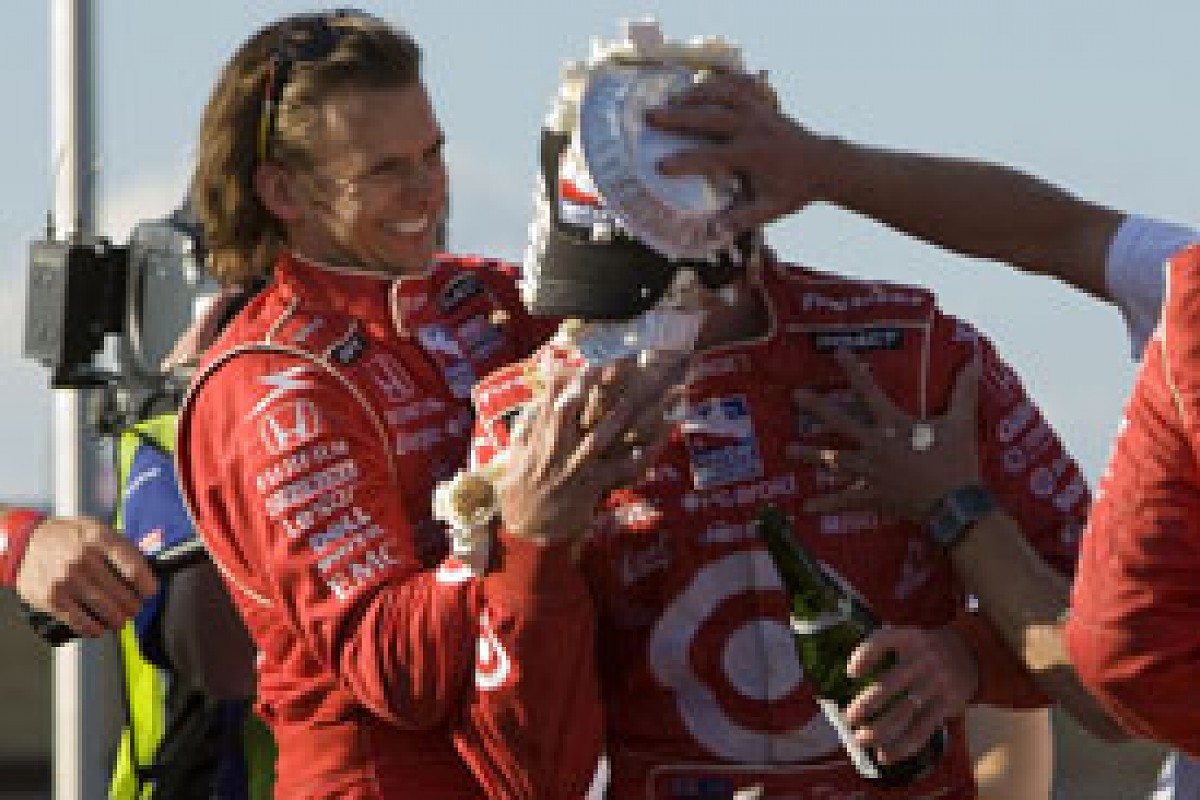 © LAT
2008 - Dixon loses race win, keeps title
Dixon seemed to be running away with the first year of the unified IndyCar Series, until a few strategic wobbles let Castroneves back into the hunt, although a blocking penalty in Detroit meant the Brazilian was still 30 points behind heading for Chicagoland.
When Castroneves was put to the back of the grid for dipping below the white line at the foot of the track on his qualifying run, Dixon's position looked even more secure.
But it wasn't over yet, The fired-up Castroneves scorched through the field and led by the second pitstops, while Dixon's handling went off and he tumbled to 10th - potentially giving Castroneves an unlikely title.
Dixon recovered, though, and in the final laps he was head to head with Castroneves for the race win, even though he could've hung back and still taken the crown. The timing screen gave Dixon the race win by 0.01s, but even as he celebrated, the officials were watching video replays and reconsidering the photo finish.
They soon announced that actually Castroneves had been a nose in front and gave the Brazilian the win instead - a new record for the lowest starting spot for a race winner (28th). Not that it mattered much to Dixon, he had a title to savour.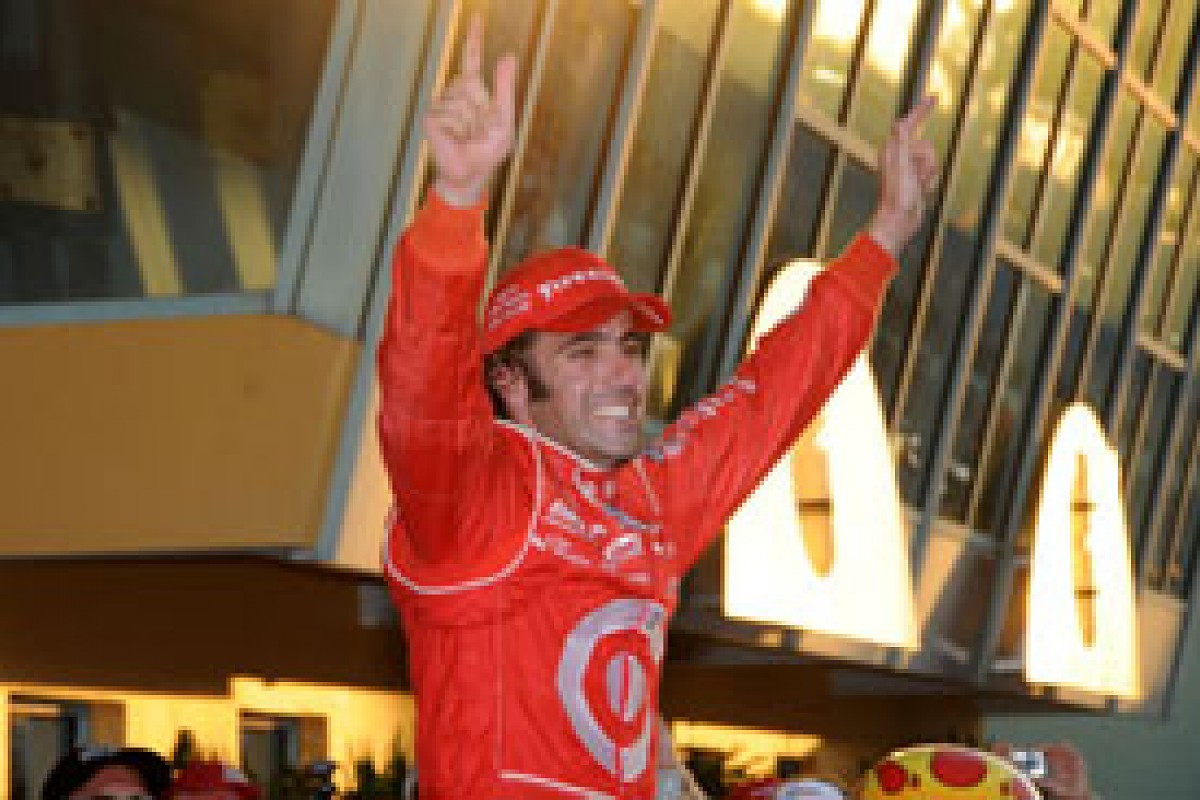 © LAT
2009 - Franchitti the fuel king, take two
Penske's Ryan Briscoe should've come to Homestead with the 2009 title all but won. Unfortunately for him, a moment's over-aggression in the Motegi pits had sent him into the wall and down to third in the standings, eight behind Franchitti (now back in IndyCar with Ganassi) and five behind Dixon.
For most of the decider, which ran yellow-free at a breathless record pace, Franchitti seemed to be out of it. Briscoe and Dixon were all over each other at the front of the field, and the Scot seemed to have no answer.
But he was playing a canny game. Aware that he didn't quite have the pace of his two rivals on this occasion, and that unless a yellow fell soon, they would all need last-minute pitstops, he focused on conserving fuel. When Dixon and Briscoe had to dive for the pits with nine and seven laps respectively to go, Franchitti stayed on track, squeezed the last few metres possible out of his remaining fuel, and became champion again.

And a few from Champ Car
The Champ Car points system seemed to be less good at nurturing last-round deciders. More often than not, the champion was crowned with a few races to spare, or the leader could take it relatively easy in the finale. But here are a handful of memorable denouements from the CART/Champ Car era.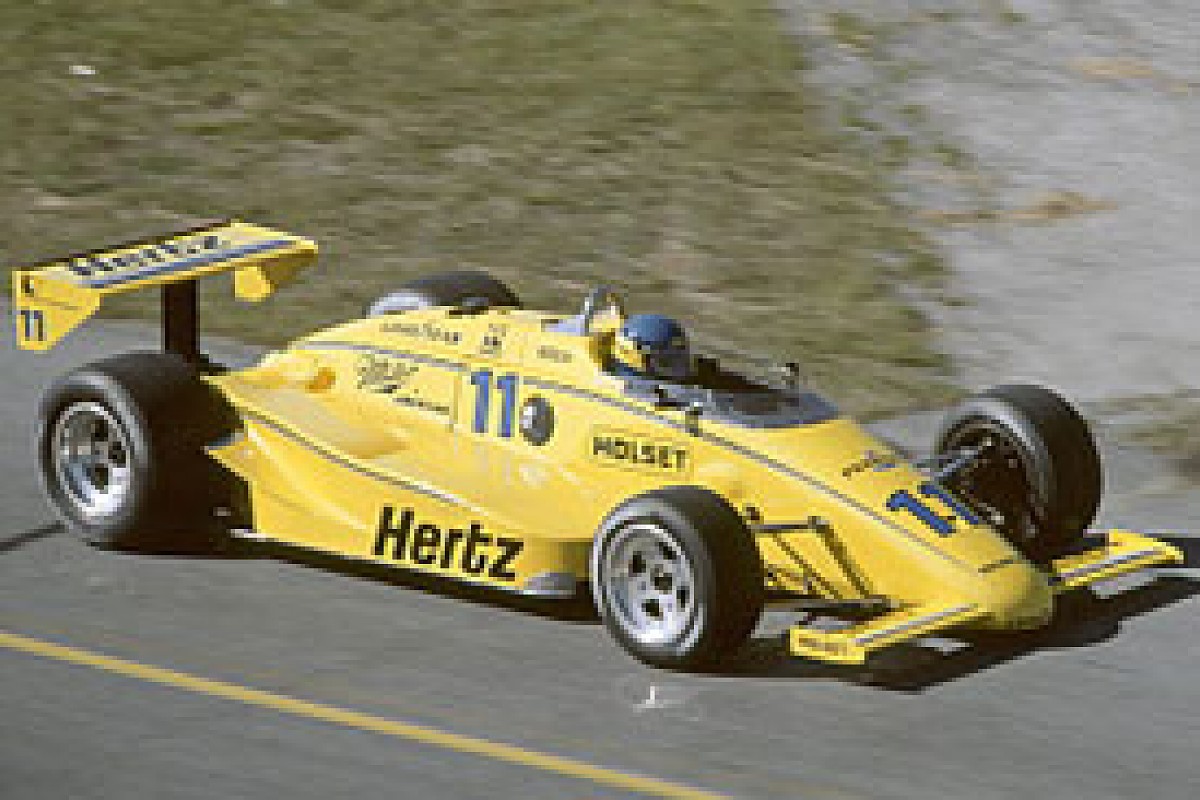 © LAT
1985 - Family affair
Al Unser Sr wasn't supposed to contest the full 1985 season, let alone fight for the title. Penske's plan had only been for him to fill in for Rick Mears as his fellow champion recovered from the terrible leg injuries he had sustained at Sanair the year before.
But with typical steely consistency, 46-year-old Unser was rarely out of the top five, and as the likes of Mario Andretti and Emerson Fittipaldi's form fluctuated, and Mears had to sit out more and more races, 'Big Al' emerged in the points lead, having only missed a single round in the end.
And as the championship neared its finale, it turned into a family battle, with Unser's son Al Unser Jr came becoming his dad's nearest challenger.
A dominant win from pole at Phoenix put Big Al three points ahead by the Miami finale. Danny Sullivan and Bobby Rahal took control of the race on the Miami street track, while the Unsers had to work their way through from eighth and 12th on the grid. In the final stint 'Little Al' held third, two places ahead of his father and enough to clinch his first championship, if he could nurse his car's overheating engine to the flag.
But Big Al was catching fourth-placed Roberto Moreno. If he passed the Brazilian, he would be champion, but he would be denying his son... With five laps to go, Big Al made his move, overtook Moreno for fourth, and beat Al Jr to the title by a single point, becoming Champ Car's oldest champion in what was then its closest-ever title race. Al Sr admitted he had agonised over whether to hang back and let Al Jr take the crown, before deciding "I'm a racer - I can't back off..."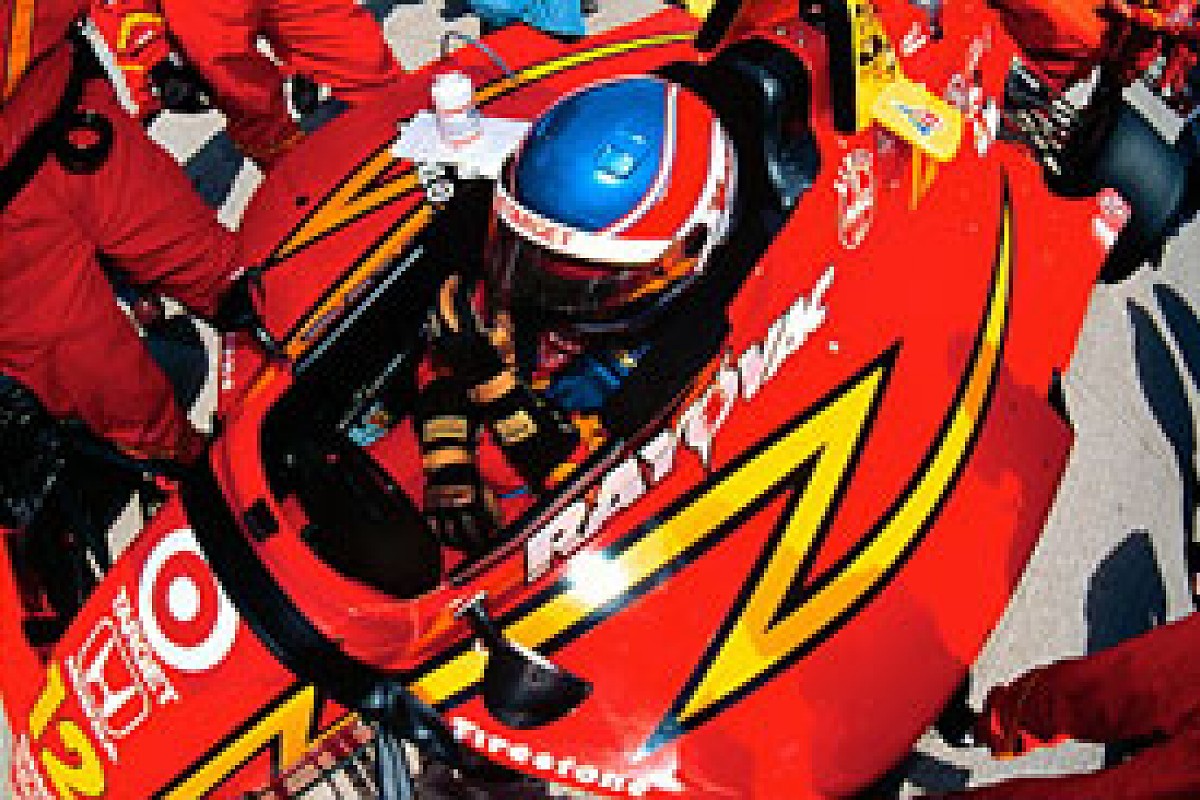 © LAT
1996 - The new order
The 1996 finale didn't live up to its promise, but it did mark the moment when Ganassi and Honda established themselves as Champ Car forces, and provided one of American single-seater racing's finest ever moments.
Ganassi's Jimmy Vasser, a promising but win-less talent prior to 1996, revelled in Ganassi's Reynard-Honda/Firestone package and claimed four wins from the opening six rounds. But then came a summer of stumbles - having scored 94 points in rounds one to six, he took just 18 in rounds seven to 12.
All the time, established superstars Michael Andretti and Al Unser Jr, plus Vasser's increasingly superb rookie team-mate Alex Zanardi, crept ever closer in the points, and after another glitch in Vancouver, Vasser went to the Laguna Seca decider with his lead down to 14 over Andretti and 17 over Unser, with the former confidently promising a sleepless week for the under-pressure points leader.
In the end, Vasser wasn't the one who wilted. He qualified fifth while neither of his rivals made the top 10. Unser was off the pace all weekend and tumbled to 16th as his tyres faded in the final stint, Andretti spun into Rahal and could only recover to ninth after repairs. A careful fourth for Vasser was enough to clinch his title.
But that was nearly overshadowed by Zanardi's antics, as he stole victory from Bryan Herta with his infamous last-lap dive at (and over) the Corkscrew. And had backmarker PJ Jones not taken Zanardi out as he dominated in Vancouver, that remarkable pass would have made champion in his rookie year... Though had there been a title at stake, would Zanardi really have left it until half a lap from home to lunge at Herta...? And Vasser probably wouldn't have let Scott Pruett pass him for third if the title had depended on it. Zanardi's time would come soon enough anyway.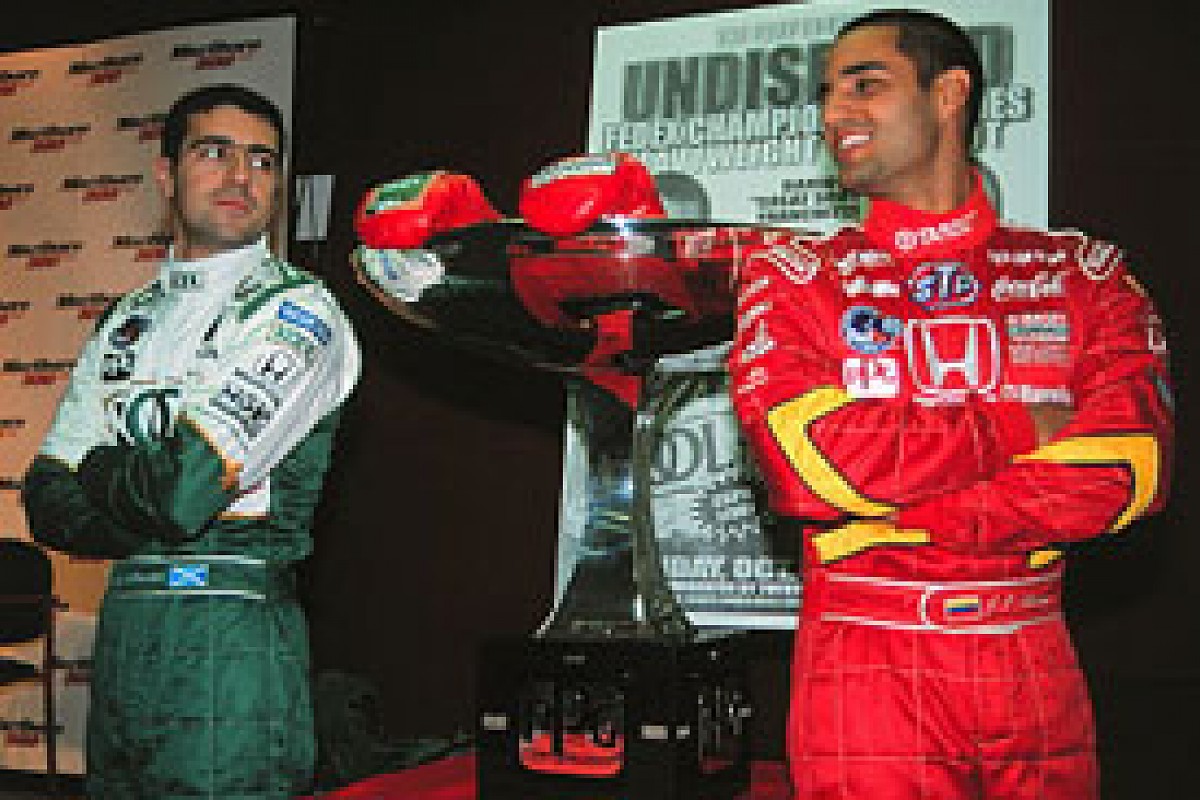 © LAT
1999 - Triumph and tragedy
Only a tie-break separated Juan Pablo Montoya and Franchitti at the end of the 1999 season, Champ Car's closest ever. But what should have been one of the finest days in the championship's history became one of its worst due to the death of their friend and rival Greg Moore in a early-race crash at the Fontana finale.
Montoya ought to have wrapped up the championship with a few races to go, but crashes in Houston and Surfers Paradise squandered his big points lead and let Franchitti build a nine-point cushion.
Both were among the lead pack when Moore had his fatal accident on lap 10. He was declared dead less than an hour later, with the crowd and teams told and the circuit flags lowered to half-mast. But the race continued, at the insistence of Moore's father Ric, who knew his son - the ultimate racer, would want to see the title battle resolved properly.
By then, Franchitti seemed out of contention, pitstop problems having plunged him into the midfield, while Montoya led for a spell. But in the closing laps, Franchitti clawed his way back to ninth, while Montoya started losing ground. Then Franchitti's efforts to stretch his fuel to the finish failed and he had to pit seven laps from the flag, falling to 10th - still enough to clinch the title with Montoya fifth at that point. But Montoya had the fuel-conserving Mauricio Gugelmin in his sights, charging past to take fourth with just four laps of the season left, bringing him equal with Franchitti and making him champion on countback thanks to his greater win tally.
It was an appropriately superb contest, but one which suddenly seemed irrelevant to the distraught drivers when they learned of Moore's death as they returned to the pits.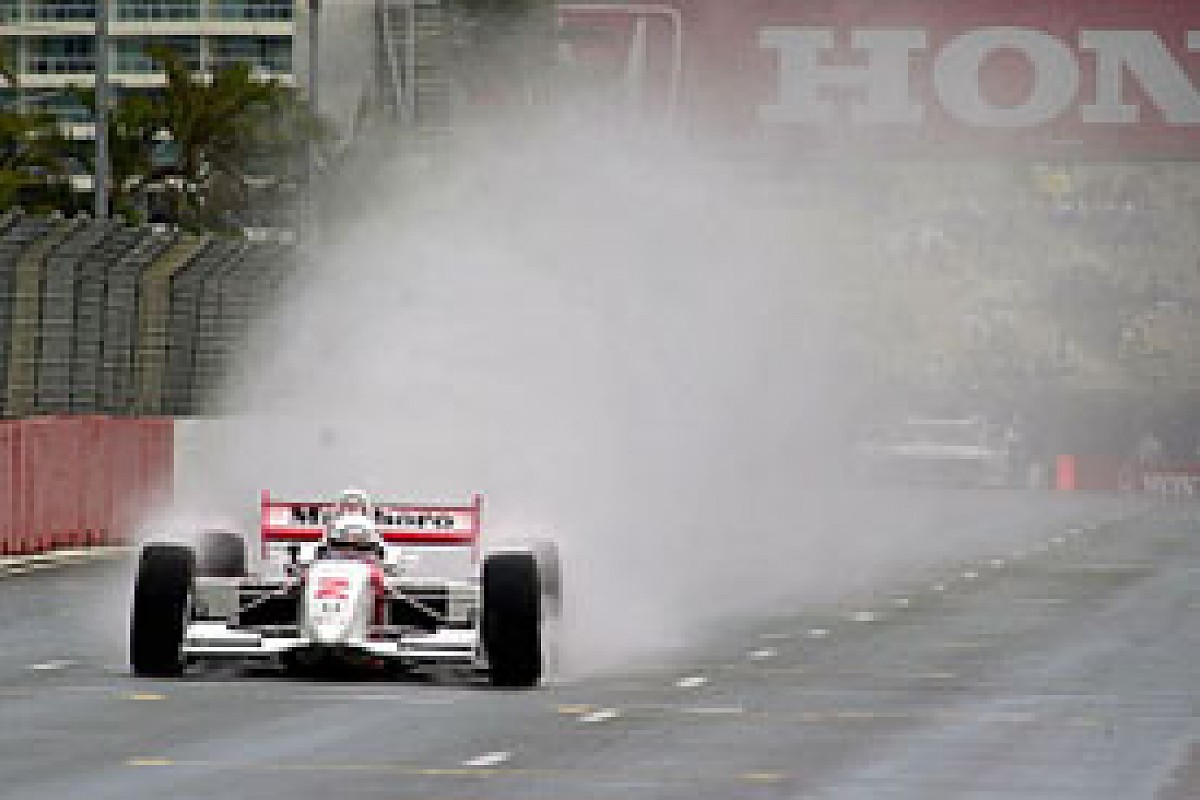 © LAT
2000 - Monday madness
The 2000 season was a wild and wonderful one, with 12 different winners and nine drivers still mathematically in title contention two rounds from the end. Five of them - including Montoya and Castroneves, the season's rapid-but-inconsistent pacesetters - dropped out of the hunt amid utter mayhem in Surfers Paradise, where de Ferran threw away his chance of clinching the title early by colliding with Montoya at the start.
Penske's Brazilian still led the standings going into the Fontana decider, but now only five points ahead of Adrian Fernandez, with Paul Tracy and Brack still just about in contention, 19 points behind - rather more than Tracy would've been had he not also been in the thick of several incidents in Australia. Moreno's long-shot hopes were ended when de Ferran denied him the pole bonus that would've kept him in contention.
Tracy didn't last long in the race either, his engine blowing so violently it shattered the engine cover. So now it was down to de Ferran, Fernandez and Brack - but they would have to wait 24 hours to finish fighting it out, as a rainstorm hit just after Tracy's demise, stopping the race just 13 laps in.
When it finally resumed on Monday afternoon, the decider delivered a then-record number of lead changes, and so many incidents and accidents that just six cars were still there at the flag. An engine failure accounted for Brack, but de Ferran kept his nose clean, lurked in the lead group and successfully fended off Fernandez, taking third to his rival's fifth place to clinch his maiden title and give Penske its first championship since 1994.