The Indianapolis 500 is back. It's been a while since the self-proclaimed Greatest Spectacle in Racing could claim it was living up to its grand heritage, but the 2010 edition is shaping up to be the finest Indy in years.
The pomp and pageantry never waned during the damaging decade-and-a-bit of the IndyCar/Champ Car split, but still every May thoughts would wander towards who wasn't at the Speedway as much as who was.
Now the rebuilding process begun with reunification two years ago is starting to bear fruit. The arrival of title sponsor Izod and new chief Randy Bernard is beginning to re-energise IndyCar and shift it away from a troubled past and, gradually, towards a brighter future - and that's rubbing off on its blue-riband race too.
Indy thrives on its legends, its underdogs, and its toppled giants. So far this month has featured all three.
With three Indy 500 wins under his belt already and now a fourth pole too, Penske's Helio Castroneves is already an Indianapolis great. A fourth victory in the famous race this weekend would draw him level with legends AJ Foyt, Al Unser and Rick Mears - the only four-time victors in the event's history so far - and make him the first non-American to achieve the feat. It would also make the fact that he still hasn't won a title all the more bewildering...
Castroneves is certainly the fastest man around Indy at present. His immediate pace on the day the track opened for practice caused jaws to drop from the outset, and he stunned his rivals again with a 227.971mph average on his first qualifying run of the new pole shoot-out session. It took the rest of the afternoon for his rivals to get to within a respectable distance of that incredible pace.
"When I saw those numbers, I thought, what do they have they we don't?" admitted Dario Franchitti, who gave Ganassi a front row presence in third behind Castroneves' championship-leading team-mate Will Power.
Scott Dixon, back on the second row in Ganassi's other car, was similarly concerned - and bemused that Penske hadn't filled the whole front row, with Ryan Briscoe 'only' fourth in its third car.
"I don't know what they're doing, but they're doing it right," mused Dixon. "I'm sure maybe Ryan is kind of asking what they're doing as well..."
But Castroneves is not taking anything for granted - and insists that even though he's had the competition covered in practice and qualifying, sustaining that over 500 miles will be a totally different matter.
"Qualifying is a totally different scenario than the race," Castroneves insisted.
"Sometimes not the fastest car is the one that win the race. We actually had that experience in 2003. So we don't want to fall in that situation again. We want to learn from those situations and make it better."
If Castroneves does go on and win, it will mean the rare sight of a car without a major title sponsor in Victory Lane, for with the end of the outfit's long association with Marlboro, both Castroneves and Briscoe simply have 'Team Penske' on their sidepods. Penske is certainly not impoverished - and has Verizon on board for Power's entry - but when even its powerhouse team has some bare flanks, it's a sign of how tough times are for IndyCar sponsorship.
And that's the backdrop for the heartwarming underdog stories of the month. Three drivers in the top ten on the grid - Graham Rahal, Ed Carpenter and Townsend Bell - expect Indy to be the final race of their seasons. For Carpenter and Bell, it will be the first one as well. Their teams - former Indy winner Rahal Letterman, Tony George's own Vision squad, and top Indy Lights name Sam Schmidt Motorsports - are making one-off IndyCar appearances too, none able to afford full programmes. Yet they are starting right in the thick of the action and have a good chance of getting at least into the top five.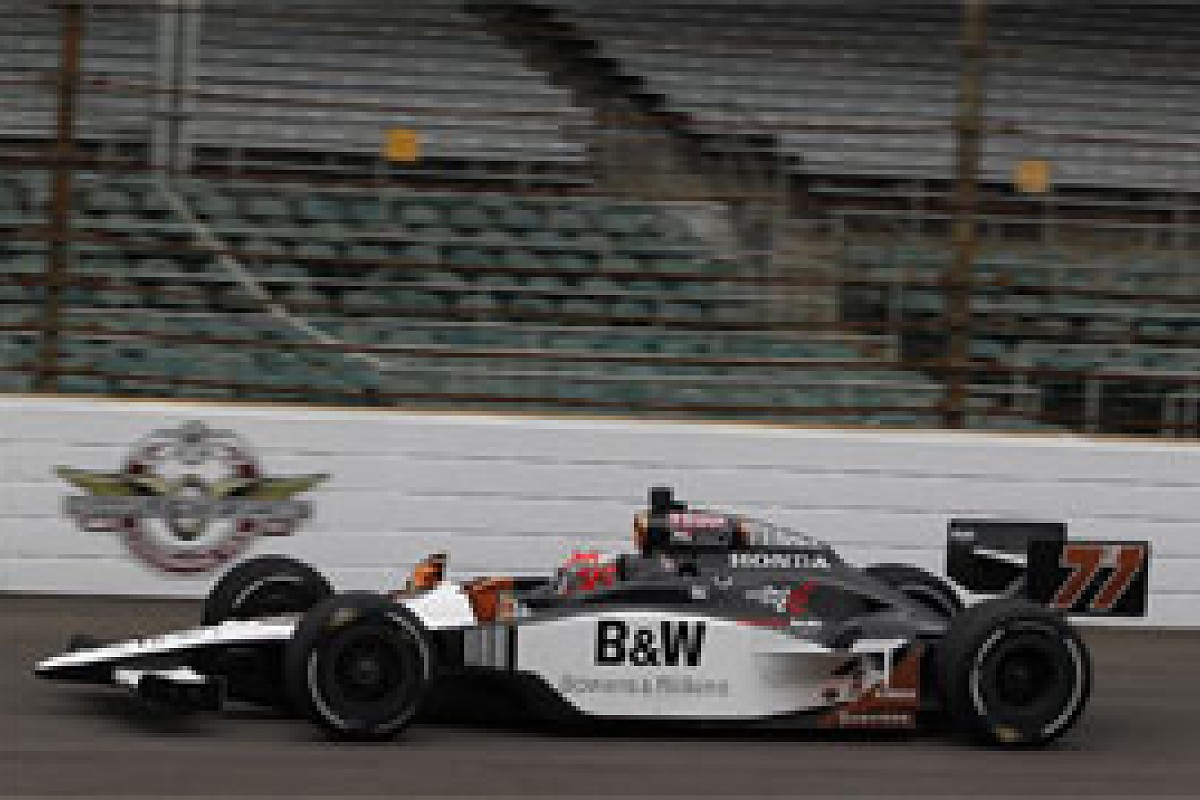 But the month's undisputed champion giant-killer so far has been the Fazzt team. Newly-formed, short on finance, but not lacking in experienced personnel, the team announced its arrival in IndyCar with a front row start in its debut in Sao Paulo and has been just as impressive at Indy. The Penske and Ganassi drivers had to dig deep to knock Fazzt's Alex Tagliani off pole, and he will start among them in fifth.
Even more impressive, when enough funding was finally scraped together to get Bruno Junqueira into the second Fazzt car on Bump Day, he set a pace that would have got him easily in the top ten on Pole Day. He then went fourth fastest on Carb Day. Tagliani had been keen to give Junqueira - who hasn't started an IndyCar race since the end of 2008 - an Indy shot as he had handed his car to the Canadian last year when both were driving for Conquest and Tagliani, around whom the team was trying to build a full-season sponsor package, failed to qualify. If that gesture can end in a top ten finish for Junqueira, it would surely enter Indy 500 folklore.
Naturally with so many surprise contenders in the top ten, some big names are struggling at the back. Such shocks are a big part of the allure of Indy, with Penske's 1995 non-qualification still talked about, and having the likes of Takuma Sato, Tony Kanaan and Paul Tracy slogging it out to squeeze into the field certainly made for an enthralling, high-stakes, Bump Day.
KV's bold decision to run Tracy, Sato, Mario Moraes and EJ Viso - all drivers known for fireworks - lived up to sceptics' expectations with three of its cars crashing heavily in practice. Tracy was the only one who didn't, yet it was him that ended up failing to qualify.
Andretti Autosport has endured almost as much strife. Danica Patrick's no-holds-barred criticism of her car only qualifying 23rd - by far her worst starting spot at Indy - was one of the big stories of the build-up, as was Kanaan's strife as he crashed on both Pole Day and Bump Day before finally getting onto the back row of the grid. At least Marco Andretti and the sponsor-hunting Ryan Hunter-Reay managed to get as 'high' as row six, and while Hunter-Reay has lacked qualifying pace all month, he is confident he can make progress in the race.
In the lead-up to practice, the possibility of a big money bonus to entice NASCAR stars to try and win both the Indy 500 and the same day's Coca Cola 600 at Charlotte was the talk of the paddock. But as qualifying weekend showed, and the race will surely underline, this IndyCar field doesn't need guest stars to create storylines.
After two weeks of practice, qualifying, speculation, effort and emotion, the giants, the underdogs, the struggling stars and the record number of women will grapple for victory over 500 miles in the race that means more to them than any other. And as the polesitter himself said, when the green flag drops, everything that's happened over the last few weeks could suddenly become utterly irrelevant. Whether Castroneves joins the all-time greats or an underdog pulls off the surprise of the decade, the only certainty is that they will have to really, really earn their victory in a race that is starting to recapture the glory that made it a global legend.