The CART Champ Car World Series breezed into the 21st century comfortably on top of the American single-seater racing world.
It was about to enjoy its most competitive season ever, as a host of chassis and engine supplier swaps concertinaed the lead group. A record 11 drivers won races, and five disputed the title in the finale. It boasted four engine manufacturers and 15 teams, most of which were capable of podiums at least.
Races in Mexico and Europe were on the horizon, and it was financially secure having been successfully floated on the stock market while riding high in the late 1990s.
Alex Zanardi's failure in Formula 1 hadn't damaged Champ Car's international standing either. Reigning champion Juan Pablo Montoya was clearly F1-bound, and CART had become the top destination for Formula 3000 champions.
Meanwhile, away from its Indianapolis 500 showpiece, Tony George's Indy Racing League remained a minor player. Its top driver Kenny Brack had just defected to Champ Car and Buddy Lazier's 2000 title gained little attention. The IRL wasn't short of entries, but its field lacked Champ Car's overall quality and strength in depth.
If asked to predict which of the warring series would have emerged triumphant by the end of the decade, most would have bet on Champ Car. They would have been wrong...
Champ Car's fall from grace was rapid and painful. Beneath the fantastic racing and wide-open competition of the 2000 season, cracks were developing.
By then NASCAR had already become America's leading motorsport as the open-wheel schism dissuaded casual fans and irritated the die-hards - who longed to see all the top drivers in one series, and that series racing at Indianapolis.
This led to increasingly dreadful Champ Car television ratings, dwindling attendances at some tracks, and a trickle of departing sponsors. The series' exposure was decreasing at a time when its costs were rising thanks to the manufacturers' development race - which was not a healthy combination.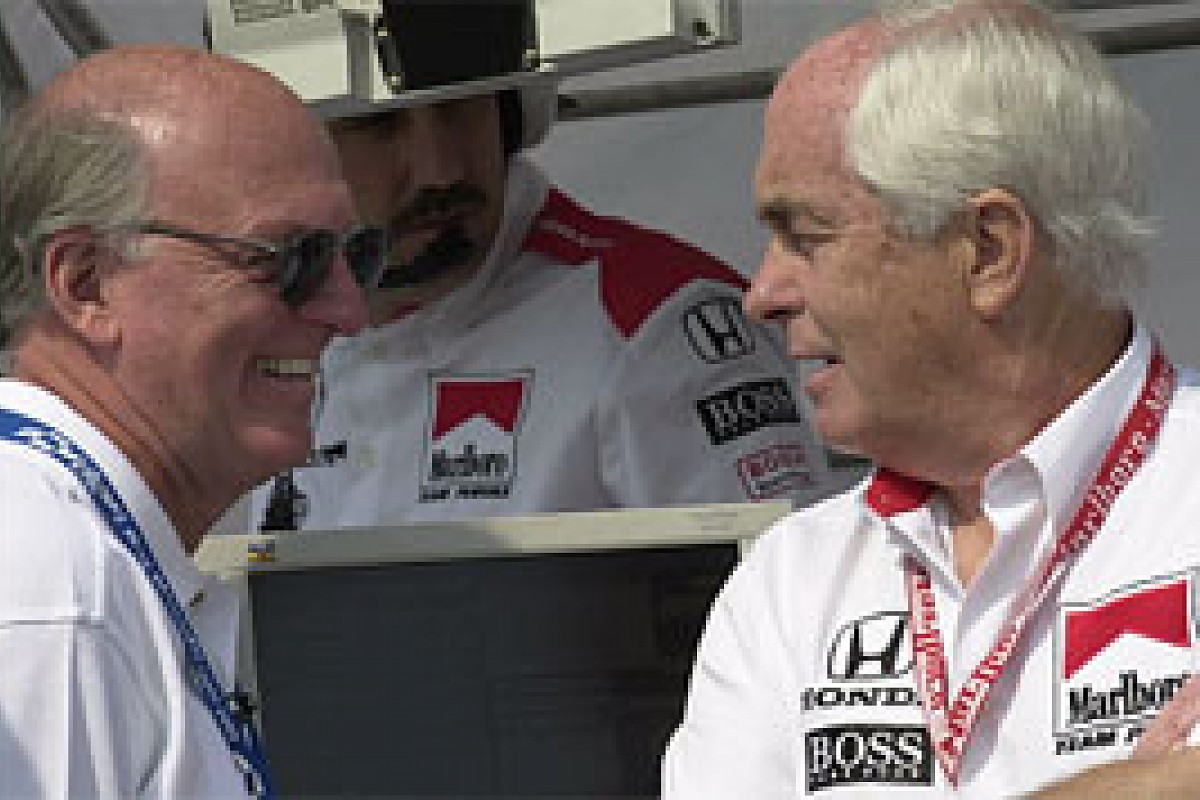 Joe Heitzler and Roger Penske in 2001 © LAT
CART got through four chiefs in three years. The breakdown of merger talks in mid-1999 had left previous boss Andrew Craig disillusioned (as he explained in an exclusive AUTOSPORT interview), and he was deposed early in 2000. Team owner Bobby Rahal came in as a stop-gap until Joe Heitzler - a racing newcomer with a background in sports broadcasting - was elected. By the time he was ousted in favour of Long Beach chief Chris Pook a year later, Champ Car was fighting for its life.
A string of embarrassments and organisational mistakes rocked teams' faith in CART, ranging from the universally-derided film Driven, to the humiliating non-event at Texas Motor Speedway. Champ Cars' huge g-loadings at the high-banked track caused drivers to black-out, forcing a last-minute cancellation.
Champ Car's once-legendary racing was declining too, as increasingly complicated aerodynamics, harder control tyres and more electronics stymied the action. Returnee Zanardi found it impossible to replicate his swashbuckling antics of 1996-98 with the 2001 package, although he finally made a breakthrough at Lausitz only to lose his legs - and nearly his life - in his infamous late-race accident, the recovery from which would make him a global hero.
But the biggest blow to Champ Car was the mishandling of the manufacturers, as a row over pop-off valve regulations in mid-2001 began as Honda/Ford versus Toyota, and ended as all three versus CART, with the engine builders losing confidence in the organisers and resolving the issue between themselves.
The manufacturers had also been given a taste of what they were missing when Champ Car left a gap in the calendar in 2000 so its teams could contest the Indy 500 if they wished. The expectation was that the CART squads would destroy the IRL regulars, and monopolise the prize money and attention. That's exactly what happened - Montoya and Ganassi cruised to victory in 2000, and paved the way for a bigger CART influx in 2001, when Penske's Helio Castroneves won and Champ Car squads swept the top six.
However the Indy forays underlined to the visitors that the 500 was still a mammoth event. It pained Toyota and Honda to see its Champ Car squads winning Indy with Oldsmobile power, and having to develop parallel programmes with the very different IRL equipment was a hassle for the teams amid the gruelling Champ Car season. Rather than convincing the world of CART's superiority, allowing the teams to contest Indy made them wonder if they needed the expense and gaffes of CART at all.
What followed was effectively the decapitation of Champ Car. After a miserable end to the 1990s, Penske had revitalised itself by ditching its own chassis, Mercedes, Goodyear and the troubled Al Unser Jr for Reynard, Honda, Firestone, Gil de Ferran and Castroneves - the latter a replacement for original signing Greg Moore, who died before he could begin what would have surely been a record-shattering partnership with Penske.
The changes were so successful that de Ferran opened the decade with back to back Champ Car titles, but just after the second was clinched, Penske announced it was defecting to the IRL, having sampled the waters with its 2001 Indy win. Penske's loss of confidence in CART had been compounded by the anti-tobacco rules preventing its main sponsor Marlboro/Philip Morris USA from supporting the team in two series - which led to its logos coming off Penske's cars on the eve of race day at Indy. Forced to choose between the championships, it picked the IRL.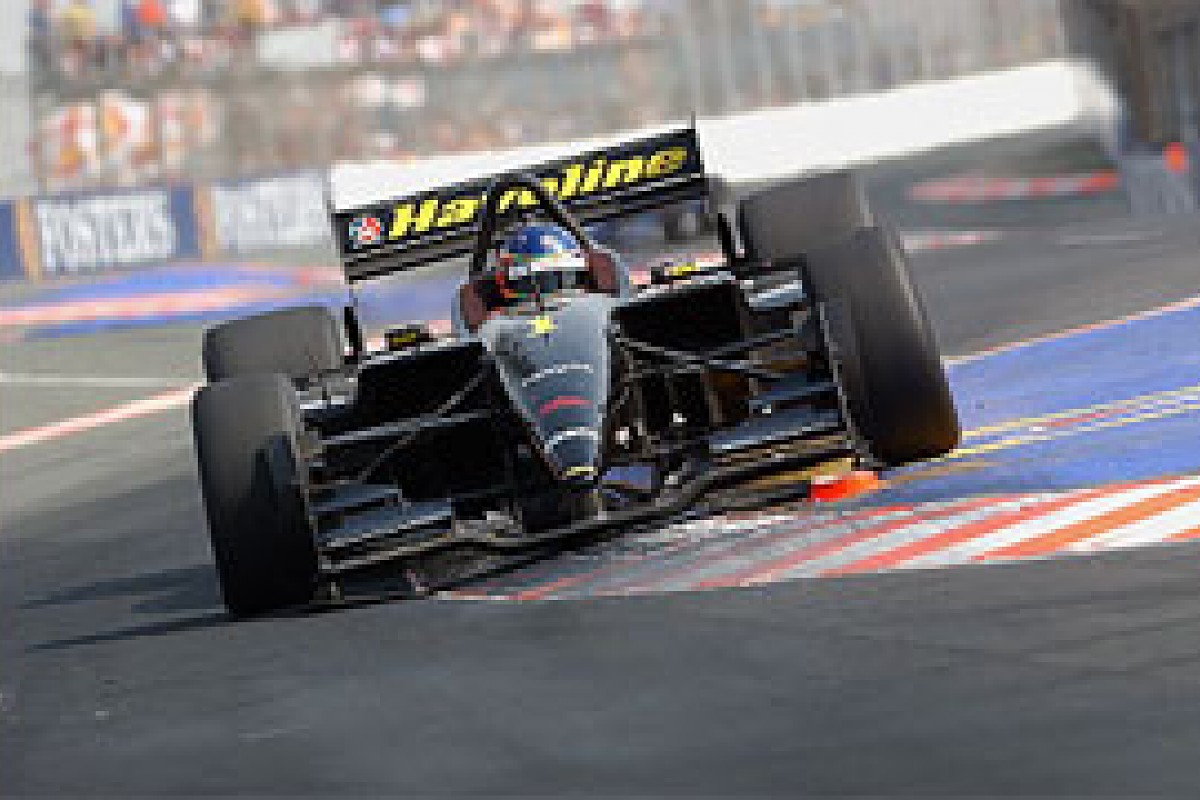 Cristiano da Matta won the 2002 Champ Car championship in a Newman/Haas Lola-Toyota © LAT
With Toyota announcing it would follow suit in 2003, and Honda eventually doing likewise after initially planning to withdraw from the US single-seater scene entirely, CART desperately scrabbled to retain teams with a series of last-minute rules fluctuations. When it became clear that even adopting the IRL engine and chassis package wouldn't work, it accepted a Ford proposal to become a lower-cost single-engine category, then dived into the monetary reserves its public offering had created to offer massive financial incentives for teams.
The post-September 11 economic woes had already nibbled away at the grid, and by mid-2002 Champ Car was only just achieving the 18-car entries it promised its venues. This obligation was only met because Ganassi expanded to three cars to accommodate Scott Dixon when the New Zealander's PacWest/PWR team folded in mid-2002. It was the start of what would become the decade's most successful partnership, and began Ganassi's recovery after the gamble of replacing Montoya and Jimmy Vasser with two rookies - F3000 title rivals Bruno Junqueira and Nicolas Minassian - in 2001 misfired badly.
Ganassi, the reconstituted Andretti Green (now part-owned by Michael Andretti) and Mo Nunn joined the IRL exodus for 2003, and although Champ Car hustled together enough new entrants to stay afloat, the balance of power had completely shifted. Just to emphasise that, in 2003 the IRL officially became the IndyCar Series - the trademark having been dormant since George blocked CART from using it in 1996.
Contrary to expectations, Penske hadn't blitzed the IRL in 2002 - thanks to the series' first homegrown hero since Tony Stewart: Panther Racing's reigning champion Sam Hornish Jr. Unfazed by Penske's arrival, Hornish fended off the might of de Ferran and Castroneves to successfully defend his title and mark himself out as the outstanding oval racer of the generation, so outstanding in fact that Penske would sign him in 2004.
At that stage, IndyCar was still an all-oval affair. The hordes of drivers crossing over from CART weren't totally enamoured with the idea of swapping turbocharged Champ Cars and Road America, Long Beach etc for underpowered Indycars and a season of constant left turns. But they did like job security and racing for top teams - plus the IRL had heavily hinted that road courses would soon be on the calendar.
Conquest was the only team that went in the IRL-CART direction over the winter of 2002-03. It suspected IndyCar's manufacturer influx and CART's entrant support programme made the latter a better home for a smaller outfit - and it guessed right. Nine IRL teams dropped out as the CART squads arrived, and even powerhouses like Menard and Kelley did likewise in the following years. By 2007, Foyt, Dreyer & Reinbold and Panther were the only survivors from the IRL's original era.
Champ Car's team line-up was changing too. Newman/Haas - which had dominated with Cristiano da Matta in 2002 - had stayed on, as had Forsythe, the latter picking up eventual 2003 champion Paul Tracy from Green. The Canadian had no interest in going near the IRL following the 2002 Indy 500 - when he passed Castroneves for the lead either just before (according to Tracy) or just after (according to the IRL) a race-ending yellow was called. The win was given to Castroneves, but Tracy still describes himself as an Indianapolis victor.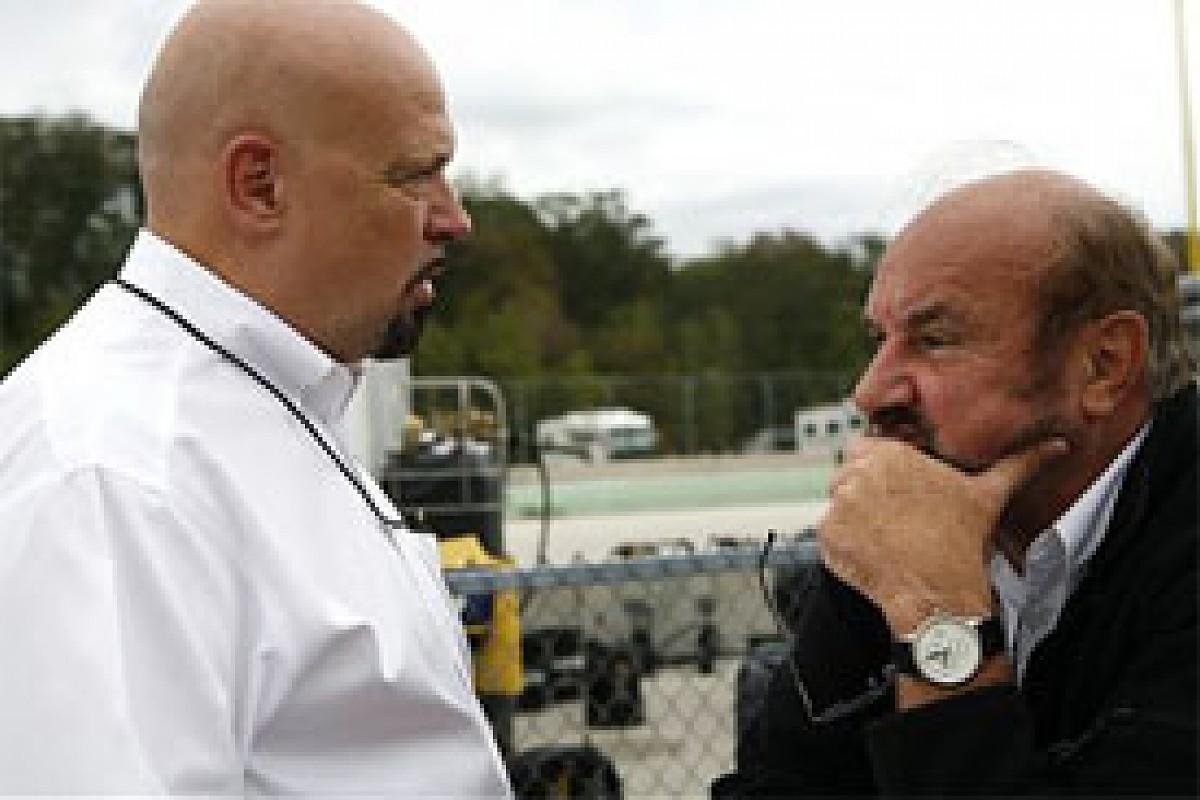 Paul Gentilozzi and Kevin Kalkhoven © LAT
Big names Stefan Johansson, Emerson Fittipaldi and Craig Pollock all spearheaded new Champ Car teams for 2003, but all were gone within a year - unlike the little-known entrepreneur who was Pollock's co-owner at PK: Kevin Kalkhoven. Along with Jerry Forsythe and minority partner Paul Gentilozzi of Rocketsports, Kalkhoven stepped in to rescue Champ Car when CART's massive expenditure on teams and events in 2003 left it bankrupt. The IRL also bid for the key assets with the intention of torpedoing its rival, but Judge Frank Otte ruled that with IndyCar unable to guarantee that it would add Champ Car's races to its schedule, approving its bid would have meant a horde of job losses and lawsuits over broken contracts.
Champ Car therefore lived on under Kalkhoven and Forsythe, who continued to invest a fortune in promoting races and keeping teams alive. With precious little external sponsorship in the series, every winter saw a nervous wait to see if the required 17/18-car field could be achieved. Costs were cut massively in 2007 with the introduction of a new Panoz-built chassis, but even the hugely reduced budgets of the new package were beyond the reach of most teams.
That led to an incessantly fluctuating driver line-up, which featured few Americans and few well-known names, as teams juggled drivers and funding to keep going. But the racing was generally good - sometimes outstanding - and many events still drew big crowds.
The rivalry between the aggressive, outspoken Tracy and Newman/Haas' super-fast but moody lead driver Sebastien Bourdais gave fans a gripping story to follow too. Bourdais may have taken four straight dominant championships from 2004 to 2007, while Tracy only won five races in those four years, but the feisty, mischievous Canadian was always a thorn in the often-taciturn Frenchman's side.
Tracy was the one getting under Bourdais' skin (and then writing about it for AUTOSPORT.com), but the biggest on-track hassle often came from Junqueira, RuSPORT's Justin Wilson and AJ Allmendinger, and later Robert Doornbos and Will Power, who were the break-out stars of the Panoz season.
By then, Champ Car didn't seem much like Champ Car anymore. Its calendar featured no ovals, it was running out of street courses as cities starting baulking at the costs involved, and only half its planned 2008 races were in the USA. Champ Car's international ambitions had become a running joke thanks to the cancellation of races in Korea (for three consecutive years), China and Puerto Rico, and although its European forays did actually happen, they failed to wow.
With the financial prospects for teams becoming even worse, top squads Walker and Newman/Haas/Lanigan ran out of patience and started checking out IndyCar.
What they really wanted wasn't to defect, but for the championships to resolve their differences. Occasional abortive talks between the two sides had continually raised - and then dashed - hopes even after the Kalkhoven/Forsythe takeover. Finally in early 2008 the negotiations got serious, for by then IndyCar was also in decline.
Things had started well, with a thrilling five-way title fight between Dixon (Ganassi, Toyota), Kanaan (AGR, Honda), Hornish (Panther, Chevrolet) and de Ferran and Castroneves (Penske, Toyota) in 2003.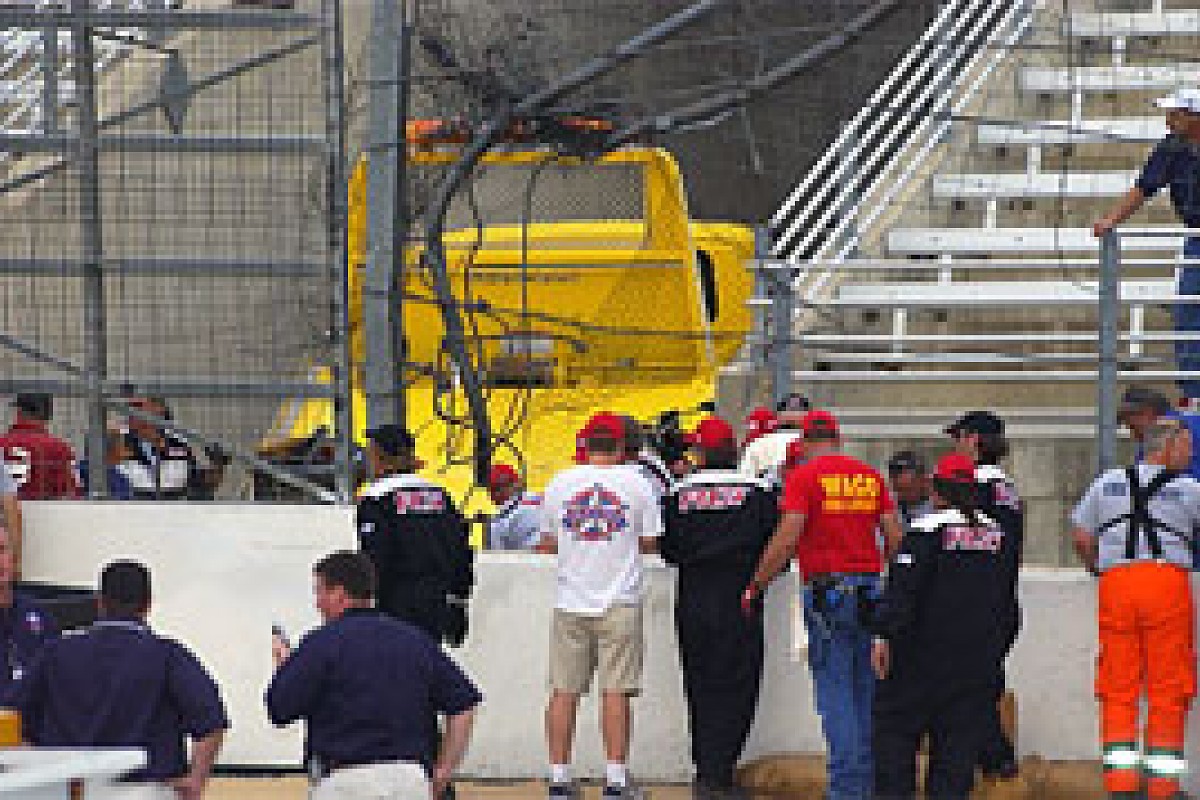 Damage to the fencing at Texas following Kenny Brack's accident © LAT
That great season came to a tragic end when Brack suffered career-ending injuries in the finale and Ganassi's new recruit Tony Renna lost his life in a freak testing accident. That prompted technical changes to try and tone down the frenetic wheel-to-wheel pack racing and to space the pack out a little more comfortably. Changes to the barriers also helped, so while the wild accidents didn't stop, they became less injurious - Ryan Briscoe escaping a similar crash to Brack's with comparatively minor damage. The decade would see one more fatality though, when the inexperienced Paul Dana slammed into a crashed car at Homestead in 2006.
IndyCar's manufacturer war proved shortlived. Honda was unstoppable in 2004, when Kanaan's relentless frontrunning consistency took him to the title, after an early flurry from surprise Indy 500 winner Buddy Rice, whose Rahal team had (along with Fernandez) made a full-scale IndyCar switch - with enticement from Honda - having previously hedged its bets and run in both series. Kanaan's team-mate Dan Wheldon then dominated in 2005, the year in which the IRL embraced diversity and added three non-ovals to its calendar.
Unable to keep up, Chevrolet first cut back to just supplying Panther, then withdrew altogether after 2005. Toyota went at the same time, picking a NASCAR future instead - although its exit was hastened by the beating it was getting from Honda and the frustration of its top teams Penske and Ganassi.
That meant an entirely Honda field in 2006. While hampered by underpowered Toyotas, Ganassi and Penske had raised the bar with chassis refinement in order to stay in contention, and with the horsepower disadvantage gone, they dominated. Hornish, now at Penske, won a four-way shoot-out for the crown.
AGR was back in the hunt for 2007, with Dario Franchitti beating Dixon in an ultra-dramatic title showdown. But then the Scot left for NASCAR, as did Hornish. The stock car series offered a much higher-profile and more security than IndyCar, which was emulating Champ Car's decline in audiences and sponsorship revenue.
The only thing saving IndyCar from total invisibility in the mainstream American media was Danica Patrick. A star female wasn't a new thing for the IRL: the underfunded Sarah Fisher had been a frontrunner and fan favourite. However Patrick transcended the IndyCar world and became a major national celebrity, capturing America's imagination when she led the Indy 500 in her rookie year. Many (more successful) rivals were infuriated as Patrick monopolised media attention despite not winning a race until 2008, but love her or hate her, no one could deny that she was making history, or that she was pretty much the only way IndyCar could infiltrate NASCAR's monopoly on the public consciousness.
Danica couldn't keep the series afloat alone, though. Just weeks before the 2008 opener, George, Kalkhoven and Forsythe agreed a merger deal that effectively amounted to IndyCar welcoming Champ Car's teams with various incentives and adopting a handful of its top events over the next two years. It wasn't perfect, but it was infinitely better than two limping series continuing to squabble over diminishing driver, sponsor and fan attention.
Reunifying just before a global recession was bad timing, especially as Indianapolis had to shell out a lot to smooth the cash-strapped Champ Car teams' path into IndyCar. The IMS board tired of this and as the decade drew to a close, IRL founder George was eased out in favour of Jeff Belskus, a long-time Indy man with a financial background, charged with making the championship more self-sufficient. The arrival of clothing company IZOD as an enthusiastic title sponsor was a good start.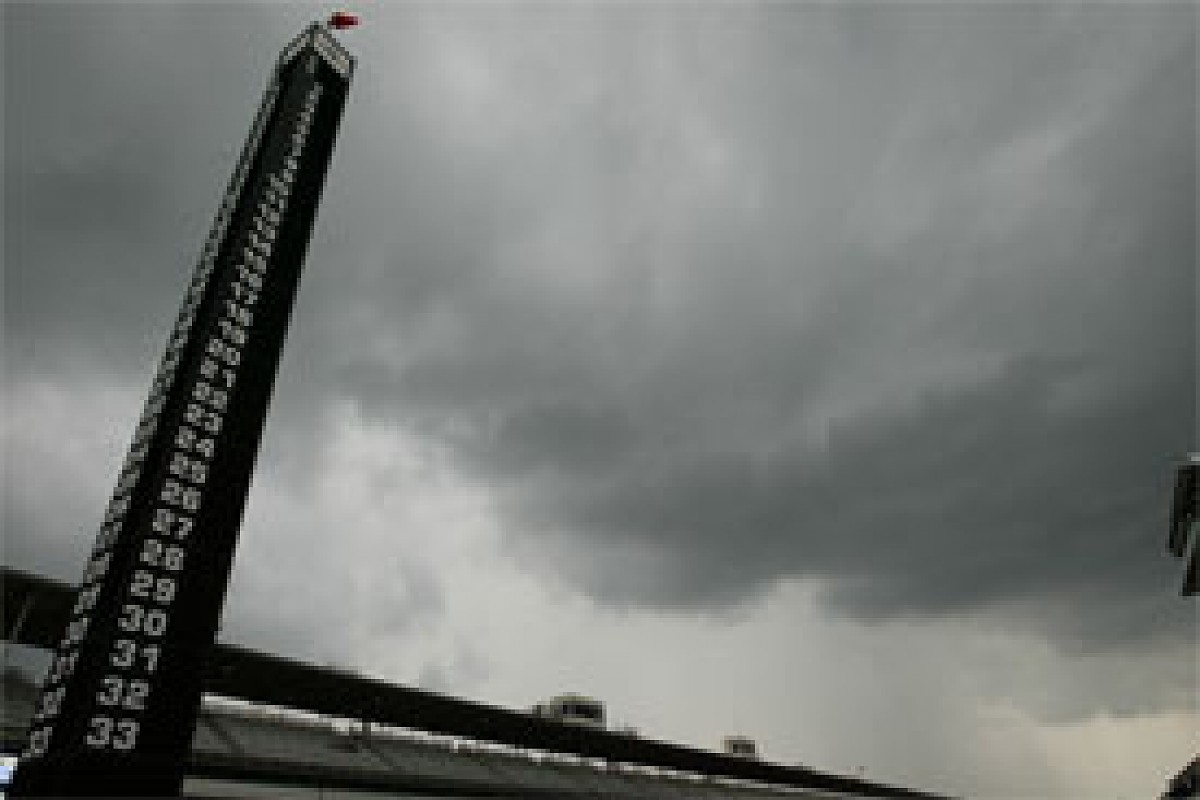 Clouds gather over the Indianapolis Motor Speedway © XPB
A new rules package is promised for 2012, and the hope is that this will reduce costs, attract new manufacturers and teams, and galvanise renewed fan interest - although as Champ Car found with its new Panoz, introducing even an ultimately cheaper new car is a costly endeavour. For now, Ganassi and Penske still have the edge, the former winning the first two unified titles with Dixon and returnee Franchitti, but after an unsurprisingly slow start as they got accustomed to IRL machinery and returning to ovals, the handful of surviving ex-Champ Car teams are on the frontrunners' tails.
So massive challenges still face American open wheel racing, and there is no certainty that the IndyCar Series will even be around in another decade's time, let alone recapturing the glory days of mid-1990s CART, unless it can raise its profile. But as tough as that mission is, it is far, far easier than it would have been had CART/IRL dragged on into the 2010s. This was a decade of pain rather than glory for the US single-seater scene, but if nothing else, at least the devastating mistake of the 1990s has been corrected.