Back in the days of the split, reviving American single-seater racing looked so straightforward.
IndyCar and Champ Car each had 17-18 cars, a nucleus of highly-talented drivers with strong fan followings, a varied core of successful venues, and some of America's top racing teams.
That wasn't enough to sustain two warring series, but combining the two championships' best resources would surely recreate something akin to Champ Car's mid-1990s heyday, wouldn't it?
Yet in the second season of the reunified era, the IndyCar Series field dwindled to 20 cars at times, most teams were still scrabbling for sponsorship, television audiences diminished further and the championship's founder and main cheerleader made a dramatic departure.
On the other hand, IndyCar also delivered a constantly changing three-way title fight that was unresolved until the final laps of the season-closer, it attracted massive investment from a new title sponsor for 2010 and beyond, and initial indications suggest a bigger entry next year.
It's a classic glass half full/empty conundrum, and next year ought to reveal whether American open wheel racing is on its death bed or mounting a resurgence.
The main scare of 2009 was the ousting of series founder Tony George as the rest of the Indianapolis board tired of spending millions propping up the IndyCar Series. By instigating the original 1996 split George became a hate figure for many, but he had played a pivotal role in reunification and even former opponents were unnerved when he was eased out.
Replacement Jeff Belskus, promoted from within the IMS organisation where he had held a key financial role, insisted the championship was safe and that the ruling Hulman-George family understood its importance to their crown jewel, the Indianapolis 500. But he also warned that IndyCar could not continue being a drain on Indy's finances. The series had to become a more viable business.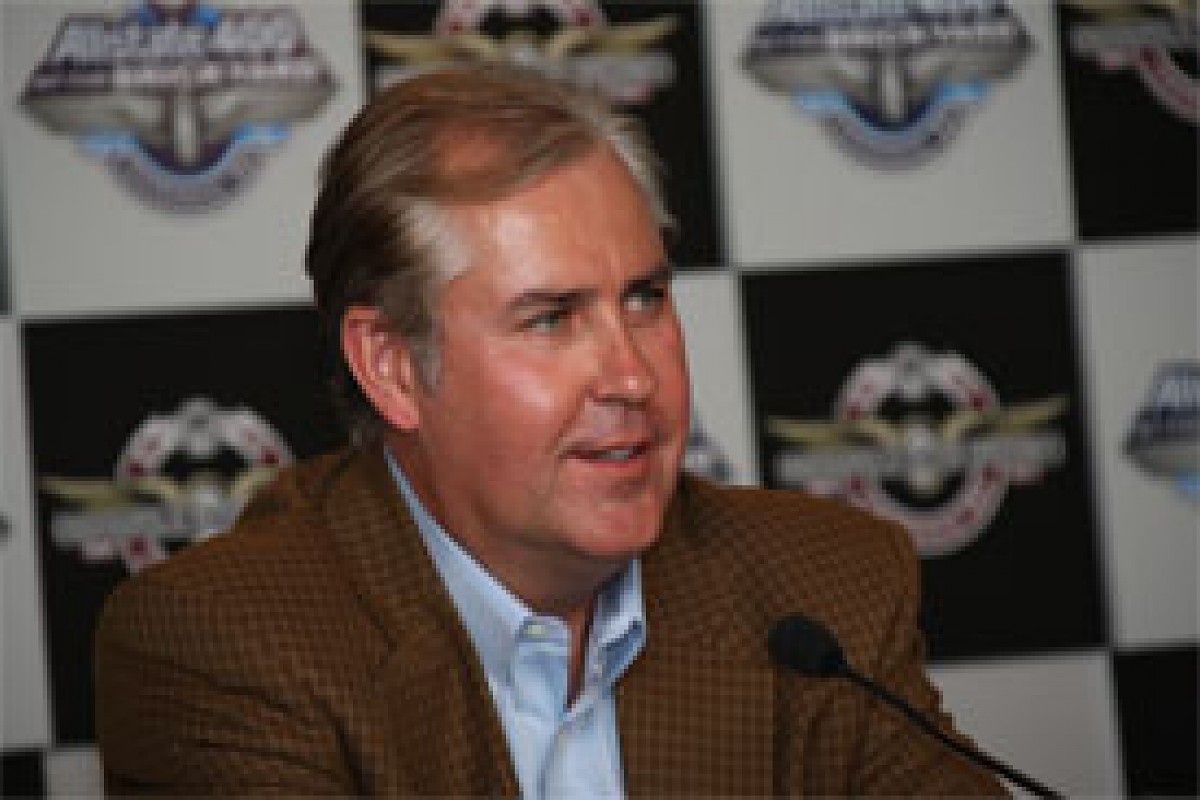 IMS Corporation President and CEO Jeff Belskus
That was ominous news for the teams who depended on the Indy Racing League's financial support schemes, and with the recession biting hard. The race-winning Rahal Letterman outfit had departed over the winter, several others had scaled back to single car or part-time programmes, and even top squad Chip Ganassi Racing admitted it had to tighten its belt this year - with champion Dario Franchitti appearing in a different colour scheme almost every week as the team juggled various sponsorship deals to best effect.
Finding fresh backing was made harder by the series' new US television deal that saw most races broadcast on the Versus channel. While the quality of Versus' IndyCar coverage was widely praised, it was a relatively small player in American sports broadcasting. It became smaller still when a dispute between its owner Comcast and satellite network DirecTV saw Versus abruptly dropped by the latter and left thousands of IndyCar fans unable to watch the last two rounds on TV.
Even before the DirecTV row, Paul Tracy openly admitted that his sponsors found Versus' low profile a deterrent and were much more interested in backing him for the rounds still shown on the much larger ABC channel. He wasn't the only one complaining that paltry US TV audience figures were a major stumbling block in the search for funds.
Yet as the season came to a close, there were signs of hope. Clothing company IZOD had begun a toe-in-the-water IndyCar involvement via Ryan Hunter-Reay in 2008, and it liked what it saw. It has now signed a long-term, multi-million dollar deal to become the series' new title sponsor - an arrangement that will allow the teams to continue receiving financial support while taking some of the burden off the IRL. It will also 'activate its sponsorship' with events such as major department store promotions, just the kind of cheerleading IndyCar needs right now.
Things started to look up on the US TV front too, with Comcast becoming a partner of NBC - potentially making Versus, which IndyCar is tied to for ten years, substantially bigger. This isn't a great time for any team or drivers chasing new sponsors, but it's harder still if no one knows your championship exists. Getting a wider audiences gives IndyCar a fighting chance - and the IZOD and Comcast/NBC announcements could achieve this.
The on-track situation was generally much healthier than the off-track angst, but there was a dark period mid-season when the series' oval races - once infamously close - became depressingly processional. Even at Texas, historically a track where photo-finishes and multi-car side-by-side lead packs were guaranteed, was a procession decided by pitstops, while at the end of the Richmond race the top three apologised to the crowd for making them sit through such an insipid spectacle.
No one really understood why things had got so tedious, for the Dallara-Honda/Firestone technical package had not changed and neither had the tracks. What was clear was that urgent action was required, and to the organisers' great credit, they immediately accepted engineers' recommendations for how to rescue the situation. Opening up additional aerodynamic set-up options and creating a 'push to pass' system with temporary rev increases made a small but crucial difference, and the Kentucky and Chicagoland races were ultra-close thrillers.
The tweaks weren't quite so effective away from the mile and a half ovals (the slightly quirky Motegi and Homestead tracks proved less entertaining), but overall the problem was resolved - and without the carnage that also used to be synonymous with speedway pack racing, although that may just be because IndyCar's class of 2009 had better luck and/or judgement than their mid-2000s predecessors.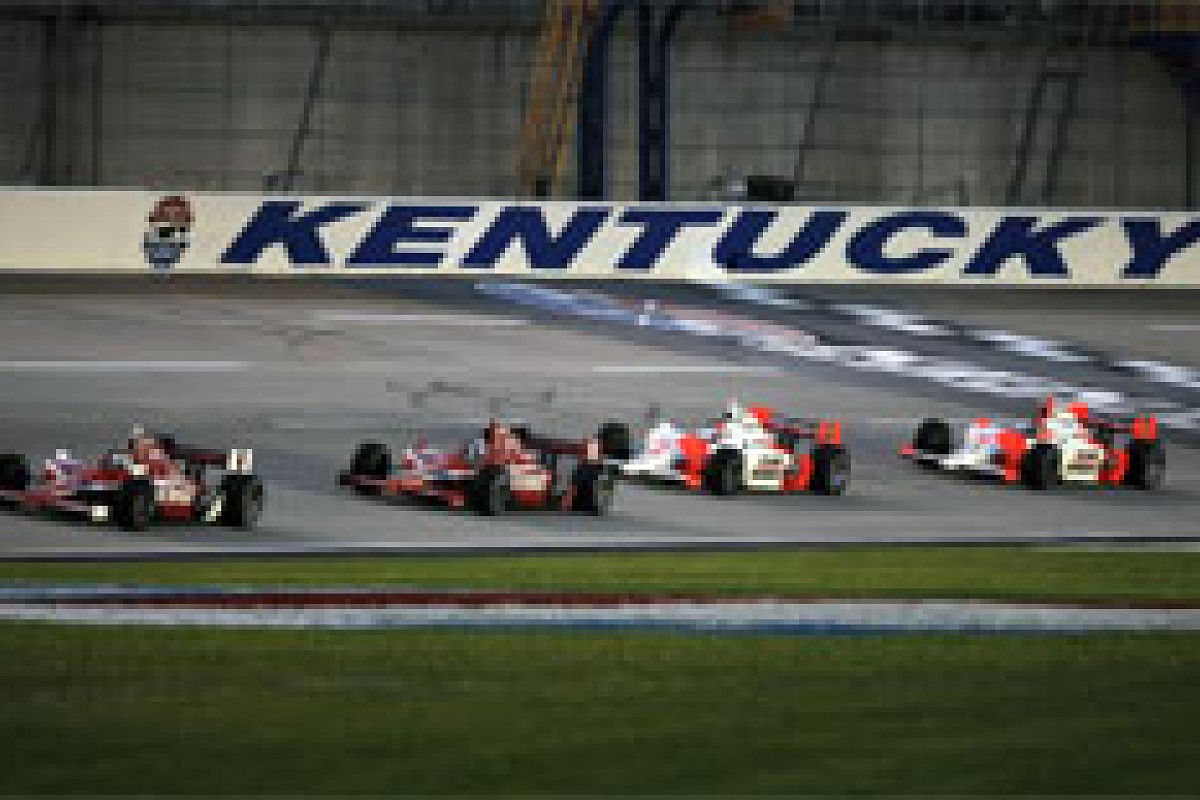 The Ganassi and Penske cars lead at Kentucky © LAT
Another problem highlighted by IndyCar's detractors was the absolute dominance of Penske and Ganassi - who between them won all but one of 2009's races. But when Penske's Ryan Briscoe and Ganassi's Franchitti and Scott Dixon delivered a title fight so close and unpredictable that the points lead changed hands 14 times in 17 races, did it really matter that only their two teams were in the hunt?
It wasn't as if the top two squads were seconds clear of the pack either. Andretti Green had a dismal year by its standards, yet still came close to sneaking a couple of wins with quirky strategies. Newman/Haas/Lanigan was right on Ganassi and Penske's tails by the end of the season, and Graham Rahal reckoned his team would have been closer still had it started the season with the experience of Oriol Servia in its second car, rather than having to parachute the Spaniard when Robert Doornbos departed after 12 unhappy races.
KV co-owner Jimmy Vasser was also pining for the funds to have an old hand in a full-time second car - although even without that support his rough diamond season-long driver Mario Moraes was snapping at the leaders' heels by late 2009.
And when Penske and Ganassi did get defeated, it was by a classic underdog combination in Justin Wilson and Dale Coyne Racing. After a quarter of a century spent mostly struggling at the back, the arrival of Wilson - arguably the driver of the season - and ex-Ganassi engineer Bill Pappas was the final ingredient Coyne needed. There was no luck involved in Wilson and Coyne's emotional Watkins Glen win, they went head to head with Penske and Ganassi and beat them on sheer pace and determination. When one of the series' smallest teams can do that to its biggest, there is little to worry about. Vision Racing and Ed Carpenter came within inches of winning at Kentucky too - a huge boost for another underdog squad.
If Newman/Haas/Lanigan, KV and Coyne carry their upward momentum into 2009, and AGR's transformation into Andretti Autosport pays off, then the victories will surely be more widely spread. The addition of a third full-time Penske entry for Will Power, so impressive in his part-season this year, will also add another dimension to the title battle.
For all the talent in the field, Danica Patrick remains the only driver to have made an impression on the wider public. Her flirtation with NASCAR is bad news for the IndyCar Series, although her new Andretti deal keeps her in single-seaters for at least two more years. IndyCar has to have increased its 'non-Danica' profile substantially by the time she heads for stock cars (if she ever does jump ship full-time), for the majority of the casual interest in the series is generated by Patrick. If she succeeds in NASCAR, she'll stay there. If she fails, it will reflect poorly on IndyCar. Either way, IndyCar's already limited resonance with the general US public will be further diminished.
But as it stands, there are reasons for cautious optimism. Patrick's new deal gives IndyCar some breathing space. Snippets like Penske's additional car, Sarah Fisher Racing's expansion and Alex Tagliani's new FAZZT team contrast with the news of pull-outs from twelve months ago, although while the car count might rise a little, Indianapolis is reducing its staff.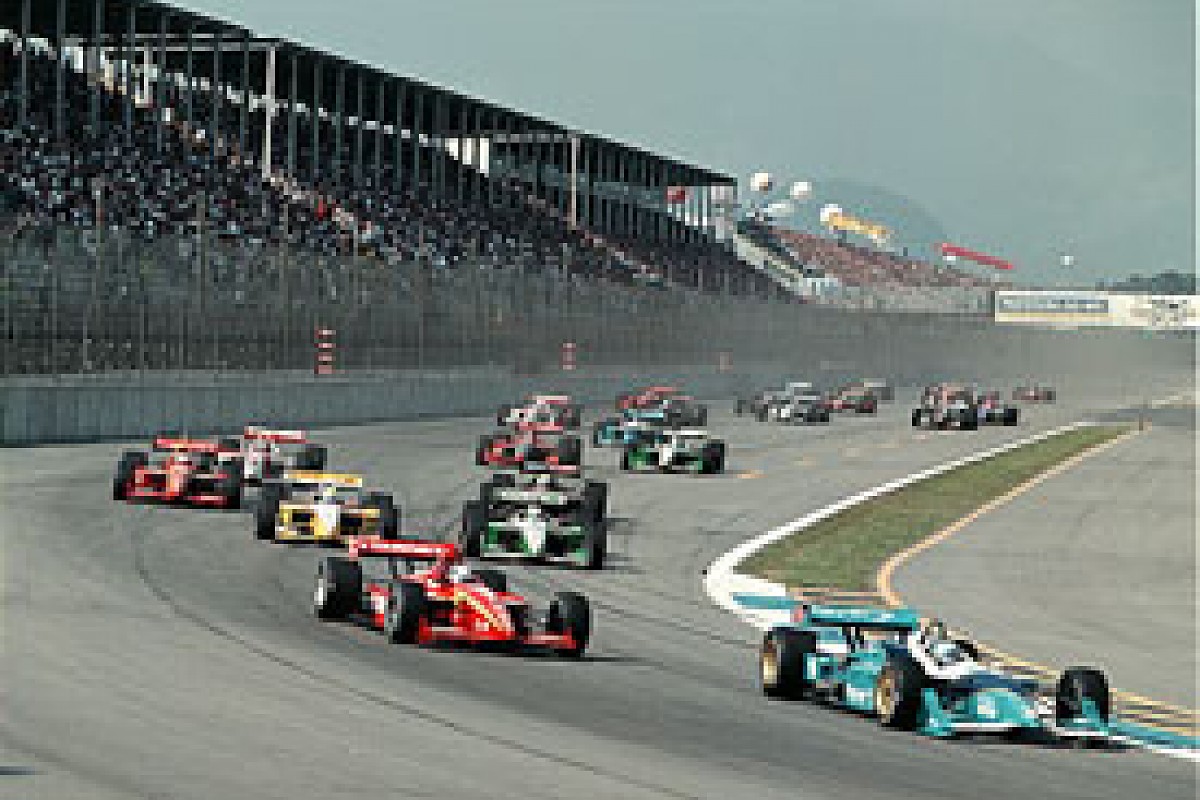 Indy-style racing last visited Brazil in 2000 with CART © LAT
There were fears that the long wait for confirmation of the series' new Brazilian venue meant IndyCar was starting to repeat Champ Car's predilection for ill-advised and often abruptly-cancelled foreign jaunts. But so far IndyCar's 'away' dates have been wisely chosen: Brazil and Canada have passionate race fans, popular drivers and a historic interest in single seater racing, and Japan keeps Honda happy. The big crowds for this year's test at Barber Motorsports Park suggest its inaugural IndyCar race in 2010 will be a huge hit too, and the equal oval/road course balance restores one of Champ Car's strongest points - even if the purists still miss Elkhart Lake, Cleveland and the one-mile ovals.
IndyCar has great talents and personalities, its minnow teams can sometimes topple its giants, it has addressed its shortcomings in the overtaking department, its TV deal now looks less worrying, its recent thrilling title shoot-outs contrast sharply with the anti-climax of Jimmie Johnson's NASCAR Chase steamroller, and IZOD's backing is a huge vote of confidence (and confidence boost for the paddock).
It was bad luck that reunification was immediately followed by global economic meltdown, but with good judgement from the new bosses, good racing on track and a few more commercial leaps of faith from firms like IZOD, IndyCar could still rise again - it just can't afford any more stumbles.