The IndyCar Series has a habit of dramatic title showdowns, and its 2009 season was one of the most absorbing yet. Ganassi duo Dario Franchitti and Scott Dixon, and Penske's Ryan Briscoe, swapped the points lead 14 times in 17 rounds in their remarkable battle for the championship.
There was little to choose between the trio, who all had moments of total dominance and occasional lapses. Any of the three would have been a deserving champion, but in the end it was Franchitti who prevailed - a fine achievement in his first season with Ganassi and his first year back in single-seaters after an abortive NASCAR switch.
Round 1: St Petersburg
Briscoe started the year off perfectly by snatching victory from Justin Wilson with a late pass, while Dario Franchitti played himself back into IndyCars with fourth. A rocky start for Dixon, though - his race ended in a midfield crash.
Championship standings: 1. Briscoe: 50 4. Franchitti: 32 16. Dixon: 14
Round 2: Long Beach
It didn't take Franchitti long to get back into the swing of things: he took a comfortable win in round two in Long Beach, on a day when his main rivals were both delayed when Briscoe managed to run into the back of Dixon under yellow.
1. Franchitti: 84 3. Briscoe: 67 17. Dixon: 29
Round 3: Kansas
Dixon steadied his wobbling title defence by dominating the season's first oval race. Franchitti crashed out in a pit entry mix-up with Graham Rahal while fighting through after his front row qualifying time was disallowed. Briscoe finished fourth, losing ground when the pits were closed at a bad time for him. All of which meant Tony Kanaan briefly took the championship lead by one point over Briscoe.
2. Briscoe: 99 3. Franchitti: 96 4. Dixon: 81
Round 4: Indianapolis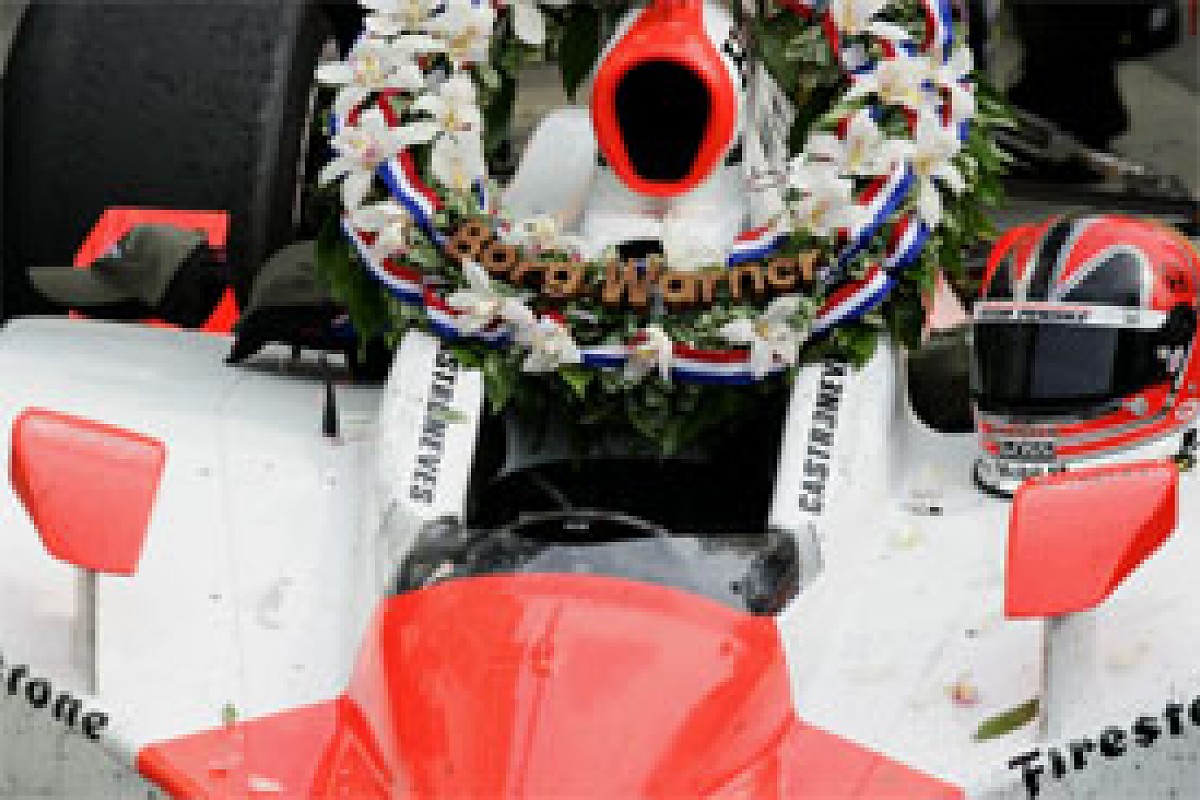 Helio Castroneves won his third Indianapolis 500 © LAT
As Helio Castroneves completed a remarkable comeback by claiming a third Indy 500 win just weeks after his tax evasion exoneration, pitlane issues frustrated the three title contenders' shots at victory. A stubborn wheelnut left Dixon sixth, an entangled fuel hose put Franchitti seventh, and a puncture and an ill-timed yellow dropped Briscoe to 15th.
1. Franchitti: 122 3. Briscoe: 114 4. Dixon: 111
Round 5: Milwaukee
Briscoe looked set for his second straight Milwaukee win until Dixon passed him in traffic in the final stint. Franchitti chased them home for third.
1. Dixon: 161 2. Briscoe: 157 3. Franchitti: 157
Round 6: Texas
Briscoe was totally dominant at Texas until the final pitstops under yellow, where Castroneves jumped ahead and stole the win. Dixon finished third, with a late lack of fuel dropping Franchitti to fifth.
1. Briscoe: 199 2. Dixon: 196 3. Franchitti: 188
Round 7: Iowa
For the third successive week, Briscoe was on course for a comfortable victory after a race-long battle with Franchitti - until the Scot ran further before his last stop and jumped ahead. Dixon was only fifth following an early brush with Castroneves.
1. Briscoe: 241 2. Franchitti: 238 3. Dixon: 226
Round 8: Richmond
Ganassi was unstoppable on the short oval, Dixon getting ahead of Franchitti thanks to pitstop timing and leading a commanding team one-two. Briscoe crashed out trying to keep them in sight.
1. Franchitti: 279 2. Dixon: 278 3. Briscoe: 253
Round 9: Watkins Glen
Briscoe and Dixon had to settle for second and third behind the heroic Justin Wilson at the season's first road course event. But they fared better than Franchitti, who lost a lap in the gravel after spinning avoiding a tangle ahead.
1. Dixon: 313 2. Franchitti: 294 3. Briscoe: 294
Round 10: Toronto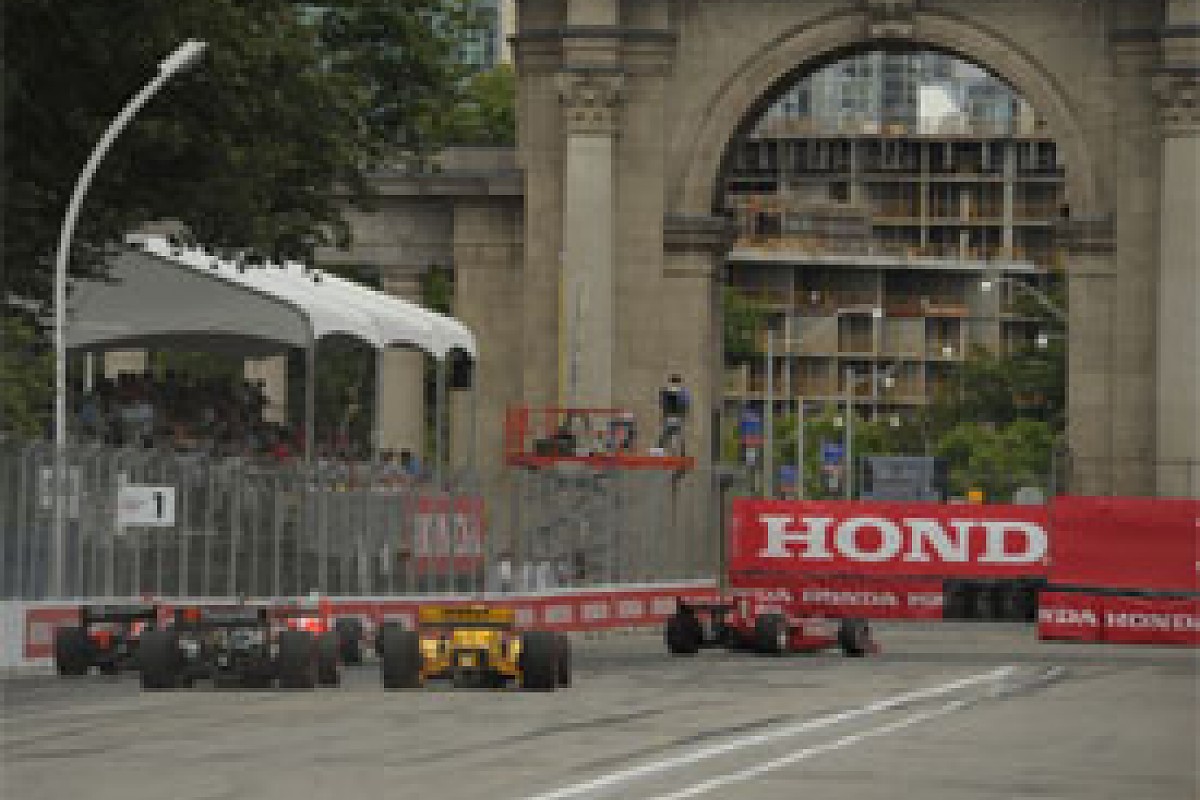 Dario Franchitti leads the field into the first turn © LAT
Franchitti emerged victorious from a chaotic Toronto epic, with Dixon a relatively quiet fourth and Briscoe recovering from a first lap puncture to take second. Popular Canadian part-timers Alex Tagliani and Paul Tracy ran one-two for a while after early charges, before an unlucky yellow and a tangle with Castroneves respectively ended their victory hopes.
1. Franchitti: 347 2. Dixon: 345 3. Briscoe: 334
Round 11: Edmonton
Penske dominated on the Canadian airfield, but it was Will Power and Castroneves who finished one-two, with Briscoe fourth after a late error let Dixon snatch the final podium spot. Franchitti was never on the lead pace and came home fifth.
1. Dixon: 380 2. Franchitti: 377 3. Briscoe: 366
Round 12: Kentucky
Briscoe finally won again, narrowly beating Ed Carpenter in a side by side thriller as oval racing came alive again. Franchitti and Dixon only managed sixth and seventh.
1. Briscoe: 416 2. Dixon: 408 3. Franchitti: 405
Round 13: Lexington
Dixon was half a minute clear by the end at Mid-Ohio, as Briscoe struggled to keep his soft tyres alive and only just resisted Franchitti for second. Wilson had led again until Dixon pounced in traffic, and mechanical problems delayed the Briton soon afterwards.
1. Dixon: 460 2. Briscoe: 457 3. Franchitti: 440
Round 14: Sears Point
Franchitti put up with race-long pressure from Briscoe to win the last road course outing of the year, but it was a bad day for Dixon, who was at the centre of a messy first lap pile-up.
1. Briscoe: 497 2. Franchitti: 493 3. Dixon: 477
Round 15: Chicagoland
Thirteen cars finished within 0.8s in another brilliant oval race, and it was Briscoe who made a break in the championship by winning it, with Dixon second and Franchitti fourth, split by Mario Moraes.
1. Briscoe: 550 2. Franchitti: 525 3. Dixon: 517
Round 16: Motegi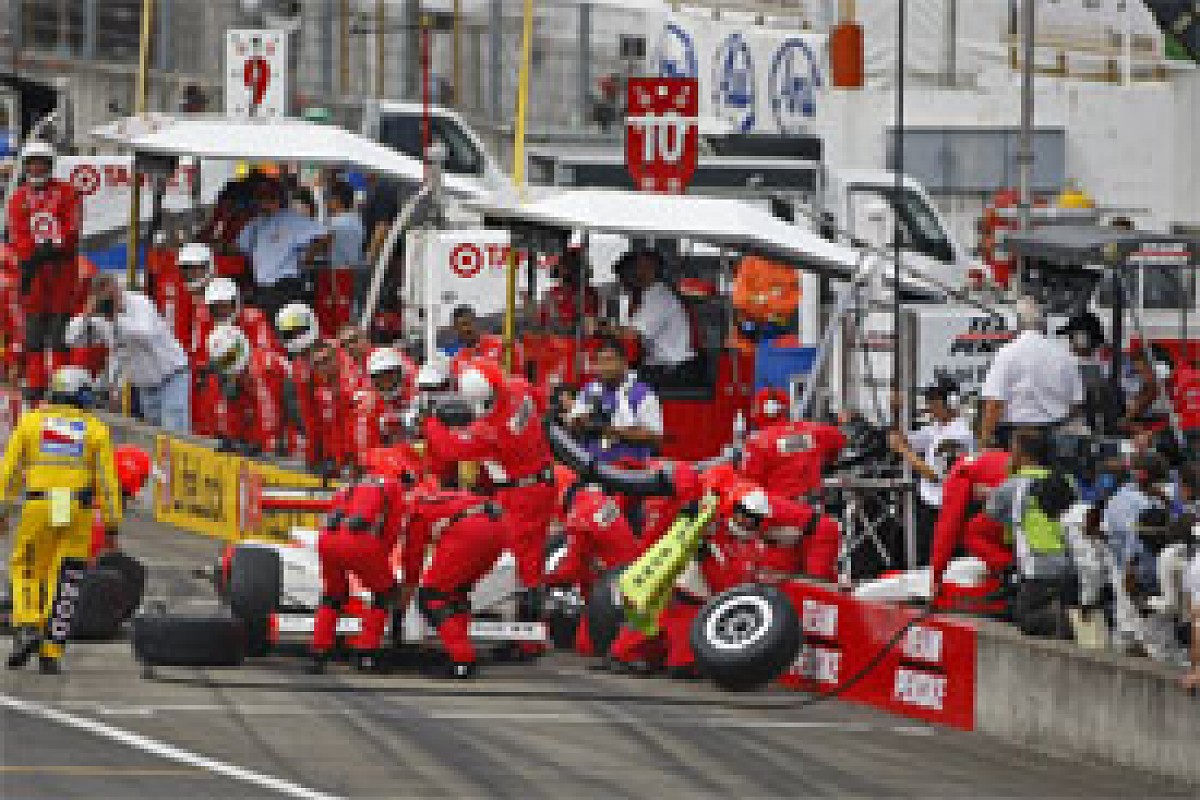 Ryan Briscoe pits for repairs © LAT
Just when it seemed Briscoe had the title fight under control, he crashed in the pits in Japan - while Dixon led Franchitti to victory on a day of total Ganassi domination.
1. Dixon: 570 2. Franchitti: 565 3. Briscoe: 562
Round 17: Homestead
The title combatants were in a class of their own at Homestead, lapping the rest of the field. As Briscoe and Dixon swapped the lead and pulled away from Franchitti, it looked like the two Antipodeans were going to decide the championship between themselves. But the canny Franchitti was saving fuel, which meant he could stay out and assume the lead when his two rivals had to make last gasp splash and dash stops. And that strategy ensured that Franchitti became champion for the second time.
1. Franchitti: 616 2. Dixon: 605 3. Briscoe: 604