If there's one thing the IndyCar Series does well, it's close finishes. It's not just good at three-abreast-over-the-line race finales, it also specialises in thrilling title deciders.
Sam Hornish Jr only got his 2006 crown on a tie-break with Dan Wheldon, Dario Franchitti became 2007 champion at the very last corner of the season as title rival Scott Dixon ran out of fuel ahead of him, and last year Dixon won the championship but had to hand the final round win to his title rival Helio Castroneves when the officials re-watched video of their photo finish.
This year, the points lead has changed hands at all bar two of the season's 16 races so far, and Dixon, Franchitti and Ryan Briscoe arrive at Homestead within eight points of each other.
Their Ganassi and Penske teams have dominated the whole year - interrupted only by Justin Wilson's herculean win for Dale Coyne at Watkins Glen - but no one has had a perfect season, the title contending trio have all fluctuated between brilliance, misfortune and occasional daftness.
"This year has been a strange one," admitted Dixon. "I'm surprised we're even in the fight because we've had really no flow. We've had such terrible races and have had such good ones as well," although the same could be said for any of the three.
With just the last race at Homestead-Miami remaining, this is how they stand:
1. Dixon: 570
2. Franchitti: 565
3. Briscoe: 562
How to win the title
The Indy Racing League scoring system makes this essentially a winner takes all affair. With 50 points for a win, 40 for second and 35 for third, if one of Dixon or Franchitti win the race, he will be champion whatever the other two do. While if Briscoe wins, Dixon would need to qualify on pole (one bonus point), finished second and lead the most laps (two bonus points) to stop him.
If they're fighting it out further back, then things look better for Dixon, as the points gaps between places from third backwards are just two and three points. Even if they all come together on lap one, it's still not over - everyone who starts the race scores, and the points go down in increments to 18th place, after which all other starters get 12. Hence the urgent efforts to repair mildly bent cars and get back out - being classified higher up the list of retirements could be crucial.
If it comes down to a tie-break, Dixon has the edge with five wins this year to Franchitti's four and Briscoe's three.
Who else might get in the way?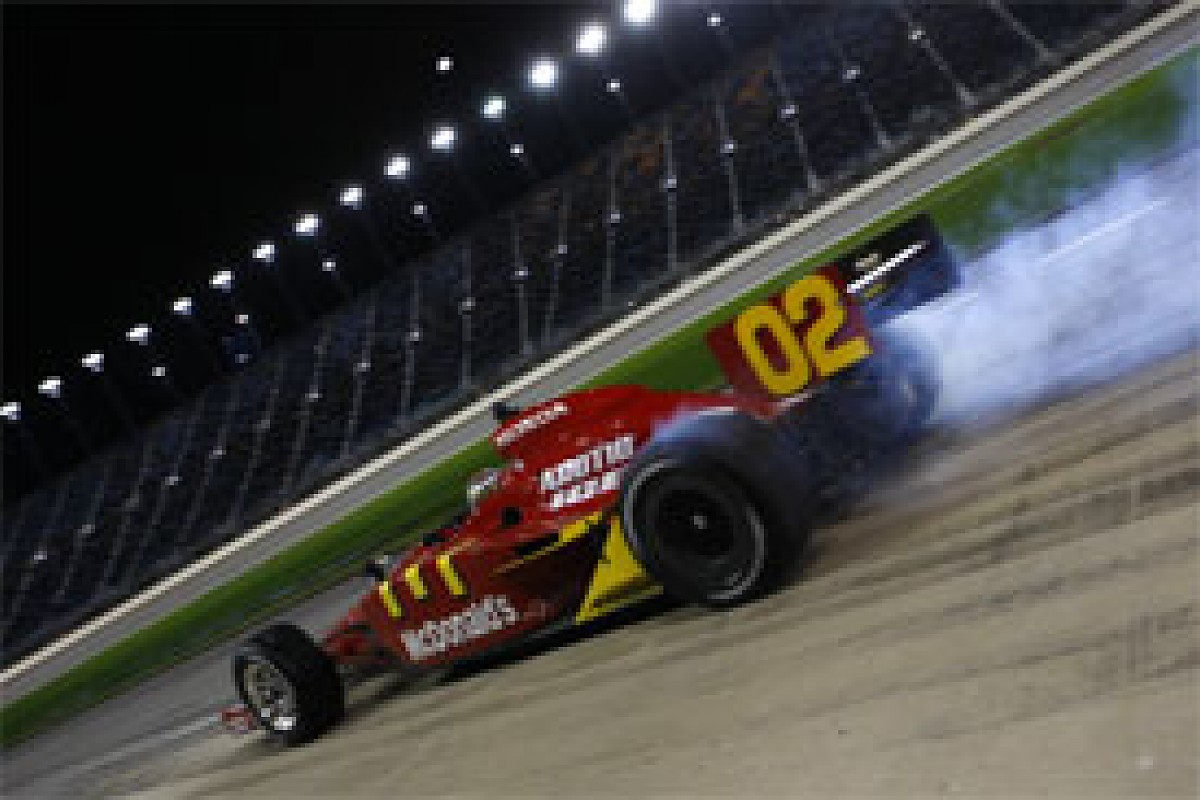 Graham Rahal, Newman-Haas-Lanigan © LAT
Realistically, it's going to be a title contender winning this race given Penske and Ganassi's dominance - and given that Castroneves will surely fall into line behind Briscoe. But a few teams do have an eye on stealing a win in the finale.
Newman/Haas/Lanigan is facing only its second ever win-less season, but it has been getting quicker and quicker on the ovals recently, with Graham Rahal chasing the Ganassi duo to the flag in Japan. A total wildcard is KV Racing's Mario Moraes - who got among the title combatants at Chicagoland and was super-quick in pre-season testing at Homestead.
Normally, Andretti Green would be the main threat to the leaders, but not only has the team failed to win a race since June 2008, it hasn't really been close to doing so in recent months and it would be quite a shock if that changed at Homestead.
So who's going to win it?
Form so far favours Dixon. Twice a Homestead winner, he has taken four oval victories this year to Briscoe's two and Franchitti's one. He is also very accustomed to last round deciders, having become champion in two of them and only narrowly missed out in two more. Becoming the first three-time champion under Indy Racing League sanction would cement his reputation as the top driver of the era.
Franchitti becoming champion for a second time would be an equally fine achievement. It's now easy to forget that his 2008 season was split between NASCAR and the sidelines, and that this was his first year in Ganassi's IndyCar line-up after a decade of chasing the team in Andretti Green/Team Green colours. Yet he now seems as much a part of the Ganassi furniture as Dixon. The team-mates have been all bar inseparable and even though Dixon has the greater number of oval wins, some of those came down to pitstop vagaries and could have just as easily fallen to Franchitti.
Three weeks ago, Briscoe had the title within sight. Then his shock Motegi pitlane error left him as the underdog. But it's not all bad news: if Ganassi has the edge then Franchitti and Dixon have to beat each other, whereas Briscoe can rely on Castroneves as his rear-gunner (as painful as that could be for the Brazilian, who has three Indy wins but no titles to show for 10 years at Penske and might now see a team-mate become champion for the fourth time in that period).
While Briscoe is a lot less experienced than his two rivals, he is confident he can handle the pressure of the decider - and knows that he just has to do everything in his power to beat Ganassi.
"It won't make a difference coming second or 10th if they're in front of me," he admits. "We're going to have to put a lot on the line and do what I can to finish in front of them to finish in the final stages of the race."
All three know it's going to come down to that final stint - and possibly even later. With a 5pm start time on Saturday, it's going to be a spectacular sunset finale that no one expects to be decided before lap 200.
"It's what we expect from IndyCar," said Dixon. "It's going to be a crazy race. Obviously, the three of us are going to be pushing to the maximum. It's going to come down to the final lap, the final corner of Miami."