Mazda has ended its relationship with the multiple Le Mans 24 Hour-winning Joest team in the IMSA SportsCar Championship.
The decision of Mazda Motorsports to fully replace Joest with the Canadian-based Multimatic operation in the running of its Daytona Prototype international programme has finally been confirmed.
The statement from the North American arm of the Japanese manufacturer made no mention Joest Racing, which has won Le Mans 15 times between 1984 and 2014 with Porsche, Audi and Bentley.
"Beginning at the next round of the IMSA SportsCar Championship, the pair of Mazda RT24-Ps will be operated by Multimatic Motorsports," it read.
"With its broad experience in racing operations and race car development, Multimatic has now been tasked by Mazda with the operation of its flagship racing programme."
Mazda's North American motorsport boss Nelson Cosgrove added that "the management and engineering staff at Multimatic is familiar with our team and will continue to elevate our programme".
Joest Racing managing director Ralf Juttner (below) confirmed the split with Mazda.
"Our relationship has officially ended," he told Autosport.
"The contract finishes at the end of this month."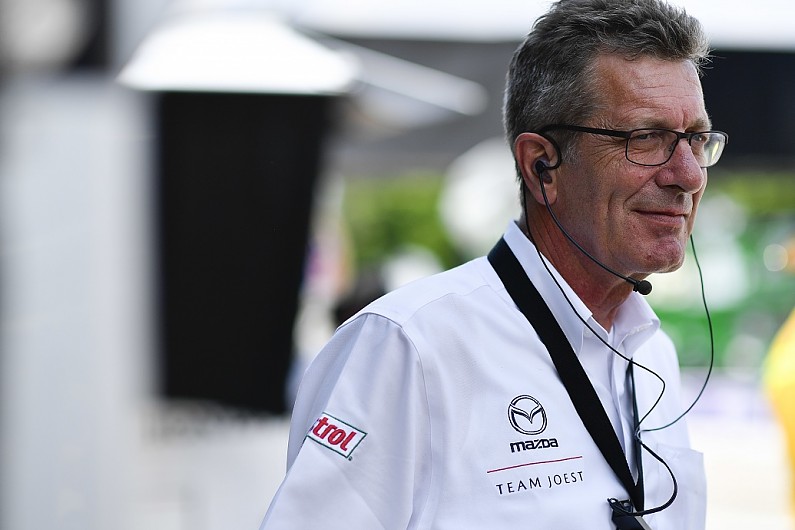 Multimatic was brought in to spearhead the engineering of the two RT24-Ps at the start of last season, working alongside the Joest crew based out of workshops in Atlanta.
The Canadian organisation had already developed the RT24-P out of the LMP2 chassis it co-designed with Riley Technologies.
Mazda cancelled its contract with Joest last autumn, but a six-month notice period meant that the team was still in place for the Daytona 24 Hours IMSA opener in January and would have crewed the RT24-Ps at this weekend's Sebring 12 Hours had the race not been postponed.
Joest took over the DPi programme ahead of the 2018 season from the US SpeedSource team, Mazda's longtime partner in US sportscar racing.
Mazda went on to claim its first overall IMSA victories last season, winning at Watkins Glen, Mosport and Road America.
The driver line-up for the two Mazda RT24-Ps will remain unchanged on the resumption of the IMSA sportscar campaign, currently scheduled for Detroit on May 30.
Jonathan Bomarito and Harry Tincknell will continue to share the #55 car and will be joined by Ryan Hunter-Reay in the remaining Endurance Cup events at Watkins Glen, Road Atlanta and Sebring.
Oliver Jarvis and Tristan Nunez will continue in the #77 entry, with Olivier Pla taking the extra berth for the three enduros.