Mazda Team Joest's recent winning streak in the IMSA SportsCar Championship is not due to a "sudden" quick fix, but instead "relentless" effort according to Multimatic Motorsport boss Larry Holt.
The manufacturer had not won a race since the DPi era began in 2017 before June's 6 Hours of Watkins Glen and its victory came after an internal review of its failings that led to greater involvement from Multimatic.
Jonathan Bomarito, Harry Tincknell and Olivier Pla's triumph there has since been followed by further victories in the last two rounds at Mosport and Road America, the latter despite being pegged back with a 20kg weight penalty and a reduction in turbo boost.
Holt has stepped up to take on race engineering duties on the #55 Bomarito/Tincknell RT24-P - based on a Riley-Multimatic Mk.30 chassis - at several rounds in 2019, including at Watkins Glen, and says Mazda's success has been a long time coming.
"The perception is that it's suddenly [turned around], but it's not really suddenly, it's just a relentless amount of effort," Holt told Autosport.
"It didn't all of a sudden happen, it was two and a half years of tenacity and attacking a problem and solving it, then attacking the next problem and solving it and so on."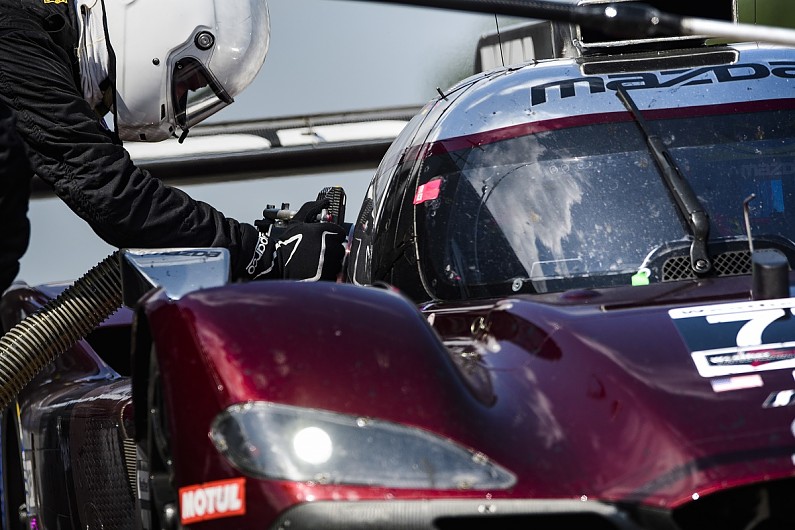 After a difficult start to the first season of the new DPi regulations in 2017, Mazda withdrew from the final three races and brought in multiple Le Mans-winning outfit Joest Racing as a new technical partner for '18.
Multimatic also completed extensive improvements to its chassis - an effort praised by Mazda personnel as key to its turnaround.
Mazda's journey to IMSA victories
But victory continued to elude the combination with engine problems thwarting its hopes at Daytona after Oliver Jarvis broke a 26-year-old lap record in qualifying.
Crashes for Bomarito at Sebring in the rain and Long Beach - both in qualifying and the race - heaped further problems before the breakthrough finally arrived.
"Daytona was supposed to be the turnaround this year, but we had engine problems," said Holt.
"Then we got to Sebring and we found the issues that caused us the problems at Daytona, but it had all these other issues like crashing in the rain and bad strategy calls.
"That was a Multimatic problem, so that's when I decided to get directly involved engineering a car myself.
"I knew at Long Beach that we were going to win a race, we just needed to settle in and not panic.
"By the time we got to Sebring, there was nothing left that shouldn't have allowed us to win races, any reason why we didn't win was our issue."