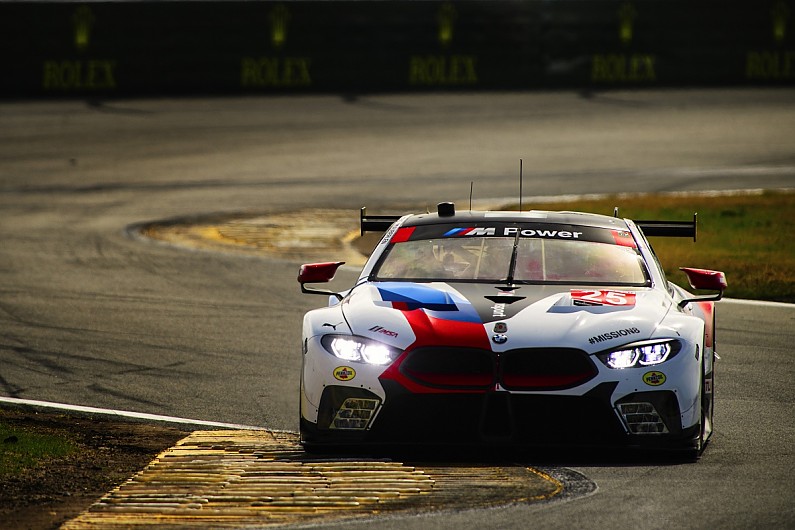 BMW has claimed that its all-new M8 GTE has been given an unfair Balance of Performance for its race debut in this weekend's Daytona 24 Hours.
The German manufacturer has issued a statement ahead of the opening round of the IMSA SportsCar Championship arguing that the new GT Le Mans class contender has been rendered uncompetive against its rivals by the BoP.
BMW Motorsport boss Jens Marquardt said: "It is clear to us based on the performance so far this season that we have not been treated fairly.
"We know we have a car that is capable of running with the leaders and ask for fairness in the BoP assessment.
"We believe in the BoP system and the only way the system can work is if every competitor is treated equitably."
The statement follows the two factory Rahal-run M8 GTEs qualifying at the back of the GTLM field, the best of the cars ending up nearly 1.2 seconds off the pace of the pole-winning Chevrolet Corvette C7.R.
That was despite the BMW receiving a performance break ahead of race week after a disappointing display at the official pre-race test at Daytona at the start of January.
The car has been given a 10kg reduction in minimum weight and a more turbo boost.
Marquart added that BMW would "continue to be transparent in our discussions with IMSA and fully expect the issue to be resolved in the coming weeks".
He insisted that BMW and the Rahal team would continue "to try to get the maximum out of the race under these circumstances".
Factory driver Augusto Farfus shared Marquardt's frustration but believed that the focus of the car's debut was more on reliabilty than outright performance.
"We have to be realistic," the Brazilian told Autosport. "Every new car in such a race, you expect some issues. I do believe the car will get to the end, I'm not really concerned about that.
"We did some endurance testing, but the level of stress on the car, you're alone on track, the way the track evolves, it is a lot different.
"Of course we are not happy with how the weekend has gone so far, but the race is about surviving the first 20 hours and then really pushing."
"The BoP did not help us, everybody can see this. It's pretty frustrating because when you have a new car you want to shine a little bit and this is not happening.
"But our race pace is better than our single-lap performance. We put a lot of effort in building a race car and not a sprint car."

BMW developed the M8 GTE for twin assaults on the IMSA series in North America with Rahal and the World Endurance Championship with MTEK.