In association with
Two motorsport legends will be celebrated in a pair of races for pre-1961 front-engined Grand Prix cars at this weekend's Donington Historic Festival.
In honour of these two drivers, the Historic Grand Prix Cars Association grid is split into Pre- and Post-War divisions and a tremendous field of over 30 cars have been assembled.
With no later rear-engined cars on the grid on this occasion, the Post-War front-engined cars will contest the overall glory for the Ascari Trophy, while the Nuvolari Trophy awaits the leading pre-war car.
The Grand Prix car races - one on Saturday and one on Sunday - cap a weekend of 17 races from 14 grids and there will be over 400 period race cars spanning the 1920s to the '80s.
F1 demonstrations, a flypast from the Battle of Britain Memorial Flight and hundreds of classic cars on display fill out the weekend.
Tazio Nuvolari is widely regarded as the greatest pre-war Grand Prix driver. He won all the major races of the era including the 1938 Donington Grand Prix for Auto Union.
Alberto Ascari, meanwhile, was world champion in 1952 and '53 and remains Italy's most recent winner of the title.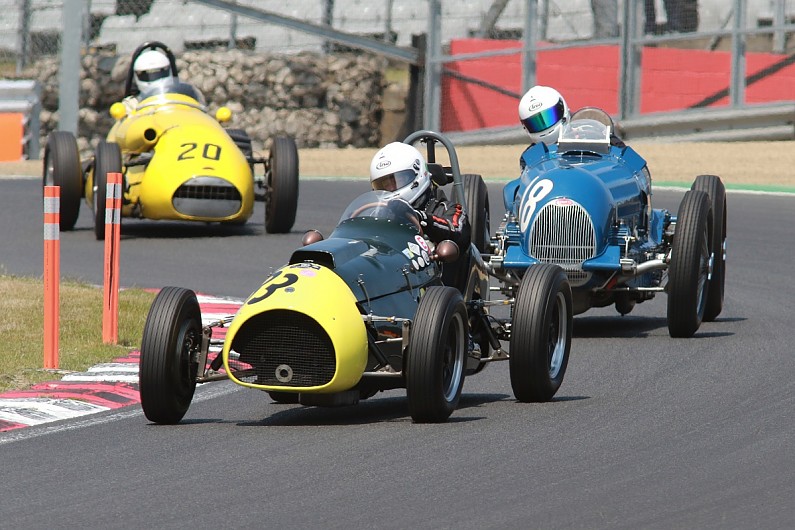 Three cars head the pre-1961 division, led by the Scarab Offenhauser of Julian Bronson.
The US-backed Scarab team of Lance Reventlow took on the might of F1 but by the time their front-engined car was ready in 1960, Cooper and Lotus had developed rear-engined designs.
However, Bronson and the Scarab make a formidable combination and will go up against the Lotus 16 of Philip Walker and the Tec Mec development of the Maserati 250F driven by Tony Wood.
A wonderful array of ERAs packs out the Pre-War field, including the cars of Paddins Dowling and Martin Morris.
Tom Dark's glorious Bugatti T73C adds further depth of quality along with Matt Grist's gorgeous Alfa Romeo P3 and a pair of Maseratis for Dan Ghose and Ewan Sergison.
In other races, there will be a diverse array of racing machinery, ranging from pre-war sportscars in the Mad Jack Trophy to sports-racing cars of the 1950s and '60s and touring cars from the '70s and '80s.
On Saturday evening, the two-hour GT and Sports Car Cup race will run into the evening with a capacity grid of AC Cobras, Jaguar E-types, Austin Healeys and MGBs.