In association with
Three races spanning much of Le Mans history will form a special tribute to the 24-hour race at this July's Silverstone Classic.
Saturday evening's action will focus on three races with a strong flavour of Le Mans: the Bentley Centenary Trophy for Pre War Sports Cars, FIA Masters Historic Sports Car Championship and Masters Endurance Legends.
The races, featuring up to 150 cars, will run into the dusk of Saturday evening at the July 26-28 event.
The 'Twilight Tribute to Le Mans' initiative was launched at the Silverstone Classic Preview by Tom Kristensen, the Danish racer who holds the record for the most outright victories at Le Mans.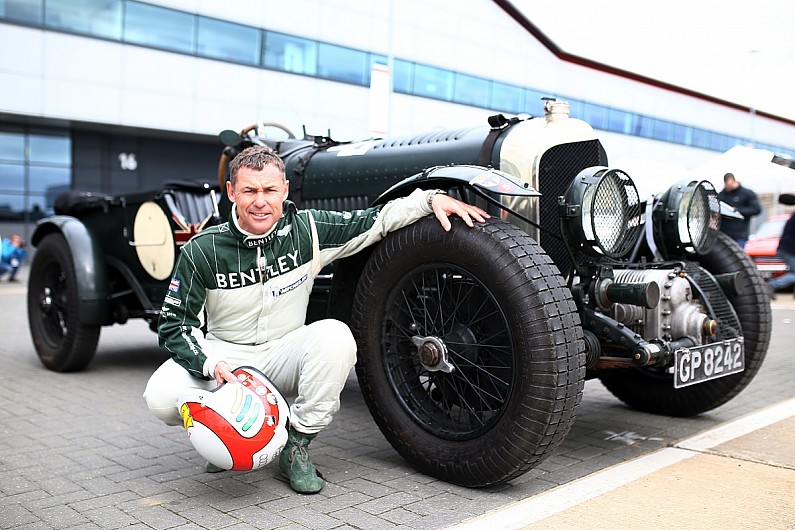 Kristensen won nine times, including six in a row from 2000 to 2005. Seven of his wins came with Audi, one in a TWR Porsche and one with Bentley in 2003. His Bentley team mate Guy Smith was also on hand at Silverstone.

"It will be a real highlight of this summer's Silverstone Classic to see these cars racing into the dusk - that's when the race truly starts at Le Mans," said Kristensen.
"For me, the UK is very much the centre of motorsport - and Silverstone is at the heart of it all.
"Le Mans is very much where my career unfolded, but it actually began almost by accident," he said.
"I only signed with the team four days before the race in 1997 as a late replacement. I had a little bit of prior sportscar experience, but Le Mans is obviously a different challenge altogether.
"I didn't know the track, and I only got chance to drive 17 timed laps before the race. It was quite an eye-opener, and I fell in love with the race there and then."
The Bentley Centenary Trophy for Pre War Sports Cars will mark the company's 100th birthday with a big entry of Bentleys from the 1920s and 1930s, as well as Aston Martins, Alfa Romeos, Bugattis, Lagondas and MGs from the early years of Le Mans.

Masters Endurance Legends caters for prototypes and GTs that competed at Le Mans between 1995 and 2012, while the FIA Masters Historic Sports Cars are from the late 1960s and early 1970s.

"It's going to be an absolutely amazing evening," said Nick Wigley, Silverstone Classic CEO.
"The three races cover almost the entire history of Le Mans from the original 'Bentley Boys' right up to the current generation of hi-tech Peugeot and Aston Martin prototypes. Watching them all race into the twilight will be very special."