In association with
On a day that featured Le Mans Prototypes, NASCARs and BMW M1 Procars, it was the humble Mini that delivered the biggest thrills on the opening day of the 77th Members' Meeting at Goodwood.
To mark the 60th birthday of the Mini, the newly-titled Betty Richmond Trophy featured two 30-car grids for heats on Saturday afternoon ahead of the all-important final on Sunday.
With a gaggle of Mini aces in each heat, the racing was ferocious from the start and it all started with a first corner tangle between Bill Sollis and LMP racer Tom Blomqvist.
Sollis crashed out later on the first lap, but Blomqvist recovered to chase Ian Curley and Lars Ekorness to the flag.

One heat was centred on an epic battle between Nick Swift and Nick Padmore and a last-lap dive down the inside of Woodcote netted a narrow victory for Swift over the former Historic Formula 1 champion.
The best 30 cars will now go forward to Sunday afternoon's final, which could just prove
to be one of the historic races of the season.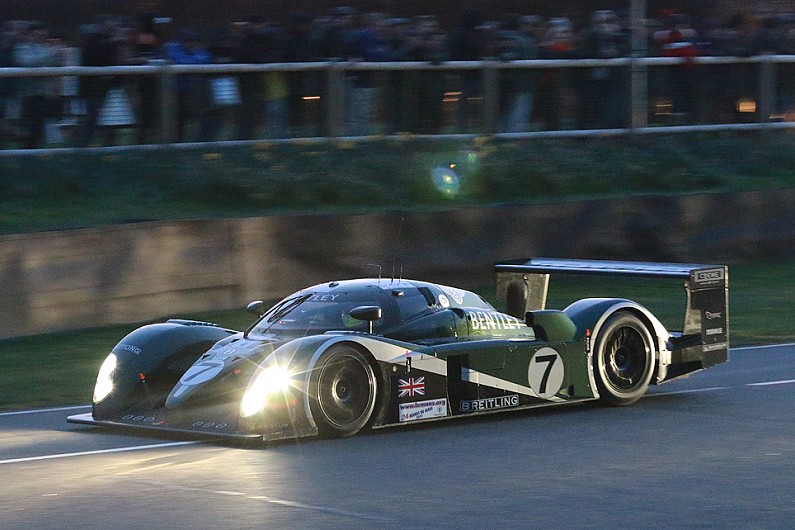 The 2003 Le Mans-winning Bentley Speed 8 headed a spectacular demonstration of Le Mans Prototypes as darkness fell on Saturday evening. The rather incongruous sight and sounds of Judd V10-powered LMP car blasting past the Goodwood pits in near darkness was memorable. Porsche 917s, BMW M1s and NASCAR monsters all had demo sessions, which repeat on Sunday.

The other major race on Saturday was the two-driver element of the Gerry Marshall Trophy race for 1970s touring cars was marked by a stellar drive from young Blomqvist in Kerry Michael's Ford Escort RS2000.
In the early laps, the son of Stig harried the battling Boss Mustangs of Craig Davies and Romain Dumas but a mis-understanding as Davies went for the pits ended up with the front wheel peeled off the Dumas car. Bill Shepherd took over, but later retired with overheating.
Meanwhile, Andy Newall relayed Davies and was ahead when Michael parked the Escort with a broken engine. However, there was a late scare for Newall when the Mustang cut out twice on the final two laps. He fiddled with the switches and got it running again in time to win the race named in memory of his racing hero.

Elsewhere in a day of qualifying, former F1 racer David Coulthard missed pole for the Tony Gaze Trophy by three-hundredths of a second when young Richard Woolmer squeezed his Austin Healey 100 ahead of Coulthard's Mercedes Benz Gullwing.