In association with
Nick Padmore has won the 2018 FIA Masters Historic Formula One Championship after a successful season in the ex-Carlos Reutemann Williams FW07C.
Padmore dominated the post-1978 division of the championship, with nine outright wins and 10 fastest laps on his way to the title aboard the Forza Historic Racing Williams.
On free weekends, Padmore (below) also raced a 1300cc Mini Miglia alongside his father Keith and took three wins and two seconds from six starts.
While Padmore won the post-1978 division, Greg Thornton clinched the pre-1978 title after splitting his time between the Lotus 77 from Classic Team Lotus and a March 761.
When the Lotus was damaged mid-season, Thornton borrowed the March from rival Katsu Kubota to complete the season.
Unusually, the Classic Team Lotus squad tended the March on Thornton's behalf. He took seven wins and 11 fastest laps on his way to the pre-1978 title.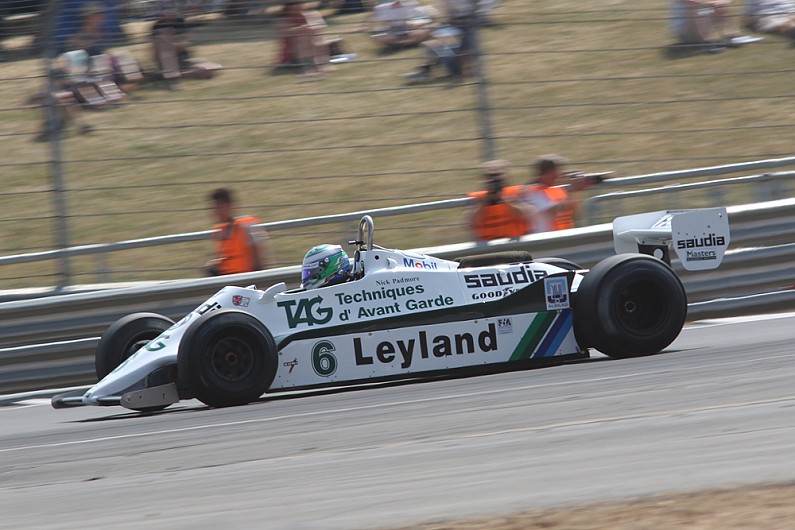 In the other FIA-sanctioned Masters championships, Julian Thomas/Calum Lockie and Keith Ahlers/Billy Bellinger triumphed in the two divisions of the FIA Masters Historic Sports Car Championship.
The post-1966 division went down to the last race at Dijon where Thomas and Lockie sealed the title from debut season in the former's Chevron B8.
Jamie Boot in his Chevron B16 was second in the title race. Reigning pre-1966 champions Ahlers and Bellinger retained their title in Ahlers' Cooper-Monaco car.
A 'Grand Masters' Championship for drivers over 60 years of age in the FIA championships was new for 2018 and it was Italy-based American Jason Wright who took the prize in the Formula One Championship in his Shadow DN8.
The equivalent award in the Historic Sports Car Championship fell to Ahlers.
"We'd like to congratulate our 2018 FIA champions at the end of a hugely competitive season," said Ron Maydon, Masters Historic Racing Founder.
"We have had some new venues, new names and new initiatives in the season.
"Our congratulations go to our FIA champions and we look forward to seeing how they fare in 2019."