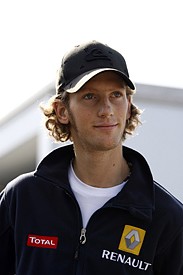 Former Renault Formula 1 driver Romain Grosjean will return to racing in the new GT1 World Championship this year.
The 23-year-old French/Swiss racer has signed to race a Ford for the Matech team alongside Thomas Mutsch. Grosjean takes the spot originally earmarked for Enrique Bernoldi before the Brazilian parted company with the team during testing.
"Like any driver, I am happy when I have a wheel in my hands," Grosjean said.
"The opportunity to join Martin Bartek's team allows me to discover a new environment and a growing discipline. The fact that the GT1 received the world label represents a great challenge that I look forward to with great motivation.
"I know the team has worked a lot on the Ford GT1 for this new championship, and I hope that between Thomas and myself we will aim for the podium. We will put all our efforts to this."
Team boss Bartek was thrilled to add Grosjean to his line-up.
"The arrival of Romain Grosjean brings great value to our team," he said. "Romain is young and has already accumulated victories and titles in all disciplines of racing cars, results that led him to F1.
"His experience and his speed, combined with the qualities of Thomas Mutsch will allow us to see the future with eager anticipation."
Grosjean was fighting for last year's GP2 title when he was promoted from the Renault reserve role to the race seat from Valencia onwards following the team's split with Nelson Piquet.
But Grosjean struggled to get up to speed without testing, and the team soon became embroiled in the fall-out from the 2008 Singapore Grand Prix scandal. He was unable to score any points and was dropped at the end of the year.