Defending Super GT champions Naoki Yamamoto and Jenson Button recovered from a sluggish start to grab the final podium spot in the Fuji 500km race, as the Cerumo Lexus won.
Yamamoto was in the driving seat of the #1 Kunimitsu Honda for the first part of the race but struggled on a wet track, dropping from 12th on the grid to 14th - even having to take the escape road after missing the entry into the Dunlop corner.
A 30-minute red flag on lap 13 of 110 as weather conditions worsened gave him a new lease of life and he quickly started jumping back up the order.
Within a few laps, Yamamoto had moved himself up to eighth place, a position he held when handing over the car to Jenson Button in an early stop on lap 39.
Just after the first pitstop cycle was completed, Impul's James Rossiter clattered onto the side of Ryo Hirakawa's #37 TOM'S Lexus at Turn 1, dropping both of them down the order. Hirakawa's car had earlier led the race in the hands of Nick Cassidy.
At the same time, Bertrand Baguette spun his Real Racing Honda elsewhere on the track, losing places in the process.
Those incidents promoted Button up to fourth place, just behind the podium contenders.
As the race wore on, Button came under pressure from the Sard Lexus of Heikki Kovalainen and Yuichi Nakayama - which was showing an upturn in performance at Fuji after a difficult season-opening weekend.
Nakayama dived down the inside of Button at Turn 1 on lap 64, demoting the 2009 Formula 1 world champion down to fifth.
Yamamoto returned on track for the final stint of the race and quickly dispatched the B-Max Nissan car - which then lost three places in quick succession.
He then set about chasing Kovalainen, passing his rival with just six laps to go to secure the final spot on the podium.
The result marked the first points of the season for Yamamoto and Button, who were taken out from the lead of the Okayama race by Real Racing's Koudai Tsukakoshi.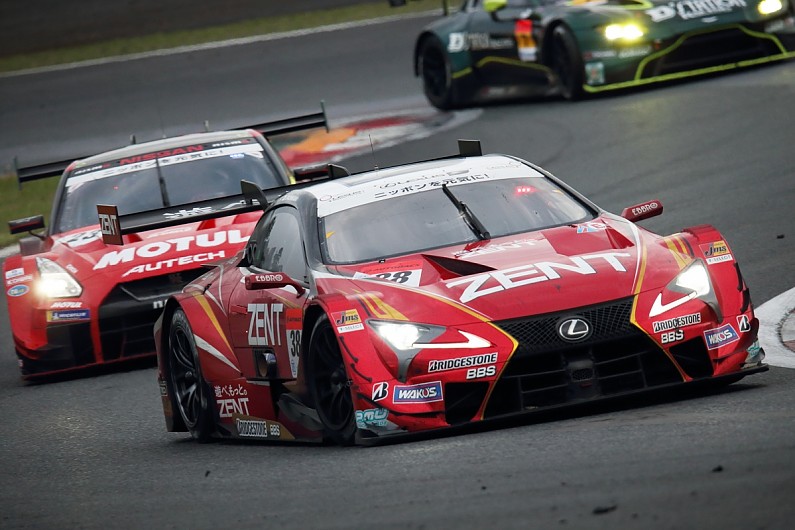 At the front, the Cerumo Lexus team claimed victory in the second longest race of the season after coming out in top in a lengthy battle with Nissan's factory-entered NISMO squad.
The race ebbed and flowed between the two teams as the track dried out after early showers, with Yuji Tachikawa and Hiroaki Ishiura sealing victory when Tachikawa made a move on Ronnie Quintarelli just 11 laps before the finish.
Quintarelli and Tsugio Matsuda brought the Nissan home second.