Jenson Button's "dedication and devotion" to his successful Super GT title challenge this year has been praised by his team boss Kunimitsu Takahashi.
Button and his Team Kunimitsu Honda NSX-GT co-driver Naoki Yamamoto won the GT500 championship in a tense season finale on Sunday at Motegi, beating TOM'S Lexus pair Nick Cassidy and Ryo Hirakawa to the crown by three points.
It came after Button held off a charging Hirakawa for third in the closing stages as the pair worked through slower GT300 traffic.
The drivers' title is the first for Team Kunimitsu in its 25 years in Super GT and its forerunner the All-Japan GT Championship.
Speaking in the champions' press conference, Takahashi thanked both drivers - describing Yamamoto as "world class" and 2009 Formula 1 world champion Button as a "superstar".
"As a Formula 1 champion here in Super GT, I wondered if you were going to make fun of us, saying, 'this will be a piece of cake', [that] kind of thing," Takahashi said to Button.
"I was wondering if you would enjoy it or not. But I've been so impressed with your devotion and trust you put in our team, and your fabulous driving abilities.
"We have several ex-F1 drivers here but your dedication and devotion has been fabulous. You did really well and you're definitely a superstar.
"I have been [involved for more than] 20 years in racing and I never got this title, so I'm so proud to be here with you both and appreciate this fantastic championship battle."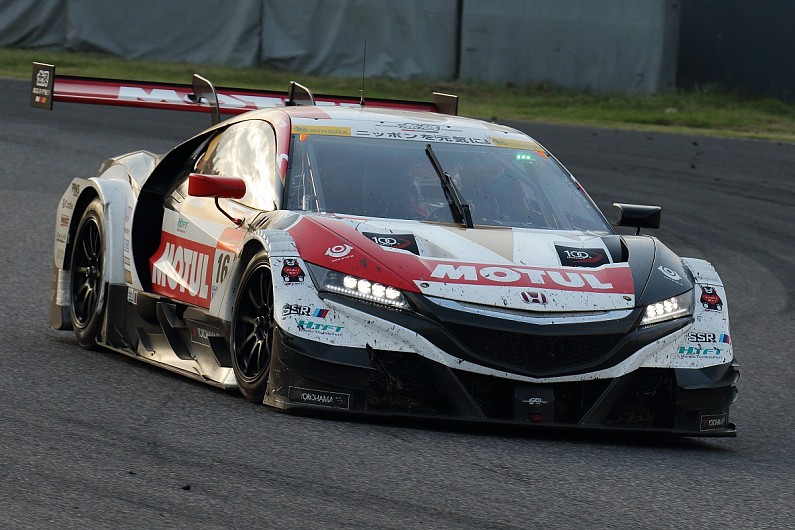 Button made his Super GT debut in last year's Suzuka 1000km (pictured above) before embarking on a full season in 2018 alongside his World Endurance Championship commitments with the SMP Racing LMP1 team.
He emphasised how important seeking advice from more experienced Super GT drivers had been to making progress in his rookie campaign.
"The most important thing is when you are in a new category, you listen to as many people as possible," said Button.
"I've had a lot of help from drivers, to be fair, talking about traffic.
"I've asked a lot of questions as well, and with Naoki as a team-mate it's been very useful. He's been very helpful in difficult situations, because it's surprising how much there is to learn.
"You think it's [just] a racing car, but it's not, it's completely different. The [tyre] warm-up is the biggest thing - no tyre blankets, for the first time in my career since Formula 3.
"You've got to have an open ear, listen to as much as you can, to information from everyone, but especially from this guy [Yamamoto]."
Asked about his plans for 2019, Button suggested he would return to defend his Super GT title with Honda.
"I can't say right now, but I've got a feeling [I'll be doing] more of the same," he said.