Ex-Formula 1 driver and 2009 world champion Jenson Button earned a maiden Super GT victory at Sugo to take the lead of the championship, alongside co-driver Naoki Yamamoto.
Yamamoto started the race from pole position in the Team Kunimitsu Honda NSX-GT, and immediately began to pull away, building a seven-second lead by lap 16 of the 80.
However, traffic from GT300 cars nullified his lead in a matter of laps, bringing the Impul Nissan of Jann Mardenborough into contention.
With Yamamoto unable to pick up the pace after returning to clean air, Mardenborough dived down the inside of the Japanese driver at Turn 1 to move into the lead.
Yamamoto, however, still managed to hold on to the back of the Nissan GT Academy graduate and on lap 35 Team Kunimitsu called Yamamoto into the pits.
Mardenborough stayed out for another three laps and lost time in the pits, with the result that team-mate Daiki Sasaki barely came out a few seconds ahead of Button - and on cold tyres.
Button spent no time sitting behind Sasaki, slipping past him at Hi-Point to snatch back the lead.
He managed to build a one-second buffer immediately and when Sasaki ran wide at the final corner a few laps later, the path appeared clear for Button to take his first victory in the series.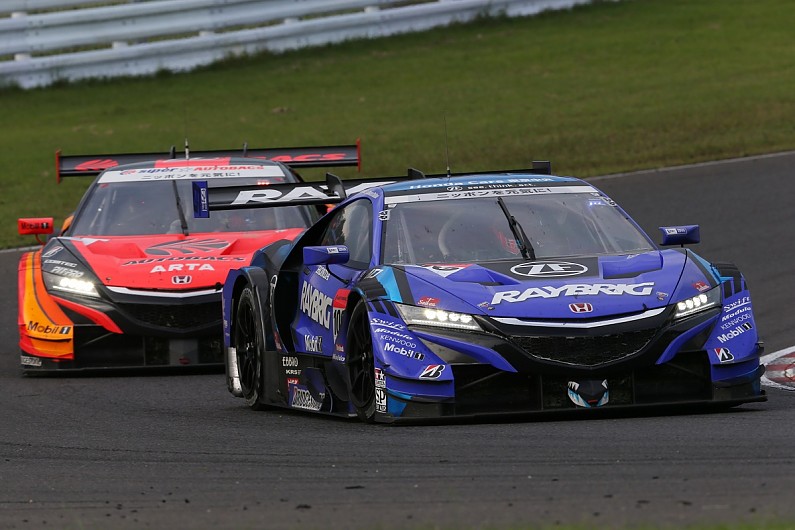 However, Button suffered a brief scare when he missed the apex at the last turn in similar fashion to Sasaki - depositing grass on the car's inlet - and then a safety car had to be called in for a crash between two GT300 cars.
That left a six-lap dash for victory between Button and the ARTA Honda then driven by Tomoki Nojiri, who had passed the struggling Sasaki before the safety car.
Button and Nojiri ran within a second each of the other in the sprint to the finish, but the former managed to hold on to score his first victory in any category since the 2012 Brazilian GP.
Nojiri and Takuya Izawa had to settle for second, but the result ensured another one-two finish for Honda, just weeks after they were slapped with a 10 kg weight increase to ensure equivalency of performance.
Honda's car is mid-engined as opposed to the more conventional front-engined cars of Nissan and Lexus.
Behind the leading Hondas, Sasaki managed to fend off the Mugen Honda of Daisuke Nakajima to secure the final spot on the podium.
Zent Cerumo duo Hiroaki Ishiura and Yuji Tachikawa ended up fifth in the leading Lexus, ahead of the Kondo Nissan of Joao Paulo de Oliveira and Mitsunori Takaboshi.
Ryo Hirakawa, who headed the championship coming into Sugo alongside Nick Cassidy, crashed his #1 TOM'S Lexus a few laps away from the finish, while Bertrand Baguette likewise shunted his Nakajima Honda that he shares with Kosuke Matsuura.