Factory Lamborghini drivers Mirko Bortolotti, Andrea Caldarelli and Christian Engelhart made it two wins from two starts in the Blancpain GT Series Endurance Cup at Silverstone.
The trio claimed victory by just three tenths of a second from the HTP Motorsport Mercedes-AMG GT3 shared by Franck Perera, Jimmy Eriksson and Maximilian Buhk to follow up on their win in the Monza series opener last month.
Bortolotti dominated the opening stint, building up a six-second advantage that was ultimately undone by a short safety-car period that immediately preceded the first round of pitstops.
Caldarelli dropped to second during the stops after an early pitcall by the Auto Sport Promotion Mercedes started by Edoardo Mortara gave team-mate Michael Meadows the lead.
An attempt by Caldarelli to wrest the lead from the Mercedes around the outside at Brooklands only resulted in the Lamborghini losing second to Eriksson at Luffield.
The top three entered the pits for the final round of stops in nose-to-tail formation, the Grasser crew winning the race to turn the cars around and getting Engelhart out back in the lead.
Engelhart was able to maintain a narrow gap to Raffaele Marciello, who lost second spot to Buhk with just over 20 minutes to go.
The Mercedes got then held up in traffic, which allowed the Lamborghini to open up a lead of more than three seconds.
Buhk closed down Engelhart in the closing stages and was right with the Lamborghini with three laps to go.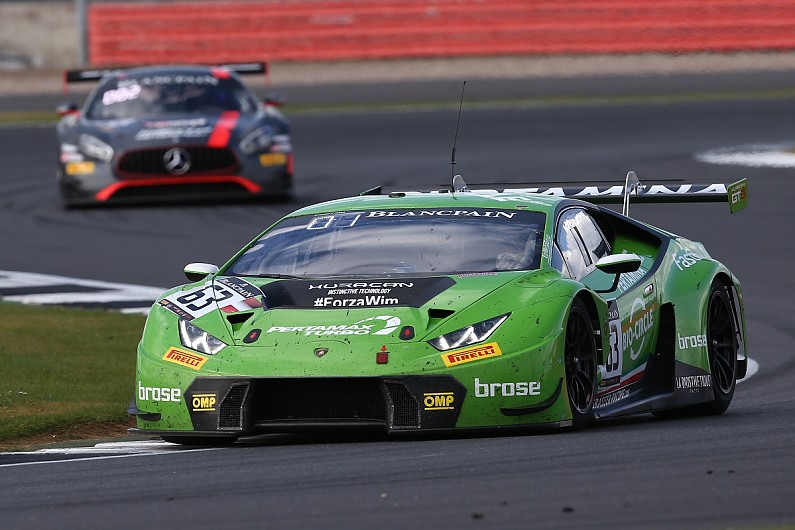 "I was surprised that I had quite a margin but also surprised at how quickly the Merc could catch up," said Engelhart.

Marciello was 2.7s down at the finish in third, a similar margin ahead of the fourth-place SMP Racing Ferrari 488 GT3 shared by Victor Shaytar, Miguel Molina and Davide Rigon.
M-Sport claimed fifth spot with the Bentley Continental GT3 driven by Vincent Abril, Andy Soucek and Maxime Soulet, which vaulted into contention from outside the top 20 during the first pitstop cycle.
The AF Corse-run Spirit of Race Ferrari shared by Pasin Lathouras, Michele Rugolo and Alessandro Pier Guidi took sixth.
The ASP Mercedes in which Daniel Juncadella had taken pole position ended up 11th after a one-minute stop-go penalty for an infraction at the start.
Pro-am honours went to the British Barwell Lamborghini squad.
Patrick Kujala, who shared the car with Martin Kodric and Adrian Amstutz, hung on to cross the line just over a second clear of the TF Sport Aston Martin Vantage V12 that Jonny Adam had taken over from Ahmad Al Harthy for the final stint.
RESULTS - 83 LAPS:
| Pos | Driver | Team | Car | Gap |
| --- | --- | --- | --- | --- |
| 1 | M.Bortolotti, C.Engelhart, A.Caldarelli | GRT Grasser Racing Team | Lamborghini | 3h02m00.635s |
| 2 | M.Buhk, F.Perera, J.Eriksson | HTP Motorsport | Mercedes | 0.344s |
| 3 | M.Meadows, R.Marciello, E.Mortara | Akka ASP Team | Mercedes | 3.072s |
| 4 | V.Shaytar, D.Rigon, M.Molina | SMP Racing | Ferrari | 5.871s |
| 5 | A.Soucek, M.Soulet, V.Abril | Bentley Team M-Sport | Bentley | 28.330s |
| 6 | P.Lathouras, M.Rugolo, A.P.Guidi | Spirit of Race | Ferrari | 35.713s |
| 7 | A.Sims, M.Martin, P.Eng | Rowe Racing | BMW | 36.898s |
| 8 | L.Williamson, O.Webb, A.Parente | Strakka Racing | McLaren | 44.743s |
| 9 | S.Kane, G.Smith, O.Jarvis | Bentley Team M-Sport | Bentley | 1m07.204s |
| 10 | L.Frey, S.Ortelli, A.Costa | Emil Frey Racing | Jaguar | 1m07.620s |
| 11 | F.Serralles, D.Juncadella, T.Vautier | Akka ASP Team | Mercedes | 1m15.068s |
| 12 | J.Hirschi, C.Klien, M.Seefried | Emil Frey Racing | Jaguar | 1m18.209s |
| 13 | S.Leonard, J.Green, J.Dennis | Team WRT | Audi | 1m21.123s |
| 14 | F.Crestani, G.Yacaman, N.Pohler | Lazarus | Lamborghini | 1m21.740s |
| 15 | A.Piccini, M.Beretta, S.Gattuso | Ombra Racing | Lamborghini | 1m21.828s |
| 16 | A.Buncombe, L.Ordonez, K.Chiyo | RJN Motorsport | Nissan | 1m27.261s |
| 17 | E.P.Companc, N.Siedler, R.Giammaria | GRT Grasser Racing Team | Lamborghini | 1m30.539s |
| 18 | N.Menzel, C.Krognes, M.Jensen | Walkenhorst Motorsport | BMW | 1m35.596s |
| 19 | B.Baguette, G.Venturini, M.Mapelli | Attempto Racing | Lamborghini | 1m41.039s |
| 20 | A.Amstutz, M.Kodric, P.Kujala | Barwell Motorsport | Lamborghini | 1m41.864s |
| 21 | A.Al Harthy, J.Adam | Oman Racing Team with TF Sport | Aston Martin | 1m42.942s |
| 22 | J-L.Beaubelique, J.Gounon, N.Bastian | Akka ASP Team | Mercedes | 1m45.747s |
| 23 | G.Fisichella, M.Cioci, J.Calado | AF Corse | Ferrari | 1m46.143s |
| 24 | M.Simmons, M.Parry, S.Moore | RJN Motorsport | Nissan | 1m50.601s |
| 25 | H.Abbott, M.Skeen, D.Faulkner | HTP Motorsport | Mercedes | 1 Lap |
| 26 | L.Machitski, M.Ramos, R.Abra | Barwell Motorsport | Lamborghini | 1 Lap |
| 27 | A.Amici, D.Lind, S.Costantini | Raton Racing | Lamborghini | 1 Lap |
| 28 | J.Haring, A.Renauer, R.Renauer | Herberth Motorsport | Porsche | 1 Lap |
| 29 | A.Watson, J.Jaafar, D.Stoneman | Strakka Racing | McLaren | 1 Lap |
| 30 | M.van Splunteren, C.Mateu, G.Maggi | Attempto Racing | Lamborghini | 1 Lap |
| 31 | J.Caygill, J.Venter, N.M.-Melnhof | Team WRT | Audi | 1 Lap |
| 32 | D.Perfetti, A.Fontana, L.Badey | Akka ASP Team | Mercedes | 1 Lap |
| 33 | N.Hommerson, L.Machiels, R.Butcher | Spirit of Race | Ferrari | 1 Lap |
| 34 | C.Ledogar, R.Bell, B.Barnicoat | Strakka Racing | McLaren | 2 Laps |
| 35 | P.Ehret, R.Mastronardi | Rinaldi Racing | Ferrari | 2 Laps |
| 36 | C.Kelders, M.Rostan, C.Haase | Sainteloc Junior Team | Audi | 2 Laps |
| 37 | D.Baumann, E.Sandstrom, F.Schiller | HTP Motorsport | Mercedes | 2 Laps |
| 38 | M.Ishikawa, L.Bontempelli, O.Beretta | AF Corse | Ferrari | 2 Laps |
| 39 | J.Duyver, M.Zanuttini, D.Perel | Kessel Racing | Ferrari | 3 Laps |
| 40 | B.Sandberg, D.Chaponick, S.Heckert | Black Falcon | Mercedes | 3 Laps |
| 41 | M.Palttala, B.Spengler, J.Krohn | Rowe Racing | BMW | 3 Laps |
| 42 | D.Schiwietz, H.Walkenhorst, M.Henkola | Walkenhorst Motorsport | BMW | 3 Laps |
| 43 | B.Delhez, G.Vannelet, M.Stursberg | Team HB Racing | Lamborghini | 4 Laps |
| 44 | M.Broniszewski, A.Rizzoli, M.Cressoni | Kessel Racing | Ferrari | 4 Laps |
| 45 | K.Lendoudis, R.Aguas, J.M.Balbiani | Team Zakspeed | Mercedes | 12 Laps |
| - | A.Mattschull, D.Keilwitz, R.Salikhov | Rinaldi Racing | Ferrari | Disqualified |
| - | A.Christodoulou, Y.Buurman, L.Stolz | Black Falcon | Mercedes | Retirement |
| - | A.West, C.Goodwin, C.Harris | Garage 59 | McLaren | Retirement |
| - | M.Fassler, D.Vanthoor, W.Stevens | Belgian Audi Club Team WRT | Audi | Retirement |
| - | N.Berthon, S.Richelmi, B.Treluyer | Belgian Audi Club Team WRT | Audi | Retirement |
| - | I.Vinke, B.Caccia, J.Viebahn | Team Zakspeed | Mercedes | Retirement |
| - | K.Heyer, I.Dontje, P.Assenheimer | MANN-FILTER Team HTP Motorsport | Mercedes | Retirement |
| - | F.Salaquarda, F.Stippler, C.Schmid | ISR | Audi | Retirement |
| - | J.Kane, D.Fumanelli, S.Tordoff | Strakka Racing | McLaren | Retirement |
| - | O.Morley, M.Toril, M.Metzger | Black Falcon | Mercedes | Retirement |
Autosport has produced a standalone special magazine to celebrate our 70th birthday. All current print subscribers will receive a copy for free. To order your copy of the 196-page Autosport 70th Anniversary issue, please go to: autosport.com/autosport70th