Brazilian Stock Car Championship frontrunner Atila Abreu is set to contest a full season in Europe for the first time in 10 years with a Blancpain GT Series assault for BMW Team Brazil.
The 27-year-old, who finished second to Sebastian Vettel in the 2004 Formula BMW Championship in Germany, is "90 per cent certain" to be part of the squad's expanded campaign with a pair of BMW Z4 GT3s across the Blancpain Sprint Series and the Blancpain Endurance Series, according to team boss Antonio Hermann.
"Atila is one of the quickest Stock Car drivers and also had success when he raced in Europe," Hermann said of the driver who finished second to Rubens Barrichello in last year's Stock Car standings.
The deal would bring Abreu back to Europe for the first time since a Formula 3 Euroseries campaign with Mucke Motorsport in 2005, apart from a one-off with Team BMW at the Navarra FIA GT Series round in 2013.
Abreu would be paired in Team Brazil's #77 entry with fellow Chevrolet Stock Car driver Valdeno Brito, who has been signed up for the full season after contesting two sprints with the team last year.
They would contest the seven BSS races together and are likely to be joined by Formula 3000 race winner Ricardo Sperafico for the five enduros, which include the Spa 24 Hours in July.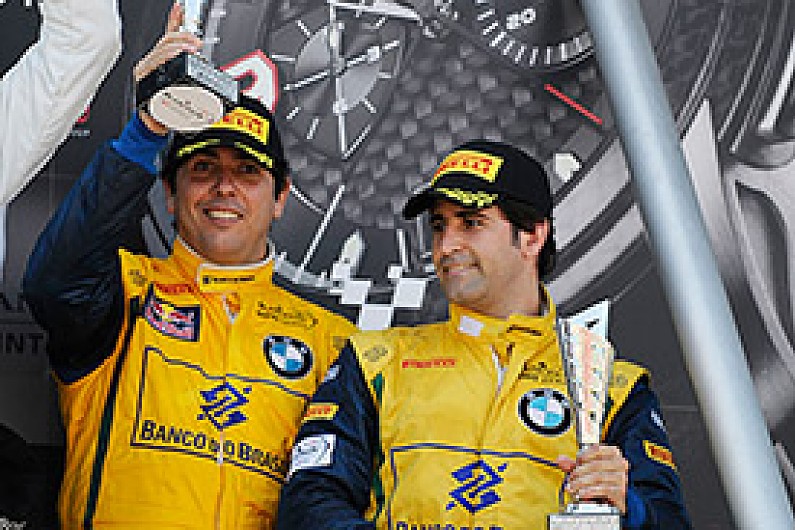 Brazilian Stock Car legend Caca Bueno, who was already confirmed for the 12 races in the #0 entry, will be partnered in the sprints by Sergio Jimenez, who will be part of the team's sprint programme for a third straight season.
Their likely team-mate for the BES rounds is 19-year-old Felipe Fraga. He won twice in his rookie Stock Car season last year.
Hermann believes he has put together "one of the best teams in the championship".
Team Brazil's squad for the BSS opener at Nogaro on April 6 could look very different courtesy of a clash with the Stock Car round on the Ribeirao Preto street circuit.
Hermann explained that he was working with the organisers of the Brazilian series to try to change the date of the event.
If that proves impossible, the plan is for Rodrigo Sperafico to join twin brother Ricardo in what could be a slimmed-down one-car entry.
"We will definitely have one car for the Speraficos, but I am working with BMW to have some factory drivers in the other," explained Hermann.