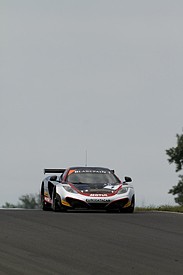 Frederic Makowiecki took a last-gasp pole position for Hexis McLaren ahead of the FIA GT World Championship qualifying race in Slovakia.
The Frenchman's 2m01.652s lap - the fastest by anybody all weekend - was just enough to deny Yelmer Buurman, in the Vita4One BMW, of the top spot in a dramatic final segment of the session.
Matteo Cressoni's final flying lap was good for third quickest in the Sunred Ford GT, the car having the set the pace in final practice.
Frank Stippler ended up being the fastest Audi, after the WRT team's hope for pole, Stephane Ortelli, spun wildy on the exit of Turn 9. He initially caught the lurid moment in the R8 on the left-hander before over-compensating and shooting off into the gravel on the right over the crest.
That put the Frenchman last of the eight Q3 runners, behind Toni Vilander and Francesco Castellacci in the AF Ferraris as well as Gregoire Demoustier in the sister Hexis McLaren that he shares with Alvaro Parente.
The Reiter Lamborghinis looked a threat for pole initially with Tomas Enge setting the pace in Q1, but his team-mate Albert von Thurn und Taxis couldn't get the car in to the final shoot-out.
Meanwhile Darryl O'Young ran wide and damaged his Gallardo at Turn 1 in Q2 which ultimately stopped him from progressing.
Both Exim Porsches went off. Benjamin Lariche ensured the #8 911 GTR 3 was the only car not to progress from Q1 after spinning into the gravel at Turn 1, while Mike Parisy hit the barriers at Turn 9 during Q2 in a similar incident to Ortelli's.
Pos  Drivers                   Team/Car            Time       Gap
 1.  Makowiecki/Dusseldorp     Hexis McLaren       2m01.652s           
 2.  Bartels/Buurman           Vita4One BMW        2m01.934s  + 0.282s
 3.  Cressoni/Pavlovic         Sunred Ford         2m02.262s  + 0.610s
 4.  Jarvis/Stippler           WRT Audi            2m02.345s  + 0.693s
 5.  Vilander/Salaquarda       AF Corse Ferrari    2m03.001s  + 1.349s
 6.  Castellacci/Ide           AF Corse Ferrari    2m04.833s  + 3.181s
 7.  Demoustier/Parente        Hexis McLaren       2m05.083s  + 3.431s
 8.  Ortelli/Vanthoor          WRT Audi            no time    Q3
 9.  Lauda/Mayr-Melnhof        Vita4One BMW        2m02.861s  Q2
10.  Basseng/Winkelhock        Munnich Mercedes    2m02.984s  Q2
11.  Halliday/Parisy           Exim Porsche        2m03.080s  Q2
12.  Enge/von Thurn und Taxis  Reiter Lamborghini  2m03.198s  Q2
13.  Rosina/O'Young            Reiter Lamborghini  2m03.331s  Q2
14.  Pastorelli/Jager          Munnich Mercedes    2m04.881s  Q2
15.  Lariche/Lunardi           Exim Porsche        2m06.867s  Q1