Forget about every race Sebastien Loeb had done before climbing aboard a McLaren MP4-12C GT3 for the first time. That was ground zero in a new chapter of the nine-time World Rally champion's career. Only now is the rally legend turning into an aspiring racing driver in what is his wind-down year with Citroen in the WRC.
Every race the Frenchman did before last year's French GT Championship finale at Paul Ricard, which he contested at the wheel of a Von Ryan Racing McLaren running in the colours of his own Sebastien Loeb Racing team, was about having fun.
That includes sporadic outings in the French Porsche Carrera Cup, French GTs and even his two starts at the Le Mans 24 Hours with Pescarolo Sport, one of which yielded second place.
Now he's getting serious with a full-season campaign in the new FIA GT Series alongside McLaren factory driver Alvaro Parente in one of two MP4-12Cs run by his team.
"In the past, I have done races only for fun," confirmed the 39-year-old Frenchman. "When I did Le Mans we were fighting for the victory so maybe it was more than fun, but at the start I decided to do the race for fun. Now I am starting properly in racing."
That means stopping rallying after his four-event programme with Citroen this season. He's not ruling out taking to the special stages again, but the role of the two branches of the sport in his life will be reversed: "In the past, I did races for fun; in the future maybe I will do some rallies for fun only."
The time was right to make the move for a driver whose racing CV not only includes that second place at Le Mans in 2006 but also a double victory with his own team in the Carrera Cup at Pau last year. The man behind him was young team-mate Jean-Karl Vernay, the eventual French champion and now with a foot in the Porsche factory camp.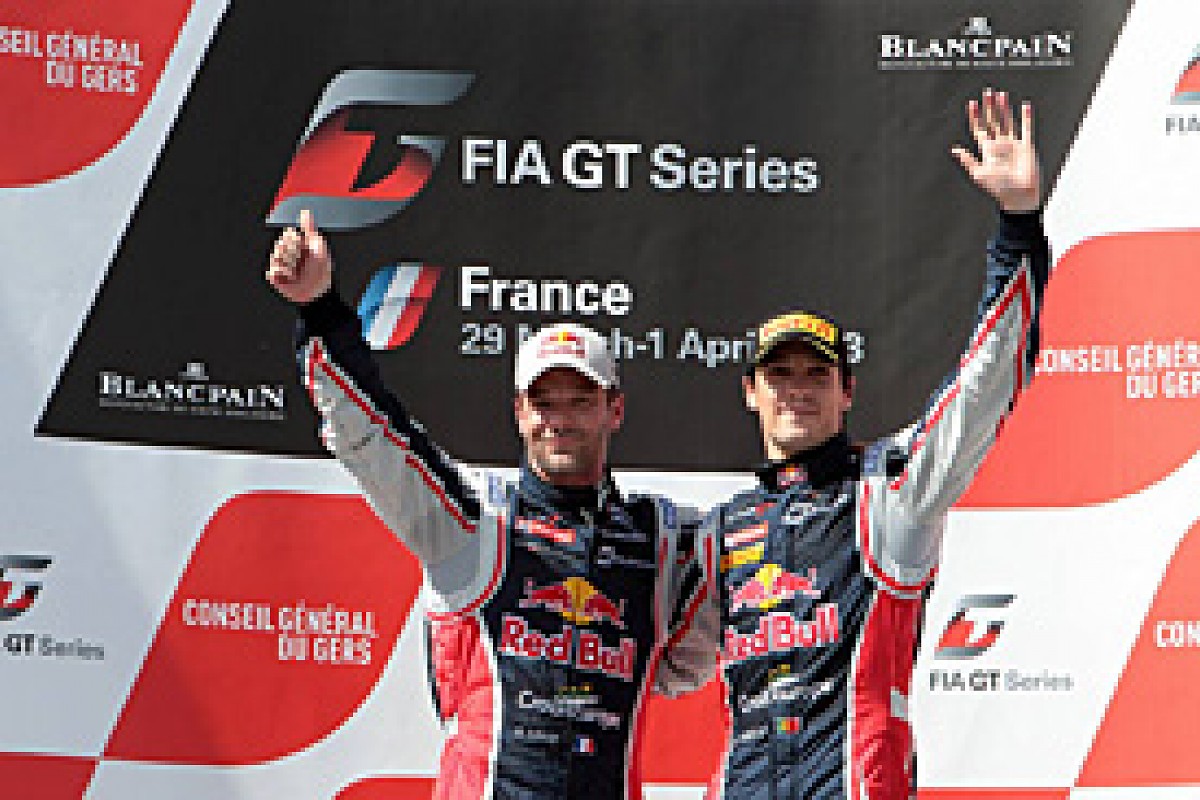 Loeb and Parente won the opening round of the FIA GT series © XPB
"It was the right moment," Loeb added. "I've had a nice career in rallying, but I became a bit fed up with it. I had nothing more to prove because I had won so much. There's a lot of travel and I wanted to do something else, and do it now because I am still at my best level."
The next something else could be a World Touring Car Championship assault with long-term employer Citroen. The intent is there from the French manufacturer to join the WTCC next season, with Loeb among its drivers.
That explains his presence in FIA GT this year rather than an endurance programme encompassing Le Mans.
"I wanted to do sprint racing, because it is a good way for me to prepare for the WTCC," he explained. "It's not only that. I like the series, the close racing and the fact that we have two races, and I like the cars."
Loeb appears strangely ambivalent about a return to Le Mans, despite his success and pace there in 2005-06. He followed in a long line of French rally drivers taking on the challenge of the Circuit de la Sarthe and in finishing second he surpassed the best results notched up by fellow rally winners Jean Ragnotti and Guy Frequelin.
He did go back last year when he took part in the Test Day in the ORECA-Nissan 03 LMP2 with which his team contested the truncated European Le Mans Series. He set the fifth-best time in the secondary prototype division, but never committed to racing the car this year before its withdrawal from both the 24 Hours and the ELMS.
Suggest that he may want to go back to try to improve on his second-place finish of 2006, and he points out that is very unlikely.
"If you want to win, you need to be in an Audi or a Toyota, and I know that is not going to happen. There could be the possibility to do it in a GT or a LMP2, but at the moment I have no plans for that."
Learning is his primary focus now.
"I know I am racing against some of the best GT drivers in the world in this championship and I know that I have to improve," he said. "I am lucky that I have a very good team-mate in Alvaro. If he is quicker than me, I can check the data to see how I can improve."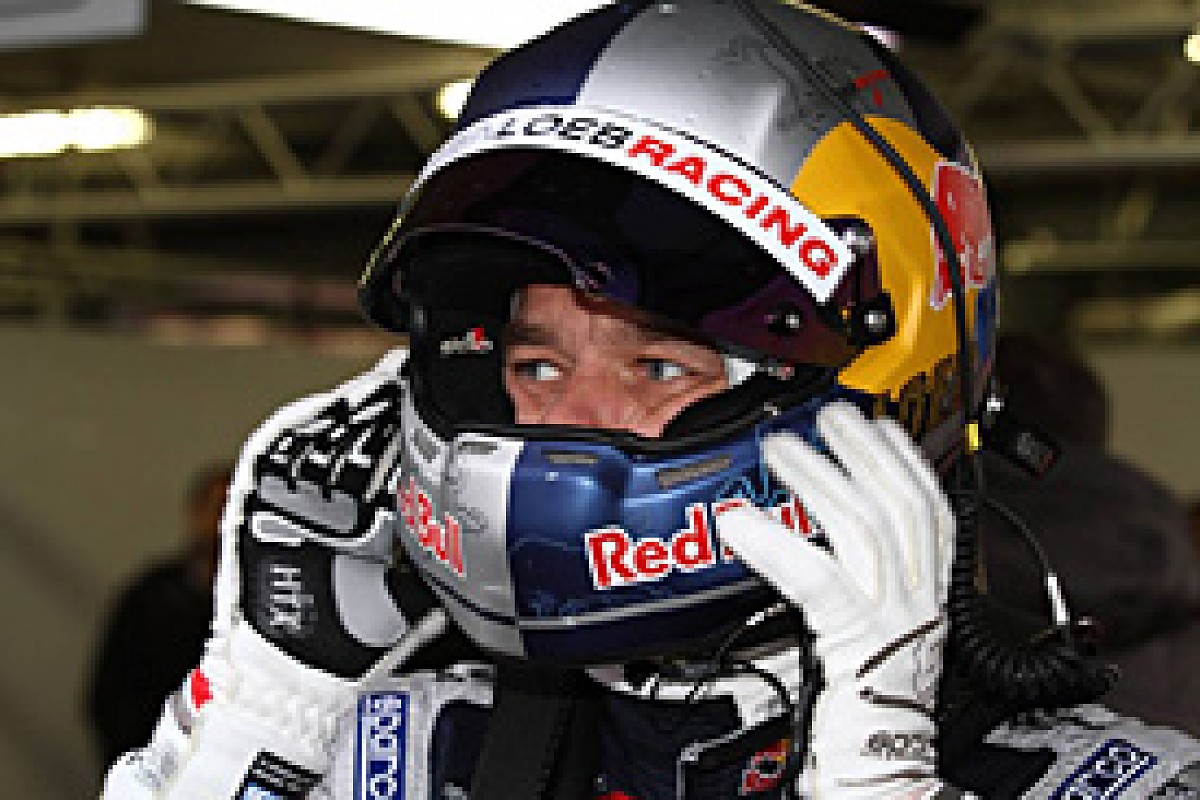 Loeb is hungry for more success © XPB
Loeb impressed first time out in FIA GT with a debut victory in the qualifying race at the season-opener at Nogaro.
He reveals that his greatest satisfaction from the race was not his pace as he closed down on the WRT Audi R8 LMS ultra driven by Nikolaus Mayr-Melnhof, but his successful pass for the lead.
And on a first-lap tangle in the pack in the main race at Zolder last weekend, he said: "It's all part of learning, but I think I would do the same thing again."
Loeb is coy about his long-term aspirations as a racing driver. He talks about his WTCC ambitions and his desire to "keep improving", but there's also a more telling statement: "I don't like to lose."
HOW GOOD COULD LOEB BE?
Dave Ryan - ran Loeb in a McLaren at Paul Ricard last year: "He is going to be very, very good. He was 100 per cent focused and asked all the right questions. You could see him learning the circuit a corner or two at a time, experimenting with different lines, and he did it very quickly.
"He has the ability and he has the application, and a very humble attitude. I think he can achieve anything he wants to."
Henri Pescarolo — ran Loeb at Le Mans in 2005-06: "Sebastien was very competitive at Le Mans. When he finished second with Franck Montagny and Eric Helary, he really was doing the same lap times as them and drove as much as them.
"When he first drove the car, he was quite far away in terms of lap time, but he got there quite quickly. He can be quick in whatever he drives because he has real qualities."
Alvaro Parente - Loeb's co-driver in FIA GT: "It's incredible how fast he's adapting; he has an amazing ability to learn quickly. If he can adapt quickly to a McLaren, why not a WTCC car?"