Mercedes was victorious in the fourth 2019 Gran Turismo World Tour event at Red Bull's Hangar-7 in Austria, becoming the first-ever manufacturer to win back-to-back finals.
Each round, three drivers represent a manufacturer after making it through the qualification process from home.
The manufacturers' involvement is limited to supplying the licensing to the in-game car.
After an opening race at the Red Bull Ring, Veloce Veloce Esports' Tom Lartilleux catapulted his Mercedes GT3 into second at Spa's Turn 1 and then took the lead with a bold move on Audi at the end of the Kemmel Straight.
The pair had contact but the Mercedes held the lead while the Audi was shuffled down to second by Porsche.
Teams are required to use all three compounds of tyres in each race - soft, medium and hard.
Impressively, Lartilleux stretched his soft tyres to the end of lap eight before handing over to his team-mate Anthony Felix, who tactically completed just one lap on the hard compound before swapping with Cody Latkovski.
Medium-shod Latkovski took Mercedes to a commanding victory of 8.6 seconds over Toyota, who charged from eighth on the grid.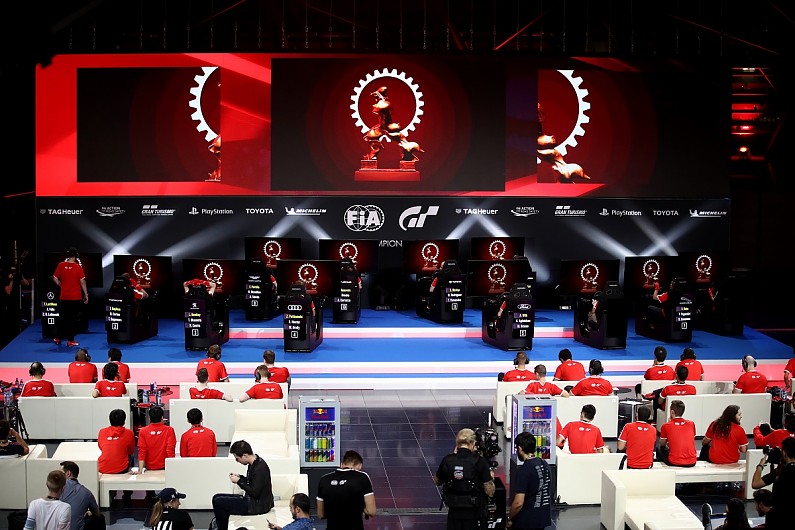 The second race was worth double-points and Mercedes took the overall win after taking third in the opening race at the Red Bull Ring.
That opening race was won by Audi after British driver Martin Grady set his team-mates up perfectly for the win with a solid opening stint.
However, it was not plain sailing when he stepped aside, as Grady's team-mates collided with the Peugeot on two separate occasions, misjudging their braking and earning a warning both times.
The two collisions with the Peugeot, which was yet to make its final pitstop, allowed Porsche to get within touching distance of the Audi by the chequered flag.
Porsche completed the podium in race two to ensure it was the runner-up to Mercedes in the overall event standings, as Toyota's podium promoted it to third.
Audi suffered a nightmare second race with a failed three-stop strategy leaving it ninth.
Saturday will feature the latest round of the Nations Cup - the individual event where Igor Fraga, who has won both of the last two events, will not race due to European Formula Regional Championship testing commitments.