Audi team principal Allan McNish says he was offered a Formula E drive but turned it down after he retired from sportscars partly due to his scepticism of the series.
Prior to the first season of the championship in 2014, FE organisers created a pool of high-profile drivers to build attention - similar to the method currently taken by Extreme E.
Three-time Le Mans 24 Hours winner McNish was approached by FE to contest the inaugural season, despite having retired from racing at the end of 2013 after winning the World Endurance Championship title with co-drivers Tom Kristensen and Loic Duval.
McNish said that as well as stepping down from racing, he had rejected the FE offer owing to reservations about the series and its short-term future.
He said: "When I retired from racing in 2013, I was asked if I was interested in driving in Formula E.
"Apart from the fact that I had made my decision, I was sceptical, because I have seen a lot of new championships come and go.
"But, what I hadn't seen [then] was the dynamic and start-up mentality that these Formula E guys had."
McNish has a long-term relationship with Audi - having first raced for the manufacturer in 2000 when he won the American Le Mans Series title alongside full-time team-mate Rinaldo Capello.
He has been team principal of its FE concern since the marque completed the takeover of the affiliated Abt Shaeffler outfit prior to the 2017-18 season.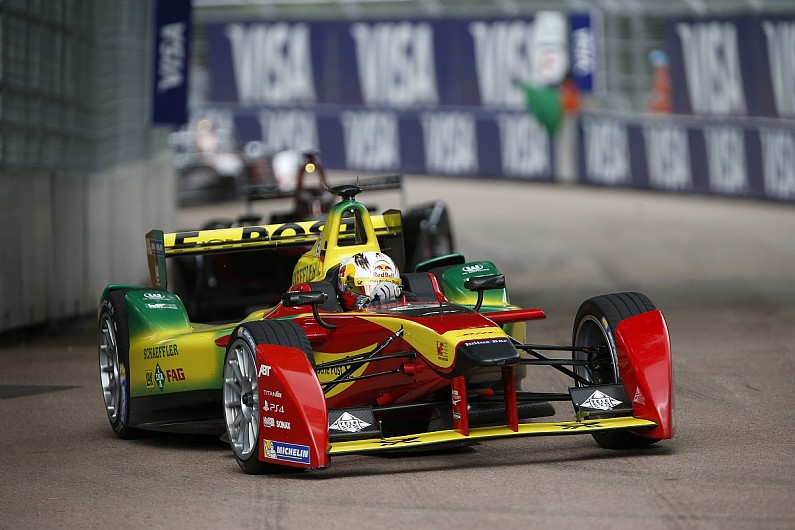 Autosport understands that the FE approach was not linked to McNish driving for Abt, which has retained drivers Lucas di Grassi and Daniel Abt since the first FE race in Beijing.
McNish added that his standout memory since taking charge of the Audi FE team was not winning the 2017-18 teams' championship or any individual race victory.
He instead cited the rebuild of Abt's car following his 2020 Mexico E-Prix practice shunt, which led the German to be airlifted to hospital.
"Everyone would probably expect one of our victories right now," McNish said.
"But for me, it's another event that turned a bad day into something special.
"I'll never forget how the entire team worked together after Daniel's accident in Mexico.
"The guys changed the chassis in record time, changed the battery, went to technical scrutineering and were running while pushing the car down the pit lane to get it back in time for parc ferme regulations - everything to have the car ready for their driver in time for qualifying.
"In these almost three hours, everyone saw impressively what passion and dedication characterises our team."
Abt was discharged from hospital after his 20G impact, which followed the driver activating fanboost, and went on to contest the race.
But he withdrew with six laps remaining deciding it was "better to stop instead of risking" another incident.