Nissan motorsport boss Michael Carcamo has explained how Nissan e.dams successfully prepared an "updated" Formula E powertrain ahead of the 2019-20 campaign after its twin-motor concept from 2018-19 was banned.
The team's twin-motor approach produced FE's first major technical rules saga, which led to the FIA banning such powertrains on cost-control grounds after what former team principal Jean-Paul Driot called "some lobbying" from other teams.
Nissan scored six poles in 2018-19 - the most of any FE team - but took until the final round of the season to win a race, as the twin-motor concept produced a package that accelerated rapidly but struggled to be as efficient over a race distance as other designs.
Formula E's twin-motor tech row

But the decision to ban it ahead of last season's round in Bern left Nissan just four and half months to meet the 2019-20 powertrain hardware homologation deadline, which was extended until October 31 to give the team more time.
Nissan nevertheless successfully prepared its new package in time for FE's group pre-season test at Valencia last month, with Carcamo joking: "We just chopped it in half and then showed up - it was pretty easy, just put a bandsaw down the middle and it's good to go!"
"If it was that easy, that would've been nice," he continued to Autosport.
"No, for sure we didn't have time to develop an entire new powertrain, but because the base of the system was still going to be the most important part, we were able to extract the best parts to put together what is an updated system.
"It would have been great to make a new system but there wasn't enough time."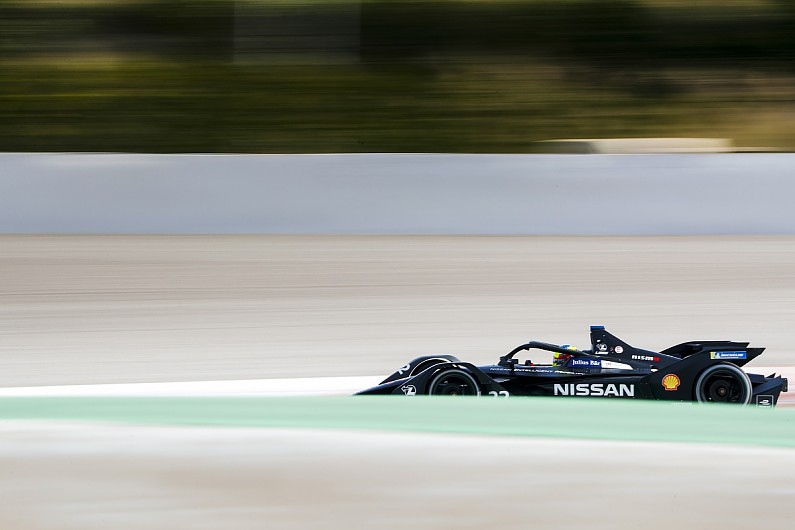 When asked how Nissan had arranged its new powertrain compared to its former approach, Carcamo said the manufacturer "just removed one and optimised again, because it's a question of the game changing a bit".
As a result of that change, Carcamo is expecting to Nissan's package will produce efficiency performance along the lines of its rivals in 2018-19.
Formula E testing analysis

An Autosport analysis of the times from the second test 'race' FE organised at Valencia - which Buemi 'won' - showed the team produced the best average laptime.
"For us, and the new season - if last season we were willing to sacrifice some margin of efficiency for a different type of performance, now it's only focused on efficiency," said Carcamo.
"So, that mindset and that strategy has changed, even in how you manage the system."