Formula E and the FIA are working to eliminate the need for tracks to feature tight chicanes after several high-profile accidents occurred at such corners during 2018/19.
Tight chicanes are used at many ABB FIA FE tracks as a result of their urban settings, but these sequences often featured contact during the early stages of races in the first season of the Gen2 era due to the longer length of the new machines.
In one of the more disruptive incidents last season, a pile-up at the first corner in Bern blocked the track and caused a lengthy red flag period.
The decision to use such a sequence of turns for that race's opening corners was criticised by the drivers, but FE race director Scot Elkins explained that the championship organisers did not have "anywhere else" to logically place the starting grid for that race.
Elkins said "I think we all knew it was going to be that way" and added "it's something we're fully working on for next season, to not have chicanes like that".
"Never for the first corner, because that's a really bad idea," Elkins continued to Autosport. "The problem was the layout of the circuit.
"The key about it is that at some tracks, where there is an offset from the start and finish line, we have what is called a zero lap.
"[The offset lap is a result of] the way in which the regulations are written, because like Bern we had to find a different place for it.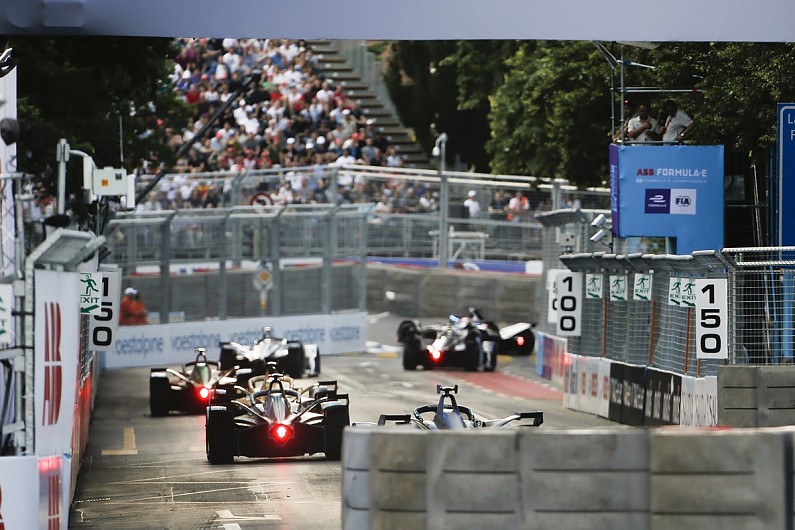 "Paris is the same way, it's kind of around the corner away from the finish line.
"On a permanent race track, it's pretty easy to do it because of the pit entry and pit exit.
"With us [in FE], depending on how the pitlane is configured, entry and exit could be a very short distance.
"The way the regulations are written is that the control/finish line must be between safety car line one and two, i.e. pitlane entry and exit.
"In order to start the race, at times we have to put it somewhere else because it just doesn't work in [some] locations, Bern being the prime example, because there are curved corners in between safety car line one and two [there].
"It's part of the difficulties of the street circuits, and being able to follow the regulations that have been written."
FE deputy CEO Alberto Longo confirmed that reducing the use of the problematic chicanes is "the main target for" for FE and the FIA.
"[The FIA] homologates the track that we propose after we have done a feasibility study of the city," he continued to Autosport.
"But I think we need to work much more together to avoid these non-natural chicanes that happen in some cities that cause red flags and big delays."