Tom Dillmann says NIO "cannot" repeat its disastrous 2018/19 ABB FIA Formula E results heading into the new season.
NIO finished 11th and last in the teams' championship standings with just seven points, all of which came via Oliver Turvey, who scored three top 10 results and took a best finish of eighth in Santiago.
Dillmann joined NIO ahead of the 2018/19 season for what was his first full FE campaign after he had completed 10 races for Venturi over the previous two championships.
When asked about his future at the team beyond the 2018/19 season, Dillmann told Autosport that for him "it's quite clear we will remain the same".
"I signed a two-year contract, I'm relaxed on that side," he said.
"[But] we need to make a big improvement, we cannot have another season like that one.
"Testing will be important, we've started already, let's see.
"We need to do a big step, everyone will do a big step, hopefully we manage to do that.
"It's difficult in FE, because especially with these cars the time between the design and the production is quite long.
"It's not like you can arrive in April/May and decide you want to change a concept.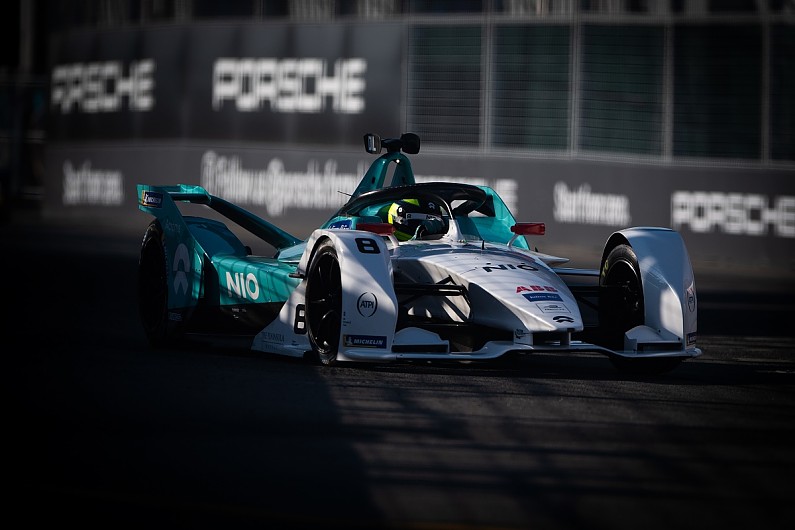 "It's done, and now the team is already working on the concept for season seven [2020/21].
"You've seen the deficit [NIO had in 2018/19], we've tried to correct it for sure for season six.
"Having done testing, it's in the right direction but we cannot say if it will be enough.
Dillmann explained that NIO's 2018/19 package was lacking "in the hardware, definitely".
"I can't go into more detail, but we have a deficit in the hardware that we could not change during the season," he added.
"We [were] driving that all season, and not much we could do, I feel like we have pushed in all the other ways, software, set-up etc.
"But with the deficit we have, it's too much to fight.
"In race and quali, the problem [was] the same."
Turvey called NIO's 2018/19 campaign "very frustrating after last year", when it finished eighth in the 2017/18 teams' standings and Turvey scored a second-place finish in Mexico City.
"It's been a tough season for sure," he told Autosport.
"We saw quite early on that we were struggling for pace this year.
"[We] could only make points when there was opportunities in chaotic races, [but] it was nice to score at least in three races. We need to make a big step for next year.
"We have a good idea, a good understanding [of where to improve].
"[On] the new car there's also been a lot of learning this season, [so] hopefully we can take all of that learning into the development for next season.
"We have a good idea of where it is."