Audi driver Lucas di Grassi says recent complaints from his ABB FIA Formula E rivals regarding his driving in qualifying are "nonsense".
At the two most recent FE races in Berlin and Bern, di Grassi has led a pack of title contenders into their flying laps in the opening qualifying group.
In Berlin, DS Techeetah driver Andre Lotterer missed out on setting a 250kW flying lap and felt di Grassi had slowed down in front of the pack on their final warm-up lap, and left Lotterer driver with insufficient time to cross the line and start his lap.
BMW Andretti's Antonio Felix da Costa and Envision Virgin Racing driver Robin Frijns slotted into a train of group one runners in Bern that was headed by di Grassi and da Costa felt his flying lap was compromised by di Grassi slowing down before starting his own effort.
When asked for his response to these complaints, di Grassi told Autosport that his rivals "have six minutes" to complete a lap in each segment of group qualifying, a reference to the time the leading drivers spend waiting in the pits to avoid being the first to set a time in group one.
"They can go out at any time they want," he continued. "They don't have to go out behind me. "So actually, I'm not backing them enough because they have six minutes - they don't have to wait for me to go out.
"So why are they complaining? They are not obliged to be there. It's nonsense."
Di Grassi heads to next weekend's 2018/19 FE season finale in New York in second place in the drivers' championship.
The 2017/18 FE champion won the first race in New York last season and finished second in the final race to move up to second place behind eventual champion Vergne.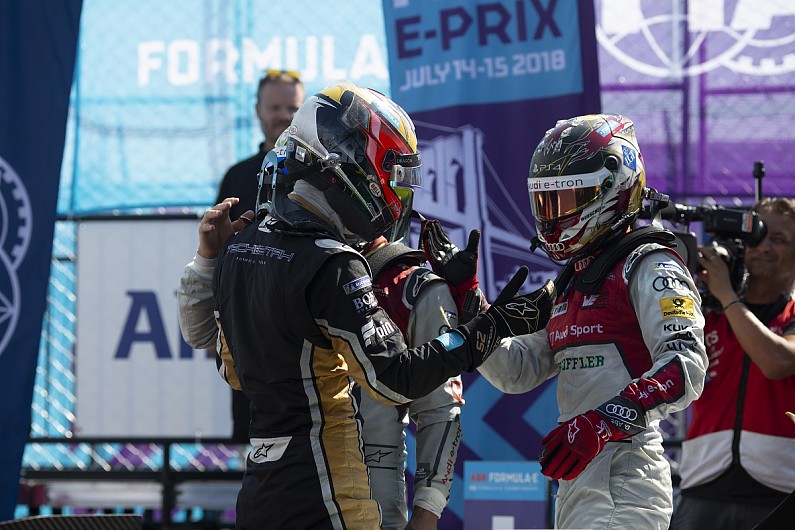 Di Grassi had arrived at the final round too far behind the Techeetah driver to have any chance of defending his title.
This year, di Grassi can win a second FE title but has a 32-point gap to make up on current 2018/19 leader Vergne, who is also aiming to become the first repeat title winner and the first to retain a title.
Di Grassi is the only driver other than Vergne to have won more than one race this season but feels the points gap is so large because the season has not gone smoothly.
He added: "We've been taken out in Monaco, we've been taken out in Sanya. We had reliability issues in other races like Riyadh, Marrakesh.
"So the year was very bumpy but we made some good results.
"There is not such a big difference in the performance of the drivetrains like we had last year, where we had a very efficient drivetrain compared to many other teams.
"This year, everybody's very close. Everybody has put in a lot of effort. It's much more difficult."