Nissan e.dams Formula E team bosses Jean-Paul Driot and Michael Carcamo have outlined the challenge the squad faces for the 2019/20 championship after the FIA banned two-motor powertrain approaches.
Ahead of track activity getting underway at the Swiss E-Prix in Bern, the ABB FIA FE squad publicly confirmed for the first time that its 2018/19 powertrain uses a twin-motor set-up.
The FIA announced at last week's World Motor Sport Council that such designs would not be allowed from next season.
FE manufacturers are required to submit their powertrain hardware designs for 2019/20 by the end of August, which Driot explained leaves Nissan "a very short period of time" to implement a single-motor approach.
"We started with quite an innovative powertrain and it was a difficult one in order to put [it] altogether," said Driot during the pre-event press conference in Bern.
"We had a lot of difficulties in order to have it working and to be reliable. Now we have reached the level of reliability with performance.
"And we have it [just] until the end of the season because after we will have to go back, in a very short period of time, to one [motor] only.
"So we hope that we can confirm it was a good way of doing it by winning some races [at] the end of the championship.
"We have always followed the FIA, and we have done everything with the FIA since the beginning - including for this innovative solution.
"We have been homologated. [But], apparently, people were thinking that we were a little bit too strong, so some lobbying was done, and we [now] will follow what the FIA wants. "Nissan is there to follow and be innovative, and so we are trying to do so.
"We will keep up with the new challenge - to go back to one powertrain motor in a very short period of time."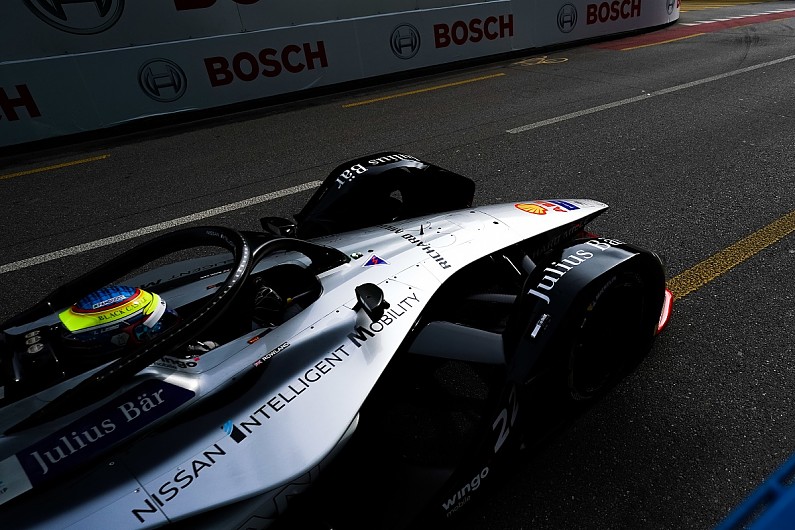 Carcamo explained that Nissan had been working to understand how a single-motor approach could be beneficial throughout the current season.
"As in any business or any team, you have multiple work streams - so there was always people looking at [single-motor designs]," the Nissan motorsport boss told Autosport.
"Because we're competing with everyone else that has a one-motor solution.
"So, we had to understand what they were doing, and there was always an opportunity to learn what they're doing, even if we couldn't implement it.
"Now we take as much as we've learned from what's happened in this season and use that with our own information from this season to develop season six.
"We definitely had a lot of work already in progress - the homologation period is soon. So, there was no reason or no possibility to wait [for a decision on twin-motors being banned]."
When asked if Nissan's 2019/20 single-motor powertrain has been tested on-track as part of the early stages of the manufacturer's 15 days of allotted private running, Carcamo said: "Not in the way that we will race."