Several leading Formula E drivers remain in favour of the championship using the full Monaco Grand Prix track, with Jean-Eric Vergne calling the shortened layout "a karting track".
ABB FIA FE returns to Monaco for a third time with this weekend's race, which will again use the 1.096-mile layout that turns sharply right at Sainte Devote and runs down to a hairpin where it transitions to the third sector used by Formula 1.
With FE's Monaco visits being arranged on a biennial basis around the principality's Historic Grand Prix, the championship had hoped to use the full grand prix layout in 2018/19.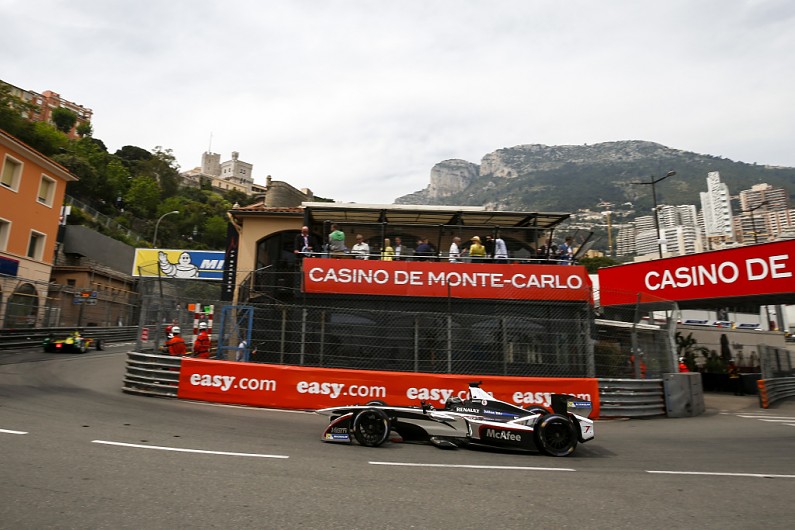 While that intention was dashed, several drivers - including Vergne, Audi's Lucas di Grassi and Nissan e.dams driver Sebastien Buemi - outlined their continued hopes that FE could switch to the longer layout in the future.
"All the drivers hate the track, this small one - it's a karting track," Vergne told Autosport.
"We're driving 50-seconds [per lap], we have 22 cars, next year we're going to have 24 cars - we cannot be racing on this track anymore.
"[That would be] too much and it's too small. It's a karting track - it's the same track they use for karting, more or less.
"I'm very sad because we have a car that this year can do the full track - I'm very sad we cannot do the full track because it's an amazing track.
"I don't know why. I believe, and nobody told me, it's because they don't want to compare the time to Formula 1.
"But everybody knows we would be like 20-30 seconds slower than Formula 1. It would not be a surprise.
"But FE is not about being the fastest car on the planet - it's the being the most effective with the electric technology."
Di Grassi reckons "FE has matured enough that it doesn't need to be compared to anything".
When asked about the F1 comparison concerns, he told Autosport: "It would be relevant for five journalists and maybe 100 people from the paddock - people who already don't like FE who would say 'look how slow they are'.
"Who cares? You cannot compare FE with F1. You cannot compare F1 to rallying, truck racing, boat racing, to jetski. It's a different game.
"It's not easier or harder to drive because it's slow. It's just different.
"It's the same as comparing NASCAR to IndyCar [by saying] 'NASCAR is 20 seconds slower than IndyCar, so it's easier'. No, it's not. It's a different type of sport."
Buemi, who has won both of the FE races held at Monaco so far, said: "This track is not bad, but of course I would love to give it a go on the bigger one.
"So far, I've had a good record here. If this is why I've been good, maybe we keep it [short]!"
Autosport understands that discussions regarding FE using the full Monaco GP layout are set to be reignited ahead of its expected return to the calendar in 2020/21.