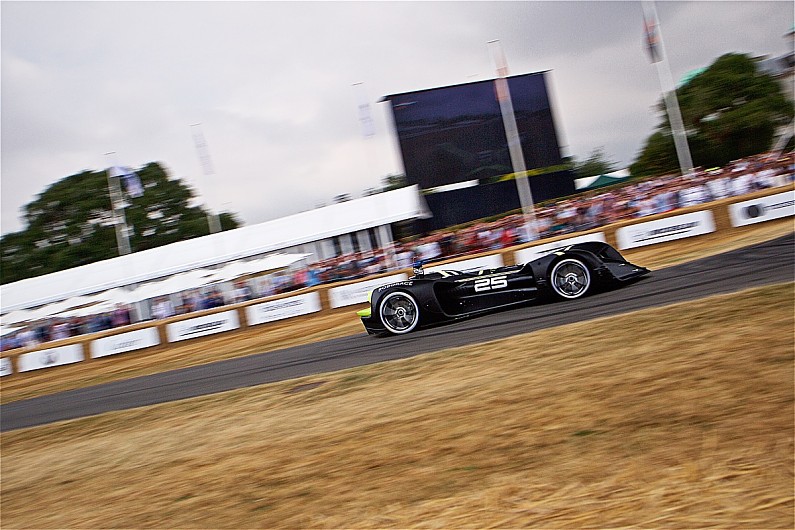 The Roborace driverless car has become the first ever fully autonomous race car to officially complete a hillclimb after running at the Goodwood Festival of Speed.
While it has completed unofficial runs up the 1.16-mile route since Monday, Robocar made its first public attempt at the hillclimb in front of 55,000 spectators on the Friday of the Festival.
Using cameras and LiDar sensors, it can map a 360-degree vision of its environment. That corresponds to the car's GPS position and allows it to then proceed on detectable drivable surfaces.
After the run, which was limited to 120km/h (75mph), Roborace's chief operating officer Jen Horsey told Autosport: "We had a successful run as recently as Monday but really the final test of what we were doing was today when the environment was populated with fans and the vehicle has a lot to look at.
"This environment is way more complex than a racetrack. The tracks that we've been on are very structured: track walls, Tarmac to the edges, so here it is a step beyond. It's actually closer to a road environment than ultimately what this technology will be applied to."
The Robocar will be completing daily runs during the remainder of the Festival, but Horsey said the team will not be pushing for the car to improve its time.
"It's consistency for us, absolutely. We're looking to do three successful runs.
"Today we made history and we're very happy with the result. That was the objective for the weekend and we feel like we've won.
Charles Gordon-Lennox, the Duke of Richmond and founder of the Festival of Speed, added: "It is an enormous achievement for a racecar to complete the very first run of the hill using only artificial intelligence.
"Roborace has worked incredibly hard in order to pull this off and we are excited for the public to see them in action over the Festival weekend."
A 1965 Ford Mustang unofficially beat Roborace to the crown of the first fully autonomous car to complete a run up the hill.
The American classic, which has been programmed by German industrial group and computing expert Siemens, was manned at the time of its run.
It did appear to veer off towards a hay bale while on the route, but the driver intervened and applied the brakes before it crashed.