Formula E's 2018/19 car will use 200kW as its primary race power mode with a second mandatory-use setting at a higher level, according to series boss Alejandro Agag.
With the present cars, 200kW is used as the maximum power level for qualifying before being reduced to 180kW for the race as drivers manage their battery supplies.
The Gen2 FE car has increased battery storage compared to its predecessor and drivers will no longer have to swap cars mid-race.
But the series and the FIA were keen to retain an element of strategy and the mandatory use of two power levels during FE races was confirmed by the governing body's World Motor Sport Council.
"The FIA is still fine-tuning the system and will release the information about how it will work, but I think 200kW will be the race mode and the other mode will be higher than that," Agag told Autosport.
"We'll have to do some testing with the cars to work out what that power mode will be - whether it's 220, 230, 240, 250, whatever.
"But it will be significantly higher. There will be a good difference."
When asked if the decision on race modes depended on the power density the McLaren Applied Technologies supplied-battery actually achieves, Agag replied: "We pretty much know what the energy density will be, the temperature, and how much you can push it."
Agag added that Fanboost - which currently increases power by 100kJ for five seconds for the three vote-winning drivers in their second car - is expected to be another performance level increase.
"[It will be] probably a further step of power," he said. "But, again, it's not completely decided.
"If I ask my kids what they prefer, more time [longer races] or the same time and more power, they'll say 'More power of course!'"
FE unconcerned energy efficiency point will affect racing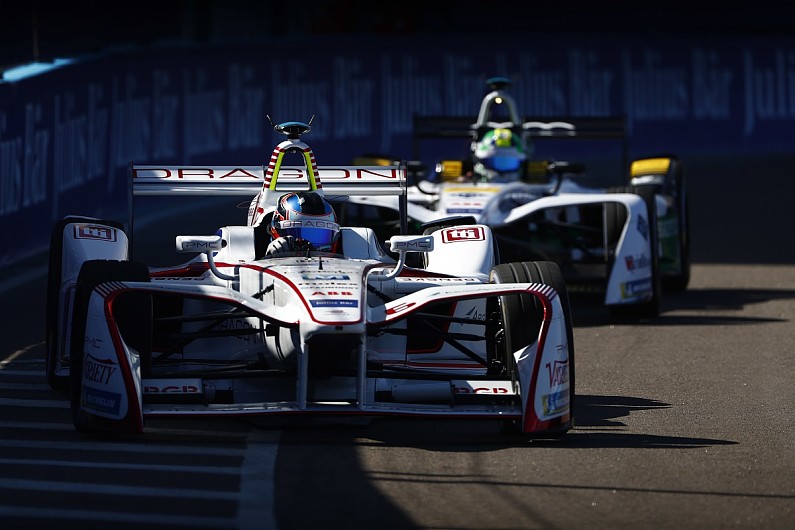 Next season a reward for the most energy efficient driver will replace the current fastest lap bonus.
Agag explained that while that move came with a small risk of drivers lower down the order backing off to secure an extra point, he was unconcerned about its potential impact on racing.
"We want to reward the management of energy so it's a good initiative," he said.
"It's interesting. It reminds me of when we were in GP2 [Agag ran the Addax squad in that category], and if you finished eighth in the first race you started from pole the next day.
"So you had people running in seventh who were trying to be overtaken, but the other guy didn't want to overtake, and then all of a sudden another guy would come in from behind to try to take advantage.
"It's difficult to foresee all the consequences, and there are some little risks, but it's marginal.
"In the bigger scheme of things, the winner scores the majority of the points and this will only score one point, so there is a clear difference in the rewards."