Techeetah's Jean-Eric Vergne survived a tense race-long battle with Lucas di Grassi to win a thrilling Formula E event in Punta del Este.
Vergne headed the lead pack throughout the race from pole, which he was handed just 30 minutes before the start when di Grassi was demoted to second following a long post-qualifying investigation for cutting a chicane during the superpole session.
Sam Bird shot up the order to take third, ahead of the equally hard-charging Mitch Evans, who was also demoted from qualifying for a weight distribution issue that meant he lined up 16th.
At the start, Vergne made a lightning getaway but could not escape di Grassi's clutches.
Their nail-biting battle raged either side of a safety car period caused by Nick Heidfeld stopping on-track at the second chicane.
The lead duo pitted on lap 19 of 37, with Vergne keeping the lead throughout the car swaps, which were under renewed focus following an FIA clarification.
Di Grassi mounted a major attack approaching the final Turn 16/17 chicane on lap 21, but could only take to the outside and had to slow to avoid hitting the wall.
The reigning champion charged back up to Vergne, where he once again got stuck in.
Vergne survived contact with di Grassi at the final corner with three laps to run, and a further clash at Turn 1 on the next tour, defending his lead until the finish to eventually win by 0.447 seconds.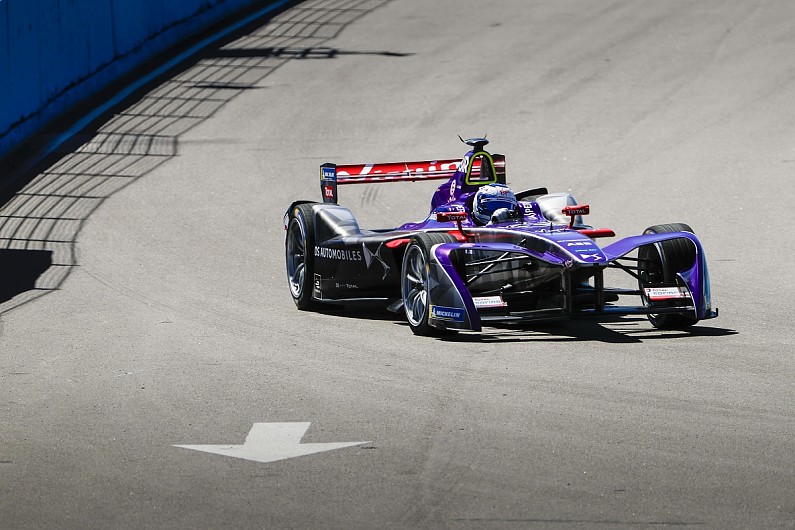 The pair were joined late on by Bird, who had earlier made a rapid getaway from ninth.
He passed Sebastien Buemi on the run to Turn 1 and battled his way passed Andre Lotterer in the early running, before emerging from the pits in fourth place - running side-by-side with DS Virgin team-mate Alex Lynn, another driver penalised for cutting the chicane in qualifying.
Bird made it up to third when Daniel Abt had to pit unexpectedly for a second time with what appeared to be a seatbelt problem and was right with the lead two on the final lap before making a mistake and dropping 2.1s further back.
Evans emerged on top of a spectacular late scrap with Felix Rosenqvist, who had also battled his way up the order to fifth.
Lynn eventually finished sixth after running third during the early stages, with another early frontrunner - and the final driver demoted on the grid for a superpole incident - Oliver Turvey seventh.
Dragon pair Jose Maria Lopez and Jerome D'Ambrosio ran an extra lap longer than most and rose to eighth and ninth from 18th and 10th respectively.
Maro Engel rounded out the top 10 for Venturi.
Lotterer faded to 12th following a brush with the wall and Abt was eventually classified 14th.
Alongside Heidfeld, Buemi and Nelson Piquet were the other non-finishers after making premature car-swaps.
Buemi hit the wall the high-speed Turn 13 right-hander on lap 10 and suffered left-rear damage as he chased Turvey and Abt early on.
Piquet picked up damage on the opening lap and had to switch cars due to a driveshaft problem.
Result - 37 laps
| Pos | Driver | Team | Car | Gap |
| --- | --- | --- | --- | --- |
| 1 | Jean-Eric Vergne | Techeetah | Renault | 50m43.809s |
| 2 | Lucas di Grassi | Audi | Audi | 0.447s |
| 3 | Sam Bird | Virgin | DS Virgin | 2.611s |
| 4 | Mitch Evans | Jaguar | Jaguar | 4.075s |
| 5 | Felix Rosenqvist | Mahindra | Mahindra | 4.224s |
| 6 | Alex Lynn | Virgin | DS Virgin | 7.672s |
| 7 | Oliver Turvey | NIO | NextEV NIO | 11.818s |
| 8 | Jose Maria Lopez | Dragon | Penske | 12.612s |
| 9 | Jerome d'Ambrosio | Dragon | Penske | 22.242s |
| 10 | Maro Engel | Venturi | Venturi | 26.293s |
| 11 | Antonio Felix da Costa | Andretti | Andretti | 27.335s |
| 12 | Andre Lotterer | Techeetah | Renault | 38.731s |
| 13 | Luca Filippi | NIO | NextEV NIO | 39.926s |
| 14 | Daniel Abt | Audi | Audi | 43.139s |
| 15 | Nicolas Prost | e.dams | Renault | 47.194s |
| 16 | Tom Blomqvist | Andretti | Andretti | 59.299s |
| 17 | Edoardo Mortara | Venturi | Venturi | 1 Lap |
| - | Sebastien Buemi | e.dams | Renault | Out of energy |
| - | Nelson Piquet Jr. | Jaguar | Jaguar | Out of energy |
| - | Nick Heidfeld | Mahindra | Mahindra | Retirement |
Drivers' standings
| Pos | Driver | Points |
| --- | --- | --- |
| 1 | Jean-Eric Vergne | 109 |
| 2 | Felix Rosenqvist | 79 |
| 3 | Sam Bird | 76 |
| 4 | Sebastien Buemi | 52 |
| 5 | Nelson Piquet Jr. | 45 |
| 6 | Mitch Evans | 41 |
| 7 | Daniel Abt | 37 |
| 8 | Oliver Turvey | 32 |
| 9 | Edoardo Mortara | 28 |
| 10 | Lucas di Grassi | 21 |
| 11 | Nick Heidfeld | 21 |
| 12 | Andre Lotterer | 18 |
| 13 | Alex Lynn | 17 |
| 14 | Antonio Felix da Costa | 16 |
| 15 | Jose Maria Lopez | 13 |
| 16 | Maro Engel | 7 |
| 17 | Nicolas Prost | 7 |
| 18 | Jerome d'Ambrosio | 6 |
| 19 | Tom Blomqvist | 4 |
| 20 | Luca Filippi | 1 |
| 21 | Kamui Kobayashi | 0 |
| 22 | Neel Jani | 0 |
Teams' standings
| Pos | Team | Points |
| --- | --- | --- |
| 1 | Techeetah | 127 |
| 2 | Mahindra Racing | 100 |
| 3 | DS Virgin Racing | 93 |
| 4 | Panasonic Jaguar Racing | 86 |
| 5 | Renault e.Dams | 59 |
| 6 | Audi Sport ABT Schaeffler | 58 |
| 7 | Venturi Formula E Team | 35 |
| 8 | NIO Formula E team | 33 |
| 9 | MS&AD Andretti Formula E | 20 |
| 10 | Dragon Racing | 19 |