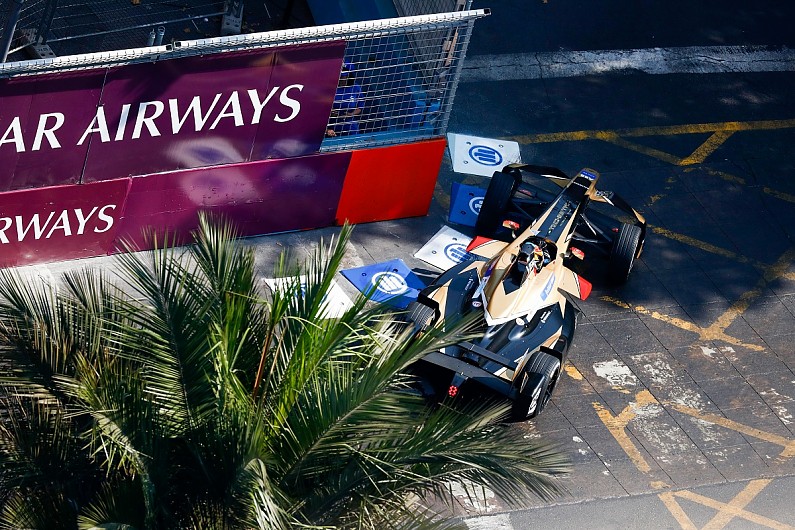 Jean-Eric Vergne set the fastest time across two red-flagged practice sessions for Formula E's Santiago race.
The circuit was coated in dust at the start of the day and as track conditions and temperatures improved the second session proved comfortably quicker.
Lucas di Grassi, Sam Bird, Mitch Evans and then Alex Lynn had spells atop the times after early full-power runs, with Lynn lapping 0.8 seconds faster than Bird's practice one benchmark.
That remained the fastest time until Vergne popped up late on with a 1m18.662s for Techeetah to outpace Lynn by 0.030s.
Any chance of late improvements were scuppered when Nico Prost plunged into the barrier exiting Turn 9.
The Renault e.dams driver ran wide into the 90-degree left-hander and nosed his Z.E.17 into the wall, bringing out the red flag and ending the session early.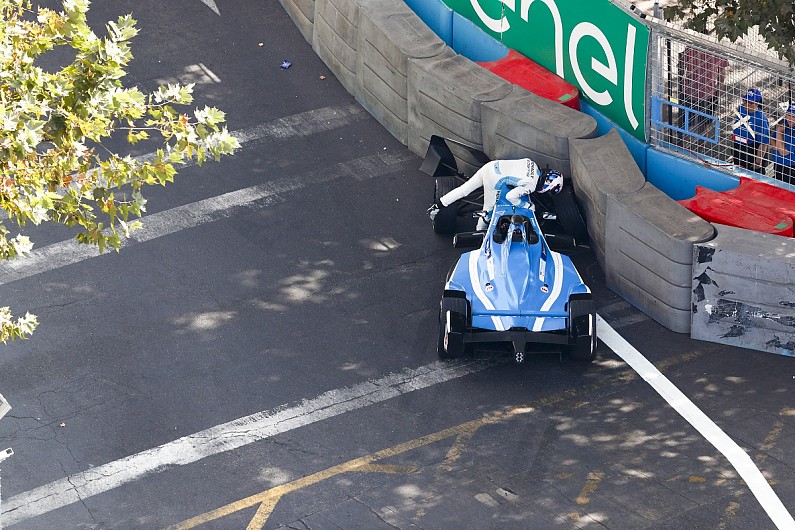 That confirmed Vergne as quickest, ahead of Lynn, Evans, Nick Heidfeld and championship leader Felix Rosenqvist.
Reigning champion Lucas di Grassi, without a point to his name and heading into qualifying with a 10-place grid penalty, was only 10th-fastest in second practice.
Mahindra's Rosenqvist was one of several drivers to visit the escape road at Turn 3 during a messy opening session, as the challenging Santiago track caught out many.
Rosenqvist and Nelson Piquet Jr both headed down it twice, with Luca Filippi and Jerome d'Ambrosio also taking a trip in the wrong direction, but all of them kept it out of the barriers.
Sebastien Buemi did not, losing the rear of his Renault on the exit of a corner and slapping the wall, damaging the right-rear.
A bigger incident for Maro Engel brought the opening session to a premature end in similar circumstances to Prost's stoppage-inducing practice two shunt.
Engel ran deep into Turn 3 and nosed his Venturi quite heavily in the wall.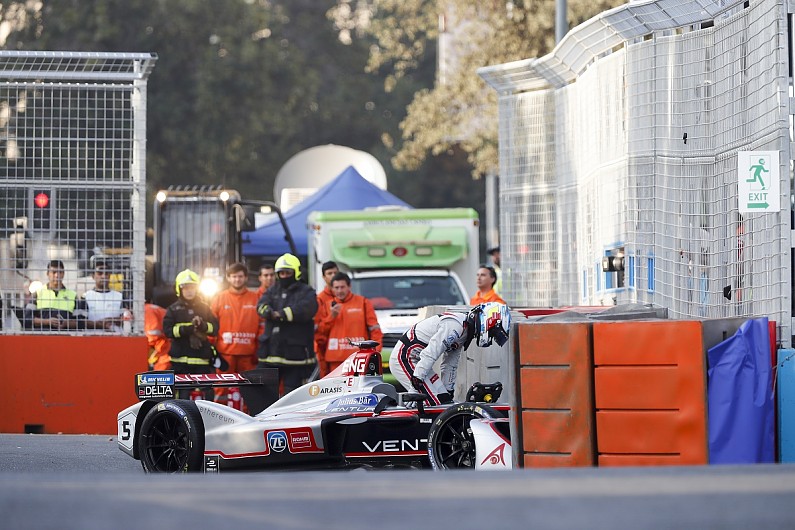 FP1 times

| Pos | Driver | Team | Car | Time | Gap | Laps |
| --- | --- | --- | --- | --- | --- | --- |
| 1 | Sam Bird | Virgin | DS Virgin | 1m19.439s | - | 18 |
| 2 | Felix Rosenqvist | Mahindra | Mahindra | 1m19.646s | 0.207s | 23 |
| 3 | Jean-Eric Vergne | Techeetah | Renault | 1m19.701s | 0.262s | 20 |
| 4 | Mitch Evans | Jaguar | Jaguar | 1m19.819s | 0.380s | 20 |
| 5 | Andre Lotterer | Techeetah | Renault | 1m19.824s | 0.385s | 19 |
| 6 | Alex Lynn | Virgin | DS Virgin | 1m19.907s | 0.468s | 20 |
| 7 | Jose Maria Lopez | Dragon | Penske | 1m20.176s | 0.737s | 16 |
| 8 | Edoardo Mortara | Venturi | Venturi | 1m20.265s | 0.826s | 23 |
| 9 | Oliver Turvey | NIO | NextEV NIO | 1m20.309s | 0.870s | 21 |
| 10 | Nelson Piquet Jr. | Jaguar | Jaguar | 1m20.396s | 0.957s | 20 |
| 11 | Lucas di Grassi | Audi | Audi | 1m20.405s | 0.966s | 20 |
| 12 | Daniel Abt | Audi | Audi | 1m20.477s | 1.038s | 21 |
| 13 | Sebastien Buemi | e.dams | Renault | 1m20.585s | 1.146s | 18 |
| 14 | Nicolas Prost | e.dams | Renault | 1m20.814s | 1.375s | 19 |
| 15 | Nick Heidfeld | Mahindra | Mahindra | 1m20.952s | 1.513s | 18 |
| 16 | Jerome d'Ambrosio | Dragon | Penske | 1m21.033s | 1.594s | 17 |
| 17 | Luca Filippi | NIO | NextEV NIO | 1m21.224s | 1.785s | 16 |
| 18 | Maro Engel | Venturi | Venturi | 1m21.870s | 2.431s | 22 |
| 19 | Tom Blomqvist | Andretti | Andretti | 1m23.380s | 3.941s | 18 |
| 20 | Antonio Felix da Costa | Andretti | Andretti | 1m23.616s | 4.177s | 13 |
FP2 times

| Pos | Driver | Team | Car | Time | Gap | Laps |
| --- | --- | --- | --- | --- | --- | --- |
| 1 | Jean-Eric Vergne | Techeetah | Renault | 1m18.662s | - | 13 |
| 2 | Alex Lynn | Virgin | DS Virgin | 1m18.692s | 0.030s | 12 |
| 3 | Mitch Evans | Jaguar | Jaguar | 1m18.872s | 0.210s | 12 |
| 4 | Nick Heidfeld | Mahindra | Mahindra | 1m18.887s | 0.225s | 11 |
| 5 | Felix Rosenqvist | Mahindra | Mahindra | 1m18.962s | 0.300s | 17 |
| 6 | Sam Bird | Virgin | DS Virgin | 1m19.227s | 0.565s | 13 |
| 7 | Edoardo Mortara | Venturi | Venturi | 1m19.240s | 0.578s | 15 |
| 8 | Daniel Abt | Audi | Audi | 1m19.264s | 0.602s | 13 |
| 9 | Sebastien Buemi | e.dams | Renault | 1m19.274s | 0.612s | 12 |
| 10 | Lucas di Grassi | Audi | Audi | 1m19.320s | 0.658s | 13 |
| 11 | Oliver Turvey | NIO | NextEV NIO | 1m19.364s | 0.702s | 13 |
| 12 | Jose Maria Lopez | Dragon | Penske | 1m19.414s | 0.752s | 11 |
| 13 | Luca Filippi | NIO | NextEV NIO | 1m19.671s | 1.009s | 10 |
| 14 | Jerome d'Ambrosio | Dragon | Penske | 1m19.714s | 1.052s | 11 |
| 15 | Antonio Felix da Costa | Andretti | Andretti | 1m19.803s | 1.141s | 15 |
| 16 | Andre Lotterer | Techeetah | Renault | 1m20.039s | 1.377s | 14 |
| 17 | Nelson Piquet Jr. | Jaguar | Jaguar | 1m20.051s | 1.389s | 12 |
| 18 | Maro Engel | Venturi | Venturi | 1m20.143s | 1.481s | 17 |
| 19 | Tom Blomqvist | Andretti | Andretti | 1m20.298s | 1.636s | 12 |
| 20 | Nicolas Prost | e.dams | Renault | 1m20.301s | 1.639s | 12 |