Audi has formalised its works status in Formula E by completing its takeover of the Abt squad, which will run under the Audi Sport Abt Schaeffler name from next season.
The German manufacturer will continue to use technology partner Schaeffler for its powertrain.
Audi suggested last year it would make greater use of FE to promote its e-mobility programmes, and it has now completed the transformation of the pseudo-works Abt Schaeffler Audi Sport squad into a full factory effort.
"We've been supporting the Formula E commitment with increasing intensity in recent months - on the race days, in the development of the new powertrain and in numerous off-track activities as well," said Audi board member Dr Peter Mertens.
"That Audi will be the first German automobile manufacturer to be actively involved in the racing series starting next season is also a clear commitment of our brand to electric mobility, on the racetrack as of December and next year on the road as well with the new Audi e-tron."
Audi's head of motorsport Dieter Gass has played a major role in its increased FE involvement and will be the public face of its revamped programme.
"Formula E delivers spectacular motorsport in the hearts of fascinating cities and is a tremendous stage to present electric mobility and motorsport in their most emotive forms," said Gass.
"We're currently seeing an extremely exciting season with a gripping title race.
"I'm happy that now everything has been put on track for a successful future too."
Audi registered as a season five manufacturer back in March but initially under the Abt name.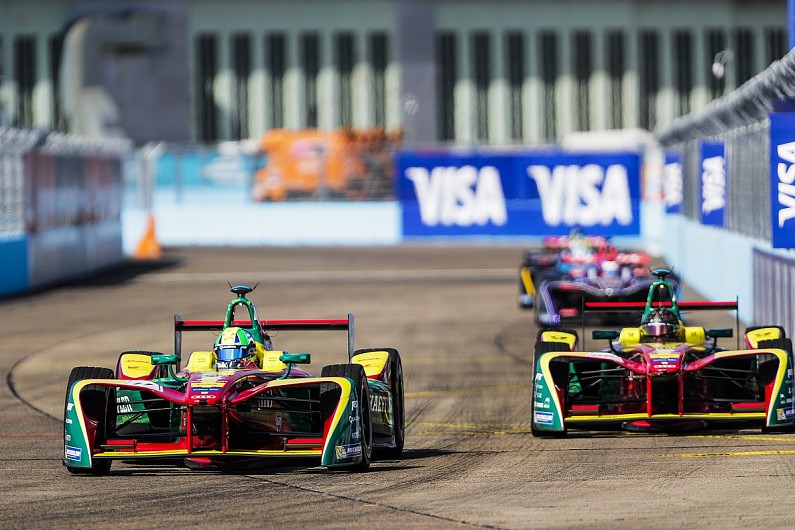 It is understood that the powertrain could be renamed prior to the switch to single-car races in the 2018/19 season.
The Abt team will remain part of the factory Audi effort.
It won FE's inaugural race in Beijing in 2014 with Lucas di Grassi, who has been a title contender for Abt in all three FE seasons so far.
"We're proud that as one of the founding members we've added a chapter to motorsport's history books," said Abt team owner Hans-Jurgen Abt.
"Within the space of just a few years, Formula E has seen such a strong development that a team can no longer be competitive without the backing of an automobile manufacturer.
"That's why we're gladly handing over the reins to Audi - a partner we've been successfully cooperating with in motorsport and routine business for many decades.
"There's no doubt in my mind that we're going to continue this success story in Formula E as well."
The team is currently developing both its season four and season five powertrains, completing several days of running with the 2017/18 system at Audi's Neuburg base and also in Spain.
Di Grassi's contract is believed to run until at least the 2018/19 FE season.
The status of Daniel Abt, his team-mate since FE's inception, is less clear but he is likely to be retained for a fourth season.