New McLaren Formula 1 signing Lando Norris and Mercedes rising star George Russell are much more likely to make the headlines, but there is another British talent who is finally getting a big single-seater break.
The news that Alexander Sims will be part of BMW's Formula E team for the 2018/19 season is great on so many levels. Firstly, Sims is a bloody good driver, and you could argue his single-seater career ended too soon.
After finishing as Formula Renault UK runner-up with Manor and winning the McLaren Autosport BRDC Award in 2008, Sims won races in the Formula 3 Euro Series and British F3.
Coming up against ART team-mate Valtteri Bottas, just as the team faltered from its run of domination, sapped his career momentum, despite the fact he finished only 11 points behind the future Mercedes F1 driver in the 2010 Euro F3 standings.
A mixed GP3 campaign with Status Grand Prix the following year didn't help either, even though he was again a race winner. Backing dried up and he made the odd appearance in endurance competition, while some of his arguably less-talented rivals stepped up to what was then GP2.
Even after that, he was still highly regarded enough by some teams that he became a supersub in F3 and GP3 - he took a GP3 win on a rare outing with Carlin as late as 2013. Teams tended to do better when the intelligent Sims made his cameo appearances.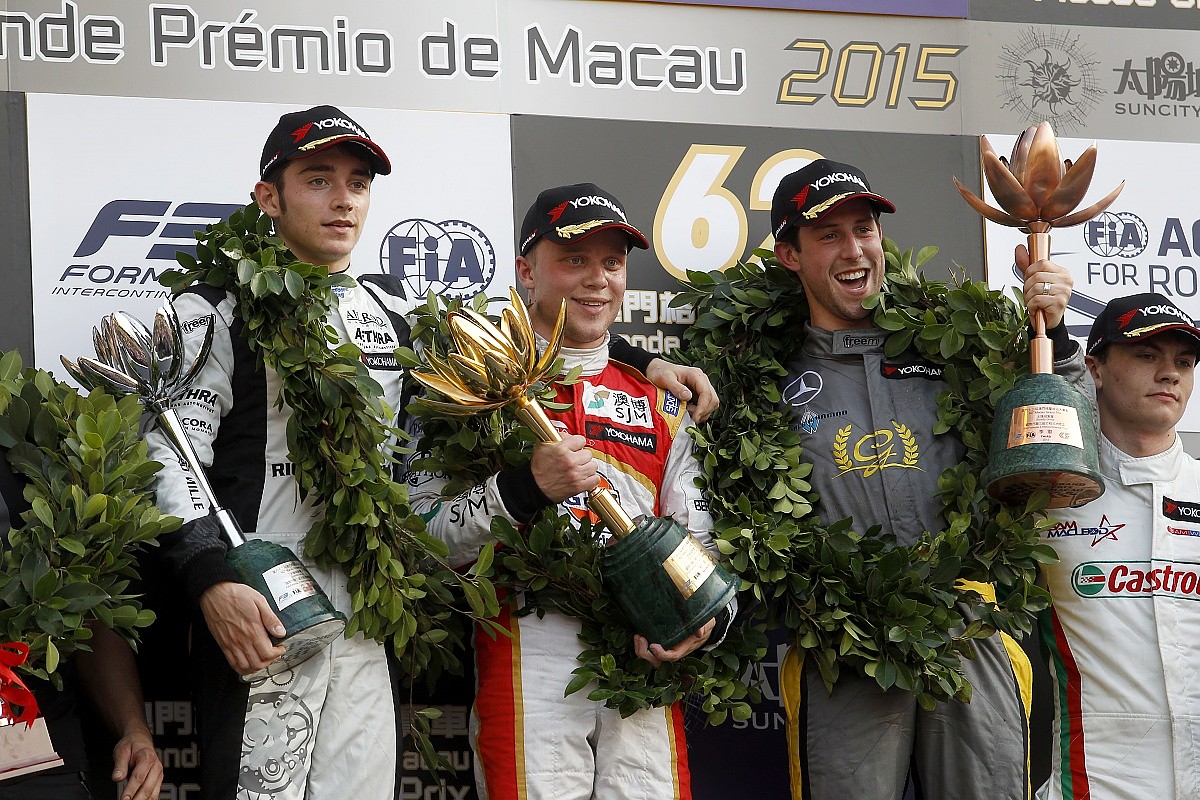 In 2015 he finished third in the Macau Grand Prix with Double R, behind future Formula E race winner Felix Rosenqvist and '19 Ferrari F1 driver Charles Leclerc, and ahead of Ferrari protege Antonio Giovinazzi.
Before that he had already proved his ability to work with co-drivers by helping Marco Attard to the 2014 British GT championship.
Fortunately, Sims was too good to be ignored - even though he is very modest about his abilities - and, not for the first time, it was BMW that picked up a British hopeful.
In 2016 Sims won the Spa 24 Hours and this year he has shared a Team RLL BMW M8 GTE in the competitive GTLM class of the IMSA SportsCar Championship with Connor De Phillippi. They've won the last two rounds and BMW has clearly been happy enough with Sims's efforts to put him alongside DTM and FE race winner Antonio Felix da Costa - who finished behind him in the '10 F3 Euro Series - for its first major assault on FE.
It's also a good choice because Sims is already heavily into the electric vehicle scene - he has been driving an electric road car for years - and has a genuine interest in technology.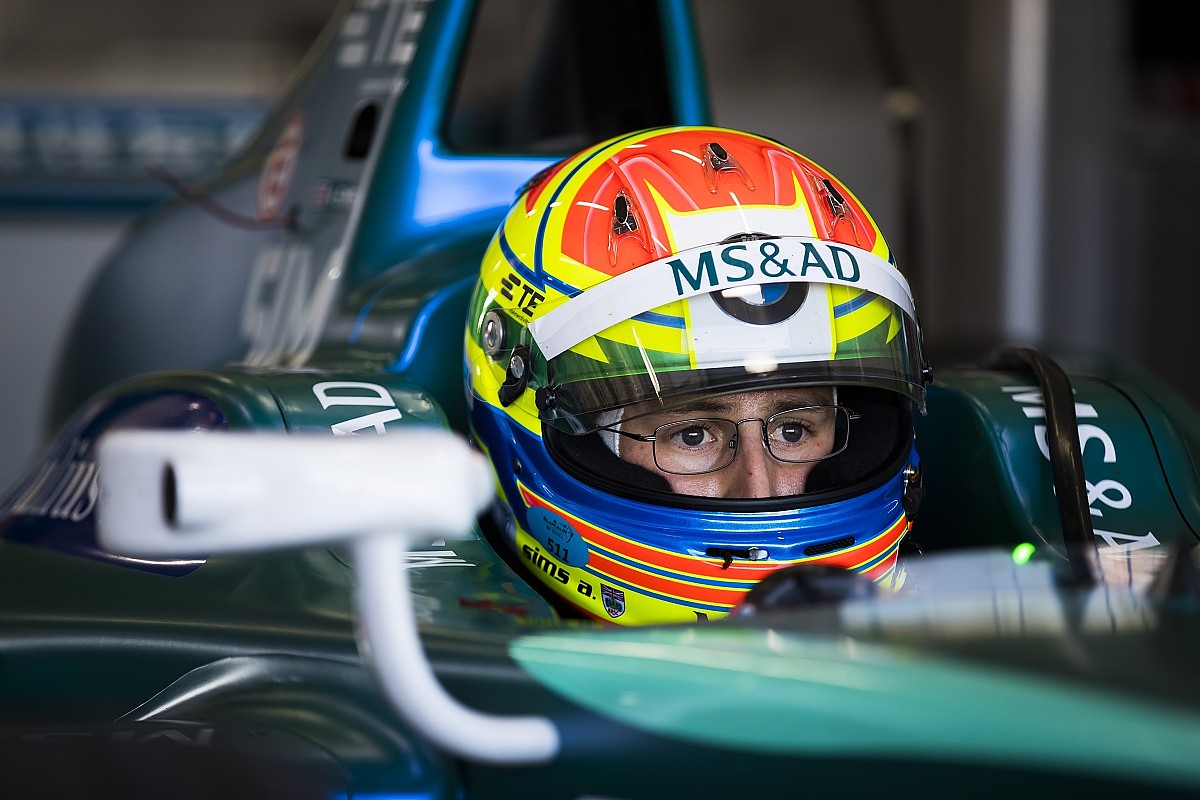 "I've known about the drive for two or three months, but before that I didn't expect it," says Sims, who hopes he will still be able to contest some GT events alongside his FE commitments. "I've been trying to be involved with Formula E every season.
"Five or six years ago I got interested in electric vehicles and sustainability in general in my personal life. To match that with my motorsport passion is something I didn't expect. It is ideal."
Sims's adaptability should help him make the transition. One of the test cars for the 2008 McLaren Autosport BRDC Award at Snetterton was an Aston Martin Vantage GT4, which had various driver aids.
Sims is a fine spokesman and ambassador, mentoring and guiding up-and-coming racers. He also has a sharp - and at times deviously subtle - sense of humour
The other five finalists were mainly concerned with talking about its limitations and how the gadgets stopped them doing what they wanted to do. But Sims took the approach of trying to work out how the gizmos could be made to work for him. Predictably, it was Sims who impressed out on track - he had figured out what needed to be done.
Then there was the DTM Mercedes run in damp-but-drying conditions. He looked so quick some of the judges - including an F1 racer - had to check it wasn't benchmark driver and 2005 DTM champion Gary Paffett who had gone out.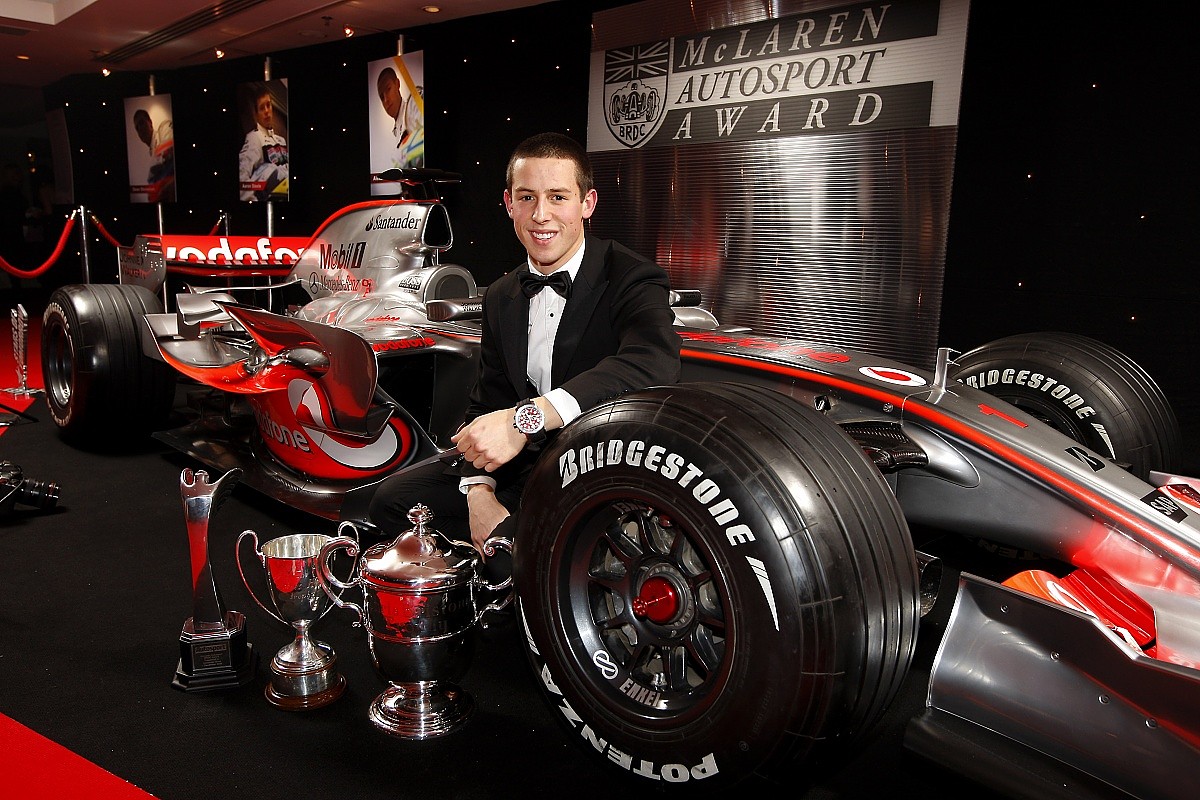 That was my first year as an Award judge and Sims's performances in the DTM, GT and F3 machinery made the decision easy - in a way we would not see again for several years.
But it's not just his ability behind the wheel that makes Sims an ideal person for the seat. Sims is a fine spokesman and ambassador, as shown by his time with the British Racing Drivers' Club SuperStars programme, mentoring and guiding up-and-coming racers. He also has a sharp - and at times deviously subtle - sense of humour.
Last year he was invited to be the McLaren Autosport BRDC Award's guest judge and his input and engagement was such that the 30-year-old has been invited back to stay on the panel.
"I've got to learn quickly and as much as I can. I'm not setting myself any targets, like 'I must be in the top 10 by the third round'" Alexander Sims on his Formula E prospects
Interestingly, he admits to not enjoying motorsport in his early days and that, as a professional factory driver, he has learned to perform at a high level and enjoy himself.
"Being paid to do a job has a big effect mentally - at least for me - in that someone wants you, specifically you, to do that job," he explains.
"I didn't realise it at the time but, in the junior categories, when you're paying people they are working for you because you are paying. When that flips around - and you're one of the people paid to do the job all together - it really sends it home to me that I'm fully appreciated. It's a slightly different dynamic in my head."
The GT environment has also suited Sims and he is hoping that some of that approach can continue in FE, at least within the BMW team.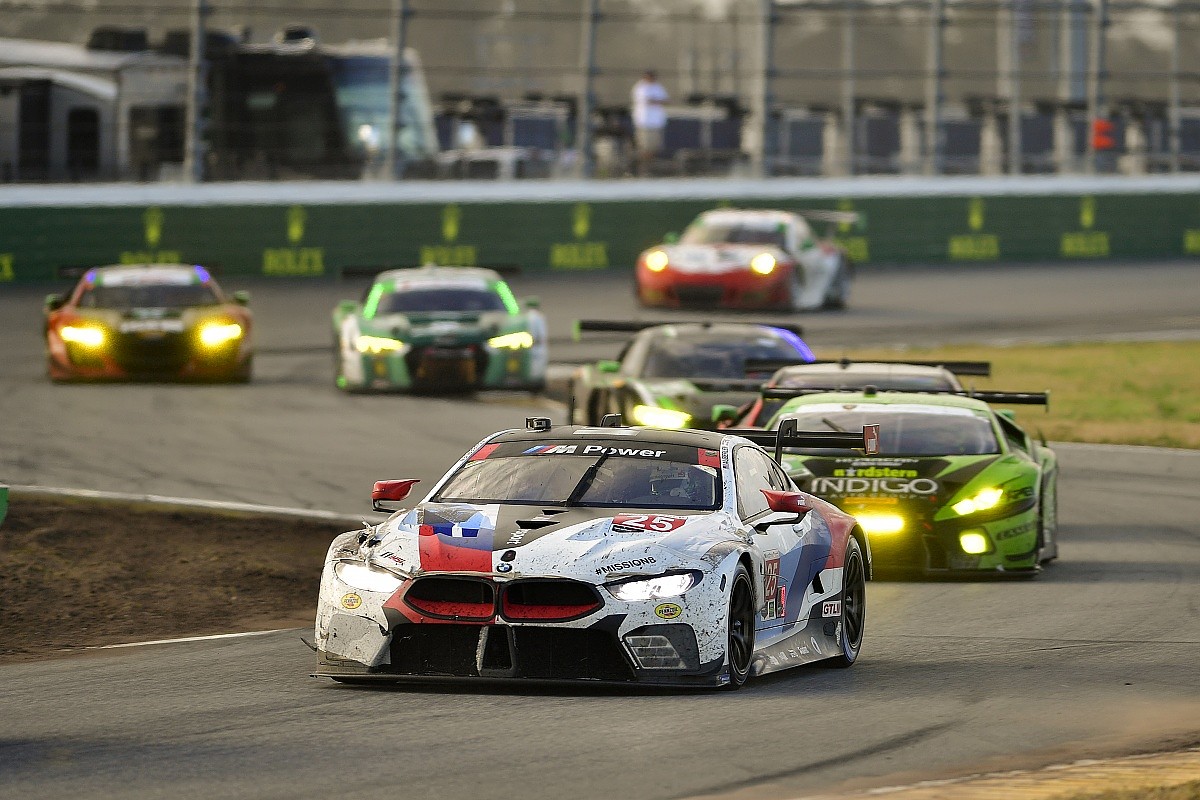 "The GT atmosphere is a stark difference to junior single-seaters, where you're out to further your career over someone else's," he adds. "I've always wanted to get on with people.
"In GT racing that's the case, and all the BMW guys genuinely get on together. There is respect between us."
Given the challenges of FE, it's foolish to push expectations too high for any rookie, even with the new Gen2 car potentially levelling the playing field, and Sims is sensible enough not to make bold predictions.
"I fully respect it's one of the toughest championships in the world in terms of drivers and one of the most complex," adds Sims, who has tested both Gen1 and Gen2 FE machines.
"I've just got to learn as quickly and as much as I can, and see how the season progresses. I expect the early rounds to be challenging and I'm not setting myself any targets, like 'I must be in the top 10 by the third round'.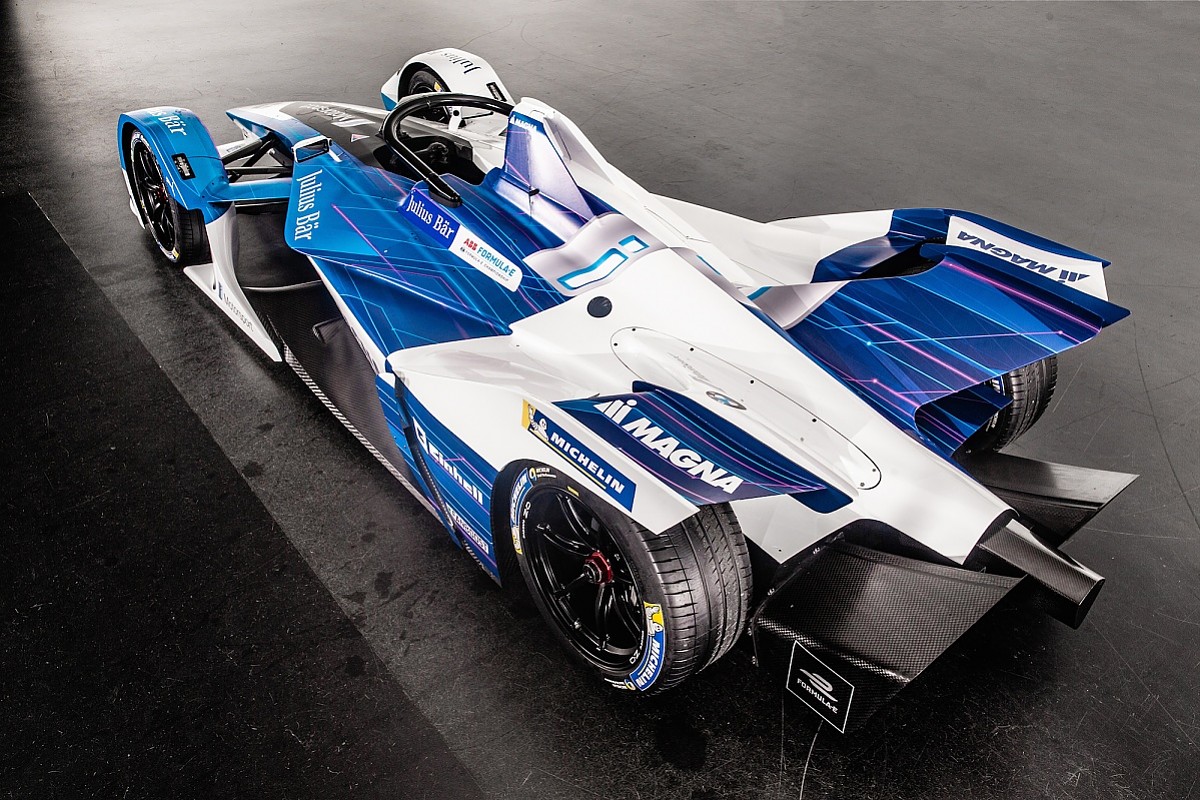 "It would make sense if there was a little bit of a reset with Gen2, for the teams and drivers.
"My gut feeling is the Gen2 car is a bit easier to drive. There are systems that make it more consistent, particularly under braking. It's more predictable so I am thankful for that as a rookie!"
Many good drivers have struggled to conquer FE, but Sims deserves his chance. He has all the ingredients to be successful - in and out of the car.
Sims's CV highlights
2017 2nd (with Bill Auberlen) in IMSA GTLM class in BMW Team RLL BMW M6 GTLM
2016 4th (with Philipp Eng) in Blancpain GT Endurance Cup in Rowe Racing BMW M6 GTE
2015 3rd in Macau GP with Double R, 2nd (with Marco Attard) in British GT in Barwell/Ecurie Ecosse BMW Z4 GT3
2014 3rd in British GT in Barwell/Ecurie Ecosse BMW Z4 GT3
2013 Three podiums from eight GP3 starts with Carlin; 4th in Macau GP with T-Sport
2012 One win from three starts in F3 Euro Series with T-Sport
2011 6th in GP3 with Status Grand Prix, one win from three starts in British F3 with Motopark
2010 4th in F3 Euro Series with ART Grand Prix, one win from six starts in British F3 with ART
2009 4th in F3 Euro Series with Mucke Motorsport
2008 2nd in Formula Renault UK with Manor Competition
2007 8th in Formula Renault UK with Manor Competition