Alexander Smolyar has lost his maiden FIA Formula 3 victory, after receiving a post-race five-second penalty for excessive weaving during the second race at Silverstone.
ART Grand Prix's Smolyar had resisted race-long pressure from Trident's David Beckmann to claim his maiden FIA F3 victory in his first season in the championship.
Beckmann pressured SMP Racing protege Smolyar down the Hangar Straight on the run to Stowe on multiple occasions, but Smolyar repelled Beckmann's charge every time.
ART warned Smolyar to stop weaving to break the tow on the straight, and the stewards noted Smolyar's defensive tactics, with the intention of investigating it after the race.
They decided Smolyar had changed the direction of his car more than once on multiple occasions whilst defending, and duly handed the Russian driver a five-second penalty.
It demotes Smolyar from first to sixth place and hands Beckmann his second reverse-grid victory of the season.
Beckmann's first race win also came as a result of another driver's indiscretion, having inherited the result in the last round at the Hungaroring when MP Motorsport's Bent Viscaal was handed a pair of five-second penalties.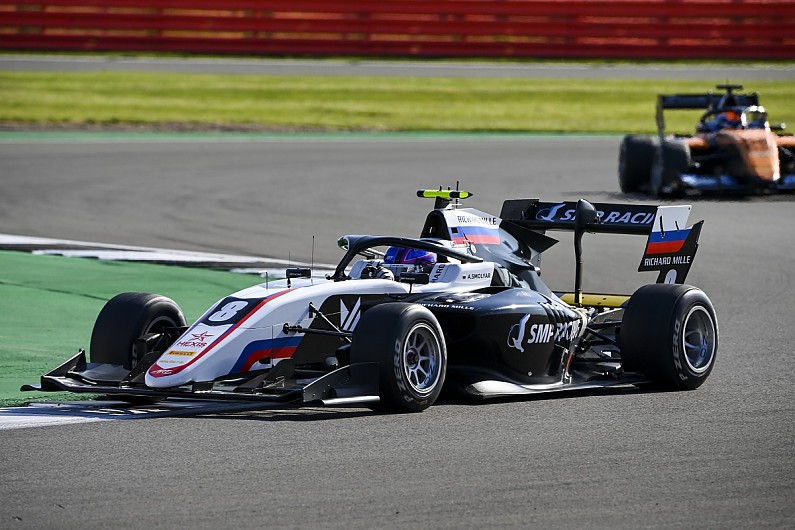 Formula Renault Eurocup graduate Smolyar had also lost a potential win in the first race at Hungary, where he secured his maiden pole position, only to be taken out by Prema's Logan Sargeant at Turn 1 on the opening lap.
Smolyar's penalty promotes 2019 BRDC British F3 champion Clement Novalak (Carlin) into second place, the best result for Novalak and the British outfit in FIA F3 to date.
Campos Racing's Alexander Peroni moves up to third place - his first podium since the opening race of the season at the Red Bull Ring and the second since his racing return from a fractured vertebra following a horrific accident at Monza last year.
Prema duo Frederik Vesti and Sargeant move up to fourth and fifth place respectively, further reducing team-mate Oscar Piastri's championship lead after the Australian retired from the race with a DRS failure.
Race one victor, Red Bull junior Liam Lawson finished in seventh place ahead of Smolyar's team-mate Theo Pourchaire, 2019 Macau Grand Prix winner Richard Verschoor and F3 veteran Jake Hughes.
Renault junior Piastri now holds a 17-point advantage in the drivers' championship over Sargeant, with Beckmann, Lawson and Formula Regional European champion Vesti completing the top five.
Revised results - 20 laps
| Pos | Driver | Team | Gap |
| --- | --- | --- | --- |
| 1 | David Beckmann | Trident | 39m10.052s |
| 2 | Clement Novalak | Carlin | 0.426s |
| 3 | Alex Peroni | Campos Racing | 0.985s |
| 4 | Frederik Vesti | Prema Racing | 1.500s |
| 5 | Logan Sargeant | Prema Racing | 1.892s |
| 6 | Alexander Smolyar | ART Grand Prix | 4.260s |
| 7 | Liam Lawson | Hitech GP | 5.708s |
| 8 | Theo Pourchaire | ART Grand Prix | 6.251s |
| 9 | Richard Verschoor | MP Motorsport | 6.861s |
| 10 | Jake Hughes | HWA | 7.149s |
| 11 | Lirim Zendeli | Trident | 7.618s |
| 12 | Ben Barnicoat | Carlin | 10.998s |
| 13 | Federico Malvestiti | Jenzer Motorsport | 13.023s |
| 14 | Calan Williams | Jenzer Motorsport | 13.617s |
| 15 | David Schumacher | Charouz | 13.906s |
| 16 | Bent Viscaal | MP Motorsport | 16.594s |
| 17 | Dennis Hauger | Hitech GP | 17.852s |
| 18 | Roman Stanek | Charouz | 18.356s |
| 19 | Enzo Fittipaldi | HWA | 18.598s |
| 20 | Max Fewtrell | Hitech GP | 20.521s |
| 21 | Sophia Florsch | Campos Racing | 21.254s |
| 22 | Sebastian Fernandez | ART Grand Prix | 21.548s |
| 23 | Lukas Dunner | MP Motorsport | 22.123s |
| 24 | Matteo Nannini | Jenzer Motorsport | 22.624s |
| 25 | Cameron Das | Carlin | 25.256s |
| 26 | Olli Caldwell | Trident | 27.738s |
| 27 | Jack Doohan | HWA | 28.934s |
| 28 | Alessio Deledda | Campos Racing | 33.132s |
| - | Oscar Piastri | Prema Racing | Retirement |
| - | Igor Fraga | Charouz | Retirement |