The Mediterranean Grand Prix, held on Sicily's Enna circuit, will be revived next year as part of the Formula 3-spec Euroformula Open championship.
Enna has a history steep with famous names, with previous Mediterranean GP winners including Formula 1 world champions Jochen Rindt, Keke Rosberg, Sir Jackie Stewart and John Surtees.
Created in the 1960s around Lake Pergusa, it rose to prominence as one of Formula 1's non-champiomship races.
It became a staple of the junior single-seater calendar in European Formula 2 and International Formula 3000 (Pierluigi Martini pictured above, on the way to winning in 1988) in the 1980s and '90s.
It is best remembered by some for the 1996 International F3000 race where a plague of frogs descended on the circuit and paddock from the nearby lake.
The circuit had its FIA licence removed in the mid-2000s but had it reinstated in 2011 after renovations took place.
One year later it held a round of the International Superstars Series, while the European Touring Car Championship raced there from 2013-2015. TCR Italy has also competed at the venue in 2015 (pictured below).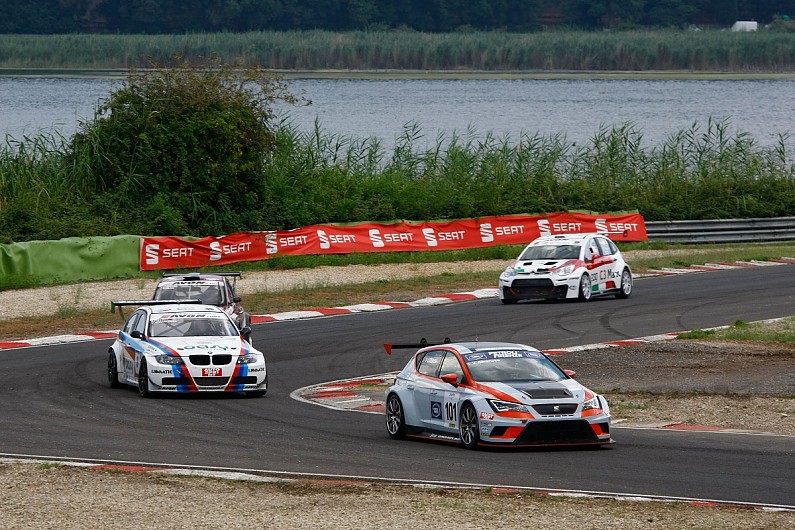 "In its 61 years of existence, Pergusa circuit had a lot of bright days and some darker periods," said Mario Sgro, president of the circuit.
"Today is a great day, as we announce our return to the international motorsport scene."
"Thanks to a private public-private partnership, a lot has been done in recent years to modernize the track and the venue.
"Now we want to revive its long racing tradition and we are grateful to [Euroformula promoter] GT Sport and Jesús Pareja for their trust.
"I can assure you that the next Gran Premio del Mediterraneo will be a stellar event and that Euroformula Open will be welcomed warmly in Sicily."
Euroformula, which is adopting Dallara's new halo-shod '320' car for 2020 after the homologation status of its current F3 chassis expires, also announced the rest of its calendar for next season.
The Pau Grand Prix - which was adopted by the series this year and was won by Billy Monger - returns after being adapted following the demise of the European Formula 3 Championship at the end of 2018.
Enna replaces Silverstone and the remaining seven rounds take place at current F1 venues in Europe.
The 2019 Euroformula Open season concluded last weekend at Monza. Having already won the championship, F2 graduate Marino Sato won the first race as Red Bull junior Liam Lawson headed a trio of FIA Formula 3 racers - ahead of Honda-Formula 1 supported pair Teppei Natori and Yuki Tsunoda - in race two.
Provisional 2020 Euroformula Open calendar
| | |
| --- | --- |
| Date | Circuit |
| March 6-7 | Barcelona (winter series) |
| March 20-21 | Paul Ricard (winter series) |
| April 25-26 | Paul Ricard |
| May 23-24 | Pau |
| June 6-7 | Spa |
| June 20/21 OR June 27-28 | Hockenheim |
| July 11-12 | Hungaroring |
| September 12-13 | Red Bull Ring |
| September 19-20 | Enna-Pergusa |
| October 3-4 | Monza |