Honda junior Toshiki Oyu could be the next of the manufacturer's proteges to race full-time in Europe, potentially as a Red Bull junior.
The 21-year-old made a stunning Euroformula Open debut last weekend at Silverstone, taking both pole positions and each race win in the Motopark Dallara-Spiess normally raced by fellow Honda protege Yuki Tsunoda, who was on FIA Formula 3 duty at Monza.
Motopark has entered Super Formula and Japanese F3 this season in conjunction with B-Max, and in F3 Oyu is fighting Motopark driver Enaam Ahmed for third in the standings.
Oyu has spent each of his two Japanese F3 seasons at Toda Racing, where this year he is the team's only driver, as well as being the sole competitor using the Toda-built engine.
Motopark boss Timo Rumpfkeil told Autosport: "We 100% want to run him in Europe next year.
"We followed him in Japanese F3, where he's been racing in a one-car team, which is always difficult because you can't compare data.
"He had some good results - he won a race at Sugo, which was a really impressive race win.
"We had him in a one-day test in Oschersleben [where Motopark is based] and the race weekend here, and he's been very, very impressive.
"Silverstone is a track where you can always read driver quality - he's been sensational in the quick bits, done nothing wrong at all, and you must always remember that when you come from Japan to Europe everything is so, so different.
"He would be a clear candidate for next year to give him a first introduction to Europe, because I still think that it's better to do something like this at that level before you go into the FIA championships.
"At the end of the day there you have problems of limited track time, testing regulations and all that [in Formula 2 and F3], and if you come from Japan it's better that you have a category where you can race and get experience on the tracks in a similar car they have in Japan."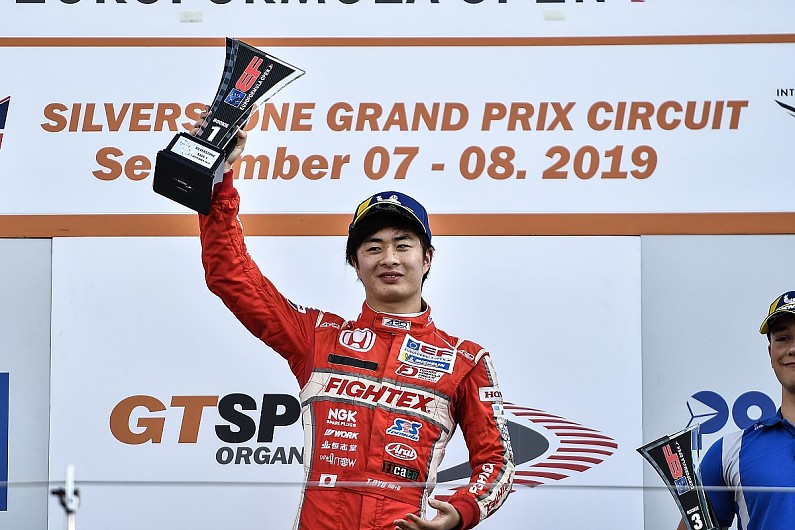 Oyu raced in Tsunoda's Red Bull Junior livery, and it is understood that he is being eyed as a potential new recruit to the scheme.
The Red Bull programme has a long association dating back two decades with Motopark, which this year has run Red Bull juniors Tsunoda and Liam Lawson in Euroformula in addition to their FIA F3 activities.
"Now Red Bull and Honda are doing their junior programmes quite linked up," said Rumpfkeil.
"The first one is Tsunoda and also there is joint stuff in Super Formula [with Lucas Auer and Patricio O'Ward], and I think that's going to be minimum same or reinforced for the future.
"It would be a good project."