Red Bull and Honda Formula 1 junior Yuki Tsunoda took a brilliant first FIA Formula 3 race win at Monza from sixth on the grid in mixed conditions.
HWA's Jake Hughes took the lead at the start and edged away to a gap of nearly three seconds as a strong battle for second ensued on a soaking wet track.
Jenzer Motorsport driver Tsunoda edged clear of his rivals in that battle just before the halfway point and began to reel in Hughes by as much as 0.4s per lap as the track dried, moving into range with eight laps to go.
He dived past Hughes into the first chicane on lap 15 of 22 and began to build a gap, fearing the progress of his rapid Red Bull counterpart Liam Lawson.
Lawson - who also competes in EuroFormula Open alongside Tsunoda - got an awful start from second on the grid in his MP Motorsport car but worked his way back through, culminating in a pass on Hughes one lap after Tsunoda had made the same move.
Tsunoda built a gap of over a second to Lawson, who then closed back in, but ultimately he ran out of time and fell 1.3s short of victory. The result also the Jenzer team's first win of the season.
Hughes came under pressure from the last car in the train, MP's Richard Verschoor, but just held on as the duo ran nose-to-tail to the flag.
On the last lap Pedro Piquet repassed Leonardo Pulcini at Turn 1 to claim fifth, with Spa race one winner Piquet unable to follow his 2018 GP3 victory at Monza this weekend. Pulcini salvaged points in sixth after a poor qualifying session had left him 27th on Saturday's grid.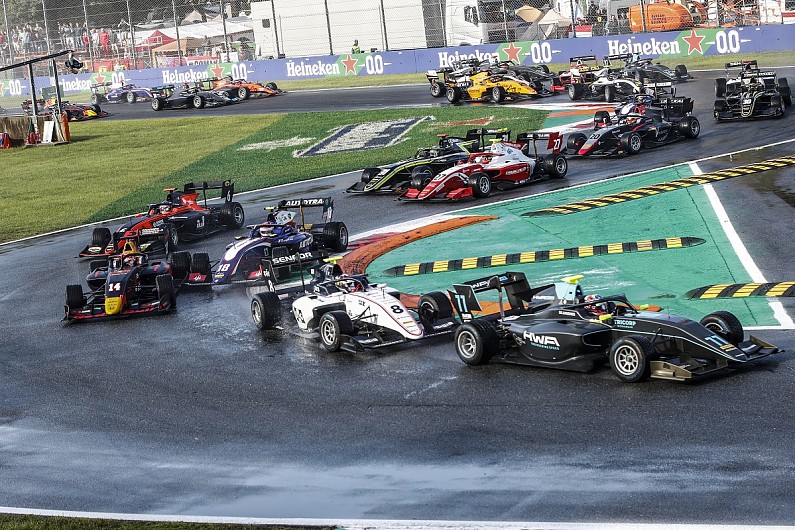 Polesitter and Sauber Junior Team driver Fabio Scherer began to drop back as the track dried and had to settle for seventh, narrowly holding off championship leader Robert Shwartzman on the last lap.
Race one winning Ferrari junior Shwartzman was unable to please the Tifosi as much as on Saturday and did not progress from his starting position of eighth. But he remains strongly positioned to win the series' inaugural title in the finale on his home turf at Sochi at the end of this month.
A poor run out of Ascari from Shwartzman as he challenged Scherer almost handed eighth to ART Grand Prix's Renault junior Christian Lundgaard, who missed out by less than a tenth of a second in a drag race to the line.
Logan Sargeant was one of the quickest drivers in the wet when he found clean air, and managed to take 10th despite an eventful race that involved multiple excursions.
Championship contender Juri Vips started only 25th following a Saturday crash. The Red Bull junior managed to reach 15th in the space of two laps then struggled to make further progress. A late charge eventually got him to 11th.
Race two result

| Pos | Driver | Team | Laps | Gap |
| --- | --- | --- | --- | --- |
| 1 | Yuki Tsunoda | Jenzer Motorsport | 22 | 41m11.470s |
| 2 | Liam Lawson | MP Motorsport | 22 | 1.312s |
| 3 | Jake Hughes | HWA | 22 | 2.018s |
| 4 | Richard Verschoor | MP Motorsport | 22 | 2.803s |
| 5 | Pedro Piquet | Trident | 22 | 6.861s |
| 6 | Leonardo Pulcini | Hitech GP | 22 | 7.930s |
| 7 | Fabio Scherer | Charouz | 22 | 14.329s |
| 8 | Robert Shwartzman | Prema Racing | 22 | 14.952s |
| 9 | Christian Lundgaard | ART Grand Prix | 22 | 15.019s |
| 10 | Logan Sargeant | Carlin | 22 | 16.320s |
| 11 | Juri Vips | Hitech GP | 22 | 16.417s |
| 12 | Felipe Drugovich | Carlin | 22 | 19.285s |
| 13 | Jehan Daruvala | Prema Racing | 22 | 22.373s |
| 14 | Marcus Armstrong | Prema Racing | 22 | 23.517s |
| 15 | Niko Kari | Trident | 22 | 25.101s |
| 16 | Devlin Defrancesco | Trident | 22 | 25.759s |
| 17 | Raoul Hyman | Charouz | 22 | 25.970s |
| 18 | Lirim Zendeli | Charouz | 22 | 30.267s |
| 19 | Yifei Ye | Hitech GP | 22 | 35.425s |
| 20 | Simo Laaksonen | MP Motorsport | 22 | 36.412s |
| 21 | Max Fewtrell | ART Grand Prix | 22 | 37.328s |
| 22 | Keyvan Andres | HWA | 22 | 38.842s |
| 23 | Giorgio Carrara | Jenzer Motorsport | 22 | 44.302s |
| 24 | Andreas Estner | Jenzer Motorsport | 22 | 47.238s |
| 25 | Alessio Deledda | Campos Racing | 22 | 1m16.932s |
| 26 | Sebastian Fernandez | Campos Racing | 22 | 1m37.975s |
| 27 | Bent Viscaal | HWA | 21 | 1 Lap |
| 28 | David Beckmann | ART Grand Prix | 21 | 1 Lap |
| 29 | Teppei Natori | Carlin | 21 | 1 Lap |
| - | Alex Peroni | Campos Racing | 0 | Withdrawn |
Drivers' standings

| Pos | Driver | Points |
| --- | --- | --- |
| 1 | Robert Shwartzman | 180 |
| 2 | Jehan Daruvala | 147 |
| 3 | Juri Vips | 122 |
| 4 | Marcus Armstrong | 119 |
| 5 | Christian Lundgaard | 97 |
| 6 | Pedro Piquet | 90 |
| 7 | Jake Hughes | 74 |
| 8 | Yuki Tsunoda | 67 |
| 9 | Leonardo Pulcini | 66 |
| 10 | Max Fewtrell | 57 |
| 11 | Liam Lawson | 40 |
| 12 | Richard Verschoor | 31 |
| 13 | David Beckmann | 20 |
| 14 | Niko Kari | 15 |
| 15 | Bent Viscaal | 10 |
| 16 | Felipe Drugovich | 8 |
| 17 | Fabio Scherer | 7 |
| 18 | Lirim Zendeli | 6 |
| 19 | Logan Sargeant | 5 |
| 20 | Alex Peroni | 5 |
| 21 | Simo Laaksonen | 2 |
| 22 | Teppei Natori | 1 |