Formula 3 European Championship rookie Fabio Scherer took his first series pole position at Silverstone by topping the second qualifying session.
The Swiss, who had never driven the track until free practice, defeated Mick Schumacher to go fastest by 0.049 seconds in his Motopark Dallara-Volkswagen and claim pole for race two.

This is the maiden pole in the car-racing career of Scherer, who graduated from the German Formula 4 Championship for this season, and who felt he should have taken his first F3 win last time out at Spa had he not been spun out on the first lap before a startling recovery drive.
"It's the first pole of my life - I've won a few races, but never from pole," said Scherer.
"The team made the right decision [using two full sets of new tyres], and we have really progressed through the whole day.
"I made a lot of mistakes in free practice, and to get from 1.5s off to pole in one day is normally not possible, so it shows what a great job the team has done."
Scherer made a mistake on his second push lap by running off the road at The Loop, meaning that Motopark team-mate Juri Vips - who was third fastest overall - wrested pole for Sunday's race, which Scherer will start from way down in 13th as second-fastest times decide the grid.
Vips could have done even better, only to get too close to Keyvan Andres on his final lap of the session, delaying his progress.
"We've made a huge step from Q1 in myself and the car," said Vips, whose only pre-weekend experience of Silverstone amounted to half a day in a BRDC British F3 car.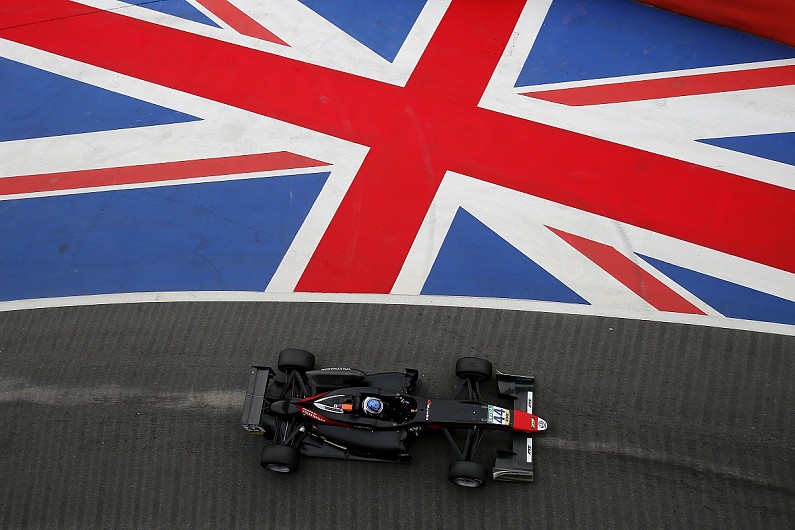 "I think there was more to come and I could have got pole [for race two] - well, maybe not quite, but for sure I could have got Mick, because he was only 0.001s in front."
Enaam Ahmed made a step forward from Q1 to take fourth fastest in his Hitech GP car, with his second-best time putting him sixth for the final race.
The third of the quick Motopark rookies, Jonathan Aberdein, was fifth fastest, and his second-best time puts him on the front row of the grid alongside team-mate Vips for Sunday, 0.113s adrift of the pole.
First-race polesitter Sacha Fenestraz will start that race from third in his Carlin car, sharing the second row with Prema Powerteam ace Schumacher, while his overall best puts him sixth for race two.
Sharing the fourth row for race two are the top two in the championship: Prema's points leader Marcus Armstrong and Motopark's Dan Ticktum.
This duo seemed to trip each other up when their tyres were at their best, and their second-best times put them fifth (Armstrong) and seventh (Ticktum) for race three.
Armstrong's fellow Prema-run Ferrari juniors Guan Yu Zhou and Robert Shwartzman rounded out the overall top 10, this duo moving up to eighth and ninth respectively for the third race, with Hitech's Alex Palou taking the final top-10 spot for race three.
Title contender Ralf Aron's grim day continued, the Prema man ending up 13th and 12th.
Race two qualifying
| Pos | Driver | Team | Car | Time | Gap |
| --- | --- | --- | --- | --- | --- |
| 1 | Fabio Scherer | Motopark | Dallara/Volkswagen | 1m50.460s | - |
| 2 | Mick Schumacher | PREMA Theodore Racing | Dallara/Mercedes | 1m50.509s | 0.049s |
| 3 | Juri Vips | Motopark | Dallara/Volkswagen | 1m50.510s | 0.050s |
| 4 | Enaam Ahmed | Hitech Bullfrog GP | Dallara/Mercedes | 1m50.537s | 0.077s |
| 5 | Jonathan Aberdein | Motopark | Dallara/Volkswagen | 1m50.568s | 0.108s |
| 6 | Sacha Fenestraz | Carlin | Dallara/Volkswagen | 1m50.623s | 0.163s |
| 7 | Marcus Armstrong | PREMA Theodore Racing | Dallara/Mercedes | 1m50.663s | 0.203s |
| 8 | Dan Ticktum | Motopark | Dallara/Volkswagen | 1m50.684s | 0.224s |
| 9 | Guanyu Zhou | PREMA Theodore Racing | Dallara/Mercedes | 1m50.708s | 0.248s |
| 10 | Robert Shwartzman | PREMA Theodore Racing | Dallara/Mercedes | 1m50.752s | 0.292s |
| 11 | Alex Palou | Hitech Bullfrog GP | Dallara/Mercedes | 1m50.798s | 0.338s |
| 12 | Ben Hingeley | Hitech Bullfrog GP | Dallara/Mercedes | 1m50.820s | 0.360s |
| 13 | Ralf Aron | PREMA Theodore Racing | Dallara/Mercedes | 1m50.830s | 0.370s |
| 14 | Sebastian Fernandez | Motopark | Dallara/Volkswagen | 1m50.971s | 0.511s |
| 15 | Marino Sato | Motopark | Dallara/Volkswagen | 1m51.009s | 0.549s |
| 16 | Ferdinand Habsburg | Carlin | Dallara/Volkswagen | 1m51.124s | 0.664s |
| 17 | Nikita Troitskiy | Carlin | Dallara/Volkswagen | 1m51.136s | 0.676s |
| 18 | Jehan Daruvala | Carlin | Dallara/Volkswagen | 1m51.159s | 0.699s |
| 19 | Artem Petrov | Van Amersfoort Racing | Dallara/Mercedes | 1m51.224s | 0.764s |
| 20 | Charles Leong | Hitech Bullfrog GP | Dallara/Mercedes | 1m51.402s | 0.942s |
| 21 | Sophia Florsch | Van Amersfoort Racing | Dallara/Mercedes | 1m51.665s | 1.205s |
| 22 | Keyvan Andres | Van Amersfoort Racing | Dallara/Mercedes | 1m51.719s | 1.259s |
| 23 | Ameya Vaidyanathan | Carlin | Dallara/Volkswagen | 1m51.804s | 1.344s |
| 24 | Petru Florescu | Fortec Motorsports | Dallara/Mercedes | 1m52.650s | 2.190s |
Race three qualifying

| Pos | Driver | Team | Car | Time | Gap |
| --- | --- | --- | --- | --- | --- |
| 1 | Juri Vips | Motopark | Dallara/Volkswagen | 1m50.543s | - |
| 2 | Jonathan Aberdein | Motopark | Dallara/Volkswagen | 1m50.656s | 0.113s |
| 3 | Sacha Fenestraz | Carlin | Dallara/Volkswagen | 1m50.671s | 0.128s |
| 4 | Mick Schumacher | PREMA Theodore Racing | Dallara/Mercedes | 1m50.686s | 0.143s |
| 5 | Marcus Armstrong | PREMA Theodore Racing | Dallara/Mercedes | 1m50.733s | 0.190s |
| 6 | Enaam Ahmed | Hitech Bullfrog GP | Dallara/Mercedes | 1m50.736s | 0.193s |
| 7 | Dan Ticktum | Motopark | Dallara/Volkswagen | 1m50.757s | 0.214s |
| 8 | Guanyu Zhou | PREMA Theodore Racing | Dallara/Mercedes | 1m50.805s | 0.262s |
| 9 | Robert Shwartzman | PREMA Theodore Racing | Dallara/Mercedes | 1m50.806s | 0.263s |
| 10 | Alex Palou | Hitech Bullfrog GP | Dallara/Mercedes | 1m50.858s | 0.315s |
| 11 | Ben Hingeley | Hitech Bullfrog GP | Dallara/Mercedes | 1m50.881s | 0.338s |
| 12 | Ralf Aron | PREMA Theodore Racing | Dallara/Mercedes | 1m50.934s | 0.391s |
| 13 | Fabio Scherer | Motopark | Dallara/Volkswagen | 1m50.947s | 0.404s |
| 14 | Marino Sato | Motopark | Dallara/Volkswagen | 1m51.105s | 0.562s |
| 15 | Jehan Daruvala | Carlin | Dallara/Volkswagen | 1m51.214s | 0.671s |
| 16 | Sebastian Fernandez | Motopark | Dallara/Volkswagen | 1m51.218s | 0.675s |
| 17 | Ferdinand Habsburg | Carlin | Dallara/Volkswagen | 1m51.220s | 0.677s |
| 18 | Nikita Troitskiy | Carlin | Dallara/Volkswagen | 1m51.291s | 0.748s |
| 19 | Artem Petrov | Van Amersfoort Racing | Dallara/Mercedes | 1m51.400s | 0.857s |
| 20 | Sophia Florsch | Van Amersfoort Racing | Dallara/Mercedes | 1m51.773s | 1.230s |
| 21 | Ameya Vaidyanathan | Carlin | Dallara/Volkswagen | 1m51.830s | 1.287s |
| 22 | Keyvan Andres | Van Amersfoort Racing | Dallara/Mercedes | 1m51.857s | 1.314s |
| 23 | Charles Leong | Hitech Bullfrog GP | Dallara/Mercedes | 1m52.009s | 1.466s |
| 24 | Petru Florescu | Fortec Motorsports | Dallara/Mercedes | 1m53.080s | 2.537s |