Mick Schumacher topped an incident-packed free practice as the Formula 3 European Championship kicked off on the streets of Pau.
The smooth-driving son of seven-time world champion Michael Schumacher was the only driver to dip below the 1m10s barrier in either session, whisking his Prema Powerteam Dallara-Mercedes around in a time that beat Dan Ticktum by 0.236 seconds in FP2.
The second of the two 40-minute sessions was the one that featured most incidents, with no fewer than three full course yellows followed by a red flag that terminated running with two minutes remaining.
This meant that some drivers could not get a decent run in on new tyres.
In contrast to Schumacher, McLaren Autosport BRDC Award winner Ticktum was in flamboyant form and was top of the times in his Red Bull-liveried Motopark car until the German's late effort.
Guan Yu Zhou, Robert Shwartzman and Ralf Aron made it four Prema cars in the top five as they took third, fourth and fifth respectively.
With Ticktum and Shwartzman having raced in Formula Renault at Pau, the quickest circuit newcomer was impressive reigning German Formula 4 champion Juri Vips, who took sixth fastest in his spectacularly driven Motopark machine despite a mid-session gearbox issue.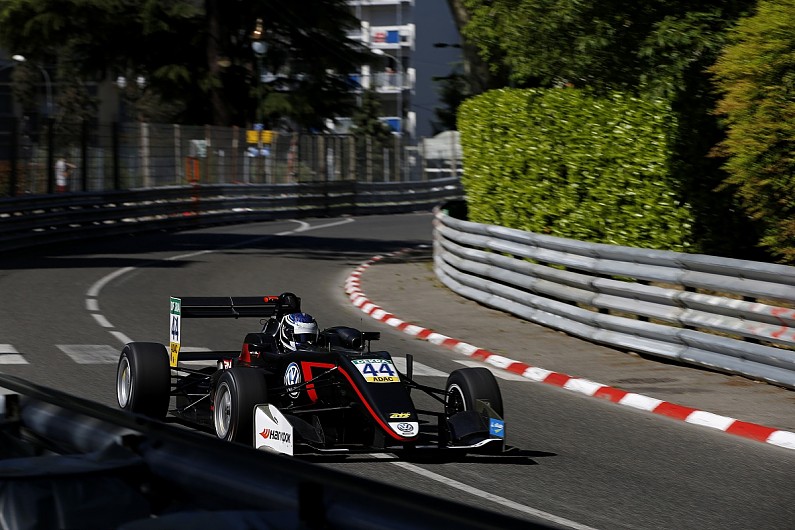 Jehan Daruvala was top of the Carlin brigade in seventh, narrowly ahead of Ferdinand Habsburg, who topped the first session with a late effort to beat Ticktum.
Their highly regarded Formula Renault Eurocup champion team-mate Sacha Fenestraz ended FP2 down in 13th.
Rounding out the top 10 were Prema's Marcus Armstrong and Motopark's Jonathan Aberdein, who very nearly crunched into the barrier at the last chicane but continued unscathed.
First of those to hit the wall was Artem Petrov, the Van Amersfoort Racing man clouting the barriers at Parc Beaumont just 17 minutes into FP1, while Carlin's Devlin DeFrancesco binned it just before the end of that session.
In the second session, Hitech GP's trio of Enaam Ahmed, Ben Hingeley and Alex Palou (who caused the red flag) all shunted and deranged the left-front corners of their cars, with Sebastian Fernandez also plonking his Motopark car in the barriers.
With Pau the first round of the season, the groups for Friday's qualifying session are being determined by alternate free practice times.
This means that Schumacher, Zhou, Aron, Daruvala and Armstrong will be in one group, with Ticktum, Shwartzman, Vips, Habsburg and Aberdein in the other.
Qualifying groups for the second and third races will be determined by the finishing order in the opening race on Saturday.
FP1 times
| Pos | Driver | Team | Car | Time | Gap | Laps |
| --- | --- | --- | --- | --- | --- | --- |
| 1 | Ferdinand Habsburg | Carlin | Dallara/Volkswagen | 1m10.950s | - | 23 |
| 2 | Dan Ticktum | Motopark | Dallara/Volkswagen | 1m11.078s | 0.128s | 20 |
| 3 | Robert Shwartzman | PREMA Theodore Racing | Dallara/Mercedes | 1m11.104s | 0.154s | 21 |
| 4 | Ralf Aron | PREMA Theodore Racing | Dallara/Mercedes | 1m11.149s | 0.199s | 20 |
| 5 | Mick Schumacher | PREMA Theodore Racing | Dallara/Mercedes | 1m11.233s | 0.283s | 18 |
| 6 | Sacha Fenestraz | Carlin | Dallara/Volkswagen | 1m11.415s | 0.465s | 23 |
| 7 | Jonathan Aberdein | Motopark | Dallara/Volkswagen | 1m11.420s | 0.470s | 21 |
| 8 | Marcus Armstrong | PREMA Theodore Racing | Dallara/Mercedes | 1m11.426s | 0.476s | 18 |
| 9 | Devlin Defrancesco | Carlin | Dallara/Volkswagen | 1m11.467s | 0.517s | 19 |
| 10 | Juri Vips | Motopark | Dallara/Volkswagen | 1m11.506s | 0.556s | 19 |
| 11 | Guanyu Zhou | PREMA Theodore Racing | Dallara/Mercedes | 1m11.514s | 0.564s | 20 |
| 12 | Jehan Daruvala | Carlin | Dallara/Volkswagen | 1m11.662s | 0.712s | 17 |
| 13 | Enaam Ahmed | Hitech Bullfrog GP | Dallara/Mercedes | 1m11.781s | 0.831s | 12 |
| 14 | Keyvan Andres | Van Amersfoort Racing | Dallara/Mercedes | 1m12.053s | 1.103s | 21 |
| 15 | Ben Hingeley | Hitech Bullfrog GP | Dallara/Mercedes | 1m12.074s | 1.124s | 22 |
| 16 | Nikita Troitskiy | Carlin | Dallara/Volkswagen | 1m12.179s | 1.229s | 22 |
| 17 | Alex Palou | Hitech Bullfrog GP | Dallara/Mercedes | 1m12.256s | 1.306s | 17 |
| 18 | Fabio Scherer | Motopark | Dallara/Volkswagen | 1m12.263s | 1.313s | 20 |
| 19 | Sebastian Fernandez | Motopark | Dallara/Volkswagen | 1m12.307s | 1.357s | 18 |
| 20 | Marino Sato | Motopark | Dallara/Volkswagen | 1m12.463s | 1.513s | 19 |
| 21 | Julian Hanses | ma-con | Dallara/Volkswagen | 1m12.994s | 2.044s | 19 |
| 22 | Artem Petrov | Van Amersfoort Racing | Dallara/Mercedes | 1m13.652s | 2.702s | 12 |
| 23 | Ameya Vaidyanathan | Carlin | Dallara/Volkswagen | 1m14.175s | 3.225s | 20 |
FP2 times
| Pos | Driver | Team | Car | Time | Gap | Laps |
| --- | --- | --- | --- | --- | --- | --- |
| 1 | Mick Schumacher | PREMA Theodore Racing | Dallara/Mercedes | 1m09.970s | - | 23 |
| 2 | Dan Ticktum | Motopark | Dallara/Volkswagen | 1m10.206s | 0.236s | 22 |
| 3 | Guanyu Zhou | PREMA Theodore Racing | Dallara/Mercedes | 1m10.324s | 0.354s | 24 |
| 4 | Robert Shwartzman | PREMA Theodore Racing | Dallara/Mercedes | 1m10.389s | 0.419s | 21 |
| 5 | Ralf Aron | PREMA Theodore Racing | Dallara/Mercedes | 1m10.416s | 0.446s | 19 |
| 6 | Juri Vips | Motopark | Dallara/Volkswagen | 1m10.441s | 0.471s | 16 |
| 7 | Jehan Daruvala | Carlin | Dallara/Volkswagen | 1m10.621s | 0.651s | 22 |
| 8 | Ferdinand Habsburg | Carlin | Dallara/Volkswagen | 1m10.661s | 0.691s | 21 |
| 9 | Marcus Armstrong | PREMA Theodore Racing | Dallara/Mercedes | 1m10.773s | 0.803s | 20 |
| 10 | Jonathan Aberdein | Motopark | Dallara/Volkswagen | 1m10.873s | 0.903s | 21 |
| 11 | Fabio Scherer | Motopark | Dallara/Volkswagen | 1m10.896s | 0.926s | 22 |
| 12 | Alex Palou | Hitech Bullfrog GP | Dallara/Mercedes | 1m10.938s | 0.968s | 27 |
| 13 | Sacha Fenestraz | Carlin | Dallara/Volkswagen | 1m10.947s | 0.977s | 17 |
| 14 | Marino Sato | Motopark | Dallara/Volkswagen | 1m10.971s | 1.001s | 23 |
| 15 | Ben Hingeley | Hitech Bullfrog GP | Dallara/Mercedes | 1m11.156s | 1.186s | 13 |
| 16 | Enaam Ahmed | Hitech Bullfrog GP | Dallara/Mercedes | 1m11.274s | 1.304s | 12 |
| 17 | Keyvan Andres | Van Amersfoort Racing | Dallara/Mercedes | 1m11.430s | 1.460s | 20 |
| 18 | Nikita Troitskiy | Carlin | Dallara/Volkswagen | 1m11.498s | 1.528s | 21 |
| 19 | Julian Hanses | ma-con | Dallara/Volkswagen | 1m12.256s | 2.286s | 26 |
| 20 | Sebastian Fernandez | Motopark | Dallara/Volkswagen | 1m12.329s | 2.359s | 5 |
| 21 | Ameya Vaidyanathan | Carlin | Dallara/Volkswagen | 1m12.539s | 2.569s | 23 |