Formula 3 is now looking almost certain to replace the GP3 Series as the bottom rung on the Formula 1 support bill from 2019.
Autosport understands that the FIA is pressing ahead with plans for a new generation of single-spec F3 car for what will be known as International F3, and which will effectively merge the existing GP3 Series and F3 European Championship.
Simultaneously, it is working on a new formula called Regional F3, which appears to replace the existing F3 Lights concept as a second tier for the category.
Speaking at Monza on Thursday, the FIA's Charlie Whiting was asked by Autosport whether the MotoGP/Moto2/Moto3 ladder can be replicated on the F1 bill.
"That's exactly what we're aiming for," said Whiting.
"We have the F1/F2 parts of the ladder, and the hope is we can achieve that with F3 in 2019."
According to Autosport sources, the existing F3 teams met with Whiting recently in Geneva to discuss the category's new direction.
It appears that International F3 will be subject to a capacity of 27 cars, with nine teams each running three cars.
The mood from the meeting was generally positive.
It is understood that the FIA Single Seater Commission's Technical Working Group met subsequently, and that the new International F3 could be put out to tender to produce a rolling chassis, including electronics, for a price in the region of €110,000.
This compares with the price of the existing Dallara F3 rolling chassis, which retails for €116,000 without electronics.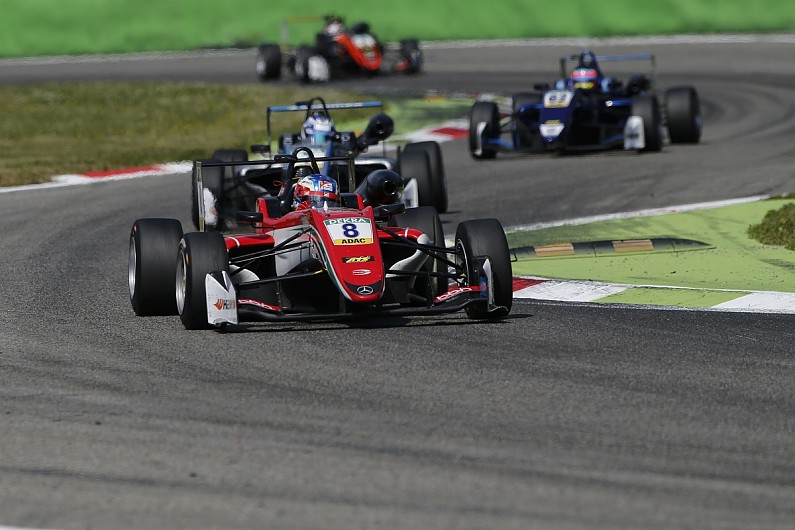 Sources say that power will leap from the existing level of approximately 230bhp to over 300bhp, and that this should offset an increase in weight that could approach 70kg due to the addition of a halo, the consequent need for a stronger, heavier monocoque, and bigger gearbox, driveshaft and brakes.
The Regional F3 concept is believed to be similar to International F3, but simplified in areas including aerodynamics, suspension and dampers.
It would retail for approximately €70-75,000, with an engine producing between 250-280bhp.
Autosport sources suggest that the Japanese F3 Championship - the only championship apart from the European that currently runs to FIA rules - is looking extremely likely to stick with the current F3 rules until at least 2020.
Meanwhile, DTM chairman Gerhard Berger has already told Autosport that he is ready to resurrect the F3 Euro Series - which was replaced by the FIA F3 European championship in 2013 - for the existing chassis and engines if the FIA took the category onto the F1 package.
Euroformula Open, which uses the current-generation Dallara chassis but with a spec Toyota engine, is also believed to be leaning towards continuing with its existing regulations.