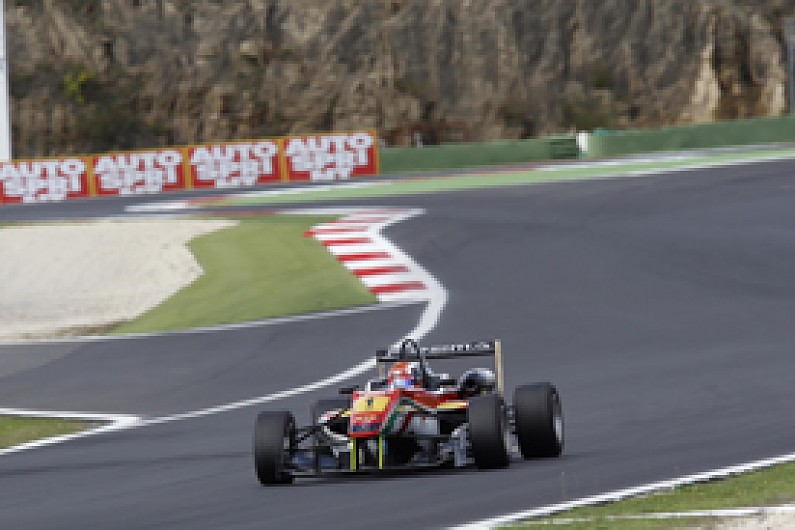 Raffaele Marciello kick-started his bid to atone for his dismal Zandvoort performance last time out by topping the Formula 3 European Championship test day at Vallelunga.
Six hours of running were scheduled for Friday, and narrow points leader Marciello pumped in a lap 0.159 seconds clear of the opposition in the afternoon session with his Prema Powerteam Dallara-Mercedes.
The first hour in the morning was run in wet conditions before the track dried up. The afternoon session was interrupted by numerous red flags, with late incidents for Sven Muller and Roy Nissany scotching the anticipated flurry of times on new tyres.
With most drivers only getting one or two flying laps at the end, Marciello's main title rival Felix Rosenqvist was one of only two drivers to improve, vaulting five places to 10th on a day when the Swede and his Mucke Motorsport team-mates languished further down the order than expected.
Alexander Sims, who like Marciello had a disappointing Zandvoort, provided encouragement for the ThreeBond/Nissan-powered T-Sport squad by going second fastest.
Russian Daniil Kvyat, who was fastest in the three-hour morning session, improved only by a few hundredths in the afternoon to head the flotilla of Carlin Dallara-Volkswagens in third.
Team-mates Jordan King and Nicholas Latifi were close at hand in fourth and sixth respectively, Canadian Latifi relying on his morning time, which had put him third at the lunch break.
The second Prema car of Alex Lynn got in between Carlin's lead trio by setting the fifth-best time, putting him two places ahead of team-mate Lucas Auer. Pipo Derani (Fortec) and Muller (Van Amersfoort) were next up, ahead of Rosenqvist.
Two more Britons were just outside the top 10, Carlin pair Jann Mardenborough and Harry Tincknell going 11th and 12th respectively, with compatriot Tom Blomqvist 19th in his EuroInternational machine.
Pos Driver               Team/Car                       Time       Gap
 1. Raffaele Marciello   Prema Dallara-Merc             1m29.220s
 2. Alexander Sims       T-Sport Dallara-Nissan         1m29.379s  +0.159s
 3. Daniil Kvyat         Carlin Dallara-VW              1m29.454s  +0.234s
 4. Jordan King          Carlin Dallara-VW              1m29.524s  +0.304s
 5. Alex Lynn            Prema Dallara-Merc             1m29.545s  +0.325s
 6. Nicholas Latifi      Carlin Dallara-VW              1m29.660s  +0.440s
 7. Lucas Auer           Prema Dallara-Merc             1m29.686s  +0.466s
 8. Pipo Derani          Fortec Dallara-Merc            1m29.790s  +0.570s
 9. Sven Muller          Van Amersfoort Dallara-VW      1m29.800s  +0.580s
10. Felix Rosenqvist     Mucke Dallara-Merc             1m29.823s  +0.603s
11. Jann Mardenborough   Carlin Dallara-VW              1m29.843s  +0.623s
12. Harry Tincknell      Carlin Dallara-VW              1m29.906s  +0.686s
13. Dennis van de Laar   Van Amersfoort Dallara-VW      1m29.923s  +0.703s
14. Andre Rudersdorf     Ma-Con Dallara-VW              1m29.939s  +0.719s
15. Spike Goddard        T-Sport Dallara-Nissan         1m29.996s  +0.776s
16. Felix Serralles      Fortec Dallara-Merc            1m30.073s  +0.853s
17. Eddie Cheever        Prema Dallara-Merc             1m30.089s  +0.869s
18. Michael Lewis        Mucke Dallara-Merc             1m30.190s  +0.970s
19. Tom Blomqvist        EuroInternational Dallara-Merc 1m30.213s  +0.993s
20. Antonio Giovinazzi   Double R Dallara-Merc          1m30.237s  +1.017s
21. John Bryant-Meisner  Fortec Dallara-Merc            1m30.436s  +1.216s
22. Roy Nissany          Mucke Dallara-Merc             1m30.591s  +1.371s
23. Mitchell Gilbert     Mucke Dallara-Merc             1m30.610s  +1.390s
24. Lucas Wolf           URD Dallara-Merc               1m30.807s  +1.587s
25. Sandro Zeller        Jo Zeller Dallara-Merc         1m31.116s  +1.896s
26. Tatiana Calderon     Double R Dallara-Merc          1m31.119s  +1.899s
27. Sean Gelael          Double R Dallara-Merc          1m31.399s  +2.179s