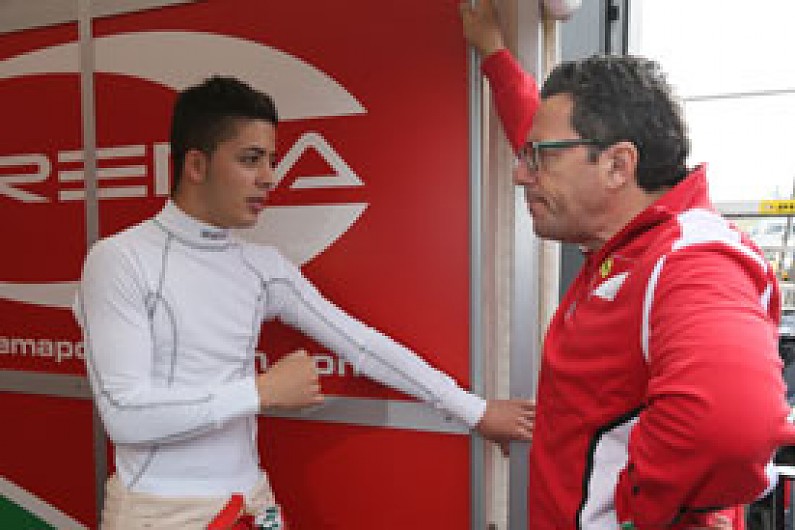 Ferrari's latest protege looks set to graduate to the Formula 3 European Championship in 2014.
Antonio Fuoco is being lined up to follow in the footsteps of fellow Ferrari Driver Academy member and current European F3 championship leader Raffaele Marciello by competing with Prema Powerteam.
Fuoco, 17, needs just one point to clinch the Formula Renault ALPS title in this weekend's finale at Imola. He has raced in the category with Prema in his debut season of car racing.
Ferrari Driver Academy boss Luca Baldisserri told AUTOSPORT: "The next Formula 3 test is at Vallelunga at the end of October so I think we will see him there.
"He is a very competitive and winning driver in ALPS, and he was really strong at Spa when he did the Eurocup against the more experienced drivers [in a one-off outing] and took pole position.
"We are trying to put him with Prema in Formula 3.
"We still think that the Formula 3 car is the best package for a driver to gain experience, because it's the right ratio between power, and mechanical and aerodynamic grip, together with the tyres.
"The drivers really have the chance to learn and understand how to drive properly, in a way that will help them when they get to Formula 1."
If the programme is finalised, Fuoco would be one of the leading contenders in the new rookie championship, which will be introduced to European F3 in 2014.