Ferrari protege Raffaele Marciello took his fifth Formula 3 European Championship win of the year in Saturday's second race at Hockenheim.
The Prema Powerteam driver made a terrific start from pole position and was a second clear by the end of the first lap in his Dallara-Mercedes.
He steadily pulled away to win by 8s and increase his championship lead from 57.5 points to 81.5 ahead of Felix Rosenqvist.
Front-row starter Tom Blomqvist held second place initially in his EuroInternational car, but came under heavy pressure from Marciello's Prema team-mate Lucas Auer during the middle part of the race.
Auer twice unsuccessfully tried to pass the Briton and was then briefly baulked as Blomqvist ran wide onto the kerb while entering the stadium section on lap 10.
Fortec driver Josh Hill, who had been right behind them, made an opportunist move on the outside and brilliantly passed both as they entered the Sachs Kurve to take second.
Hill and Blomqvist completed the podium - the former taking the best result of his rookie F3 campaign - with Auer holding off Felix Serralles in the second Fortec car for fourth.
Dennis van de Laar added to his excellent eighth spot on the grid with sixth, taking Van Amersfoort Racing's best result of the year in the process.
Prema's Alex Lynn and Ma-con's Sven Muller were next up - the latter having ceded sixth to van de Laar earlier on when he sailed off the track at the Spitz Kehre by himself.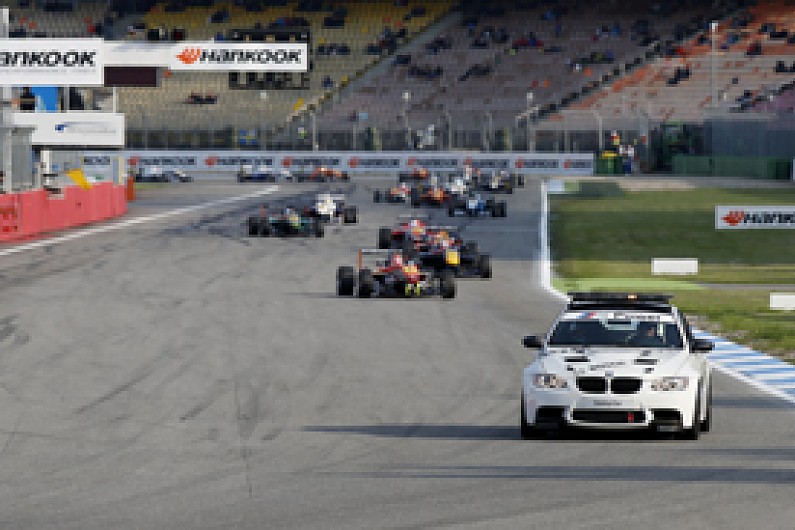 Carlin's Jordan King and Mucke driver Rosenqvist completed the top 10.
Jann Mardenborough was eliminated at the Spitz Kehre on the opening lap when Antonio Giovinazzi tried to overtake and ended up being launched over the Carlin driver's car.
Double R driver Giovinazzi retired on the spot as well while Spike Goddard was forced to pit for a new nose and Lucas Wolf was also involved in the incident, which brought out the safety car.
Results - 35 laps:

Pos  Driver              Team/Car                         Time/Gap
 1.  Raffaele Marciello  Prema Dallara-Merc             35m11.372s
 2.  Josh Hill           Fortec Dallara-Merc              + 8.389s
 3.  Tom Blomqvist       EuroInternational Dallara-VW    + 10.395s
 4.  Lucas Auer          Prema Dallara-Merc              + 11.077s
 5.  Felix Serralles     Prema Dallara-Merc              + 12.784s
 6.  Dennis van de Laar  Van Amersfoort Dallara-VW       + 15.687s
 7.  Alex Lynn           Prema Dallara-Merc              + 16.166s
 8.  Sven Muller         Ma-con Dallara-VW               + 19.692s
 9.  Jordan King         Carlin Dallara-VW               + 20.271s
10.  Felix Rosenqvist    Mucke Dallara-Merc              + 21.213s
11.  Will Buller         T-Sport Dallara-Nissan          + 21.509s
12.  Daniil Kvyat        Carlin Dallara-VW               + 24.486s
13.  Harry Tincknell     Carlin Dallara-VW               + 25.330s
14.  Pipo Derani         Fortec Dallara-Merc             + 28.913s
15.  Mitchell Gilbert    Mucke Dallara-Merc              + 33.079s
16.  Roy Nissany         Mucke Dallara-Merc              + 33.588s
17.  Mans Grenhagen      Van Amersfoort Dallara-VW       + 36.652s
18.  Lucas Wolf          URD Dallara-Merc                + 36.985s
19.  Eddie Cheever       Prema Dallara-Merc              + 38.079s
20.  Andre Rudersdorf    Ma-con Dallara-VW               + 38.560s
21.  Michael Lewis       Prema Dallara-Merc              + 40.525s
22.  Nicholas Latifi     Carlin Dallara-VW               + 41.713s
23.  Ed Jones            Fortec Dallara-Merc             + 44.831s
24.  Spike Goddard       T-Sport Dallara-Nissan          + 48.758s
25.  Sandro Zeller       Zeller Dallara-Merc             + 49.838s
26.  Tatiana Calderon    Double R Dallara-Merc           + 52.910s
27.  Sean Gelael         Double R Dallara-Merc         + 1m12.424s

Retirements:

     Antonio Giovinazzi  Double R Dallara-Merc              0 laps
     Jann Mardenborough  Carlin Dallara-VW                  0 laps