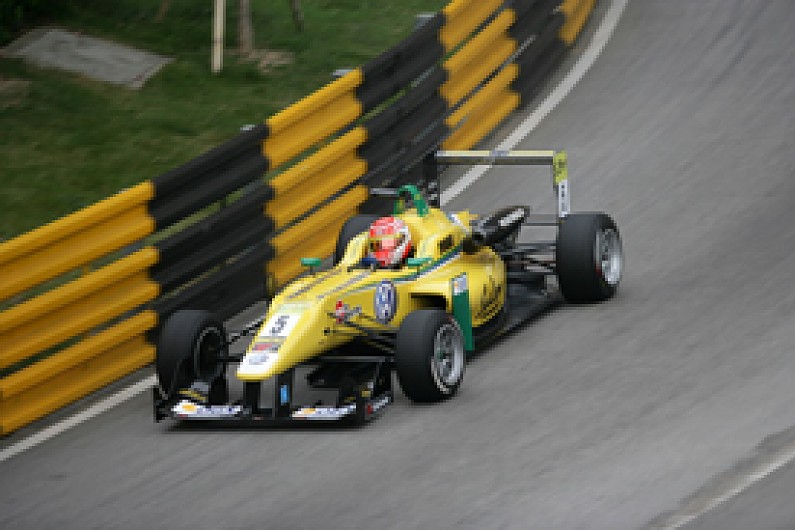 Formula 3 returnee Felipe Nasr topped free practice on the first day of running for the Macau Grand Prix.
The GP2 racer, last year's British F3 champion, was quickest for most of the session as he immediately got into the groove in his Carlin Dallara-Volkswagen. Team-mate and fellow F3 comeback man Antonio Felix da Costa went faster with a minute to go, before Nasr stole back the top spot.
Swede Felix Rosenqvist, the form man in the closing races of this year's F3 Euro Series, also demoted da Costa in the dying seconds in his Mucke Motorsport Dallara-Mercedes.
"This is a unique place and it's always good to come back," said Nasr, runner-up in Macau last year. "It's a good start to the weekend. I'm grateful to Carlin for giving me the opportunity.
"The track was still pretty green, and there are some places with new Tarmac where it's very bumpy, but I'm sure that as the rubber goes down it will improve a lot.
"I was very pleased with what I saw when we tested at Silverstone with our Macau set-up, and it's good to confirm that here."
Carlos Sainz Jr took fourth place, with Will Buller fifth to make it four Carlin drivers in the top five.
Last year's winner Daniel Juncadella played himself in gently - being passed by Nasr and da Costa on the track - to take sixth place in the lead Prema Powerteam Dallara-Mercedes.
Mucke's Pascal Wehrlein was the leading driver with no Macau experience to take seventh. That allowed him to edge out fellow Macau virgins Jack Harvey and Alex Lynn, with Daniel Abt just ahead of the two Brits.
As usual for Macau there were plenty of incidents. Japanese champion Ryo Hirakawa caused a red flag with 12 minutes remaining when he crashed heavily at R Bend, while his closest title rival from 2012, Yuichi Nakayama, shunted at Lisboa on his first flying lap.
The red flag provided a reprieve for Kevin Korjus, who had crashed his Double R Dallara-Mercedes lightly at Lisboa early in the session, damaging the front wing. His car was brought back to the pits on a truck during the stoppage and he was able to continue.
Mitchell Gilbert crashed at Moorish Hill halfway through the session, while Lucas Auer was unable to rejoin after Hirakawa's red flag as a gear cable was melted by his exhaust while he was sitting in the pits.
Alexander Sims also lost some running when a nail punctured one of the rear tyres on his T-Sport Dallara-Nissan.
Pos  Driver                  Team/Car                       Time       Gap
 1.  Felipe Nasr             Carlin Dallara-VW              2m14.787s
 2.  Felix Rosenqvist        Mucke Dallara-Mercedes         2m15.008s  + 0.221s
 3.  Antonio Felix da Costa  Carlin Dallara-VW              2m15.124s  + 0.337s
 4.  Carlos Sainz Jr         Carlin Dallara-VW              2m15.577s  + 0.790s
 5.  Will Buller             Carlin Dallara-VW              2m15.887s  + 1.100s
 6.  Daniel Juncadella       Prema Dallara-Mercedes         2m15.907s  + 1.120s
 7.  Pascal Wehrlein         Mucke Dallara-Mercedes         2m16.145s  + 1.358s
 8.  Daniel Abt              Carlin Dallara-VW              2m16.424s  + 1.637s
 9.  Jack Harvey             Carlin Dallara-VW              2m16.517s  + 1.730s
10.  Alex Lynn               Fortec Dallara-Mercedes        2m16.689s  + 1.902s
11.  Raffaele Marciello      Prema Dallara-Mercedes         2m16.920s  + 2.133s
12.  Felix Serralles         Fortec Dallara-Mercedes        2m17.018s  + 2.231s
13.  Jazeman Jaafar          TOM'S Dallara-Toyota           2m17.210s  + 2.423s
14.  Hannes van Asseldonk    Prema Dallara-Mercedes         2m17.357s  + 2.570s
15.  Jimmy Eriksson          Double R Dallara-Mercedes      2m17.469s  + 2.682s
16.  Harry Tincknell         Fortec Dallara-Mercedes        2m17.537s  + 2.750s
17.  Pipo Derani             Fortec Dallara-Mercedes        2m17.746s  + 2.959s
18.  Hideki Yamauchi         B-Max Dallara-Toyota           2m18.014s  + 3.227s
19.  Alexander Sims          T-Sport Dallara-Nissan         2m18.285s  + 3.498s
20.  Tom Blomqvist           Euro International Dallara-VW  2m18.376s  + 3.589s
21.  Kevin Korjus            Double R Dallara-Mercedes      2m18.951s  + 4.164s
22.  Sven Muller             Prema Dallara-Mercedes         2m19.620s  + 4.833s
23.  Lucas Wolf              URD Dallara-Mercedes           2m19.747s  + 4.960s
24.  Mitchell Gilbert        Mucke Dallara-Mercedes         2m19.983s  + 5.196s
25.  Ryo Hirakawa            RSS Dallara-Toyota             2m20.235s  + 5.448s
26.  Andrea Roda             Jo Zeller Dallara-Mercedes     2m20.521s  + 5.734s
27.  Lucas Auer              Van Amersfoort Dallara-VW      2m20.764s  + 5.977s
28.  Luis Sa Silva           Angola Dallara-Mercedes        2m21.126s  + 6.339s
29.  Dennis van de Laar      Van Amersfoort Dallara-VW      2m21.200s  + 6.413s
30.  Yuichi Nakayama         TOM'S Dallara-Toyota