The Pau Grand Prix has a reputation as the most dramatic and, well, random round of the Formula 3 European Championship.
And its status this season as the opening event meant that everyone in the paddock had pretty much written off any hope of discovering who will be the major 2018 title contenders until round two at the Hungaroring.
But the beauty of the sinuous, narrow streets in the shadow of the snow-capped Pyrenees is that they highlight the driving styles, confidence and ability of the drivers.
So where better to get a read on who, out of the intake of rookies, has the potential to shine?
This is the best crop of newcomers to F3 since 2015, when Charles Leclerc and George Russell caused a sensation, and Lance Stroll - after his volatile start - worked away and matched them by the end of the season.
And it follows immediately on from 2017, where a certain rookie in the form of Lando Norris drove to the title.
So, do any of the new boys have the potential to do a Norris in 2018? Here, we rate the rookies in order of the form they showed over the Pau weekend.
1 Sacha Fenestraz
Just like Norris, Fenestraz graduated to F3 as Formula Renault Eurocup champion with Josef Kaufmann Racing and joined Carlin.
And just like Norris, that's after one late-season 'taster' Euro F3 outing plus a 'suck-it-and-see' voyage to the Macau Grand Prix.
Fenestraz also comes from the same ADD management stable as Norris. He shares a house with him, he has the same engineer as Norris did in the form of Matt Ogle, and he's even occupying the cockpit of Dallara F317 chassis #001 - yes, that's the car driven to the title last year by Norris.
He may have grown up in Argentina, but Fenestraz is very much the local hero in Pau - his grandparents come from the town, and his competition licence comes via the Pau Grand Prix-organising Automobile Club Basco-Bearnais.
He looked hugely impressive at the track in 2015 when, aged 15, he scored a double pole position on his way to a brace of French Formula 4 wins. And he'd also raced there in Formula Renault.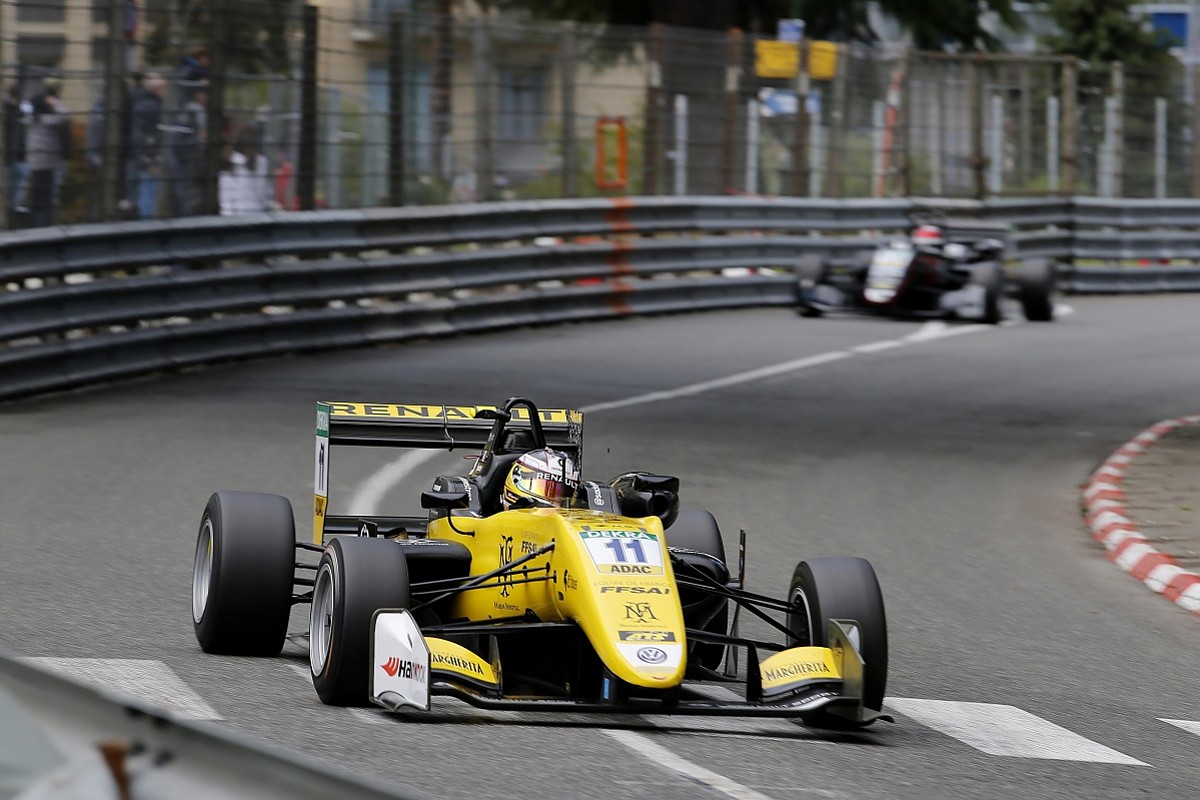 So it was a surprise when he languished down the times in free practice, and did not look to be attacking the circuit.
Afterwards, it transpired that he had a big problem with the brakes, and this set Fenestraz back for first qualifying, because up to this point he hadn't driven an attacking lap of the circuit.
"The brakes didn't help with my confidence level," he explained. "My goal in free practice was to push but I wasn't able to, so for qualifying that put me in risk mode a little bit more. It was a bit tricky but it wasn't that bad."
Fenestraz recovered to finish fourth in the opening race, and he then proved what he was capable of by topping wet qualifying.
That was despite encountering Carlin team-mate Nikita Troitskiy, who had banged the wall at the Pont Oscar left-hander and was returning to the pits, at the lairy Foch chicane. Troitskiy steered right out of the way, but it had distracted Fenestraz.
The performance in the wet earned him pole position for race two, and Fenestraz soaked up the first-half pressure from Fabio Scherer, via a bump from Scherer at the Lycee hairpin, to take his maiden F3 win.
His second-best wet qualifying time left him down on the fourth row for the Pau GP, and his gamble on slick tyres was doomed when the heavens opened on the formation lap.
Still, the win and the fourth were enough to give him an early championship lead over Pau GP winner Ralf Aron.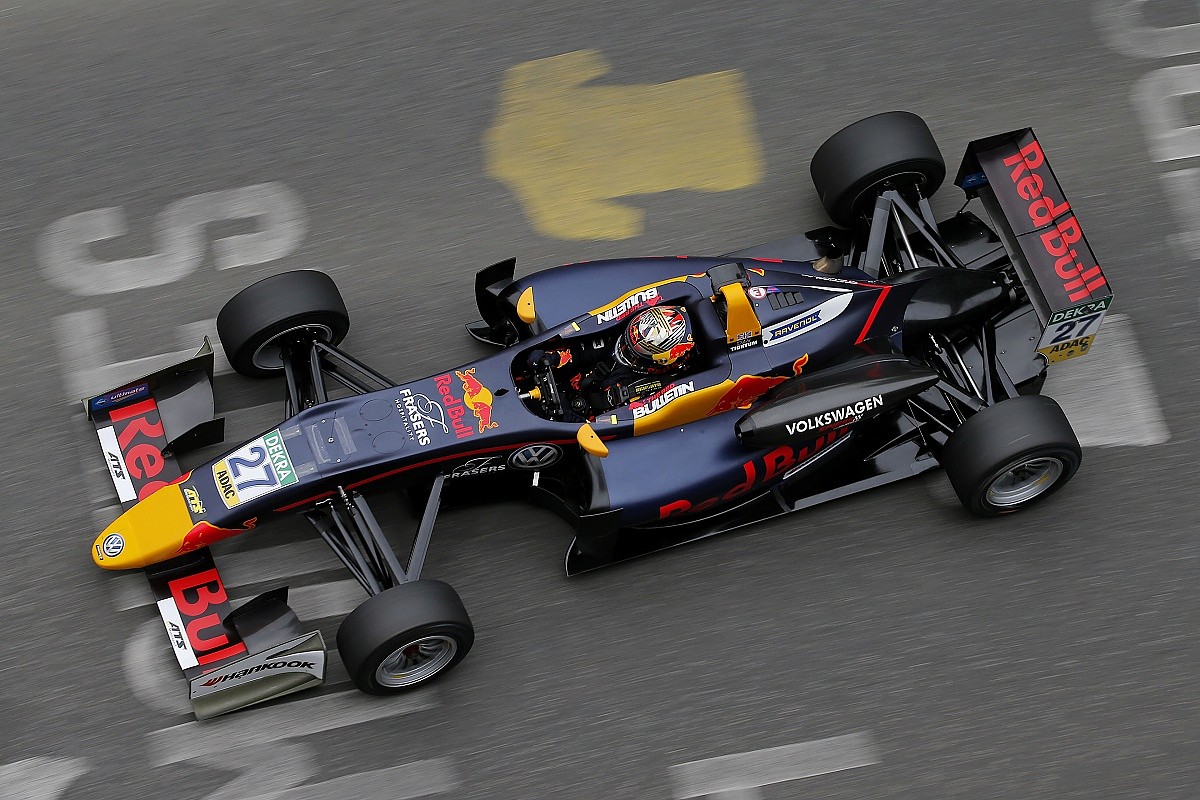 2 Dan Ticktum
Red Bull Junior, Macau Grand Prix winner, McLaren Autosport BRDC Award recipient... Ticktum was on the crest of a wave over the winter, but with that brings pressure and expectations - especially as he is very much viewed by Helmut Marko as Formula 1 material.
Now he has to prove it.
Ticktum has been charged with leading the six-car Motopark attack this season, and has 2017 star Joel Eriksson's former engineer Andy Kohler in his corner. He isn't eligible for the F3 rookie title, but with only a combined half-season at F3/GP3 level under his belt he qualifies for our purposes.
His driving in Pau was spectacular bordering on lairy - who says modern F3 cars corner on rails? - but that is what everyone likes to see, and Ticktum wrestled pole position from dry qualifying with a superb effort.
Ticktum is viewed by Red Bull as F1 material. Now he has to prove it
But he pre-loaded the clutch too much at the start of the first race, instantly losing his pole advantage to front-row partner Guan Yu Zhou, and then got duffed up by Aron on a restart - via a brilliant outside pass from the Prema driver - at Gare.
"People say it was a good move, but there was contact so I wouldn't say it was a good move," he muttered, seemingly miffed that he had been out-Ticktumed by the Estonian...
Wet qualifying was marred when his brake bias broke at the beginning. He took a temporary front-row position from session-long pacesetter Alex Palou with a sideways lap, but paid the price by sailing straight into the escape road at Gare immediately afterwards - that cost him the last two laps on a drying track and he tumbled down the order.
"Had I literally just driven round, I probably wouldn't have been as quick as Palou but I would have been second," he said.
The headrest came off in race two, causing officials to pull him into the pits, and he was a distant fifth when the Pau GP was neutralised and eventually red-flagged.
His first-corner clash with Marcus Armstrong had bent the front-left wishbone so he was driving with an imbalance, but managed it well.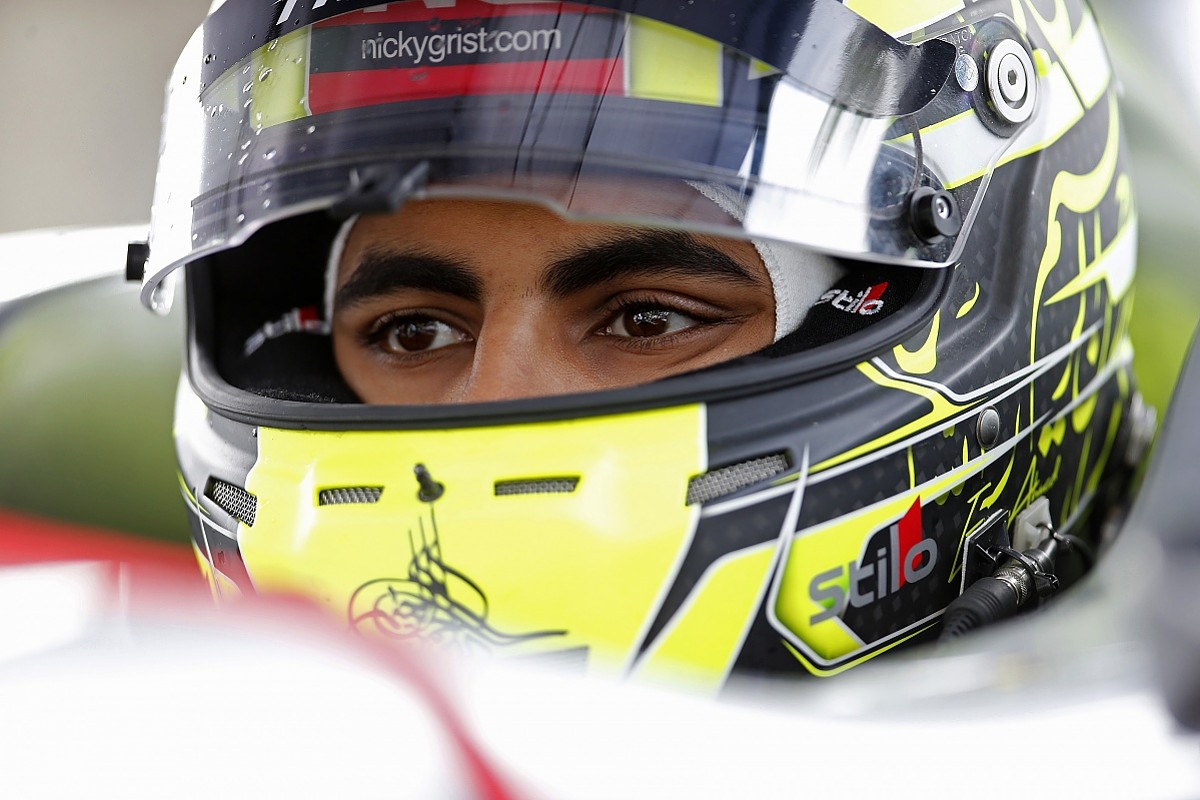 3 Enaam Ahmed
He dominated BRDC British F3 last season, but by his own admission Ahmed was staggered by the level in Euro F3 when he first started testing for Hitech GP last winter alongside Palou.
He knew he had to work hard to get anywhere near the required standard, and Pau proved he had.
But Pau started badly. A battery problem cost him much of FP1, and he then put himself in the doghouse with engineer Paul Woodhams by ending up in the barriers in FP2, while on an in-lap.
That left him still learning the limits in Q1, as he explained: "I went purple in sector two, then I got to the last sector and thought, 'What do I do now?'"
So who would have guessed that the British teen would take pole?
Not Ahmed, it seems. "If you'd told me I'd put it on pole and finish second in the Pau GP, I'd have told you to piss off!" he joked.
Still, he beat Palou to sixth in race one, then got narrowly pipped by Fenestraz in second qualifying, but on second-best laps he had earned pole for the Pau GP. According to Ahmed, the French streets held no fear - they were not as scary as Knockhill or Oulton Park in the wet.
Ahmed went for glory by trying a brave outside move on Fenestraz at Gare at the start of race two, but after rain the track was slippery off line and he skittered down a few positions.
"Because it's so early in the season I didn't care about the championship and I thought, 'Well sod it, I'll go for it.'"
He got too much wheelspin from his Pau GP pole to keep Aron back, but was the only one anywhere near the leader when the race was neutralised.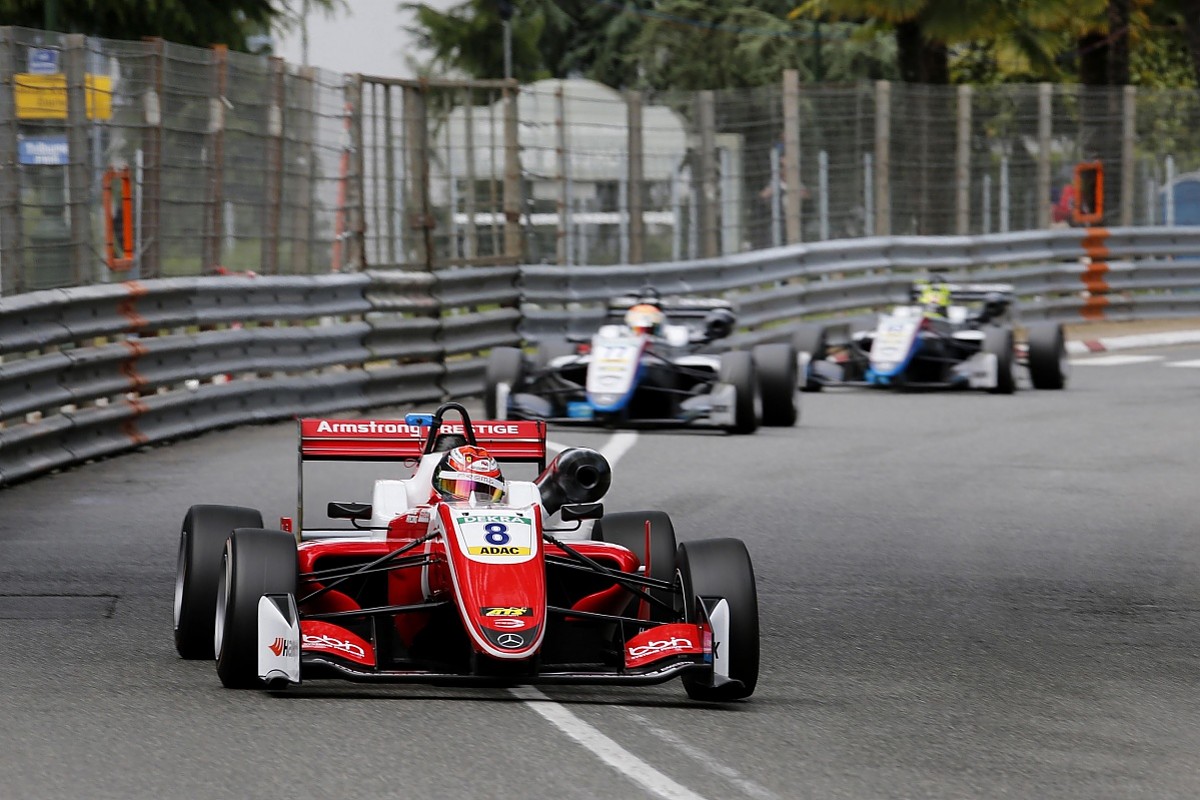 4 Marcus Armstrong
The Ferrari Driver Academy prospect came to F3 as the reigning Italian Formula 4 champion and has stayed with Prema Powerteam for his graduation.
Armstrong is obviously highly regarded within Ferrari and Prema, as he has been paired with French engineer Jean-Francois Levere - the man who ran Stroll and Esteban Ocon to F3 titles and Alex Lynn to a Macau GP win and before that was the brains behind Signature's late 2000s/early 2010s domination.
If anything, Armstrong looked too cautious in free practice, giving the kerbs and barriers a wide berth. He is obviously a driver who likes to build up to things, but impressively he was fastest in Q1 out of those drivers who had never previously driven in Pau.
A brilliant start helped him to fifth place, but his truly impressive achievement was in Q2.
Prema seemed to get it wrong in the wet, yet Armstrong comfortably outperformed his highly rated and experienced team-mates. In fact, he should have done even better but caught a yellow flag for Ticktum's escape-road visit and abandoned the lap.
Such was the improvement in track conditions that he could have backed off in this sector yet still improved his lap time.
He took a strong podium in race two, comfortably clear of the jostling Ahmed/Palou Hitech duo, but a first-lap clash with Ticktum in the Pau GP indirectly caused the safety car and then abandonment of the race.
The steering column had been damaged, and several laps later it broke as he crossed the start-finish line - Armstrong crashed and Ferdinand Habsburg, who had been lining up a move, could not avoid him.
5 Fabio Scherer
Here was the genuine surprise of the weekend. The slow-speaking Swiss - he sounds a bit Schwarzenegger - has a reasonable but not outstanding record in German F4, yet belied his lack of pedigree with some remarkable driving.
To be fair he has done quite a bit of testing with Motopark, where he is engineered by early-2000s British F3 Scholarship Class ace Stephen Colbert, and had therefore built up confidence.
Scherer belied his lack of pedigree with some remarkable driving
Scherer, reckoned Colbert, had tapped most of the barriers around the track during free practice and Q1, but without ill-effect. Then he starred by putting it on the second row for races two and three in the wet Q2.
"I really like difficult conditions and for sure I'm not scared about anything!" he offered. "One of the most important things is you feel perfect about the car, and the confidence makes it easier to push."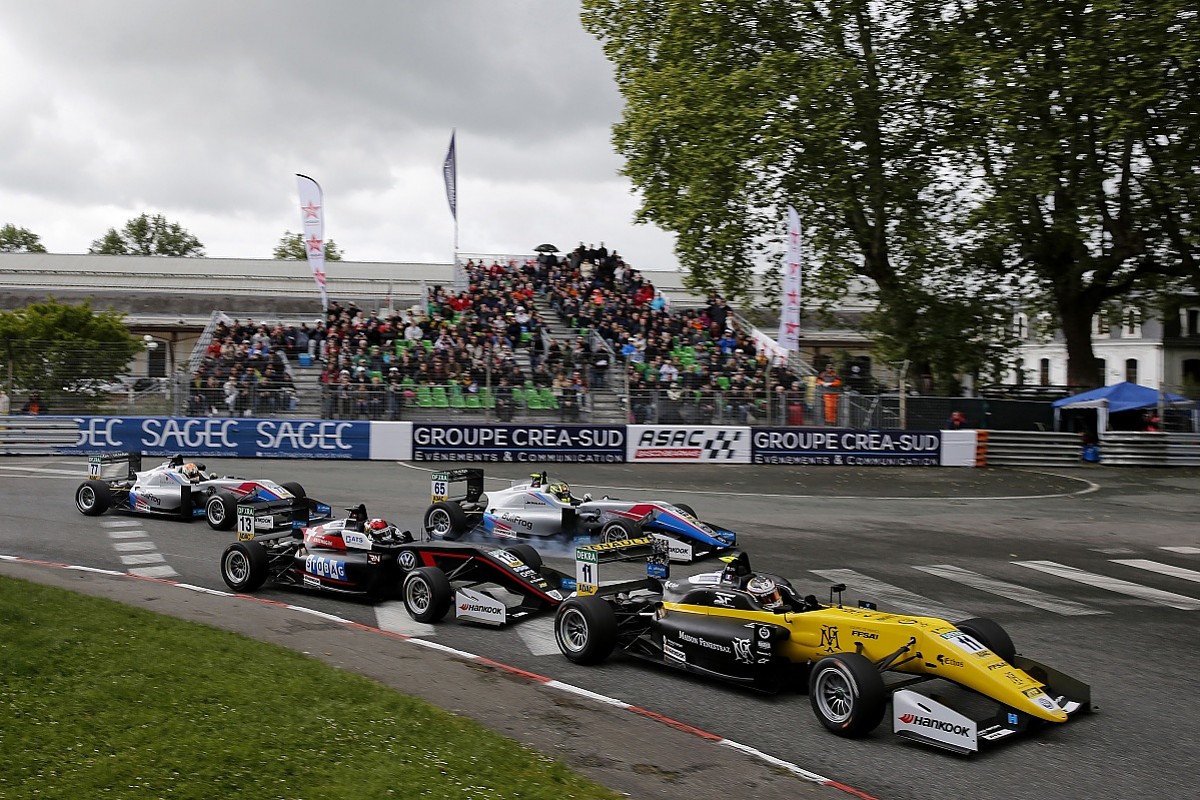 Scherer got more and more sideways in his pursuit of winner Fenestraz in race two, jinking left and right to try to find a way through, before a chain-reaction collision at the tight Lycee hairpin.
Scherer picked up left-front suspension damage here but pushed on, until he lost it at the Foch chicane and had one of the biggest shunts of the weekend. Still, he picked up a solid fourth later on in the sodden final race.
6 Ben Hingeley
When Juri Vips shunted halfway through a wet Q2 to trigger a red flag, Hingeley was at the top of the times and Autosport was considering quipping that this would surely be the first time a Formula Jedi graduate started the Pau GP from pole.
Unfortunately, Hingeley then opted for a new set of tyres for the remainder of the session, they took too long to warm up and he only wrestled one good lap out of them right at the end - third row for race two, way down the grid for the GP.
The dry Q1 was scuppered when, unlike everyone else, he opted not to use extra tyres beyond his first set and dropped down the order, and in the race he was mired in a collision at Lycee that damaged his suspension. But he did a great job to beat Ahmed to fourth in race two, and rose to ninth in the Pau GP.
7 Robert Shwartzman
The Russian Formula Renault Eurocup graduate, a newcomer to the Ferrari Driver Academy, looked decent on his F3 debut with Prema.
He qualified well for the first race, and was running a strong fourth when a bizarre glitch dropped him to the tail end of the points.
"I hit the kerb [at the Foch chicane] and the gearbox went into neutral," he said. "It came back seven seconds later, after all the cars had been coming past me down the hill."
Like most of his Prema team-mates, Shwartzman struggled in the wet second qualifying, yet sat on the tail of Aron throughout the second race to take ninth.
He had a sensational first lap in the wet Pau GP to rise from 11th to sixth, and completed the weekend as one of only three drivers to score points in every race.
8 Juri Vips
This Estonian, who made a one-off Euro F3 debut with Motopark in the 2017 season closer, has stayed with the team for this season and looked sensational in free practice.
Vips, the reigning German F4 champion, was hurling his car into the apex at the long, fast Parc Beaumont right-hander and holding it in a drift.
Despite a temporary gearbox glitch in FP2, he ended that session as the fastest Pau newcomer by a whole three tenths.
Like Aron, he is mentored by Marko Asmer, who had spoken confidently pre-Pau that the youngster was very good at keeping it clean when the chips are down.
Famous last words. Vips clipped the wall midway through Q1 exiting the Foch chicane, forcing him out with suspension damage, and seemed in the hunt for pole in the wet Q2 when he lost it on a white line and smashed into the wall at Pont Oscar.
"I didn't find it hard to get the confidence, but I guess that's been my problem this weekend..." he commented wryly.
From there, it was always going to be tough to get in the top 10 - Vips left Pau 16th in the standings with one point, but it's unlikely he will stay there for long.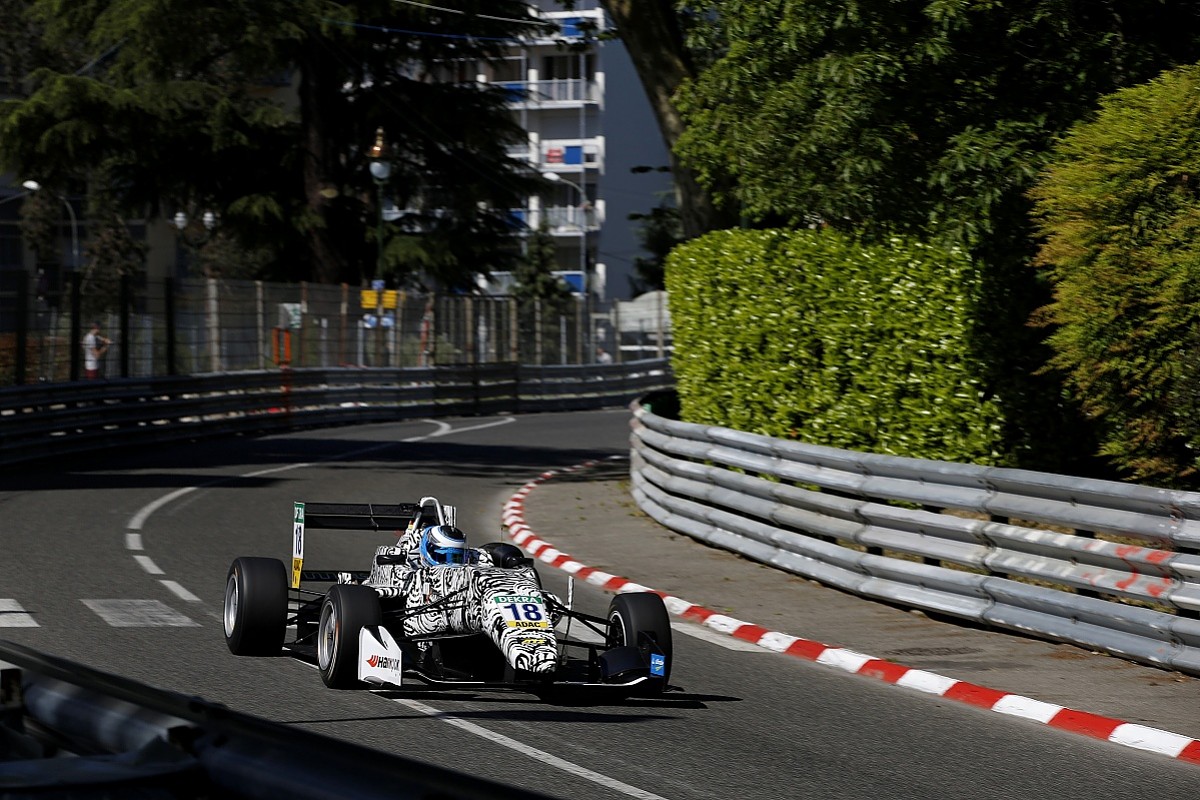 9 Julian Hanses
No one expected anything from this German F4 graduate. He has joined F3 with the tiny one-car Ma-con team of car-dealership owner Otto Schwadtke, who has not been involved in the series since 2013, and sure enough he ran towards the back in the dry.
When it rained, Hanses starred. At one point in Q2 he looked set for the second row; he then sideswiped the wall of Pont Oscar but plugged on and still qualified on the fourth rank for race two.
In the dry second race, he held on for seventh position, chased by a train of proven F3 podium finishers, driving the race of his life.
As the pursuing Aron observed: "He was pushing really hard - he maybe touched the wall a couple of times. He was driving like he was going to crash and I had opportunities to make a move but I wanted to keep it safe. He had nothing to lose."
He didn't, and this was a great performance. Sadly it wasn't repeated in the Pau GP, where he stalled at the start.
10 Jonathan Aberdein
The South African, another of the graduates from German F4, was yet another of the Motopark newcomers to really attack the circuit.
Team boss Timo Rumpfkeil is a vocal, shooting-from-the-hip sort of bloke and it is as if his chargers are driving in his own image - spectacular, and leaving nothing on the table.
There weren't standout moments in the same way as team-mates Ticktum, Scherer and Vips, but Aberdein did a very good job to take top-10 grid spots for races two and three in the wet Q2. He finished the weekend with a strong eighth in the Pau GP for his first points.