June 10 1984: Johnny Dumfries holds off Russell Spence to make it a British one-two in the Silverstone round of the FIA European Formula 3 Championship. Ivan Capelli and Gerhard Berger are some way back, third and fourth respectively, and in turn they're a long way clear of the rest of the 20-car field. All but three drivers are in Ralt RT3s, but there are three different makes of engine.
April 13 2013: after a 29-year break, the FIA's reborn Euro F3 championship is back at Silverstone. This time Harry Tincknell leads Alex Lynn to make it a British one-two. But just to prove that not everything was better in the old days, there is a host of guys threatening them, there are battles all the way down the field, and now it's a 28-car field. OK, all drivers are in the current-generation Dallara (although chassis competition is allowed), but, like 1984, there are three different makes of engine.
Berger is there too, not only to keep an eye on nephew Lucas Auer - a smooth-driving, incisive-overtaking young talent for whom it's a matter of when, not if he takes his first win - but also, in his role as president of the FIA Single-Seater Commission, to look in on a championship that is very much his baby, and chat with the media.
"We have a very high quality with teams and the technical side," he says, "and much stronger drivers than before. This year's championship was announced very late, so we didn't know who we would get, but we have a lot of really strong guys. As it should be.
"What is important now is to stabilise it. I don't think you can improve on this a lot, but we would like to stabilise prices. The new engines [for 2014, but theoretically allowed also for this year] will have better mileage and be cheaper, and I would like to motivate more teams from Spain and France to join us..."
Berger wants a greater diversity of teams in Euro F3
This has indeed been a failing of F3 in recent years. The Ecclestone/Michel-inspired GP2/GP3 system, as well as the World Series by Renault, have hoovered up the French and Spanish resources in this area of the sport.
While F3 has strong representation from its traditional strongholds of Britain, Germany and Italy, it's extraordinary to consider that not one French driver has raced a current-generation car in an FIA-rules F3 race since they were introduced from the start of 2012.
With this in mind, Berger says: "I would like to have Pau back next year [this season it clashes with a round on the Brands Hatch Indy circuit, which is almost universally unwanted among the teams and drivers]. The final dream would be Monte Carlo, but at the moment I think it's not possible. It's a question of paddock space, and money space."
With European F3 already finding its feet, Berger and his Commission colleagues - led by the ultra-enthusiastic Frederic Bertrand (here's one Frenchman involved in F3!) - are investigating the lower levels, and recently announced the Formula 4 concept.
This, as recently reported in AUTOSPORT magazine, would be for a free choice of carbon-monocoque chassis, with each country free to mandate its own 1600cc engine. (Not to be confused with the new Jonathan Palmer-led BRDC F4, which is for spec spaceframe cars).
There are some mixed messages here. First Berger says "our ideal scenario would be to have three or four national championships for F3 [using the current-generation cars] and one international. It would be very good for the teams as it would allow a used-car market." But then, regarding F4, he adds: "In a lot of countries it will take over the national F3 market. It will be a lot cheaper, with the kind of feeling of [national] F3 now."
He cites strong interest from Australia, Germany, the Middle East, Asia and Italy. Regarding the last-named, which canned its national F3 championship at the end of 2012, he says: "Italy made a very good decision to stop F3. A championship with 10 cars - old cars - and one [spec] engine. This is not a championship; this is rubbish!"
Clearly single-seater racing has been in a mess worldwide, and it will be a long process to sort it out. Can Berger's 'three-or-four-national-championships' base to the pyramid be established? Many are unconvinced, but the man himself reckons it's do-able.
"The European championship costs 450-500,000 euros for a driver, and one big part is logistic costs. If you run to exactly the same regulations, but with one or two rounds less, you should be able to do a season for 50,000 less, and with the new engines it will be cheaper still.
"We are trying to move the ATS Cup [German F3, which runs previous-generation cars with a spec VW engine] into our system. It doesn't make sense that they do a national F3 championship but that they cannot participate in a European F3 round if they wish."
British weather hampers the new boys
Quite a large proportion of the European F3 field had never raced at Silverstone. Tincknell and Lynn, together with Fortec pairing Felix Serralles and Pipo Derani and T-Sport boys Will Buller and Spike Goddard, had all raced there in British F3, while Felix Rosenqvist was in the European F3 field at the track in 2011, but for the rest it was a step into the unknown. With all those high-speed sweeps really using the capabilities of an F3 car, even those who'd race there in other categories were at a disadvantage.
Especially when it rained throughout free practice, meaning that for many their first dry laps of Silverstone in an F3 car came in qualifying...
Kudos, then, to Raffaele Marciello for taking the final win of the weekend, having never driven the circuit before Friday. He was visibly on it during free practice, testing out the levels of grip into the Becketts complex, which has a flat-out entry in the dry but definitely not in the wet.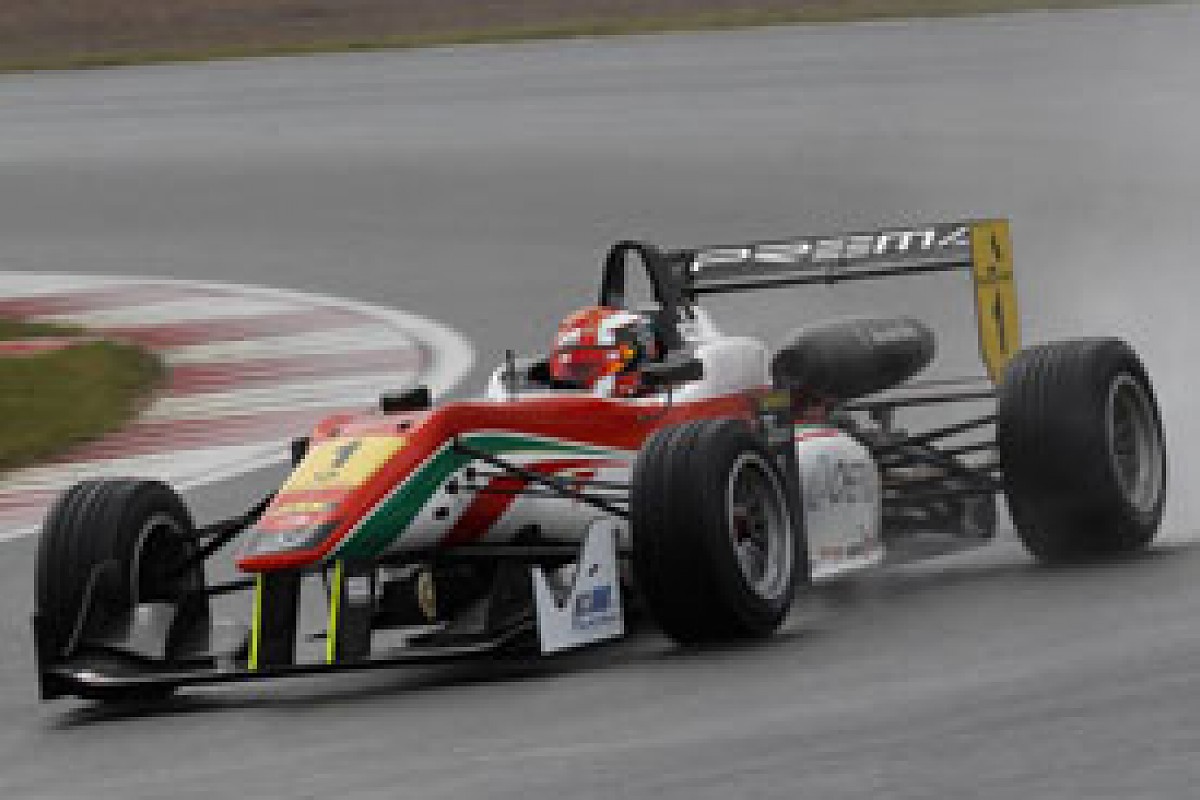 Marciello won a wet finale © XPB
On one occasion he overcooked it: no matter, he just went onto the run-off and pegged himself back slightly next time. Fellow Italian Antonio Giovinazzi was also full of bravado here.
Contrast that with Auer, who built up gradually so that you hardly noticed when he was quick.
It looks like the Austrian has a smooth but deceptively quick style very reminiscent of Prema team-mate Lynn.
Fortec's light at the end of the tunnel
One way and another it's been a pretty grim start to the season for Fortec Motorsport. And it looked like continuing in the same vein when Pipo Derani had his rear wing swiped off by an errant Sandro Zeller in qualifying on a day when the team's line-up was reduced from four to three thanks to the non-arrival of Dmitry Suranovich.
Then, in the second race, Felix Serralles - after struggling in qualifying - was the unlucky guy to hit grid staller Giovinazzi, and then got struck by Jann Mardenborough.
You were beginning to wonder whether the only member of the F3 team to win a race this year would be Fortec principal Richard Dutton, who wheeled his Ford Mustang to glory at Thruxton over the Easter weekend!
So you could see the relief among the team when Serralles stormed through from 19th on the grid to take fourth in the final race of the weekend, and claim fastest lap along the way.
To be fair, there had been a strong glimpse of promise from Josh Hill. Gone for now on his car is the familiar red-white-black Fortec livery, for he is now the first grandson and son of former world champions to be backed by a peppermint-oil manufacturer. Hill has taken over the 'Alex Lynn' package from last year, using Lynn's old car and being engineered by Russell Dixon, and is making excellent progress.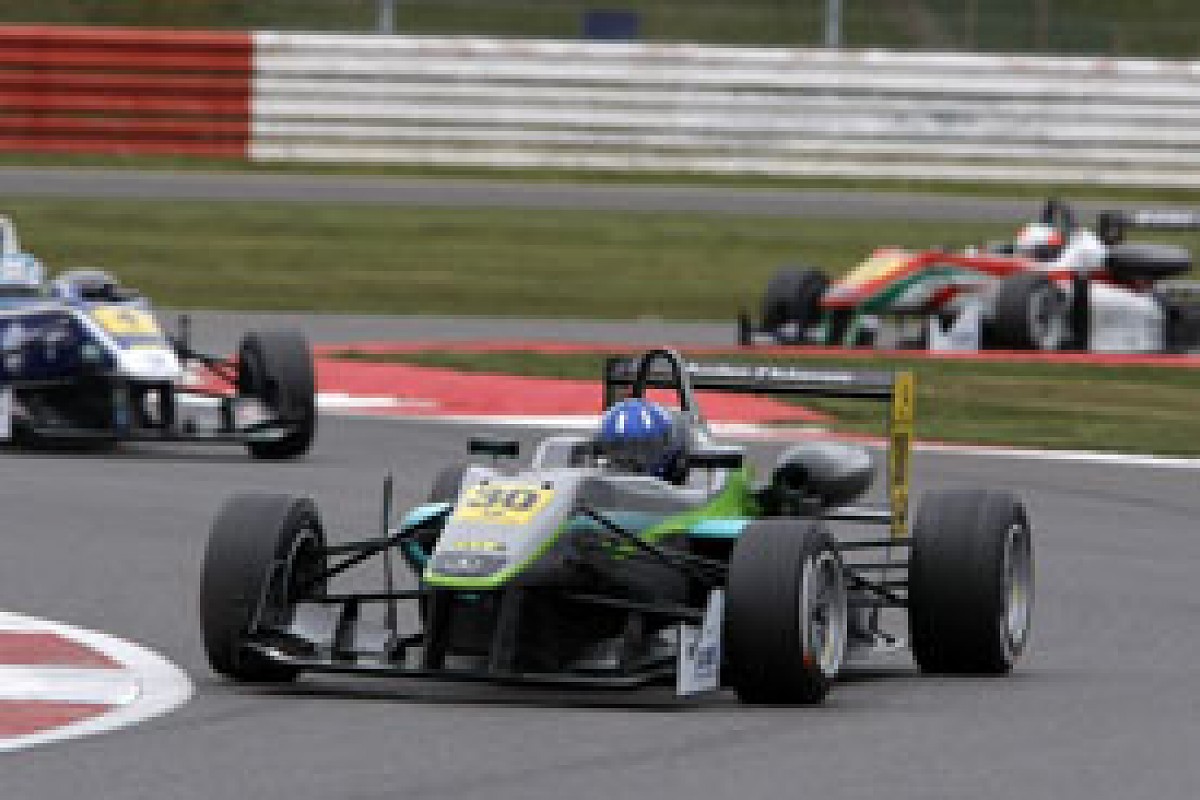 Hill, sporting a new livery, showed good promise at Silverstone © LAT
In the second race, Hill was at the back of a big five-car fight for second, having started 16th on the grid. OK, some incidents helped him, but anyone expecting him to fall away from Tom Blomqvist in front was in for a surprise. He stayed close, and only lost sixth to the recovering Lynn right at the end.
Going back to our theme of the wet weather hampering drivers' progress, Hill - who raced here in FRenault and Formula Ford - said: "I was still learning the track [how to drive it in an F3 car] in the race. My pace wasn't strong enough at the start but after that I was up there."